The debate of why you need a specific knife for different chores is old. Most of the time you'll notice that you can't use the same tool for cutting everything. There are, of course, valid reasons behind this. That's a discussion for some other time.
Today, I'll talk about the best knife to cut sweet potatoes. You've heard that right. You're not the only one struggling to cut those stubborn potatoes. Let's get started, shall we?
Every product is independently reviewed and selected by our editors. If you buy something through our links, we may earn an affiliate commission at no extra cost to you.
6 Best Knives To Cut Sweet Potatoes You Can Go For
I've gathered only the best knives you can find to chop dense vegetables like carrots and sweet potatoes. It's annoying when you can't get the job done yet somehow your knife gets blunt. Well, no more.
Let's have a look at the quick decision-making chart –
| Key-Features | Classic Professional Chef's Knife | Professional Hollow Edge Knife | Japanese Chef Kitchen Knife |
| --- | --- | --- | --- |
| Brand | Shun | Mac Knife | Imarku |
| Blade Length | 8 Inches | 8 Inches | 7 Inches |
| Blade Material | VG-MAX Steel | Alloy Steel | Stainless Steel |
| Blade Edge | Plain | Hollow | Hollow |
| Handle Material | PakkaWood | PakkaWood | PakkaWood |
| The Hallmarks | Versatility, Handcrafted in Japan, Flawless cutting, Slightly wide-curved blade & Professional Quality | Lightweight, Easy cut & hold, Ergonomic design, High-quality material & Maneuverability | Professional quality, Versatility, Ultra-Sharp edge, Hand-polished edge design & German HC stainless steel material |
| Price | Check on Amazon | Check on Amazon | Check on Amazon |
Shun All-Purpose Classic Chef's Knife
If you want an all-rounder knife to cut your sweet potatoes, look no further than the Shun Chef Knife. It comes with an eight-inch blade and a perfect structure to cut through any dense molecule. The knife has a high-quality blade, as well as a handle that will exceed your expectations. 
So, as long as you're following the proper method, there's no reason why this knife can't be your savior to the sweet potato problem. The features don't stop on sweet potatoes. 
Shun Chef's Knife is a multi-purpose tool that can assist you around the kitchen constantly. Having a Shun Chef's knife will surely enrich your kitchen in versatile ways.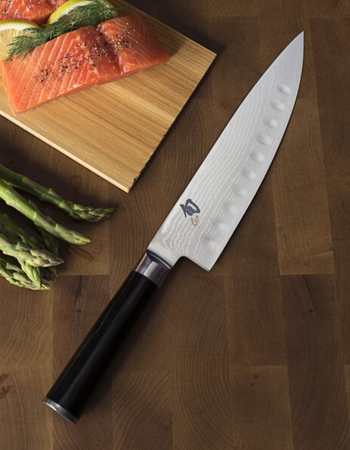 Top Features
Heat-treated

Handcrafted in Japan

Water-resistant handle

Corrosion-resistant blade

Sharper edge with extra tungsten

Tough and suitable for constant use
| Specifications | Parameters |
| --- | --- |
| Brand | Shun |
| Blade Material | Carbon |
| Item Weight | 7.1 ounces |
| Size | 8-Inch |
| Type | Chef's Knife |
| Color | Black |
| Handle Material | PakkaWood |
| Blade Edge | Plain |
It's not a usual knife that gets bent or blunt with a few uses. It comes with a sturdy structure that you can rely on for cutting the densest vegetables ever.
The handle surely deserves some extra attention for several reasons. For starters, the material is PakkaWood. If you don't know about this material, let me enlighten you.
It's created by infusing hardwood with resin. This allows the handle to be more comfortable on your grip and makes it extremely easy to clean. Besides, it's also water-resistant.
It's a Japan-made product. The knife is handcrafted in Japan combining modern technology with ancient tradition. Distinctive steps are used for creating the outcome that you swing in the kitchen.
If you're tired of getting your knives blunt after a few uses, you can trust Shun's knives. They're excellent when it comes to edge retention.
A longer lasting sharp blade is everyone's dream around the kitchen, and Shun Chef's knife makes this dream come true.
The aesthetics of this knife also deserves some credit. It'll surely add great value to your kitchen in a beautiful way. If you want your cutleries to be visually pleasing along with being functional, Shun is the answer to your prayers.
There's no doubt regarding quality or excellence. You can only expect the best. The sharp, thin, and perfect construction will survive through any stubborn food you wish to cut.
Pros
Easy to clean

Thin, sharp, and lasting edge

Versatile and comfortable in hands

Tough construction for regular use

Resin-infused hardwood handle makes it water-resistant
Cons
The blade is not as durable as you want it to be
Related: Best Knives for Cutting Raw Meat (My Top 5 Picks)
Mac Knife Hollow Edge 8 Inch Professional Chef Knife
The next one I have on my list is the hollow edge 8-inch knife from Mac Knife. Among other features, this knife comes with dimples on its blade that facilitate cutting sticky food. That's what makes it more suitable for cutting sweet potatoes.
The knife features a lightweight design along with an ergonomic structure to make it as convenient for you as possible. An Alloy steel blade only makes the knife more valuable compared to others.
So, even though it's a pricier option, you won't regret investing in this marvelous cutlery.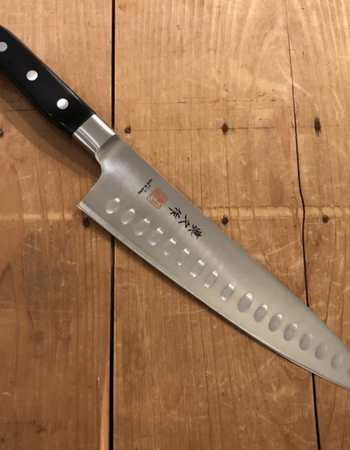 Top Features
Hollow edge

Made in Japan

Steel alloy blade

Pakkawood handle

Lightweight and ergonomic
| Specification | Parameters |
| --- | --- |
| Brand | Mac Knife |
| Product Dimensions | 8 x 1 x 1 inches |
| Blade Material | Alloy Steel |
| Blade Edge | Hollow |
| Handle Material | Pakkawood |
| Color | Silver |
| Knife Length | 12.63 inches |
| Blade Length | 7.88″ |
| Blade Thickness | 2.5 mm |
| Blade Height | 1.88″ |
| Weight | 6.5 oz |
| Made In | Japan |
The blade is extremely efficient in cutting the most stubborn items you can find. You already know that the key to cutting sweet potatoes with efficiency is sharpness. So, this knife won't disappoint you in this field for sure.
However, that's not the sole reason for loving this tool to cut your potatoes. Dimples on the knife's edge are surely something that helps you with sticky food.
You will notice the description saying that the knife comes with a hollow edge. These dimples work wonders to provide ventilation and allow the knife to cut through dense items without any issues.
If you don't know about dense food items, think about the hardest vegetables you had to cut other than sweet potatoes. On top of my head, I am thinking about carrots, summer squashes, and apples.
Another feature you can't miss is how lightweight this knife is. You won't have difficulty maneuvering it at all. If you want to swing your knife like a pro, Mac is the brand you go for.
The Pakkawood handle is another thing that contributes to easy maneuverability. Overall, the overall ergonomic shape of the knife makes it one of the best knives to cut sweet potatoes.
Pros
Easy to maneuver

Comfortable handle

Dimples on the edge

Suitable for sticky food

Thin, sharp, and versatil
Cons
The blade can get rusty if not used with care.
As you can see, there's not much you can complain about this beautiful knife. So, if you want a marvelous addition to your cutlery set, I highly recommend getting a Mac knife. As a highly functional tool, it will ease your way around the kitchen.
Also Read: What Is A Boning Knife Used For? (Boning Knife Uses)
imarku Ultra Sharp Japanese Chef Knife
If you want a German steel knife, imarku chef knife will be a viable choice. It's superior to its competitors in several ways. There are dimples on the edge to make it more convenient for you to cut sticky food like potatoes.
Some exceptional features like sharp edge, corrosion resistance, rust resistance, and discoloration resistance give this knife an edge over the other knives.
If you're thinking about upgrading your kitchen with a multi-purpose knife, this one is going to be a marvelous addition to your collection.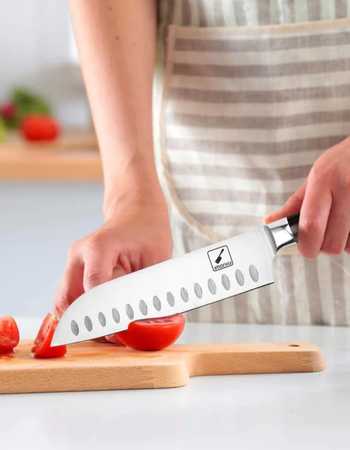 Top Features
Ergonomic handle

Razor-sharp blade

Perfectly balanced

Double side groove

German stainless steel

Rust-proof and corrosion-resistant
| Specifications | Parameters |
| --- | --- |
| Brand | imarku |
| Product Dimensions | 12 x 3 x 1 inches |
| Item Weight | 6.9 ounces |
| Blade Material | Stainless Steel |
| Handle Material | Pakkawood |
| Blade Edge | Hollow |
| Color | Silver |
| Knife Thickness | 2.5mm |
In addition, the angle allows the user to operate the knife with efficiency, regardless of whether the user is left-handed or right-handed.
There are multiple reasons why people are going crazy over imarku knives. First of all, take a look at the price. You can't get a half-decent knife at this price. Yet, imarku is offering you premium features in the same price range.
What I'm trying to say is, these knives are insanely affordable. If you're on a budget and don't want to spend hundreds of dollars on a single knife for cutting sweet potatoes, this is the knife you go for. But wait, there's more.
The blade is literally razor-sharp and ready-to-use right from the box. You have to be very careful when using this tool or you will end up hurting your fingers. If you have been struggling with sweet potatoes, this is certainly going to solve your issues.
As for the material, the blade is made of high carbon German stainless steel. So, you won't have to question its quality. It is anti-rust, anti-corrosion, anti-wear, and anti-wear. There's nothing you can ask for in an affordable knife. However, that doesn't mean that this knife doesn't have anything else to offer.
The handle is what makes the knife perfectly balanced. It has a lightweight design that will let you maneuver the knife with efficiency and ease. The manufacturer suggests not washing the knife in a dishwasher to protect the material.
Pros
Long-lasting edge retention

Extremely sharp for finer cuts

Thin and efficient for all food types

Rust, wear, stain, and corrosion resistant

Suitable for both left-handed and right-handed users
Related: Best Electric Knife For Cutting Frozen Meat (Top 6 Picks)
Cutco Laser Cut Petite Dishwasher Safe Chef Knife
When you're willing to increase your budget, Cutco will be the most suitable knife brand for you. It's a reliable brand among professionals that you can trust. This laser-cut chef knife comes with a plane blade. Yet, it offers you better performance when you are cutting sticky vegetables.
This knife is heat tempered, which means it has a sturdy construction. You can expect this to last a long time, with a sharp edge. There are, of course, other features that make this knife stand out in the crowd.
I'll discuss the details in a few minutes. First, let's take a look at the top features.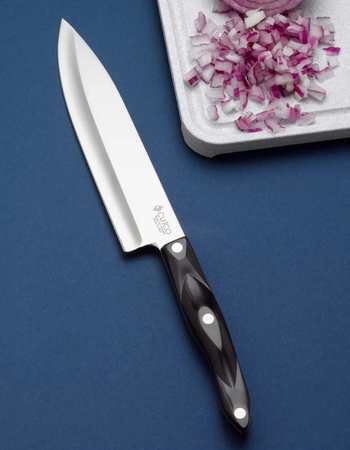 Top Features
Full tang

Heat tempered

Triple-riveted handle

Laser-cut construction

Razor-sharp straight edge
| Specifications | Parameters |
| --- | --- |
| Brand | Cutco |
| Item Weight | 6.7 ounces |
| Blade Material | Stainless Steel |
| Blade Edge | Plain |
| Color | Black |
It's not easy to describe this knife with limited words. First of all, it has a straight blade. The handle is black in color and another mentionable feature of the handle is that it's triple-riveted.
The whole length is very well-balanced and comfortable to use. An ergonomic handle is a key to a convenient knife. This Cutco chef knife has a major advantage in this field.
One feature Cutco offers that most other knives don't is the dishwasher-safe feature. You can't clean most knives using your dishwasher, which is pretty disturbing. Not everyone has the luxury of time to hand wash their cutlery. So, cleaning is really straightforward with this knife.
You will hear people using these knives for decades without any damage. So, it says a lot about the durability of this knife. Even though you need to spend a few extra bucks if you are considering a Cutco knife, it will be totally worth it. 
Another thing I would like to add is how convenient it is to maintain the knife at home. You can sharpen and hone it with minimum effort due to its quality. So, if you're searching for a hassle-free knife, Cutco won't disappoint you in any way. 
One thing no other knife will offer you is the lifetime sharpening service. You can send them the knife and they'll sharpen it for you. Pretty amazing to reduce extra work, right?
Pros
Super sharp blade

Lifetime sharpening service

Ergonomic and well-balanced

Triple-riveted handle for extra strength

The dishwasher-safe feature saves you the hassle of cleaning
Cons
Comparatively more expensive than other options
As you can see, there's almost no reason to dislike this blade. It will cost you a few extra bucks for sure. Nonetheless, considering its durability, it's the same as any regular knife. Instead of buying multiple knives over the years, you can simply invest in one.
DALSTRONG Phantom Series Cleaver Knife
The one I'm about to review now is rather different from the others. It's a cleaver knife. If the people around you have suggested you get a cleaver to cut sweet potatoes, you know there are good reasons for that.
The shape of a cleaver, along with your skills will make cutting sweet potatoes easier than ever. The cleaver comes with a sheath to protect it when not in use. It's a Japan-made knife that will assist you in cutting, mincing, and chopping with ease.
There are some fascinating features you won't want to miss. So, let's take a peek at the top features.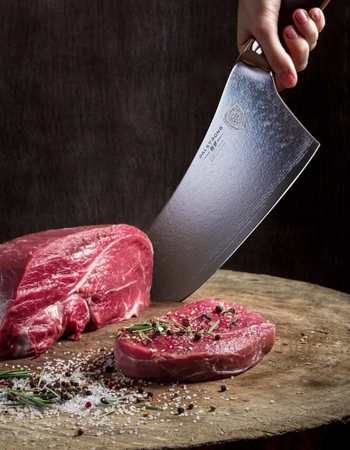 Top Features
Corrosion-resistant

Extremely sharp edge

58+ Rockwell hardness

Nitrogen-cooled for hardness

Forged from a single piece of steel
| Specifications | Parameters |
| --- | --- |
| Brand | Dalstrong |
| Item Dimensions | 9 x 0.08 x 2.4 inches |
| Style | Cleaver |
| Construction Type | Forged |
| Blade Edge | Plain |
| Handle Material | Pakkawood |
A beautifully forged cleaver will not only improve your kitchen inventory but also reduce your effort to cut stubborn food.
The shape of a cleaver is helpful for cutting dense food like sweet potatoes, carrots, and squash. With adequate sharpness, you won't have to worry about damaging the tool and this cleaver offers that level of sharpness.
The Blade
If we are discussing unique points only, the nitrogen-cooled feature will get priority. It's treated with a nitrogen cooling method, which offers extreme hardness. So, there's a very low possibility of damaging the cleaver, even with dense food.
The handle has an excellent velvety finish due to the polish. The core material is Pakkawood like most other knives. Nevertheless, the sheath adds a professional touch to the knife. It always feels good to get something extra with the tool.
The Handle
Speaking of extra, the price isn't sky-high either. There are cheaper knives than this, of course. However, you won't find the same features if you are considering a cheaper knife. Besides, a cleaver will certainly cost higher than a regular knife.
This cleaver is a combination of sharpness, durability, refinement, and comfort in your hand. So, if you have a moderate budget for the best knife to cut sweet potatoes, I will recommend getting this cleaver in a heartbeat.
Pros
Hard construction

Comes with a protective sheath

Durable and comfortable to use

Full-tang, sharp, and refined blade

Comfortable and premium Pakkawood handle
Cons
The handle might be too long for some users
There's nothing better than having a razor-sharp cleaver in hand when you have a sweet potato crisis. An affordable option to make your day is this knife from Dalstrong. If you have any confusion about the knife's integrity, you can check the brand's customer loyalty. Users never lie.
Kiritsuke Scary Sharp Super-Steel Chef's Knife
The last knife we have on our list is Oxford Chef Knife. This one is made of 66-layer Damascus steel. It can be an amazing choice if you're looking for a knife that comes within a budget price. The features that come within this price range is stunning.
You're getting an excellent blade that's rust and corrosion resistant to start with. It's also razor-sharp in nature, so you won't have to worry about having difficulties with sweet potatoes either.
Oxford Chef also has some unique features in their knives that a lot of their competitors don't. Before getting into details, let's take a look at the top features.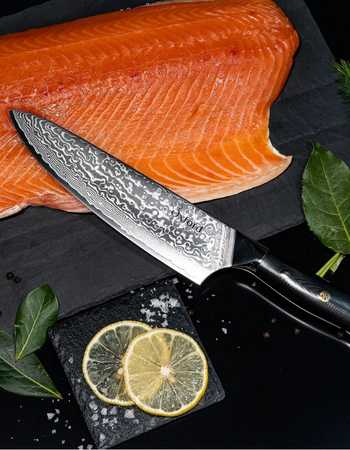 Top Features
Aesthetically pleasing

8-inch steel alloy blade

8 to 12-degree angle per side

Military-grade ergonomic handle

66 layers of Damascus stainless steel
| Specifications | Parameters |
| --- | --- |
| Brand | Oxford CHEF |
| Blade Material | Alloy Steel |
| Blade Length | 8 Inches |
| Construction Type | Forged |
| Color | Stainless Steel |
| Layer | 67 |
Much like the Cutco knife, this one also offers a lifetime sharpening service. But that comes later in the list of advantages.
If you're getting an Oxford Chef knife, you won't have to worry about cutting sweet potatoes ever again. No more baking your potatoes before going to war against cutting them.
The knife is handsome-looking, if not anything less. But the aesthetic purpose is not something you get a knife for. This knife is scary sharp, which means you can cut almost anything you want. It comes with a hollow edge to ensure minimum contact with the food. The fewer food sticks on the knife, the easier it will be to cut them.
A G-10 handle surely takes things to another level. It's comfortable and riveted, so you get a nice balance on your hand. The secret to operating a knife with efficiency is a perfect balance and an ergonomic shape. The knife offers both.
Sufficient knuckle clearance is surely another thing to like about this knife. The end of the handle is rounded, which many users will prefer. All in all, it's hard to find an issue with this knife.
If I haven't mentioned whether it's a pricey option or not, you can rest assured. It's one of the most affordable knives you can find in the market.
Pros
Ergonomic G-10 handle

Perfectly balanced body

Extremely sharp blade

Moist-resistant handle

Better edge retention
Instead of getting confused among numerous options, it's better to be sure about what you're getting. With this perfectly forged knife, you can stop worrying about your kitchen work altogether. Anything you put on a cutting board, this knife will take care of it.
What Makes The Best Knife To Cut Sweet Potatoes
So, what features make a knife suitable for cutting sweet potatoes? There must be some criteria we can use to determine a standard knife for dense vegetables? Sure there is.
I'll explain a few features you should look out for when selecting the best knife to cut sweet potatoes.
Sharpness
Even though it goes without saying, I'm going to share a few details about sharpness. You may have heard why sweet potatoes are hard to cut. It's because of their dense structure. So, if you want the cuts to become swift and hassle-free, the knife has to be razor-sharp.
So, you should always get a knife that prioritizes sharpness over everything else. If you are not buying a knife, make sure to sharpen your old knife before getting into action. The more blunt your blade, the harder it will be to cut those sweet potatoes.
Safety
All knives must pass a few safety standards before they can reach the customer. Regardless of why you're getting a knife, always check the safety standards.
Edge Retention
The blade being sharp is one thing, retaining the sharpness over time is entirely a different feature. If you're cutting meat and vegetables like sweet potatoes frequently, you need a knife with excellent edge retention. Edge retention refers to the ability of a blade to stay sharp over a durable period with constant use.
Handle And Grip
The handle is a crucial element of a knife. Even if the knife has excellent sharpness, it won't be comfortable without a proper handle. So, look out for the details of the handle. You should have a good grip. Besides, the handle must be perfectly proportional to the blade or you won't feel the knife to be balanced.
Rust And Corrosion Resistant
You will be wetting your knife a lot. So, the blade must be rust and corrosion-resistant. If the blade shows rust after a few uses, there's no use in spending money on such a product. So, make sure to check if the description clarifies about the blade being anti-rust.
Durability
Even if you have to spend a few extra bucks, I recommend going for a durable knife. Changing your knife from time to time is not something you want. So, make sure that the material is sturdy enough to last at least a few years. If the product has a warranty to back the knife up, that's even better.
Brand Value
New is not always better when it comes to manufactured goods. It's wise to stick to a brand that already has enough brand value to back it up. Check the user reviews to compare the brands. It's a good idea when you have a decent budget to spend on a high-quality knife.
Conclusion
When you have struggled long enough, you only want the best knife to cut sweet vegetables. I can relate to you. That's why I went through the trouble of finding all the good ones and keeping them in one place for anyone who needs them.
You will notice that all the necessary features for a suitable knife are present in the ones I reviewed. If you have a preference outside my list, you can match the features and find one yourself too. However, make sure that the knife comes with a safety net if little information is shared about the product. It can either be reviewed by the users or a warranty policy.