Go to any professional kitchen around the globe and you are sure to find at least one Salamander Broiler. However, this indispensable piece of professional kitchen equipment still remains an unknown tool to home cooks and aspiring chefs building up their skills from the comfort of their homes.
Every product is independently reviewed and selected by our editors. If you buy something through our links, we may earn an affiliate commission at no extra cost to you.
That is changing and it is changing fast, a salamander broiler can provide great utility in even your tiny home kitchen. All you need to know is which one is right for you. The best salamander broiler for home is often the ones that are compact, convenient, and can't use super high temperatures.
So which ones do I recommend?
5 Best Salamander Broilers for Home Use Including Electric & Gas
I have tried to use most of the popular Salamander grills available and suitable for home use and selected 4 electric models and 1 high-performance gas model. 
Except for the high-performance one, the other 4 can be regarded as simple cheese melters but this particular phrase does not really capture all the tasks they can do for you.
Here's the quick decision making chart – 
| Key Features | LIANDU-US Salamander Broiler | JJGeorge Salamander Broiler | Electric Salamander Broiler |
| --- | --- | --- | --- |
| Dimensions | 12″D x 24″W x 11″H | 18″D x 11″W x 18″H | 24 "x 12" x 10.5 " |
| Fuel Type | Electric | Gas | Electric |
| Power | 2000W | 13800 BTU | 2000W |
| Weight | 20 pounds | 39 pounds | 20 pounds |
| The Hallmarks | High quality material, Versatility, Quick heat, Precise temp. control & High efficiency working | Multiple cooking zones, High-end construction, Electric self igniter, No flare-ups & Easy cleaning | Advanced heating technology, Large cooking space, Versatile uses, Durability & Unique design |
| Price | Check on Amazon | Check on Amazon | Check on Amazon |
Let's talk in detail – 
Electric Salamander Broiler for Home by LIANDU-US
Starting off with a simple electric broiler. This one comes from the lesser-known brand Liandu-US and is built using stainless steel. The features are also very beginner friendly and can be safely used in any small home kitchen.
Although the primary purpose of a cheese melter like this is to melt and brown the cheese on top of a French onion, grilled cheese, or pasta, you can do a whole slew of other things with this electric salamander.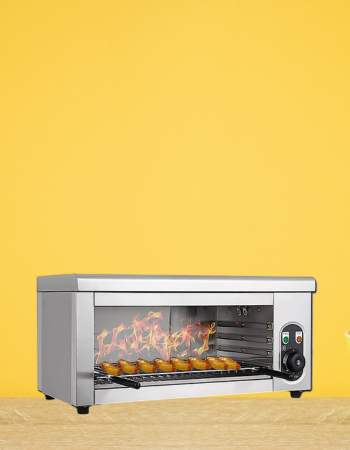 Top Features
Heavy-duty construction for a long lifetime

2000W capacity and 3-minute heating time

The wall mounting option is a great addition

Can be wall mount or placed on a countertop

Oil pan at the bottom to collect residual food and oil
| Specifications | Parameters |
| --- | --- |
| Brand | LIANDU-US |
| Dimensions | 12″D x 24″W x 11″H |
| Temperature range | 50℃ – 300℃ |
| Fuel Type | Electric |
| Power | 2000W |
Electric salamanders are convenient in the sense that they do not need any gas connection and there are no open flames. These two things combined make designs like this super convenient yet also very safe for in-home use. 
Additionally, you can also slow-cook lean pieces of protein and with the 4 stepped height adjust, your food can be as close or as far from the heat pipes as you want. The construction is also great and the operation is super easy due to the fantastic knob and indicator lights.
The 300 degrees C max temp means you can no necessarily get great sears on steaks but other than that, there is not really much this product from Liandu does not excel at!
Pros:
Quick heating time

Incredibly easy to use

Thickened food-grade stainless steel construction for long life and no rust

Knob-controlled temperature range from 50 to 300 degree C or 120 to 570 degrees F
Cons:
Issues in delivery were reported by some users.

The maximum temperature is not enough for searing steaks.
Salamander Broiler with Multiple Cooking Zones
Although a simple electric salamander is the best choice for home kitchens, some users have specific needs and they can be met only by infrared broilers using propane. So for those users, this one from JJGeorge is called B.B. Prime is my top pick.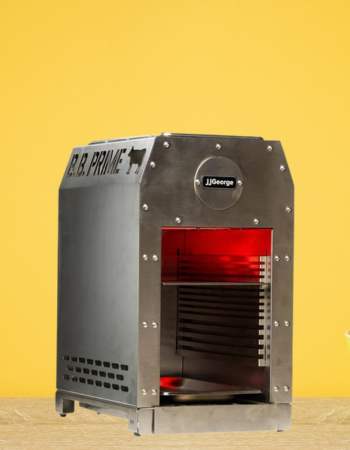 Top Features
2 different drip trays

Built-in Warming tray with a lid

Reaches max temp in 3 minutes

Goes up to 1500 degrees F or 815 degrees C

Full Stainless Steel construction with double walls
| Specifications | Parameters |
| --- | --- |
| Brand | JJGeorge |
| Dimensions | 18″D x 11″W x 18″H |
| Weight | 39 pounds |
| Power | 13800 BTU |
| Fuel Type | Gas |
Unlike electric cheese melters, this Salamander broiler is for those who want a lot higher temperatures for searing steaks or similar uses. That can be done very easily with the B.B. Prime as it sports almost 13 different heights for getting the temperature or sear on your meat just to your liking.
Although this machine excels at giving you fantastic steaks, the 2 standout features in my opinion are the top-mounted warming tray that keeps your food warm for hours and the 2 different drip trays. 
Aside from the normal drip tray that lives inside the broiler, you have another one that can be pulled out so that no juice drips on your deck, counter, or kitchen floor.
Overall, if you do not mind spending a little bit extra, this is the one to go with. It managed fantastic results every time I used it and has become a staple in my grilling arsenal.
Pros:
Pull-out drip tray oozes genius design

Comes with a dust cover/carrying bag

Designed with saving horizontal space in mind

Temperature can go as high as professional units

The perfect companion to a kamado or pellet grill
Cons:
No wall mounting option

Bit difficult to control the temperature
Stainless Steel Electric Salamander Broiler
Enough with the expensive gas run options. Here is yet another electric model that can be used easily and safely around your kitchen. It also drops all the bells and whistles of BB Prime for an easy beginner-friendly user experience.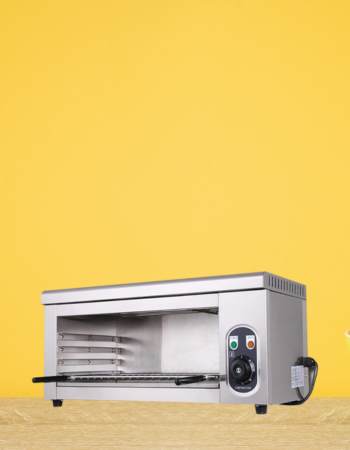 Top Features
Zero smoke design 

Wall mounting design 

Large included oil drip pan

Anti-corrosion thickened food-grade stainless steel design

50 degrees to 300 degrees C or 122 degrees to 572 degrees F temperature range
| Specifications | Parameters |
| --- | --- |
| Voltage | 110V |
| Power | 2000W |
| Temp. range | 122-572 ° F (50-300 ° C) |
Much like our first option, this electric broiler comes with 4 adjustable height settings for getting the perfect heat contact on the surface of your food. 
It also has an incredibly sturdy yet super compact build that can be carried anywhere or just tucked in a corner of your kitchen safely and easily.
Although, as it is electric, it will not provide you with the ability to sear steaks, it will do pretty much everything else you may want a broiler to do. And all that using a simple easy to understand temperature control knob with a very fine range.
The tray also comes with a heat-proof handle that can be used without any gloves or towels. All of that at a super affordable price? You can not go wrong with this product if you want a salamander grill for a cheap price.
Pros:
Beginner-friendly design.

Sturdy and long-lasting build quality

Perfect for melting cheese on top of your meals
Cons:
Not enough height options

The higher end of the temperature still a bit low for searing
Commercial Grade Salamander Broiler for Home
First of all, don't be fooled by the Commercial Grade branding, this one still can not reach the super high temperatures but for a simple electric cheese melter, this one is yet another fantastic option. 
Everything I said about the last model, still holds true for this commercial-grade broiler. It does everything just as well and retains all the similar features. Neither is better or worse, they are just different.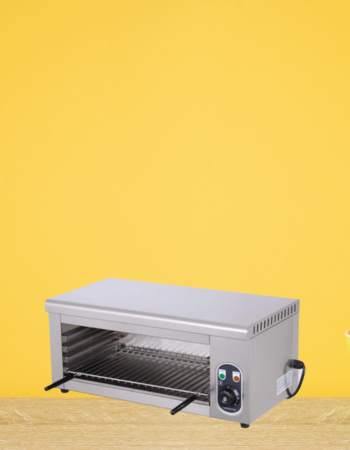 Top Features
Easy-to-maneuver design

4-step adjustable height settings 

Zero oil fume and efficient design

Heatproof handle design on the tray

Anti-rust thickened food-grade stainless steel construction
| Specifications | Parameters |
| --- | --- |
| Voltage | 110V/60Hz |
| Power | 2000W |
| Temp. range | (50-300°) 122-572°F |
| Weight | 10kg. |
You will get the same beautiful beginner-friendly and compact design with the same knob style that will let you control the small temperature range effectively and easily. And you will also get the same wall mounting mechanism with the ability to tuck the device away once done using it.
A standard 2000-watt power design means you are not going to spend an arm and a leg in electricity prices and the top height is close enough to the heating element that your food will be broiled pretty quickly given that you give the salamander enough time to heat up.
Pros:
Great tray design

Fantastic after-sales support

Compact enough for even the smallest of kitchens

50 degrees to 300 degrees C or 122 degrees to 572 degrees F temperature range
Cons:
Does not get hot enough for steak searing

Does not brown cheeses with a high melting point
Portable & Easy to Clean Salamander Broiler
The PanDair electric Salamander broiler will be the last one we look at today and this one excels at being portable and easy to clean. It also retains the most important features and can be adapted to any kitchen in any home.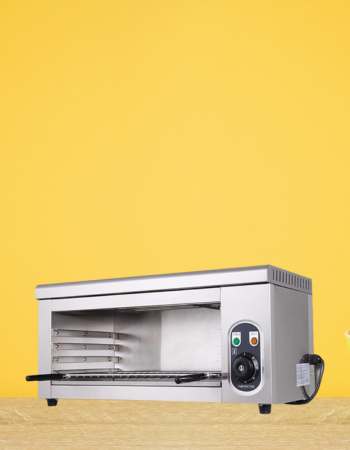 Top Features
4-step adjustable height

Smoke and Dust free operation

50-300°C or 122-572°F temperature range

Large residue and oil collection pan at the bottom

Anti-corrosion design using stainless steel and a brushed finish
| Specifications | Parameters |
| --- | --- |
| Brand | Sallurmose |
| Dimensions | 12″D x 24″W x 10.5″H |
| Weight | 10 Kilograms |
| Material | Stainless Steel |
| Fuel Type | Electric |
The first thing that stood out in this PanDair broiler is its beautiful brushed finish. While looks are subjective and a lot of people will associate the brushed finish with cheaper aluminum, it is definitely stainless steel and I personally loved the design.  
Aside from that, this broiler once again employs an easy-to-use design with a simple temperature-adjusting knob and indicator lights. It will heat up in 3 minutes and then you can melt any type of cheese, toast your bread, or simply char some vegetables.
The PanDair broiler is shockingly good at all of the things mentioned above and more. Where the BB Prime broiler has found a home in my patio near my grills, this one will forever (or at least until it dies) live in my kitchen.
Pros: 
Quick heat-up time

Incredibly easy to operate

Easy to clean and Portable

Beautiful and robust design
Cons:
Polarizing design

Does not get very hot
How to Choose the Best Salamander Broiler for Home Use
While for professional kitchens, you can easily give one recommendation for every kitchen, the consumer market is not so simple. 
The best Salamander Broiler will be different for everyone and there is no one correct choice. So it is important to know what to look for and how to decide on one particular model. 
So let's see the defining and distinguishing points between different salamander broilers:
Maximum Temperature
This is, perhaps, the main point of interest for most potential shoppers in this category. The maximum temperature is not just a simple number on the specification sheet; rather it's the biggest indicator of what you can or can not do with your salamander broiler.
For example, broilers that can go up to 600 degrees will excel at melting the cheese on your grilled cheese sandwich or pizza but can not sear a proper steak.
Higher temp broilers that can go up to 1500 or more degrees will ensure that you can do almost everything required from a proper broiler.
So look at the temperature specification on the spec sheet carefully and decide which salamander grill is right for you.
Size and Mounting Options
Again, high-performance salamander broilers will typically be a lot bulkier and taller than the average ones. This means that you will require a lot more space for storage and portability will take a hit.
Additionally, it is very common for restaurants to mount a salamander on the walls. Consumer models are increasingly being equipped with this feature but not all models from every brand have the wall mounting option. 
Volume inside the Broiler
Another very important thing is the cubic area you get inside the broiler chamber. It is empirical for your own use. 
If you are fine searing one steak at a time, a small and compact broiler might work just fine for you. 
However, if you frequently throw parties or have a large family, the time to cook one thing at a time quickly adds up. 
So it may be worth the time to look into a salamander that has a lot of areas inside to work with.
This also goes hand in hand with the vertical space. While on the top most shelf you will always have the highest temperature, the degree reading quickly falls down as you go down shelves. 
So using separate shelves for cooking 2 of the same food is not an option unless you want different steaks to be seared differently.
Cost
This is yet another big deciding factor for potential buyers. While low-temperature broilers are usually available for very affordable prices, their feature sets reflect their pricing. Meaning you usually do get what you pay for. 
Assuming good quality and construction are must, there is nothing wrong with wanting a unit for a cheap price but in that case, you will have to settle for missing features and lower temperatures.
Gas Vs Electric Salamander Broiler – Which One Should You Get?
There is a final deciding factor and it is the most important one. That is why this battle gets its own section in this article. 
Gas Vs Electric is the quintessential question when it comes to picking a salamander broiler for your home kitchen. Gas has always been the defacto choice for professional settings however it has some disadvantages that make it unattractive for home use. 
Let's take a deeper look: 
Gas and electric broilers use gas and electricity respectively for their heating element. Gas burners will run exclusively on propane or natural gas and typically need a tank full of gas connected. 
They usually also do not require any power from the wall and some have a small battery for ignition purposes. Additionally, they use open flames for heating purposes.
On the other hand, you will have to connect an electric unit straight to the wall. It will not need any extra fuel or gas cylinder and typically use heat pipes and radiation heating for getting the job done.
This is another aspect where electric provides a bit finer control. Like our picks, most electric salamander broilers have a knob that can be used to control the temperature very easily. 
On the other hand, you have to physically control the gas input in most gas-powered machines and there are rarely any temperature knobs.
In a professional kitchen, ambient heat is not a big issue. However, a small home kitchen will struggle a lot if the ambient heat gets super high. 
This is an issue because, in gas-powered broilers, the amount of ambient temperature increase is pretty significant. This can create an uncomfortable atmosphere in the house.
Electric salamander broilers do not have such a problem and thus are perfect for homes where ambient heat control is a priority.
The maximum temperature you can get from a gas salamander broiler will typically be a lot higher than their electric counterparts and this is the chief reason why professional kitchens almost exclusively prefer gas models. 
The max temperature means that while an electric model might be sufficient to just melt a layer of cheese, a gas model will be able to brown it and get the coveted small bubbles.
So the advantages of each are pretty conspicuous from this discussion. Pick whichever one suits your needs as there is not really one right answer and you will be happy with whatever is right for you.
Conclusion
I, for once, wholeheartedly welcome this new wave of home cooks who are increasingly looking to utilize equipment that was once thought to be only for professionals. If you too choose to be a part of this revolution, rest assured that one of our 5 picks will definitely be the right choice for you. Just pay attention to what exactly you need and you'd be golden!