Stainless steel cookware has been a staple of professional kitchens for decades and one of the brands that excel at these kinds of pots and pans is All-Clad. 
To this day, All-Clad comes up in conversations about the best cookware is the top brand and they have no symptoms of slowing down either.
But if you already paid the king's ransom that All-Clad appliances cost, you should also pay close attention to the utensils you are using on them.
Every product is independently reviewed and selected by our editors. If you buy something through our links, we may earn an affiliate commission at no extra cost to you.
As it can definitely make or break the cooking experience. But what are the best utensils for All-Clad cookware? We're glad you asked!
Let's find out:
6 Best Utensils For All-Clad Cookware
The six best utensils for using All-Clad cookware range from wooden to silicone to stainless steel. Each kind has its own unique sets of pros and cons and since all the products we have listed below are sets, you will not have to worry about being caught without a particular niche utensil.
However, before picking just any of the six, we highly suggest you go through why we recommend them and why we might not for the ultimate buying satisfaction.
Stainless Steel Polished Tool Set By All-Clad
If we are talking about All-Clad cookware, it is only fair that we start with All-Clad utensils. This 6 set piece including a holder will cover all the basics around your kitchen while matching aesthetics with your cookware.
They come with a lofty pricetag sure but it is well worth it as they are professional-grade tools that will last you for decades. The compact set also has only the most basic tools you will need, making this set perfect for the minimalist or someone with limited kitchen space.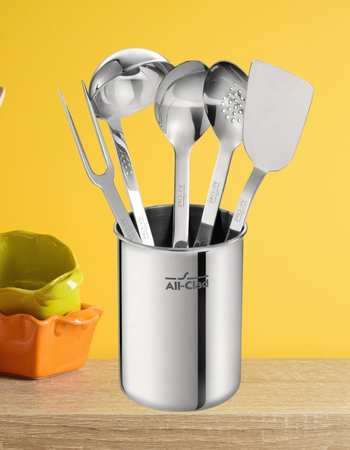 Top Features:
Polished Finish

Dishwasher Safe

Minimalistic Design

6 different tools included

18/10 Stainless Steel construction
---
Dishwasher Safe
This feature is one a lot of consumers actively look for and we are glad to announce that the All-Clad set has it.
After a long and tiring cooking session, you can just throw the used utensils inside your dishwasher without much worry and they will come out as clean as they ever were.
6 Different Tools
As we have mentioned a few times before, this set comes included 6 different pieces of equipment and they will all see used around your kitchen.
These 6 are one ladle, one slotted spoon, one solid spoon, one flat spatula, one carving fork, and one holder to keep all the tools organized.
The ladle has 4 ounces of capacity which is plenty for soups and stews and the other spoons or forks are all 13-inches in length. Except for maybe tongs, sieves, or whisks, you really do not need much else around your kitchen.
Polished Stainless Steel Build
You might prefer wooden or silicone utensils as they do not leave any scratches on stainless steel cookware while being usable with nonstick Teflon pans, you can not deny in terms of durability and handling, stainless steel reigns supreme.
All the products in this set are made of 18/10 steel and will leave scratches or scoffs on your cookware but at the same time will provide you with utensils that have great tensile strength and will not buckle while flipping fishes or stirring stews.
As an added bonus, they look exactly like the All-Clad stainless steel cookware for that matching look.
Included Holder
Sure you might already have a utensil drawer or hooks attached to your kitchen and in that case, the holder will go to waste on you. But for those who have limited space, this can well be a lifesaver.
It will save extra space in your kitchen while keeping them organized. And if brand recognition is what you want, there is a laser etching on the holder that will tell the world that you are a proud owner of All-Clad cooking appliances.
Utilitarian Design
Finally, as for usability, All-Clad paid very close attention to making this set as practical as possible. The lengths of the spoons and fork are perfect for all sorts of different applications and the ladle has a good enough capacity for regular use. You honestly will never be disappointed while using this set.
Pros:
Includes all the basics

Durable Stainless Steel Finish

Matching Aesthetic with All-Clad Cookware

Amazing handling with the best cooking experience
Cons:
Too expensive compared to competitors

Stainless Steel utensils can scratch cookware
Umite Chef Silicone Non-Stick Utensil Set
Let's assume you just spend a whole month's income on the All-Clad cookware and you plan to keep using them for at least half your life. We'll then we will deter you away from the ss utensils into the silicone variety and the Umite Chef 15pcs Silicone utensil set is our favorite silicone set currently available.
The main drawback with silicone happens to be that it is pretty flimsy by nature and it will bend easily if you are moving something heavy inside the pot.
But even with that, unite did a great job with their ss handles and sturdy food-grade silicone construction.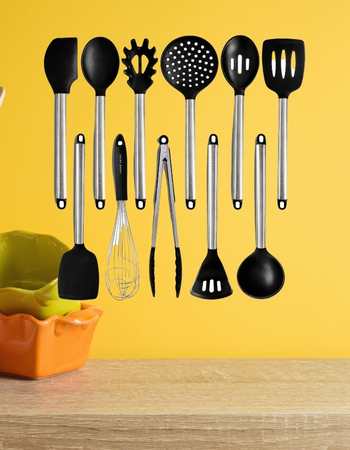 Top Features
15pcs set

Dishwasher safe

Included Holder

Stainless Steel Handles

High Temp withstanding food-grade silicone
---
Stainless Steel Handle
A lot of silicone sets in the market cheap out and use plastic and/or cheap metal for the handles. But Umite here went the whole way and equipped this set with high-quality 18/8 stainless steel handles.
This will ensure that the tools won't break or bend on you and can take years of abuse without any rust or bend. Also to prevent heat transfer from the pot to your hand, silicone sleeving is seen on the ends.
15 Different Tools
Yes, you read that right, this set comes with not 5 or 10 but 15 different utensils including a pair of tongs, one whisk, one solid spoon, two different slotted spoons, one ladle, one solid turner, one slotted turner, one spoon spatula, one slotted spatula, one spreader spatula, one flexible spatula, one basting brush, one pasta server, and one holder. Whew! That was a lot.
Additionally, all the allotted spoons, the solid turner, the solid spoon, the ladle, the pasta server, and the pair of tongs are 13.7 inches long with the other items being from 8 to 10 inches.
Overall every single piece here is useful to some application and you will literally never be without a single tool.
High Temp Withstanding Silicone
Due to their flimsy outer exterior and easily bendable quality, you might think this silicone set will melt under the temperature of the pot. Well, we are here to assure you that it won't.
The silicone used here is fully food grade and can withstand temperatures as high as 230 degrees Celcius or 446 degrees Fahrenheit. That is high enough that anything other than direct flame will literally do nothing to the utensils.
Consequently, silicone is also not-stick, so you really do not have to worry about your food getting stuck to the utensils.
Won't Scratch Your Pots
This is the key reason why home cooks everywhere tend to go with silicone utensils. Unlike metal tools that are hard enough to scratch the cooking surface, silicone will never leave a mark no matter how much you scrape.
Even on non-stick cookware, you can safely use silicone as the Teflon coating, while soft, is still harder than silicone.
Basically, this means, your stainless steel All-Clad pots will never get scratched or scoffed by the cookware even in a thousand years. We can not say the same about metal or ss utensils.
Different Colors Available
Sure this set will not match your pots and pans. But the availability of 8 different colors including rainbow and copper is enough to certify this set will fit right in your kitchen no matter what color you chose in terms of interior design.
Even if it seems minor to you, options are always nice and you can not really fault Umite for trying to provide their customers with a wide range of colors to choose from.
Pros:
Ergonomic Design

Non-stick cook head

Amazing Construction with SS handles

Inclusion of almost all kinds of utensils you will ever need

Dishwasher safe with a high-temperature withstand ability

Silicone is perfect if you plan to keep your cookware scratch-free
Cons:
The holder could be of better quality

Handling is not as good as SS products

Has a tendency to hold water inside the handle
Stainless Steel Nonstick Utensil Set By Home Hero
If the 6 tools of the All-Clad SS set were not enough for you and you still want a stainless steel set, behold the Home Hero 25 piece Stainless Steel Kitchen utensil set (and we made a big deal out of the 15 pcs Umite set).
This amazing Utensil set from Home Hero is the best of both worlds with silicone handle sleeving for a no-burn guarantee along with full stainless steel heads for superior handling.
While even in a 25 pcs set they have a few notable omissions but Home Hero makes up for it by including a few unconventional utensils that we are more than happy to see here.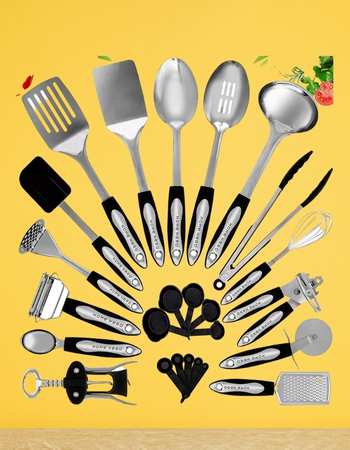 Top Features:
25 pcs Set

Dishwasher Safe

Includes Measuring Spoons

One Silicone Spatula Included

Full SS construction with Silicone Sleeves
---
Unique Inclusions
The cheese grater and the peeler are especially nice to see here. Almost every kitchen around the globe should have these two tools at its disposal anyway and it is nice to see them included here.
The ice cream scoop and wine open probably will not see much use except for in avid wine drinking households sure, but it is still a welcome inclusion.
The silicone spatula is something we really like, however, as it gives you at least something to work within a non-stick pan or in times where you are not feeling like scratching the pot.
25 Piece Set
It might be slightly controversial how Home Hero got to that 25 number as it counts two sets of 10 measuring spoons as 10 tools.
Take that however you will but other than that this set includes one solid turner, one solid spoon, one slotted turner, one slotted spoon, one potato smasher, one soup ladle, one whisk, one pair of tongs, one cheese grater, one pizza cutter, one can opener, one peeler, one ice-cream scoop, one wine bottle opener, and one silicone spatula.
While it is missing a pasta server and a few other tools, the unconventional variety more than makes up for it.
Non-Stick and Dishwasher Safe
Things like slotted spoons are often a pain in the butt to clean and it is nice to see that even with a complex silicone and ss construction, these are safe for the top rack.
They are also nonstick ensuring that you will not have chunks of food stuck to your utensil and get the perfect gravy from the fonde at the bottom of the pan.
Well Thought-out Design
Taking just one simple look at these tools, you will understand that a lot of thought went into the construction. The silicone sleeves are especially nice to look at and the SS accent also gives it a distinct look in your kitchen.
Besides, this means even if you leave a spoon in a pot, the handle will stay cool enough for handling.
Best Bang-for-the-Buck
At the price this set is offered at, 25 pieces (or even 16 counting the measuring cups as 1) is hard to beat. You are not really going to find a better variety of products at a better price and this really makes this set a no-brainer.
Pros
Great Customer Service

Nickel Free Stainless Steel Construction

The perfect blend of design and usability

Unique inclusions like cheesegrater and can opener
Cons
No Holder or Hook included

Notable omissions like the Pasta server
AIUHI Wooden Utensils Set for All-Clad
Stainless steel leaves scratch too easily and silicone is not strong enough. What to do then? Close your eyes and just pick up a wooden set. They offer almost the strength of SS while not leaving any mark on even Teflon pans like silicone.
AIUHI here has made the best wooden utensil set for All-Chad in our opinion. It is stylish with dark-grained wood, has all the basics covered, and offers a money-back guarantee.
We were also amazed at how durable they managed to make some of the tools here given that they have a 100% wood construction.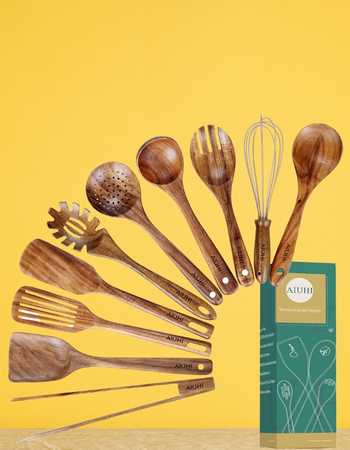 Top Features:
10 Pieces Set

Sturdy and Comfortable

Unique Wooden Aesthetic

Made from 100% natural Teak Wood

Can be Bought With or Without a Holder
---
Very Sturdy for Wood
As we all know, wooden utensils do not have the best reputation in terms of being sturdy. Especially for things like whisks or tongs, wood is not really the ideal material.
Having said that it left us scratching our heads on how AIUHI got this set to be as sturdy as they are.
Especially the whisk and the pair of tongs. Admittedly, when we received them, we did not think they will be useful for long or will give up on us, but even with repeated use, they held their own and are still working as intended to this very day.
Maybe this whole ordeal is owed to the 100% natural teak wood construction but either way it is great.
10 Different Tools
Much like the All-Clad set we talked about at the beginning of the review, this set tries to cover just the basics and nothing else.
Then again we can not really see a cheese grater or a can opener being made of wood so that is really fine.
With this set, you will get one spatula, one slotted spatula, one slotted spoon, one soup ladle, one salad fork, one strainer spoon, one mixing spoon, one pasta server, and one pair of tongs, and one whisk.
All of them range from 10 to 13 inches in length and are plenty long for all sorts of cooking applications.
Non-Stick and Non-Scratch
Using Teak wooden spoons with nonstick cookware is a great idea, and using wooden spoons for cooking with curved lines gives you a nice hand feel when cooking.
This set of kitchen wooden utensils set is very smoothly finished and has a pleasant touch feeling. It will not scratch or harm your favorite non-stick cookware and is dishwasher safe! If preventing scratches on your pots and pans is what you need, this is perfect.
Sturdier than Silicone
While great at other things, silicone kitchen utensils fall apart when it comes to flipping meat or something heavy. By design, they are bendy and can get into tough corners while the wooden build ensures that you can pick almost anything up with its tensile strength.
Sure it might be a bit too thick for things like eggs, but it's all about choosing the right tradeoffs.
Holder Hooks Available
AIUHI gets another point here as their set can be bought with or without a holding hook. The hook is also solidly built using metal and is perfect for the prolonged drying sessions wooden spoons call for.
If you already have a hook you can totally ignore this expansion piece but for those who do not already own one, it is a nice inclusion at a pretty reasonable price.
Pros
Surprisingly durable

Pretty long unlike other wooden utensils.

Wooden whisk and tongs are an engineering marvel
Cons
A bit too thick for some applications

Need to be careful with the washing as it will break if soaked in water
Stainless Steel Dishwasher Safe Utensils Set
We are all about options and if for any particular reason, you do not like the other two stainless steel options we reviewed, here is another fantastic choice. Including a holder, this set offers a total of 13 pieces in one set and they all are made of high-quality polished stainless steel.
Except for the spatula, tongs, and basting brush. All of which have a silicone head. The other expected inclusions like dishwasher safe and high durability are all available here and at the price, this set is a fantastic choice for any home kitchen.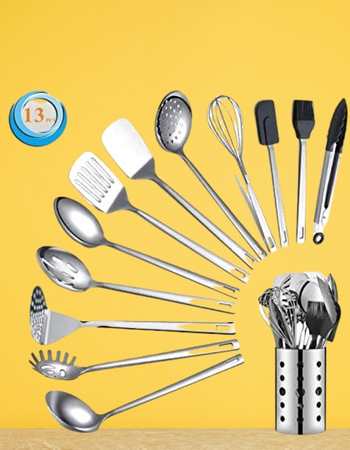 Top Features
13 pieces set

Great quality holder

Classic Stainless Steel Design

Easy to Clean and Dishwasher Safe

2.5mm thick Stainless Steel Construction
---
Classic No-Frills design
The design here with the stainless steel build is pretty basic here. But that is definitely not to say that they are bad-looking. In fact, it is actually pretty industrial, especially with the polished finish and we only wish they somehow managed to add silicone sleeves.
That is nothing a bit of extra care during cooking can not solve. So we still are big fans.
13 Different Tools
While knowing the other products from this round-up, 13 is not really an impressive number but as usual, we ensured it covers all the kitchen basics while having a couple of nice extras.
With this set you will get, one ladle, one skimmer, one slotted turner, one pasta server, one cooking spoon, one potato masher, one whisk, one slotted spoon, one pair of tongs, one flat spatula, one flexible spatula, one basting brush, and one holder.
The flexible spatula has a silicone head so that you have something to work on in Teflon, porcelain, or ceramic pans while the potato masher is a very useful addition.
Solid Construction
We won't bore you for words here as after we basically raved about ss being supremely solid throughout this entire article. All the good things we said about Stainless Steel apply here and you can kiss the durability worries goodbye.
All the tools can be bought individually
This is quite nice and caught our eyes early on with the product. As for some sets, if you lose or break one or two tools, finding a matching replacement can be next to impossible.
Here the manufacturer offers to sell all 13 of the utensils individually so that you can buy anyone to replace a broken or missing tool after the fact.
The Great Holder
The holder is the specialty here and that is because it has a nice perforated design. This helps as when you wash any utensils, it is crucial in terms of longevity that they dry properly. The included fantastic holder excels in just that.
You won't need to hand the utensils after washing for separate drying time as you can just chug them onto the holder and they will dry just fine.
Pros
Industrial Design

Great included holder

One Silicone Spatula included
Cons
Usual Downsides of Stainless Steel Utensils
Berglander Utensils With Holder Rack and Hooks
Finally, the last product of the day is another stainless steel set. But here the artificial inflation of the pieces included number is a bit too much. The manufacturer lists a whopping 38 pieces on the product page but makes no mistake that that number is so high due to them counting the 12 included silver hooks as one each, and the 10 measuring cups/spoons as one each.
In reality, this is more like a 15-16 piece set but even then it is still a great product with amazing usability.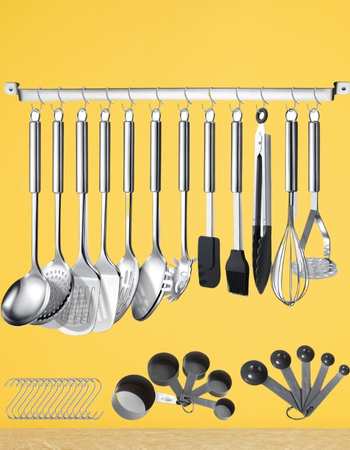 Top Features:
Rack Included

Durable Handle Design

Lead and PBA free design

38 piece set (16 in practice)

Colorful anodized finishes are available
---
Colorful Anodization
While the build is still stainless, you can get 4 different anodized finishes according to your taste. Silver, Gold, Rose Gold, and rainbow (our personal favorite) can all be bought for the same price. 
38 Piece Set
Let's address the elephant in the room first, we think it is criminal that Berglander is advertising this set as a 38 piece set when in reality it contains one basting brush, one flexible spatula, one flat turner, one pair of tongs, one slotted spoon, one whisk, one potato masher, one cooking spoon, one pasta server, one slotted turner, one skimmer, one ladle, 12 utensil hooks, 5 measuring cups, and 5 measuring spoons. 
We really think those last 3 things should be counted as two or at most three. But even with this, this set does cover almost everything you need.
Utensil Rack Included
Berglander does not just give the users utensils hooks, in the box, there is also a whole rack included in the box. You can easily drill this rack into your drywall and use it to hang said utensils. 
The attention to detail here is also nice as the rack comes in the color of your choice from the 4 abovementioned options. Oh, and it is stainless steel too and 17.5 inches in length for those of you wondering.
Great Handle Design
While there is no silicone sleeving, the implementation here is the second best with a thicker SS handle in each tool. 
This design simultaneously gives you a great way to handle the utensils with ease while being just heat resistant enough to be usable. The handle also gives each utensil a good amount of length at around 13 inches.
Other Regular Stainless Steel Goodness
Again, you really do not need us to tell you why stainless steel is so great again. Durability, food-grade, nonstick, dishwasher safe, this set has all the same things as the others mentioned above. There are not really any notable omissions.
Pros
Nice handle design

4 different Colorful finishes are available

Utensil Holder hooks and rack Comes Included
Cons
Artificially inflated piece count.
Finally, we are done talking about the current six best utensil sets on the market. If you prefer wooden or silicone to metal, there is one option each for you and they are currently market leading in our opinion. 
In the case of metal, stainless steel is the only type worth getting. Aluminum can leech harmful acidic elements into food and copper, while pretty, can be a bit too pricey without many added benefits. 
Overall, we can guarantee that any one of these six you pick, you will be satisfied.
How To Choose the Best Utensils For All-Clad Cookware
Concluding the review, we feel like it is important you understand how to come to these choices. We do not want to keep it a secret as they are just a few basic factors like:
Stainless Steel, Wooden, or Silicon
For All-Clad or any other brand of cookware, these three materials are the only options that you should seriously look at. 
Aluminum should be avoided at all costs and higher-grade metals are worth a look if you have extra cash lying around. 
Also, no matter which material you pick, please ensure if they are food grade and also pick a good kind from a reputable brand.
Durability
This factor is very self-explanatory as you obviously do not want a set that will kick the bucket within one or two years. Look at user reviews or manufacturer warranty to know better about the lifespan of a product.
Stainless Steel or Non-Stick Cookware
All-Clad makes both kinds and while for stainless steel any kind is fine as there will not be any damage to the cookware except visual, you need to pay extra care to what you pick if you own nonstick cookware. 
They are specifically soft and can be damaged beyond repair with heavy metal utensils like SS or copper.
Silicone Vs Stainless Steel Vs Wooden Utensils for Clad Cookware
Here is why you should pick each of the three kinds of utensils we talked about here.
Silicone:
If you do not want to scratch your Pots or pans

If you want a flexible utensil that can reach every corner of the pot

If you want something colorful and easy to wash

If you own a lot of non-stick cookware

If wooden is too thick for your handling needs
Stainless Steel:
If you want the best handling while cooking

If you want heftier tools

If you want tools that will last a long time

If you do not own much non-stick cookware
Wooden:
If silicone is not giving you the proper handling

If you do not want to scratch your Pots or pans

If you like the wooden aesthetic 

If you own a lot of non-stick cookware
Conclusion
Now that was a long one! But hopefully, you too learned something about the best utensils for All-Clad Cookware and which particular set is right for your needs. That is all for today and we hope with our help you can now make more informed purchase decisions for your expensive All-Clad pots and pans!!