When you have to choose between Char-Griller Griddle vs Blackstone, it's always a tough call even for the most experienced pitmasters.
They both offer some wonderful outdoor griddles with sturdy architectures and excellent heating elements.
Blackstone is surely a reputable name in the industry with so many compelling features in their wide range of griddle lineups.
Can a Char-Griller griddle match their level? Let's try to find out below!
Every product is independently reviewed and selected by our editors. If you buy something through our links, we may earn an affiliate commission at no extra cost to you.
Char-Griller Griddle Vs Blackstone Griddle – Which To Choose? 
Here I am going to put three of the top-selling models from each brand into a head-to-head comparison based on their features and functionalities. I will primarily focus on the griddle size, surface materials, number of burners, fuel source, and cost. 
Hopefully, the detailed analysis below will help you get the best griddle based on your BBQ needs. 
Char-Griller 3 Burner vs Blackstone 2 Burner Griddle
Upon reviewing the two products below, it's evident that both offer quite similar cooking areas. And the BTUs are almost similar as well.
However, the Char-Griller is a 3-burner gas griddle with a front grease management system. Contrarily, the Blackstone one is a 2-burner gas griddle station with rear grease management. 
Talking about the price, the Char-Griller one seems to be more cost-effective. Aside from that, both are very well-built and portable featuring a pair of wheels, foldable legs, and 1 side shelf. 
However, I prefer the Char-Griller one due to its  hinged lid.
Char-Griller 3 Burner Portable Outdoor Griddle
Char-Griller 3 Burner Outdoor griddle is an outstanding BBQ appliance to make your grilling experience better. It's a flat-top gas griddle with a lid that is black in color.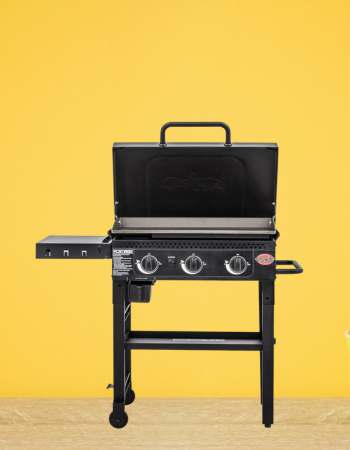 Top Features
Around 36000 BTU output

It has two wheels to ensure smooth mobility

Offers 520 square inches of cooking surface

A 3-burner portable gas griddle with precise heat control

Features a foldable side shelf along with a bottom storage shelf
However, the biggest benefit of getting this griddle is the heavy-duty steel construction. It literally lasts forever despite regular usage.
Thanks to the hinged lid, the grilling surface is protected when not in use. And I absolutely love this griddle for its incredible grease management system, credit goes to the front trough.
Oh, electric ignition makes the griddle easier to start. And there are wind guards to protect the burners from environmental elements.
Blackstone 2 Burner Restaurant Quality Griddle
Now, let's have a look at the prime specifications of one of the best-selling Blackstone products, the Blackstone 2-Burner Restaurant-Quality Griddle. It's also a stainless steel griddle with flat top construction. If you are looking for an ideal griddle top for camping or tailgating, this one's for you.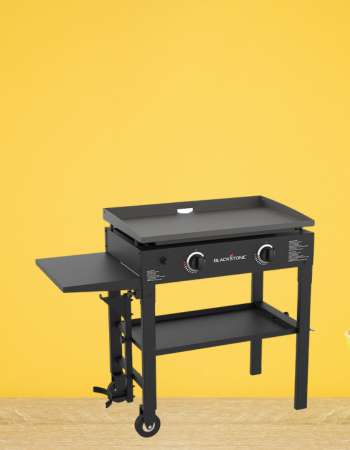 Top Features
Very easy to assemble

524 square inches of grilling surface

A battery-powered push-button ignition

A 28″ outdoor griddle station with 1 side shelf

Easily portable with the removable top, foldable legs, and wheels
The 524 square inches of the expansive cooktop will let you cook for the crowd. With the two-zones heat control, you can cook multiple foods at a time.
Additionally, it maintains a consistent heat flow throughout reaching 34000 BTUs. Naturally, you will not burn your food by overcooking them.
And thanks to the rear grease management system, you can enjoy a no-mess cooking followed by a hassle-free cleanup.
Blackstone vs Char-Griller Portable Griddle
Between these two top-notch griddle stations from the tabletop lineup of Char-Griller and Blackstone, the Blackstone 2-burner griddle is the clear winner.
It delivers double BTUs compared to the Char-Griller one from two H-style burners. Also, it has a wider cooking surface.
Though they both are made of sturdy steel materials, the Blackstone griddle again wins the race with rubber feet. It stays more stable on uneven terrains. Indeed, the Blackstone Tabletop Griddle offers better value for money.
Char-Griller Flat TableTop Portable Griddle
Here comes the 17″ Table Top Gas Griddle from Char-Griller. It's a flat-top portable black grill for those who are looking for a small griddle top at a moderate budget.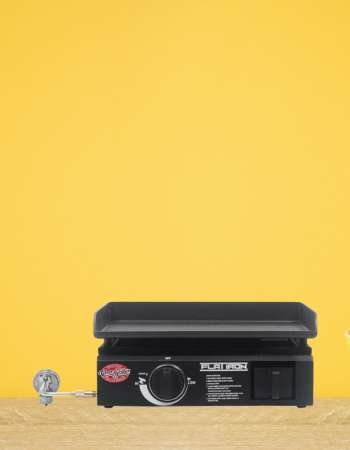 Top Features
264 square inches of cooking surface

Made of heavy-gauge steel to last longer

One-burner portable tabletop griddle grill

Starts easily and heats evenly for better grilling

Features a slide-out grease drawer for easy cleanup
Well, if you are inviting a few friends for dinner, this one-burner tabletop griddle grill could create the magic. It's a versatile BBQ grill that can cook eggs, pancakes, veggies, steak, burgers, seafood, and whatnot.
With the dimensions of 18″×17″×8″, it's quite lightweight weighing only 34 lbs. Being featured with integrated burner ignition, it has a burner control knob that turns 180 degrees.
Moreover, the 12000 BTUs make grilling more exciting with even heat distribution.
Blackstone Tabletop Portable 22″ Griddle
Talking of the Blackstone Tabletop griddle, it's a 2-burner 22″ portable gas griddle that has gas stovetop compatibility. It's indeed a must-have product if you love outdoor cooking without much hassle. You can literally carry it anywhere.
However, the key features are as follows-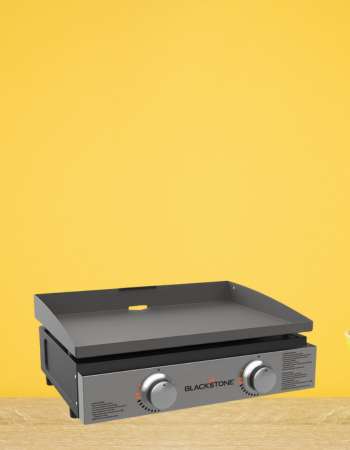 Top Features
Heating power: 24000 BTUs

361 square inches of cooking surface

Integrated grease management system

Equipped with 2 individual heat zones

Two H-style burners for even heat distribution
Well, the best feature of this durable gas griddle is the carbon steel construction. Moreover, the adjustable-height rubber feet make it stay stable on any surface. No matter how challenging the surface is, you can BBQ food at ease.
On top of that, it has a heavy-duty cooking surface that lets you grill eggs, steaks, burgers, hot dogs, and many more.
And two independently controlled heat zones ensure optimal heat flow throughout the griddle to let you grill faster.
Char-Griller 4-Burner vs Blackstone 4-Burner Griddle
While comparing these two, you will encounter a lot of similarities. They both come with a portable design with 4 stainless steel burners offering 60000 BTU output.
Moreover, the foldable legs and side shelves make them your perfect camping companions.
However, the Char-Griller griddle offers 55 square inches more cooking space. That's why it charges a little more.
The Blackstone, on the other hand, is equipped with some extra accessories like a paper towel holder, removable cutting board, trash bag hooks, and a rear grease tray.
So, if you want all these amenities in an outdoor griddle, go for the Blackstone 4-burner one. Of course, you need to sacrifice the grilling area.
Char-Griller Extra Large 4-Burner Griddle
Looking for a large BBQ griddle from Char-Griller? You cannot go wrong with their 4-Burner Gas Griddle in any way.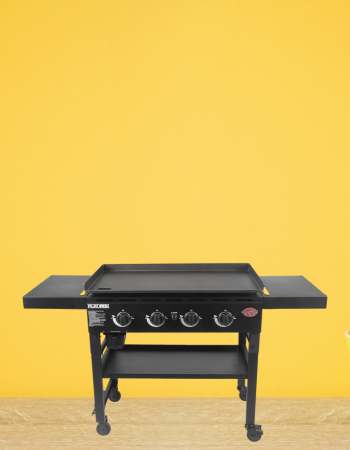 Top Features
Features a slide-out grease drawer

The integrated burner ignition makes it easy to use

A durable gas griddle with heavy-duty construction

60000 BTU output from four stainless steel burners

775 square inches of grilling surface to cook 32 burgers at a time
It's a premium full-size four-burner griddle grill with a flat and durable top. The heavy-duty steel griddle top is best known for the quick heating element from the U-shaped stainless steel burner.
With the 775 square inches of extensive grilling department, you can cook anything at home or on the go.
Blackstone Professional 4 Burner Griddle
Moving forward to the same segment of Blackstone, I got this Professional 4-Burner Cooking Station. It's a 36″ propane-fueled outdoor griddle that has an inbuilt cutting board, garbage holder, and side shelf.
However, let's look forward to its prime specifications below-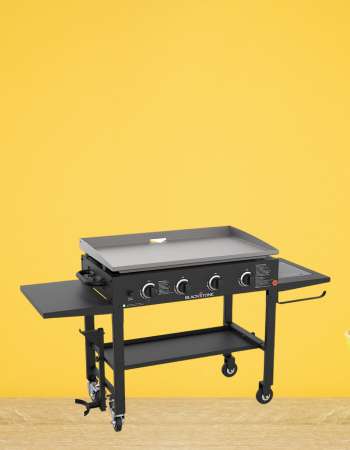 Top Features
Comes with a heat-resistant handle 

Features four caster wheels for easy movement 

Easy to start with the battery-powered push-button ignition 

Features Blackstone's signature rear grease management system 

Restaurant-style grilling with 720 square inches of cooking surface 
You get four adjustable heat zones here which let you cook several foods simultaneously. In fact, you can cook one food and warm the other at a time.
Although it's a large gas griddle with four burners, you can use only one or two when you are cooking for fewer people.
Best of all, the four industrial-strength caster wheels ensure secure footing of the griddle when you carry it to a campsite. 
Nevertheless, after comparing the best-rated products from both manufacturers, let's try to point out their key similarities and differences below.
The Differences Between Blackstone Griddle And Char-Griller Griddle
To break down the differences between these two industry-leading griddle makers, I had to take a close look at their versatile range of BBQ griddles. 
After analyzing most of their best-selling griddles in detail, the key differences are as follows-
Cooking Area
Although both brands offer a versatile array of griddle lineups, Char-Griller griddles come with a little wider cooking space on the whole. 
Take their 4-burner griddle for instance. The Char-Griller Extra-Large one comes with 775 square inches of cooking area. But the same 4-burner design from Blackstone offers 720 square inches to grill food.
Grease Management 
Well, both brands follow different grease management techniques in engineering their griddles.
In most cases, Char-Griller griddles have a front trough or a sliding grease tray to clean the griddles easily. Contrarily, Blackstone is famous for its rear grease management system.
Features and Accessories
In terms of additional features, Blackstone wins the race. They often come with some exclusive add-ons such as a removable cutting board, grease trap handle, paper towel holder, etc. to accommodate more grilling accessories. 
Certainly, it makes outdoor grilling easier.
Locking Wheels
Although both Blackstone and Char-Griller griddles include industry-grade wheels for easy mobility, Blackstone offers two locking wheels in their 4-burner lineups. 
Resultantly, you can lock the griddle at your convenient place. The  same 4-burner model from Char-Griller lacks this feature
The Similarities Between Blackstone Griddle And Char-Griller Griddle
As both brands have been ruling the griddle industry for years, naturally, their products are similar in many ways. Here I go with the similar features shared by their griddles-
Design
Whether it's a 2-burner, 4-burner, or tabletop lineup, both manufacturers have a similar design and build quality.  They come with a wide array of portable griddles resembling each other.
Durability
As stated above, they both use heavy-gauge steel to make their versatile griddle stations. The burners are usually architectured with stainless steel for long-term use. That's why both brands' products are quite durable.
Heating Power
In terms of heating power, they are close to each other. For example, the 4-burner models from both makers have similar BTU output. Other models also don't vary much if the burner numbers are the same.
Separate Heat Zone
If you prefer individual heating zones in your outdoor griddle, you can choose either. Because whether it's Blackstone or Char-Griller, most of their models come with adjustable burners. That means, you can control an individual burner separately. 
Why Should You Choose Blackstone Over Char-Griller?
Finally, it's time to recommend my favorite pick out of these two. Well, I vote for Blackstone griddles not only for their extraordinary build quality but also for excellent heat retention. 
Besides, they are faster and easier to make BBQing more fun. Best of all, they come with some exclusive add-ons in the 36″ 4-burner model.
In terms of heating power and price, they don't differ much though. But considering the value for money, Blackstone ones seem to be slightly more affordable.
Conclusion
As I provided a detailed comparison guide above on the Char-Griller griddle vs Blackstone griddle, making a choice between these two is hopefully easier now.
The Blackstone griddles are very well-built with lots of additional accessories and features.
The Char-Griller ones, on the other hand, offer a little more cooking space in the same size. But they cost a little more as well.
Overall, it comes down to choosing from a larger cooking surface vs extra features. You should definitely determine your grilling needs first and then make a purchase.