Looking for vacuum sealer bags? Then you must be struggling to decide on the thickness. Don't worry, you are not alone.
Most often people get confused between 3 mil vs 4 mil vacuum bags as thickness can make a notable difference in the strength. 
Usually, the bigger the bag, the more strength it should have. 
However, the most common form of vacuum sealing bags is 3 mil thickness. It is more than enough to get a reliable seal for storing fish or meat. 
But 4 mil bags are thicker and better for storing larger products with sharper edges.
That being said, let's compare some top products with both 3-mil and 4-mil thickness to figure out the better bargain.
Every product is independently reviewed and selected by our editors. If you buy something through our links, we may earn an affiliate commission at no extra cost to you.
3 Mil Vs 4 Mil Vacuum Bags – Which One You Need?
Before answering the question, I would like to know what is the bag needed for? To sous vide, or to cook food at a high temperature? To store food for a shorter or a longer period? To store your regular foods or to pack something jagged-toothed?
Why are you being so nosy? Because the answer lies within these questions. Usually, vacuum sealer bags are rated in mil where 1 mil is equal to 1/1000 of an inch. 
Let's have a look at the key comparison chart and my top 2 picks from both –
| Key Specifications | 3 Mil Vacuum Bags | 4 Mil Vacuum Bags |
| --- | --- | --- |
| Best For | Freezing, Refrigerating, Boiling, Sous Vide & Microwaving | Vacuum Packaging, Storing Foods & Vegetables, Cooking, & Transporting foods |
| Store For | Short Period of Time | Long Period of Time |
| Top Pick | 3 Mil Versatile Vacuum Chamber Bag | 4 mil Vacuum Chamber Pouches |
| Manufacturer | Online Packaging Solutions | UltraSource |
| The Hallmarks | Versatility, Durability, Easy access, Lock in freshness, Prevent freezer burn Extends food's life. | Versatility, Great Packaging, Perfect cooking, Safe storing & transportation, Looks flavor and nutrition. |
| Price | Check on Amazon | Check on Amazon |
Having two different smoothness on two different sides, the front side of a vacuum sealer bag is thinner than the back. 
On the other hand, the backside is usually textured and works as a one-way air valve by removing the air. 
If a vacuum sealer storage bag consists of 3 mil thickness on the front, it is rated as a 3 mil bag. And these bags are perfect to store food for a short period of time, one month, for instance.
4-mil bags are considered commercial-standard vacuum sealers bags which cost more than their 3 mil counterparts. But they don't vary in price tag only. Instead, they offer superior performance as well.
While storing food in the freezer for a long period, you need to use a bag with more texture and solidity. In that case, go for the measurement of 4 mils which is designed to keep food fresh as long as you want.
Suppose, you need to cook at a high temperature for a long time. You can surely use these sealing bags and they will keep the food intact without opening in the boiling water.
But in terms of high heat resistance, the 3 mil bags lack behind. You can only cook below 180°F. Also, chances are, bony meats or edgy substances will pierce the bags away as they are less strong.
But they do come with some exclusive amenities. For example, you can store them easily within the vacuum chamber even if there is not enough space. 
Being lightweight and thin, they are vacuumed better and conform to the exact shape of the food. As a result, thinner bags are easier to handle. 
Most importantly, they are extremely budget-friendly. So, if you don't want to dig much into your pocket, a 3 mil bag is the best bet.
However, before clicking on the Purchase button, please check on the manufacturers' disclaimer to know which type of vacuum machine it is compatible with. 
Most of the pouches reviewed below are meant to be used with vacuum chamber machines only. So, you cannot use them with a Foodsaver vacuum machine. 
On top of that, I suggest buying a bulk of vacuum sealer bags at a time to save some bucks. But you need to be sure that you like the bags in terms of thickness, material, texture, and sealing properties.
For your better understanding, I handpicked three top products from both categories and broke them down below.
Let's decide on the winner then!
3 Mil Vacuum Bags – Top 3 Picks
First, let's look forward to the best 3 mil vacuum bags to get a clear view of their suction power, build quality, and ease of use.
3 Mil Versatile Vacuum Chamber Bag
In the very beginning, Online Packaging Solutions offers you one of the most versatile collections on the list. With this 3-mil multipurpose vacuum pouch, you can freeze, refrigerate, sous vide, or boil food at ease. 
With unmatched versatility, this vacuum pouch lets you save money by preserving food with the best flavor. No more waste of your refrigerated food as it will not let them get spoiled.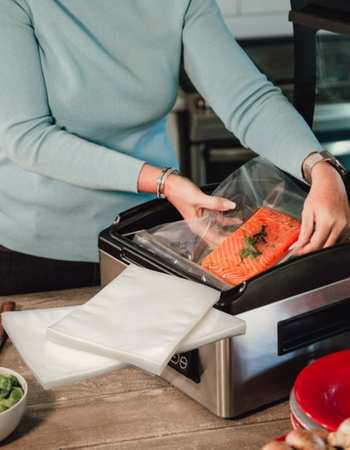 Top Features
Easy access with the tear notch

No freezer burn or dehydration

Commercial-grade performance

Preserves food flavor five times longer

Consists of 7 layer blend of poly/nylon high barrier
---
No matter how long you store them, you will get the same freshness. And thanks to the tear notch, you can open them easily to lock food within.
Being made to last, these pouches are both for home use and commercial kitchen. The 7-layer blend of the poly/nylon high barrier extends the shelf life of food up to five times.
Overall, it's a great deal to boil, freeze, or microwave your favorite food with perfection. And they will work with any chamber-type vacuum machine perfectly.
Pros
Reasonable price point

Works great in a vacuum chamber sealer

Retains food flavor and freshness for a long time
Cons
Not compatible with food saver style suction machine
Also Read: Weston Vacuum Sealer vs FoodSaver: Which Is The Best For Food Preservation?
UltraSource Durable Vacuum Chamber Bag
Next comes a great bang for your bucks in the form of 3 mil thickness. These UltraSource vacuum chamber pouches in the diameter of 8″ ×10″ seal the deal with optimum durability.
Similar to the previous one, it also offers an extended shelf life to the food without spoiling the nutritional value. Moreover, they are more than perfect for chamber-type machines with high-tech construction.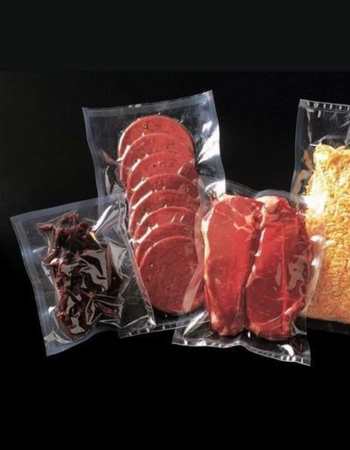 Top Features
Bags are BPA free

Durable 3 mil thickness

Comes in a pack of 1000 pieces bags

Stores fish, meat, cheese, or veggies perfectly

Locks in both food flavor and nutrition for a long time
---
Whether you store your favorite fish, meat, or veggies, these bags offer a stronger seal than the average sealer bags.
After sealing the bags, the food is preserved with similar air pressure and thus you can store moisture-rich food or liquids more efficiently.
Apart from that, the retail-ready high-clarity finish makes them more preferable both for selling products to the customers or storing food at home.
After a long period of storage when you get the pouch out, you can clearly see which pouch contains what. Best of all, they are very budget-friendly compared to the rival brands.
And thanks to the desired sealing properties, it results in no freezer burn or dehydration of the food while being transported.
Pros
Offers a consistent seal

Causes no product loss

High-clarity transparent texture
Cons
Feels a bit thinner than other 3 mil bags
Also Read: 5 Best Vacuum Sealer For Dry Aging & Umai Bags
Clear Vacuum Chamber Bags – 1,000 pcs
On the final spot, let's review the clear vacuum chamber bags with commercial-standard performance. They are, indeed, the most suitable bags if you want flavorful fish, meat, or veggies even after a long period of refrigeration.
Let's check out its key conveniences below.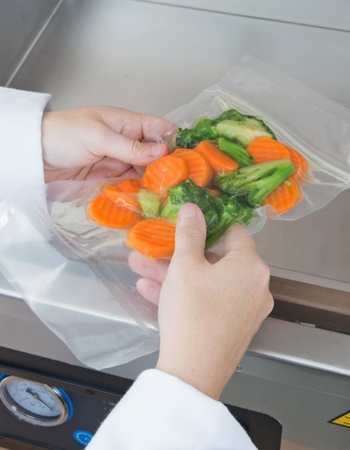 Top Features
Made for heavy-duty use

Offers extended shelf life

High clarity film to identify products easily

Made of high-quality polyamide/polyethylene

A multipurpose bag for freezing, boiling, sous viding or microwaving
---
Although this package comes a bit costly compared to the previous two 3-mil pouches, you won't regret getting it. Being made both for home and commercial kitchens, they contain completely food-safe material not to affect the taste or appearance of the food.
Want to chill or microwave food while retaining its original essence? Nothing can beat this vacuum bag's matchless versatility with ultimate thickness. Of course, you need to puncture them before microwaving.
Another thing you need to remember, they are made for chamber vacuum sealers only. So, don't use them with Foodsaver-style clamp suction machines.
Coming in a pack of 1000, these pouches do justice to the price tag pretty well. And the 15″ length and 6″ wide are perfect to store larger stock of meats.
Moreover, they offer optimal durability not to affect the food flavor while rough handling or tough transporting.
That's what makes them preferable for heavy-duty commercial usage.
Pros
Perfect for multipurpose use

High-quality food-safe material

No food loss, freezer burn, or dehydration
Cons
Also Read: How To Store Raw Chicken After Opening? Get A Step by Step Guide
4 Mil Vacuum Bags – Top 3 Picks
As 4 mil bags are blessed with more thickness, they are the best when it comes to accommodating a larger share of products with sharp edges or jagged corners.
On that note, let's overview 3 recent best 4 mil bags to have a fair fight between 3 mil vs 4 mil vacuum bags.
4 Mil Vacuum Chamber Pouches By Ultrasource
Here comes the 4 mil vacuum chamber pouches by UltraSource, one of the leading names in making industry-grade vacuum bags for chamber sealers.
As these pouches are super sturdy in construction and superior in solidity, you can expect the best sealing capability while storing meat, fish, cheese, veggies, or grains for further use.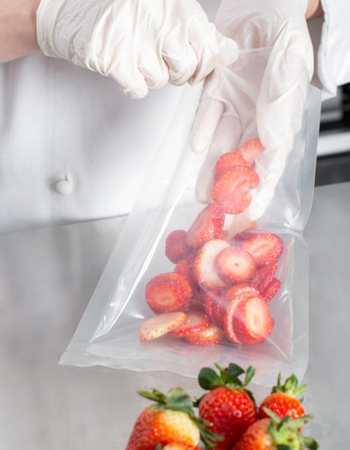 Top Features
Dimensions: 8″×12″

Comes in a pack of 1000 pieces

Made of premium-quality nylon

Durable 4 mil thickness ensures no product loss

Offers adequate sealing to lock in moisture and tenderness of the food
---
All pouches are BPA-free and contain food-safe material. Thus, they are preferable to retain the authentic extract of the food after being boiled, microwaved, or refrigerated.
Aside from that, the ultimate density of the bags keeps the food unharmed during storage or transportation. That's what makes them totally safe for commercial use as well.
That being said, you can also preserve the nutritional elements in food with these premium-quality vacuum pouches.
And the all-around viscosity lets them handle every product with ultimate care.
Also, we all know that UltraSource is the industry leader when it comes to providing strength and clarity in sealing bags. These 4 mil pouches are no different offering high-clarity film for effortless product identification.
Pros
Matchless sealing capability

Prolongs shelf life of the product

Seals liquids or moisture-rich foods unfailingly
Cons
Not suitable for foodsaver sealers
Also Read: How To Store Smoked Cheese (2 Effective Methods)
4-Mil Chamber Pouches By Vacmaster
If you are looking for the best vacuum bag for sous vide cooking, you can never go wrong with VacMaster. Let's break down its key considerations below to know what makes them such a great deal.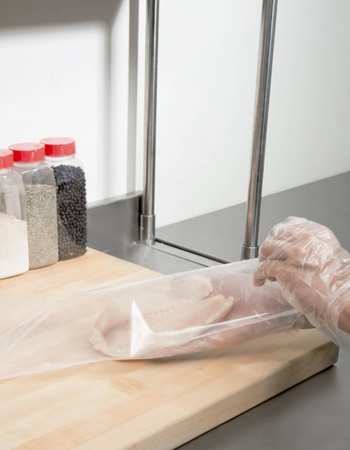 Top Features
Can store a large stock of food

Puncture and abrasion-resistant 

Transparent bags with clear visibility 

Suitable for any vacuum chamber machine

Made of a heavy-duty poly-nylon combination
---
Coming in a 100 pcs-pack, these pouches are the most cost-effective solution to store your food for a long period. 
Having desirable dimensions, they are preferable to store meat, veggies, cheese, grains, or fish in their authentic taste and color. 
As VacMaster left no stone unturned to make them durable, the long-lasting poly/nylon combo plays a vital role to make the pouches fight against puncture or abrasion.
They are perfect to store jagged-toothed items without any wear or tear. 
Although they are specifically designed for Vacmaster VP series chamber machines, they basically fit with any vacuum chamber. But they are not made for food-saver or any external suction machine. 
Whether you are boiling food or sous viding, it will fill the bill perfectly.
But you should not boil for more than 20 minutes using these bags. And make sure you make a small hole in the bag while microwaving food in it. It will let the steam out. 
All things considered, I highly recommend this VacMaster pack to keep the food fresh.
Pros
Extremely affordable

Food-safe and BPA free bags

Offers a secure vacuum and tight seal
Cons
Not compatible with the external suction machine
Universal Design Vacuum Sealer Bags
Thirdly, I have come up with the most affordable pick from the 4 mil bags. You can use them for storing both raw and cooked foods with ultimate safety.
The best part of these universal pouches is the 4 mil textured and embossed back panel. They even come with a bone guard not to be pierced in any way.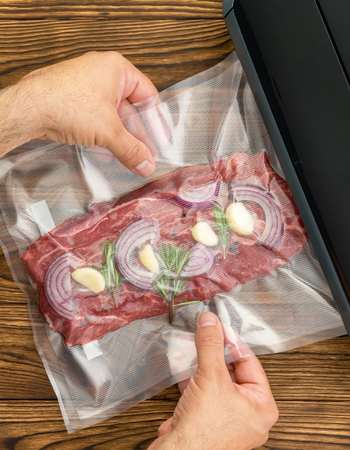 Top Features
3-6 times longer shelf life 

Extremely affordable price point 

Heavy-duty puncture proof material

4 mil front panel for added freshness

Consistent sealing by keeping the air out
---
To begin with the benefits, I must say that this is the best economical package you can have to store your food fresh.
The 11.5″×18.5″ bags are capable of battling against puncture, tear, or pierce.
With the food-grade PA+PE material, they are designed to lock in moisture both in raw and cooked food. So, you can store a variety of products within the sealers keeping their freshness alive.
More than that, I loved the leak-proof pouches for their all-around usages. Unlike other vacuum sealer freezer bags, they work with all types of vacuum sealer machines.
Also, these pre-cut bags have a universal design and texture to keep air and water out. Resultantly, they keep food fresh for 3-6 times longer than their contemporaries. 
In fact, they are professional-grade vacuum storage bags with maximum air removal and moisture lock capacity.
Pros
Prevents puncture and freezer burn

Dishwasher safe bags for an easy cleanup

Comes really cheap compared to a 100 pieces-package
Cons
They are a bit oversized to fit in the freezer
What Are The Differences 
Now, let's point out the differences between these two types of bags and see which wins over whom.
Strength
First of all, the two mil counts differ in offering strength and sturdiness. Naturally, the 4 mil bags are thicker, and resultantly, they offer more durability. 
Usually, 4 mil bags are leak-proof, puncture-proof, and abrasion-resistant. Although 3 mil bags are thick enough for cooking at a lower temperature below 180° F.
But if you need to cook at high heat over 180°F, 4 mil bags are mandatory. Also, 3 mil bags aren't pierce-proof against bony products. 
Ease of Use
However, being thinner, 3 mil vacuum bags are easier to use. They are lightweight and require less space within the vacuum chamber or freezer. Moreover, they are easy to handle conforming to the shape of the product you seal within. 
On the contrary, a 4 mil bag is a bit heavier than its 3 mil counterpart. Though they offer consistent sealing, they occupy a lot of space.
Cost
In terms of cost, 3 mil bags/pouches are the clear winner. They cost way less than 4 mils. So, if you don't need to seal a huge amount of food for commercial purposes, a 3-mil vacuum storage bag would do just fine at an affordable price.
What Are The Similarities
Moving forward to the similarities, I found some common features between them which make them each other's replacement. 
Versatility 
If you can choose the right product from a reputed brand, both 3 mils, and 4 mils thickness offers versatile performance in keeping the food fresh. You can use both the bags for refrigerating, freezing, microwaving, or sous viding.
No Product Loss
Being made of industry-grade material, they both ensure no product loss while storing or transporting food. Moreover, both the densities are perfect for both home and commercial kitchens. 
Extended Shelf Life
Keeping all flavors and nutrition intact, these vacuum storage bags keep the food fresh without spoiling its color or essence. And they extend the shelf life of the food to a notable extent.
How Thick Should Vacuum Seal Bags Be?
Depending on the food types and how long you are storing food, you should choose the thickness of a vacuum sealer bag.
Generally, professional sealer bags come with 3 to 5 mil thickness on the front. And 3-mil bags are better suggested for home use. Any sealer bag having a 4-mil thickness or more is recommended for commercial purposes. 
In terms of cooking, sous vide, and storing food for approximately one month, a 3-mil bag will suffice. 
But if you are storing food for longer than that or keeping meats with bones inside the bag, thicker bags will provide better strength and sturdiness.
Can You Use Any Bags With Vacuum Sealers?
Not at all. You shouldn't even try to vacuum seal with just any bag other than it is providing a good amount of barrier. 
A regular bag isn't leak-proof and that's why it doesn't tightly seal the food inside, rather it leaks oxygen. So, you should pick a bag with optimum thickness and less oxygen transmission rate. 
It also depends on what the bag is made of. Only high-grade materials can make the bags porous enough to remove all the air from it holding the vacuum inside.
Are All Vacuum Storage Bags The Same?
No, they aren't. Vacuum storage bags are available in a wide variety of types, storages, sizes, thicknesses, etc. For example, based on your requirements, you can choose 3, 4, or 5 mil thickness. 
Also, there are standard vacuum storage bags, hanging bags, roll-up storage bags, vacuum zipper bags, etc. to suit your demand. 
But the basic difference lies in the material and build quality. Heavy-duty high-thickness bags are the best to store meats with bones or pointed metal objects. 
Conclusion
That's all for today. Thank you for reading. Hopefully, you have understood the key distinction between 3 mil vs 4 mil vacuum bags. 
What we see from the reviews above is that they are not rivals to each other, rather they are slightly different in density and texture. That's what makes them suitable for different jobs, we guess. 
If your budget permits, go for the bags with a 4 mil count. They are better at storing edgy food items. Otherwise, 3 mil bags are okay to cook below 180° F or store your regular fish, meat, or grains.
Whatever mil count you go for, make sure the bags are well-built with rugged and robust materials.