Masterbuilt 560 is a smart, digital, and versatile charcoal grill with so many convenient features. 
But you need an efficient fire starter to start this workhorse without spending those tedious hours trying to light your charcoal. 
On that note, here I handpicked the 5 best fire starters for Masterbuilt 560. Instead of using lighter fluid to make your food taste less than its best, you can count on these charcoal starters to start a fire immediately.
Every product is independently reviewed and selected by our editors. If you buy something through our links, we may earn an affiliate commission at no extra cost to you.
My Hand Pick 5 Best Fire Starter For Masterbuilt 560 
With so many options available, it's surely intimidating to choose the right charcoal starter for your Masterbuilt smoker. To make your job easier, I tested a number of products and picked the best 5 based on their ease of use, speed, feature quality, cost efficiency, and durability. 
Here's a quick decision making chart –
| Key Features | Fire Starter 1 | Fire Starter 2 | Fire Starter 3 |
| --- | --- | --- | --- |
| Brand | Masterbuilt | Melt Candle | Rutland |
| Material | Paraffin wax | Wood, Wax | Wax |
| Count | 48 | 160 | 144 |
| Flavor | Flavorless | Tumbleweed | Flavorless |
| The Hallmarks | High quality material, Smokeless cubes, Burn up to 1300˚F, Reduce time to light & Value for money | Natural fire starter, Odorless, Weather-resistant, Burns when wet & Burns for 10+ minutes | Versatility, No flare ups, Lights even when wet, Easy to use, Light weight & Comfort |
| Price | Check on Amazon | Check on Amazon | Check on Amazon |
Let's explore the fire starters in detail below.
"A good fire starter is the spark that ignites the joy of a perfect BBQ."

Michael Chavez
Masterbuilt Gravity Series Fire Starters
Let's start our quest with the very famous Masterbuilt 48-Count Fire Starters. It indeed, offers the easiest way to light your charcoal grill in the shortest possible time frame. At the same time, it takes less time to reach your desired grilling temperature. 
The key amenities of this Gravity Series Fire Starter are as follows-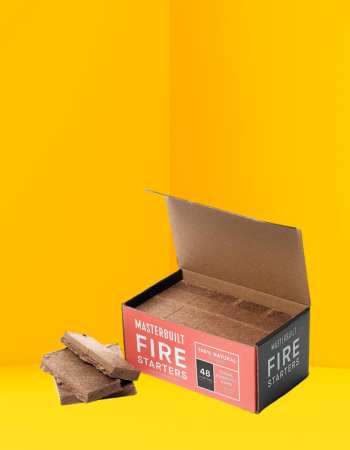 Top Features 
Great value for the money  

You can light them up even when wet

Catch fire quickly and last pretty long

Odorless and smokeless cubes burn up to 1300° F

Compatible with MB Gravity Series grills and other charcoal products
| Specifications | Parameters |
| --- | --- |
| Brand | Masterbuilt |
| Flavor | Flavorless |
| Item Weight | 0.5 Ounces |
| Item Form | Cube |
Once you get your hands on these Masterbuilt charcoal starters, you will no longer search for any fire starter ever, especially if you own a Masterbuilt 560.
Whether you try to light a charcoal chimney, an electric charcoal smoker, or start a campfire, they are just more than perfect. 
The best part is these charcoal starters are produced from pure odorless paraffin wax. Resultantly, you get an odorless and smokeless fire while grilling. 
The 100% all-natural formula is certainly a big plus if you want to enjoy your BBQ to the fullest.
Thanks to the clean and odorless burn, the authentic essence of your food won't be ruined.
You get 48 starters in a single pack which are easy to separate. Just make sure to wash your hands after breaking them off.
Talking about the budget, it's very affordable and therefore, offers great value for your hard-earned money. 
Rest assured that you won't regret getting them as your primary fire-starting companion for any charcoal grill or smoker. 
Above all, they burn for quite a long time with ultimate consistency to make your grilling experience better. 
Pros
Very affordable

No lingering flame or flavor

Lights faster and burns cleaner
Cons
The packaging could be improved
Water Resistant BBQ Squares Fire Starter
Secondly, I have a water-resistant option to start a BBQ, charcoal grill, or campfire. These are square-shaped fire starters from Melt Candle Company which are perfect for wood stoves or charcoal smokers. Coming in a tumbleweed flavor, they don't upset you with any off-putting smell though. 
Let's break down their key specifications below-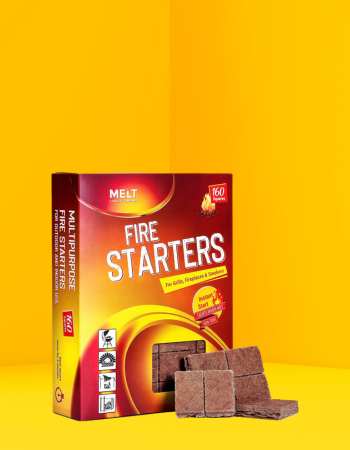 Top Features
Very easy to use

Made of wax and sawdust

100% natural fire starters with no odor

Burns for about 6 minutes even when damp

You get 160 pieces of squares in a single pack
| Specifications | Parameters |
| --- | --- |
| Brand | Melt Candle Company |
| Material | Wood, Wax |
| Flavor | Tumbleweed |
Enjoy a mess-free charcoal grilling with these fire starters that burn clean and odorless.
Despite being produced with a subtle tumbleweed flavor, they don't disappoint you with any off-putting smell when lighted up.
Coming in a square shape, each square piece has dimensions of 1.2″×1.75″. As a result, they burn for pretty long, 10+ minutes approximately. 
Thankfully, these natural grill starters are totally safe for use. Moreover, being both water and weather-resistant, these fire starters burn for up to 6 minutes even when wet.
You just need to break them off, place them in the desired fire location, and light them to start an instant fire in your grill. Easy peasy, right?
However, you get them in a 50-count and 160-count pack. The 160-count pack is more cost-effective though.
Pros
Suitable for both indoors and outdoors 

Doesn't add any unwanted flavor to food

Quick and easy to use with no kindling/paper
Cons
It takes at least 3 pieces to start a good fire
Rutland Flavorless & Safe Fire Starter
Are you looking for a large, powerful, and flavorless fire starter? All those terms absolutely go well with these Rutland Safe Lite Fire Starters. They are square-shaped charcoal starters with no toxic chemicals. Whenever you need to start your grill next time, rely on these natural fire starters to ignite the grill easily.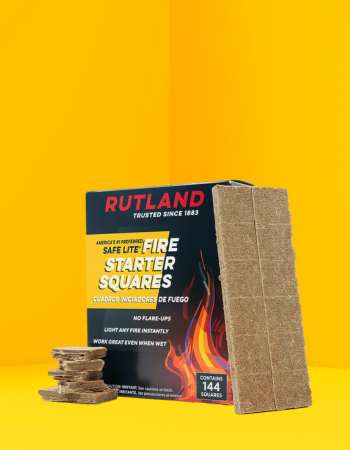 Top Features
Made in the USA

Work great even when wet

Non-toxic and environmentally-friendly formula

Flavorless fire starters with no dangerous flare-ups

Made of raw materials including recycled wood chips, wax, and paper fiber
| Specifications | Parameters |
| --- | --- |
| Brand | Rutland Products |
| Material | Wax |
| Flavor | Flavorless |
| Item Weight | 2.11 Kilograms |
| Item Form | Stick |
Since 1983, Rutland has been a trusted name for manufacturing reliable fireplace, chimney, and stove maintenance products. 
Their 144 Count SafeLite Square Fire Starters are awesome when it comes to instant light and fire for any charcoal grill/smoker.
Although the primary material is wax, these charcoal starters include recycled wood chips as well.
Nevertheless, that doesn't affect the overall quality of these starters. Whether you need to ignite a smoker, grill, fire pit, campfire, bonfire, wood stove, or chimney, these 50B square-shaped starters can do it all. 
I particularly loved the safe, all-natural formula of this product with no artificial flavor. As a result, it doesn't emit any odor while being ignited.
Further to the above, Rutland Products backed these grill starters with extensive laboratory testing. No wonder they offer such consistent results regardless of weather conditions. 
Aside from Masterbuilt 560, it is also compatible with Big Green Egg and Kamado Joe products. 
The dimensions per square are 1.75×1.5×0.375 inches. In most cases, you need 1-2 squares at best to get a good fire in your charcoal grill. However, you need to store them in a dry place to increase the shelf life.
Pros
Safe and easy to light

Reasonable price point

Produced with the highest quality control
Cons
I found the squares too big in size, even ¼ of the original size could be alright
Larger and Safer FireStarters by Bangerz Sunz
Have you ever heard the term massive and mighty? Yes, that's what these compact Bangerz Sunz Square Fire Starters are. Aside from retaining the original food flavor, it also lets you ignite your grill instantly without wasting time. 
In fact, you can minimize the messy charcoal grilling to a great extent with these natural and economical fire starters.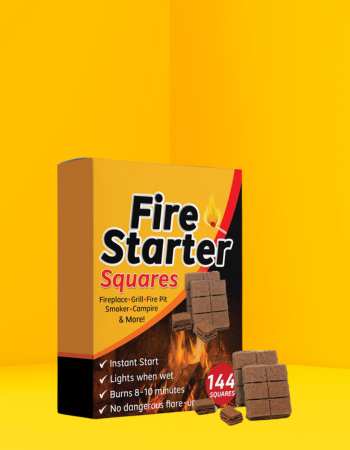 Top Features
Designed for all weather conditions 

Suitable for both indoors and outdoors

Made of non-toxic, recycled wood chips and wax

Easily combustible fire starters for super-fast ignition 

Emits 80% less carbon monoxide than other charcoal starters
| Specifications | Parameters |
| --- | --- |
| Brand | Bangerz Sunz |
| Material | Wood |
| Flavor | Flavorless |
| Item Form | Cube |
I personally loved these versatile and all-purpose fire starters for their consistent burning capability. 
Each square burns for 8-10 minutes steadily. Therefore, you can reach your desired temperature quickly. 
As already mentioned, Bangerz Sunz designed these starters for all weather conditions. That means they are weatherproof and you can start a fire even if it's raining.
Being made of all-natural ingredients, they contain no toxic chemicals to emit annoying smells. 
Besides, it's an eco-friendly fire starter to light up your charcoal smoker, fireplace, wood stove, and more.
Best of all, they ignite very fast with no dangerous flare-ups. So, even if you are using them for the first time, rest assured of your safety.
However, it's a bit challenging to break the squares apart. Try to bend them gently at the seams and hopefully, it will work to separate them. 
Pros
Inexpensive price range 

8-10 minutes of burning time

Starts fire instantly with no kindling or paper
Cons
The squares don't break cleanly 
All Natural Fire Starter Squares by Grill Trade
On the final spot of this discussion, let me introduce you to another dependable solution to ignite your charcoal grill at ease. I have Grill Trade Fire Starters at hand with natural wood flavor and exceptional burning capabilities. 
Let's break down its core specifications below for further analysis-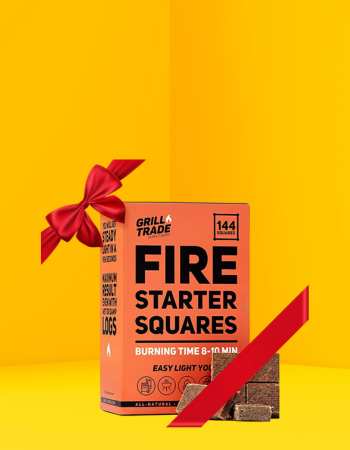 Top Features
Comes in natural wood flavor 

Offers an odorless and clean burn

Made of non-toxic, organic products

Infuses no off-putting taste to the meat

A budget-friendly package with 144-count fire starters
| Specifications | Parameters |
| --- | --- |
| Brand | Grill Trade |
| Material | Wood |
| Flavor | Natural Wood |
| Item Form | Pellet |
Whether you own a Masterbuilt digital charcoal smoker or a conventional BBQ pit, I suggest these fire starters for all. 
First of all, it's odorless, a mandatory feature for charcoal starters to facilitate fluid-free ignition of your grill.
Secondly, they light up a log, charcoal, pellets, firewood, or briquettes pretty quickly.  Without any kindling or paper fiber, you can start any charcoal-powered product immediately. 
Above all, these fire cubes are made of natural ingredients only. Whether you start a fire indoors or outdoors, rest assured to enjoy a smokeless, smell-free BBQ session ahead.
Reprocessed and refined pinewood along with food-grade wax are carefully collected to produce this unfailing fire starter. As a result, this is absolutely safe for cooking. 
Another great thing is that they catch the fire quickly to heat the grill faster. Naturally, you can use these firelighters for the grill, oven, stove, firepit, smoker, charcoal chimney, and whatnot. 
It is, indeed, a versatile fire starter from Grill Trade.
Pros
Leaves no smell of residue

Suitable for long-term storage

Pretty long burn time per square 
Cons
The squares are too small and fall apart easily 
Rutland Vs Bangerz Sunz Vs Masterbuilt Fire Starter  – Which Is Best?
If we compare Rutland, Bangerz, and Masterbuilt fire starters on this list, there are some common features for sure. At the same time, they oppose one another in some aspects. 
The Masterbuilt Gravity Series Fire Starters come in a 48-count pack which is designed to catch fire quickly. 
The smokeless and odorless cubes can burn up to 1300° F. And the key ingredient of these firelighters is paraffin wax.
On the other hand, Rutland Flavorless Fire Starters are made of recycled wood chips, wax, and paper fiber.
Here, you get 144-count square fire starters with no dangerous flare-ups. Plus, they start the fire instantly without infusing any toxic flavor into your food.
Well, the same goes for Bangerz Sunz as well. They are also flavorless being made of natural ingredients. 
The non-toxic recycled wood chips are mixed with natural wax to produce safe and eco-friendly charcoal starters.
Moreover, the carbon monoxide emission is 80% lesser with these all-weather grill starters. Talking about the burn time, each square burns efficiently for 8-10 minutes.
Compared to Bangerz Sunz and Masterbuilt, Rutland fire starters are larger in size. This could be both a plus and a minus though.
Sometimes, you don't need that large square and have to break it into half. This is, indeed, a hassle.
However, in the case of Bangerz Sunz, the squares don't come apart easily and cleanly. You need to put much effort into separating the squares from the row.
So, I found Masterbuilt as the safest option among these three.l The cubes come off without any hassle.
Not only does it catch fire quickly but it also burns in wet conditions for quite a long time. At the same time, it's very affordable as well.
So, considering all these amenities, Masterbuilt Brown 48-Count Fire Starters are the best bet in terms of consistency, cost-effectiveness, and ease of use.
How To Choose Best Fire Starter For Masterbuilt 560 Gravity Series
Whether you use lump charcoal or briquettes in your Masterbuilt 560, taking the help of a fire starter makes the ignition much easier. But you need to focus on some crucial factors to find the right fire starter. 
In my opinion, all the following aspects could make a huge difference between an average and up-to-the-mark charcoal starter. So, let's study them carefully. 
Material 
Whichever brand you choose, make sure they use only natural ingredients in producing fire starters. Any toxic or chemical components would leave a disturbing smell when you light the charcoal. Naturally, the authentic taste of your food will be affected.
Safety 
As I described above, all the fire starters on this list are safe to light. They don't give any dangerous flare-ups. You should also look for products devoid of safety hazards.
Durability 
How long the starters burn is also a matter of concern. Take the Grill Trade or the Bangerz Sunz fire starters for example. Their burn time is around 8-10 minutes per square which is really commendable.
At the same time, the squares burn steadily to achieve high heat faster.
Fire Catching Ability
If the rough edge of a square starter cannot catch fire instantly, it's a big no for your charcoal grill. You will end up waiting for a long time to light all the charcoal. 
Weatherproof 
A decent fire starter must be designed for all weather conditions. For example, the Masterbuilt fire starters light even when wet.
Packaging 
Packaging plays a vital role in deciding on the efficiency of fire starters. In most cases, you are going to store them for further use. If the packaging is not good, you cannot store the starters perfectly. 
Value for Money
Like any other BBQ product, you have a budget for fire starters as well, right? But what makes them a good value for your money?
Well, you need to compare the number of starters, size, dimensions, burn time, rate, etc. to the overall cost.
If you need a maximum of 1-2 starters to light the entire charcoal pile, it's a win-win situation. 
Ease of Use
Last but not least, the fire starters shouldn't give you a hard time when you need your grill in action. Sometimes, the squares or cubes, whichever form they come in, are difficult to break off. Sometimes, they just don't break apart cleanly.
All these could delay your BBQ session. So, look for fire starters that separate easily and catch fire instantly.
Conclusion
That's the end of this guide. I have compiled a list of the best fire starters for Masterbuilt 560 considering their prime features and functionalities. Needless to say, they are equally effective for other charcoal grills and smokers too. 
With non-toxic all-natural formulas, they top the list with absolute ease of use.  Plus, they are quite reasonable in price point. 
Regardless of your selection from the list above, you are going to enjoy the fastest and easiest charcoal ignition ever.
All the best!