So, you've decided to get a Blackstone griddle and narrowed it down to two options. If you're struggling to choose between Blackstone 1554 vs 1825, you're in luck. Because today's article is all about these two griddles.
Every product is independently reviewed and selected by our editors. If you buy something through our links, we may earn an affiliate commission at no extra cost to you.
As you can guess, there are a few similarities and dissimilarities between these two. You need to know all the aspects before jumping to a conclusion. So, let's take a look at which one would be the better choice for you.
Blackstone 1554 Vs 1825 – Which Suits You Best
Because both these griddles are from the same brand, you can expect the quality to be similar. But these models will not be beneficial for all customer bases.
Here's a quick comparison chart to make a better choice within a minute
| Key Features | Blackstone 1554 | Blackstone 1825 |
| --- | --- | --- |
| Material | Alloy Steel | Stainless Steel |
| Item Dimensions | 62.5 x 22 x 36 inches | 66.52 x 27.6 x 35.43 inches |
| Item Weight | 120 Pounds | 134 Pounds |
| Included | Side Shelf | Side Shelf, Cutting Board & Garbage Holder |
| BTUs | 60,000 | 60,000 |
| Cooking Area | 720 sq. inches | 720 sq. inches |
| Best For | Events, Parties, Camping, Home | Events, Parties, Camping, Home |
| Price | Check on Amazon | Check on Amazon |
You will find some attractive base features in both griddles. You can use the distinctive features to select one for yourself, based on preference. But first, let me give you an overview of which one will suit you better. 
Both griddles feature 4 burners, but the price point is different for both. The 1825 model is comparatively more expensive than the 1554 model. 
So, users looking for a more affordable option will certainly be happier with the 1554 model.
Now, the question is, what are you getting by spending the additional bucks on 1825? The basic features are almost identical in both griddles. For instance, the cooking area is 720 square inches for both griddles.
The primary difference between the models is the side shelves. 1825 comes with an improved side shelf that accommodates a removable cutting board.
In addition, there are hooks for a trash bag and a place for keeping paper towels.
These features may sound minor but it's amazing for keeping all your things together when you're cooking.
You can organize the things you need on one shelf, use the cutting board for doing any pre-cooking preparations, and the paper towels and trash back come in handy for wrapping everything up.
Users who want to eliminate their cooking time to enjoy the outdoors more will certainly be happy to pay those extra bucks for the improved side shelves.
On the contrary, users who want an excellent griddle but do not care about the improved side shelf will be more comfortable with the 1554 model.
The affordability always makes the 1554 model for the winner. Because almost all other features are similar for both griddles.
So basically, when you're paying the extra bucks, you're paying it for the chopping board and improved extensions.
Then again, the price difference isn't huge either. For an extra cutting board, trash hooks, and paper towel holder, the price is certainly worth it.
In the end, the preference comes down to the user. If someone is willing to spend a few extra bucks to get some advanced features, they will be happy with the 1825 model.
There are a few other features that differentiate one model from the other. However, those differences also come from the same reason- the side shelves.
Two such differences are the dimension and the weight. I've explained them in detail in a later section.
Blackstone 1554 – 4 Burner Professional 36" Griddle
The Blackstone 1554 griddle is one of the favorite units among users who value affordability. It's equipped with a lot of high-end features yet comes at an affordable price range. Let's talk about these features.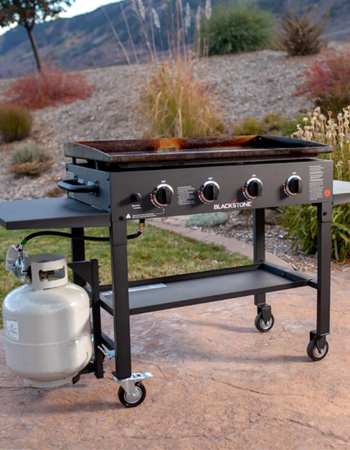 Top Features
Durable material

Industry-grade wheels

60,000 BTU total power

4 stainless steel burners

720 square inches of cooking surface
---
The cooking area is very large compared to the price range. 720 square inches cooking area allows you to cook for as many people as you want.
In addition, the four stainless steel burners let you control the cooking procedure with efficiency.
You can create separate heat zones to cook different types of dishes at the same time. The rear grease management system makes it easy for you to remove the excess grease from food.
However, you have to be a bit careful because small food particles can fall off the surface with the opening and fall into the grease tray.
The side shelves serve different purposes. The primary job of these shelves is to accommodate the necessary things required for cooking. You can keep everything organized on these shelves.
Besides, you can also store the propane tank and Blackstone griddle cover beneath one shelf to keep the area tidy. The bottom shelf does the job of keeping the tools, spices, and accessories required.
Two major concerns in cooking are portability and ease of cleaning. This griddle passes with flying colors in both these aspects. You can use the griddle to cook a wide range of food without worrying about hot spots and cold spots.
Overall, this is one of the best griddles in the affordable price range available in the market.
Also Read: Pit Boss Griddle Vs Blackstone Griddle – Has Blackstone Met It Match?
Blackstone 1825 – 36 Inch Flat Top Gas Griddle
The Blackstone 1825 has some amazing features to offer compared to traditional griddles. The price range is a bit on the high-end but it's still affordable compared to most griddles that offer the same features.
With a durable quality and sturdy build, the griddle lasts for years. You can use the unit without damage in an outdoor setting, regardless of the weather.
There is a bottom shelf, one side shelf, and a chopping board shelf on the other side.
Top Features
Easy to use

Sturdy construction

Hooks for a trash bag

Four high-quality burners

Rear grease management system
---
You will also get hooks for a trash bag and a paper towel holder. These features make your cooking convenient, as you can keep everything near at hand. Making the accessories accessible is one of the major benefits of having an organized griddle unit.
There are four individually-controlled burners that you can use to create separate heat zones. In addition, the large cooking area allows you to cook for a lot of people at once.
The handle on the griddle is covered with plastic material, which makes the handle heat resistant. You can operate the griddle with your bare hands.
Features like automatic ignition, transportation wheels, and the rear grease management system help the griddle stay on top of the list of the best products. There are one or two downsides to this unit though.
One of them is the price. If you are willing to let go of the fancy features, you can get a griddle in a more affordable price range.
However, the extra bucks are certainly worth spending if you have the budget for it.
What Are The Differences
As this is a comparison review, you can guess that there will be differences between these two models. However, you will be surprised to see that the differences are very few in number.
They're literally only two differences between these griddles. Let's take a look at them.
Dimensions
The first basic difference between these two models is the dimensions. The 1554 model measures 62.5 inches x 22 inches x 36 inches. In comparison, the 1825 model measures 66.52 inches x 27.6 inches x 35.43 inches.
The latter one is comparatively larger in dimension. However, the cooking surface measures the same for both griddles.
Measurements of the improved side shelves create these differences in dimensions, while the surface measurements remain the same.
Weight
For the same reason explained above, the weights are different for both griddles. The 1554 model weighs about 120 pounds. In comparison, the 1825 model weighs about 134 pounds according to the product description.
This is another thing to consider because many users prefer lightweight griddles. For them, the lesser the weight, the better. So, even though the 1825 model is better compared to the 1554, the weight can become a downside for it.
Side Shelves
One of the most significant differences between the two models is the side shelves. The advanced model, which is 1825, comes with an improved side shelf.
There is an integrated cutting board that comes with the side shelf. You can also remove the cutting board for convenience.
You can place a trash bag directly beneath the cutting board, using the hooks. This comes in handy when you want your cooking process to be neat and tidy. Another thing that brings value to the table is the paper towel holder.
Unlike ordinary griddles where you have to keep the paper towel roll on the shelf, you can hang it on a holder with this griddle model. So, using the towels becomes very easy for the cook.
The 1554 model does not feature any of these. There are two side shelves without any fancy features mentioned above.
Price
As you can guess, the 1554 model comes comparatively cheaper. Even though the difference isn't very high, people searching for an affordable option will be happy with this model.
On the contrary, if you want some extra features, you will have to pay a higher price for the 1825 model.
As you can see, the models are different in the matter of dimensions, weight, side shelf, and price point. So, consider all four aspects when deciding which one to go for.
What Are The Similarities
Apart from the differences mentioned above, these two griddles are basically identical in all aspects. Let's take a look at the primary similarities.
Cooking Surface
Let's talk about the cooking surface first. Both the 1554 model and the 1825 model come with 720 square inches of cooking surface.
That's a very big area to cook anything you want. The entire surface gets evenly heated when the burners are utilized properly.
You can basically cook anything on top of these griddles. The food types aren't limited. So, the range widely varies from omelets, quesadillas, pancakes potatoes to steaks, burgers, and Teppanyaki style foods
Durability
There is no question regarding the build quality and the durability of these griddles. Blackstone only uses the best steel materials to create these units so you can expect to run them for an extended period.
You won't have to compare the units based on durability because both of them are extremely durable.
Transportation Wheels
To make the griddles easy to transport, there are four wheels on both griddles. These wheels are extremely convenient to move the griddle from one place to another. In addition, to keep the unit steady, two of the wheels come with locks.
Industry-grade caster wheels not only keep the unit steady but also make portability a piece of cake for the users. Such large units certainly need to be portable for moving outdoor with ease.
Burners
There are four stainless steel burners on both griddles. Each burner can offer 15,000 BTU of power, which sums up to 60,000 BTU in total.
You can create separate heat zones using these burners to cook different food types at the same time.
These burners also ensure an even heat distribution through the entire cooking surface. So, even when you're cooking for a large crowd, there won't be any unevenly cooked food on the plate.
In comparison, you can also use the griddle to cook for fewer people. If you don't want to use the entire surface, simply use one or two burners to cook for a small crowd.
All four burners are individually controlled, allowing you to be more precise with your cooking amount.
Ignition
Both griddles come with automatic push ignition powered by batteries. This erases the necessity of using any extra tools to light the griddle.
In addition, the entire process becomes easier because the waiting time for lighting the griddles gets reduced to zero.
Overall, the ignition system is identical and super-convenient in both griddles. So, this won't be a deciding issue when you're comparing these two units.
Rear Grease Management
All new griddle models from Blackstone feature a rear grease management system. Some people are happy about it, whereas some find it a bit difficult to control.
The grease tray is situated at the back to allow you easy access to both the surface and the grease tray.
It's convenient to push the oil further from you than removing it from the front. So, this feature is similar for both models.
As you can see, the basic features that count, are similar in both griddles. So, no matter which one you go for, the griddle will be worth the money you spend.
Is Blackstone 1984 Better Than The Others?
Another considerable Blackstone griddle model is 1984. If you compare this one with the others, you will certainly notice a few extra advanced features on this one.
However, whether it's comparatively better or not entirely depends on your preference.
The first thing you need to know is that it's comparatively pricier than the options I have reviewed. So, if you want to consider this griddle, you will have to add a few extra bucks to the budget.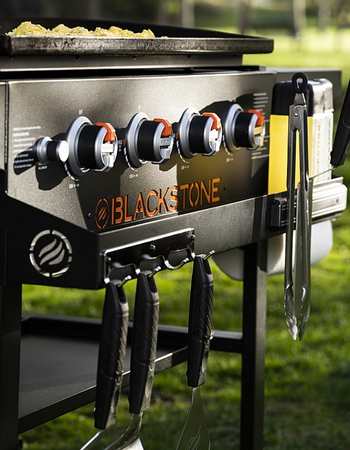 ---
Most of the features I have mentioned with the other griddles, you will find in this one. So, what is extra that you're getting here? 
Well, the primary benefit is the larger cooking area. Unlike the previous ones, this one comes with a larger cooking area. It's also comparatively lightweight. 
There are two side shelves, a magnetic strip for storing your tools, and a paper towel holder.  Overall, it's a very convenient unit to have, if you're willing to spend a few extra bucks for the griddle. 
Is Blackstone 1825 Worth The Extra Money?
Whether Blackstone 1825 is worth it or not, entirely depends on users' preferences. If someone is okay with the price point and fancies the improved side shelf, they should certainly invest in this griddle. 
On the contrary, users who are trying to find an affordable option and don't care about fancy features will certainly be reluctant to choose this griddle. 
However, it can be said that the unit is reasonably priced. Whether it's worth it or not is decided by the buyer.
Other Blackstone Griddles You Should Consider
If you are still confused about the grills you've narrowed down to, there are a few other options you can consider. I've added a few other griddles from Blackstone which might be suitable for you. 
Blackstone Adventure Outdoor Griddle
If you're searching for a smaller-sized grill, getting this two-burner outdoor grill will be an excellent choice. It's a 28-inch griddle from Blackstone that offers similar durability to the pricier ones. 
Speaking of price, it's an affordable option because of its small size. However, the total power offered by the griddle is also comparatively lower. Other features like portability, easy ignition, and easy cleaning are all available with this unit too.
Blackstone Tabletop Griddle
If you want an even smaller one than the 28-inch griddle, consider this 22-inch tabletop griddle. The price is also lower than the previous one. It only weighs about 32 pounds so you can carry it anywhere you want.
The cooking area is 339 square inches that reside over two powerful burners that deliver 24,000 BTU. You can experience optimal heat distribution and perfection in cooking when using this unit. 
Blackstone Tailgater Griddle Combo
This one is a grill/griddle combo. If you don't want to compromise one option to get the other, this will be a perfect choice for you. Besides, the features are pretty standard too. You may have to adjust your budget a bit to get this amazing outdoor unit.
With iconic durability, convenient portability, two burners, and lightweight design, you will certainly fall in love with this griddle combo. 
3 Similar To A Blackstone Griddle
If you're considering a griddle, there are other options to consider too. Unless you are fixated on Blackstone, check out the options below that work as excellent alternatives. 
Royal Gourmet Regal 2-Burner 22-inch Propane Griddle
This is an amazing 2-burner griddle from Royal Gourmet. It comes with a 484-square inch cooking surface and can offer up to 26,000 BTU in total.
There are two wheels on the stand to conveniently relocate it from one place to another. The griddle top is ceramic coated, so it doesn't take much time to heat up. As for the unit itself, it's made with high-quality stainless steel. So, you can expect it to last. 
Cuisinart 30-Inch Round Top Griddle
Even though the price is a bit high, this one from Cuisinart is absolutely worth the price. It's a beautiful griddle with a round and large cooking top. There are two side shelves that you can use for integrated cooking.
The griddle features three independent burners to make your cooking procedure more efficient. There's a lid for diversifying your recipes. You can control and adjust the heat pretty easily. Overall, it's one of the best griddles to consider as an alternative for Blackstone griddles. 
Country Smokers The Highland 4-Burner Portable Griddle
This is an extremely affordable option considering that it comes with 4 burners. It's not only lightweight but also constructed with stainless steel for durability. In addition, you will receive this unit pre-seasoned, so that's one less thing to worry about.
The legs are collapsible, which allows you to store and relocate the grill with ease. However, the major plus point for this griddle is certainly the cheap price.
Is The Blackstone Griddle Worth It?
The brand is popular for its quality griddles. Unique features, ease of use, durable construction, and affordable prices make the brand one of the most favorite among users.
So, the answer is yes. The Blackstone griddle is absolutely worth it, regardless of which model you're going for. Because the features that matter the most are solid in their places. So, you won't be regretting the money you spend on these units.
Is Blackstone grill cast iron?
No. Blackstone griddles are made of steel. However, you can use your cast iron on top of the Blackstone griddle if you want.
Are Blackstone products made in the USA?
According to its website, the brand designs and engineers its products in the USA.
Are all 36 Blackstone griddles the same?
The basic attributes are all similar for 36-inch Blackstone griddles. However, there are a few differences between them including, materials, prices, and additional features.
Conclusion
So, which one do you prefer between Blackstone 1554 vs 1825? If you still haven't decided, don't worry. Investing in a grill is a large step. Take all the time you need before buying the unit. If you want the extra features available in the upgraded model, see if you can bump your budget up a bit. A griddle is a long-term unit. So, you won't regret spending a few extra bucks.