People who are addicted to outdoor cooking must have heard about the industry-leading Blackstone griddles. 
But nowadays, a newbie like Pit Boss is giving hard competition to Blackstone with its versatile range of tabletop gas griddle collections. 
Every product is independently reviewed and selected by our editors. If you buy something through our links, we may earn an affiliate commission at no extra cost to you.
So, this write-up focuses on the Pit Boss Griddle Vs Blackstone Griddle debate to investigate which brand wins over whom in terms of features, feasibility, and functionality.
Of course, we will compare some of their top-rated griddle models head to head to give you a 100% neutral opinion.
Hopefully, you can decide on a better bargain between these two renowned names once you go through our review below.
So, let's dig in!
Pit Boss Griddle Vs Blackstone Griddle – A Quick Overview
Blackstone is an old fellow who has been providing extraordinary grilling accessories for years. Compared to them, Pit Boss is a relatively new brand in terms of making some power-performer griddles.
But they have come a long way with their flexible griddle collections to give Blackstone a strong challenge to protect their crown.
Well, Let's have a look at the quick comparison chart –
| Key Features | Blackstone Griddle | PIT BOSS Griddle |
| --- | --- | --- |
| Material | Alloy Steel | Stainless Steel & Cast Iron |
| Top Pick | Blackstone Flat Top Gas Griddle | PIT BOSS Pre-seasoned Griddle |
| Item Dimensions | 44.5 x 19.5 x 33.5 inches | 76.97 x 24.09 x 35.04 inches |
| Item Weight | 69 Pounds | 119.7 pounds |
| Burner | 2 | 4 |
| Cooking Space | 470 sq inches | 753 square inches |
| Wheels | 2 | 4 |
| The Hallmarks | Durability, Versatility, Included Items, Easy Cleaning, Advanced Technology, Portability, Secure Footing & Even Heating | Large Cooking Space, Versatility, Quality Construction, Mobility, Easy Ignition System, Attached Items & Easy Clean up |
| Price | Check on Amazon | Check on Amazon |
If you opt for replacing your age-old grill with a griddle, Blackstone 2-Burner Flat top one is a pretty decent choice. Whether you need to grill cheese, steak, or pancake, it will let you make at ease.
Moreover, the easy push-button ignition keeps all the headaches of outdoor grilling at bay such as carrying kerosene, charcoal, or matches.
Then again you can contact the manufacturers if you are not fully satisfied with their product. Blackstone is pretty flexible in these cases.
Compared to this hot cake of Blackstone, Pit Boss 4-Burner Deluxe is equally functional. Both have some similarities like 4 caster wheels for fast mobility and unfailing grilling expertise.
But being a 4-burner flat top product, the Pit Boss one is larger in dimensions, and therefore, offers a larger cooking area. Also, it beats the Blackstone behind by delivering higher heat resistance.
On the other hand, Blackstone is architectured with some specific features like a bottom shelf, two side shelves, easy assembly, foldable legs, and a rear grease management system to make cleaning a breeze.
Now, what griddle will suit your demands the best is totally your call to decide. Both have their own advantages though.
The Pit Boss would be better if you cook for more people. Also, the cast iron seasoning in the grilling surface makes it easier to maintain.
On the contrary, the Blackstone is less expensive. And due to the rear grease tray, it's easier to clean.
So, we would suggest you decide your pick based on what benefits are more suitable to make your grilling experience better.
Pit Boss 2 Burner Griddle Vs Blackstone Griddle – Which Suits You Best
PIT BOSS Ultimate 2 Burner Griddle is one of Pit Boss' hot cakes which is a black elegant griddle with lots of crowd-pleasing features.
On that note, this 2 burner-griddle is absolute bliss for outdoor barbecues with extreme portability, perfection, and precision. Let's check out its key specs first.
Top Features
Easy lift-off cooking top

Up to 26000 BTU output

Includes a detachable grease tray

Features chrome handle and knob

Offers 433 square inches of cooking space
---
Not long ago Pit Boss came into the scene but they stole the show with their ultimate series of lift-off griddles.
The best feature of this grilling accessory is the ceramic coated cooking surface which is extremely easy to clean. Just a gentle wipe and that's it!
Moreover, you can use the cooking surface straight out of the box, no pre-seasoning is required.
As it features a rugged and robust 2-burner cooking platform, rest assured it would accompany you quite well wherever you go.
Best of all, it is engineered with folding side shelves to hold cooking tools. And the chrome-coated handle and knob remain rust-free for the longest.
All things considered, this is a decent purchase as a lift-off griddle from Pit Boss.
Blackstone Flat Top 2 Burner Griddle
Moving forward to the Blackstone griddle, it also fills the bill for outdoor lovers with its power-packed performance. The striking features are as follows-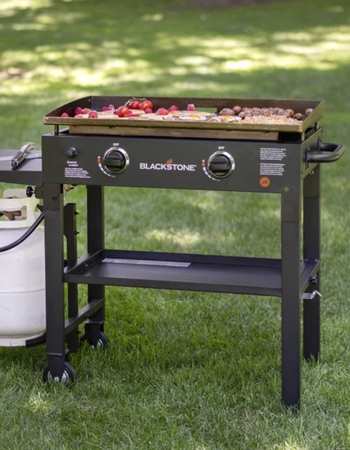 Top Features
34000 BTU output

Very easy to assemble

Battery-powered push-button ignition

Offers 470 square inches of cooking area

Includes four industrial strength caster wheels
---
Want to replace your grill with a flat top griddle? This Blackstone 28″ product could help.
What we liked the most about this super portable griddle is the push-button easy ignition. No more struggle to carry the match, kerosene, or charcoal. You can ignite it with a simple push.
Next, we loved the large cooking area to prepare breakfast, lunch, or dinner. And the four reliable wheels lessen the hassle of moving it from your backyard to a far away campsite.
Moreover, the removable griddle top is very classic in outlook.
Above all, the two adjustable heat zones seal the deal by letting you cook different foods at a time. And trust me, you will not burn anything.
And thanks to the powder-coated steel frame of the griddle, cooking, and cleaning becomes a breeze without creating any mess.
Comparison: If these two premium-grade griddles from two different manufacturers are compared, they differ in some crucial aspects.
Weight
The Blackstone one is more portable as it weighs less than the Pit Boss one. Also, the wheels are made of industrial materials to extend their transportability.
Cooking Surface
The Pit Boss provides 433 sq. inches of cooking surface whereas Blackstone offers 470 sq. inches. So, in terms of cooking space, Blackstone wins again.
BTU
One offers 26000 and the other delivers 34000 BTU output. Who do you think is the winner? The latter one, of course, is our all-time favorite Blackstone 28″ 2-burner griddle.
Longevity
Here Pit Boss is a bit ahead as it is made of a non-stick ceramic surface. Resultantly, it's protected from rust, scratch, or wear even after long-term use.
Price
Despite being 2-burner flat top griddles and sharing some similar features, both differ in the price range. The Pit Boss one costs way more compared to Blackstone. Therefore Blackstone is a better bet in terms of the best value for the money.
Also Read: Pit Boss vs Masterbuilt Smoker: Which One Reigns Supreme for BBQ Lovers
Pit Boss 4 Burner Griddle Vs Blackstone Griddle
If we handpick the most notable features of the Pit Boss 4-burner griddle from the deluxe series, PIT BOSS 4 Burner Gas Griddle is what it looks like-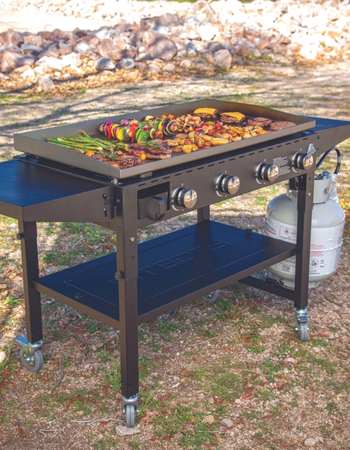 Top Features
Up to 62000 BUT output

753 square inches cooking area

Smooth and durable cast iron coating

4.7 mm properly seasoned griddle top

Made of premium-quality stainless steel
---
What we notice from the top specifications is that the Pit Boss Deluxe model in modern style is a truly heavy-duty grilling accessory with some striking features.
For example, around 62000 BTU measurement is no joke. That means it can withstand high-heat cooking to take BBQing to the next level.
Besides, the foldable design makes the tool absolutely portable on the go.
And thanks to the easy ignition system, it's a beginner-friendly griddle with a rapid cooking advantage.
However, the pre-seasoned cooking surface is another good reason to fall for it. Also, we would like to mention the front grease tray which made it very easy to clean all those cooking messes.
Although a bit heavyweight, the four caster wheels stood for the tool's rapid mobility.
Blackstone 4-Burner Griddle
Now, we want you to review two of the most famous 4-burner models from Blackstone to understand the basic differences between Pit Boss Griddle Vs Blackstone Griddle.
First let's compare these two Blackstone babies, Blackstone 1554 vs 1825 to explore their core amenities.
The 1554 model is made of alloy steel whereas the 1825 model is engineered with stainless steel. Having wider dimensions, the latter one is a bit weighty.
As an advanced version, Blackstone 1825 has some improved features. For example, aside from the shoe shelf to hold grilling tools, it had a cutting board and garbage holder as well.
Reasonably enough, you need to pay some extra bucks for those extra features in the case of 1825.
Howsoever, they do share some similar specifications as they belong to the same brand. Let's look forward to them.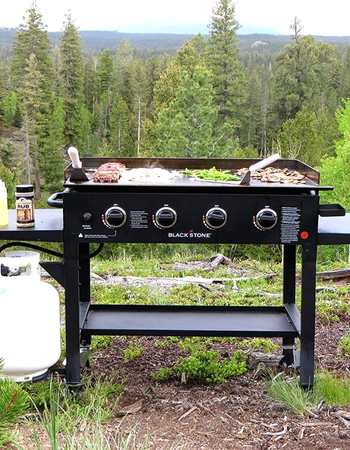 Top Features
Made of durable material

Offers four burners for cooking

720 square inches of cooking space

60000 BTUs overall, 15000 of each burner

Four convenient wheels, two of which come with locks
---
Comparison: If you prefer a four-burner cooking platform, what will you go for, Blackstone or Pit Boss? Let's try to figure it out.
Cooking Area
Pit Boss outplays Blackstone here with a larger cooking surface of 753 square inches. But both the Blackstone models offer 720 square inches of space.
BTU
Again Pit Boss stands out from its competitors including Blackstone by offering higher heat holding capacity with 62000 BTUs. The Blackstone models are no less as well. They offer around 60000 BTUs for high heat grilling.
Grease Trap
In the Pit Boss, you get the front grease trap for keeping the cleaning process hassle-free. But Blackstone offers better support by giving you two options to choose from- front or rear grease tray.
Pre Seasoning
Being pre-seasoned with premium-grade cast iron, the Pit Boss product is more durable and corrosion-resistant. That's where Blackstone lacks behind as it's not that non-corrosive, rather requiring regular cleaning and seasoning.
Blackstone Vs Pit Boss Tabletop Griddle
In the field of the tabletop gas griddle, slowly but steadily Pit Boss is making its place. On that note, let's break down what benefits their Table Top 2 Burner Griddle model has in store to offer.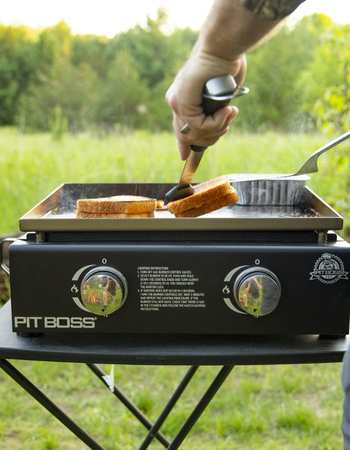 Top Features
Four non-slip legs

4.7 mm thick griddle top

Very lightweight construction

289 sq. inches of cooking surface

Propane-powered easy to operate dual burners
---
Similar to the Pit Boss 4-burner gas griddle, it too has a 4.7 mm thick and pre-seasoned cooking surface to last forever. Yes, that cast iron coating is that strong. That's what is the USP of all Pit Boss grilling tools, we guess.
However, the two separately controllable burners are very easy to ignite. You just need to push the switch to turn it on.
As a tabletop griddle, it needs constant support and that's what its no-slip legs do. So, you can use it both indoors and outdoors without any hassle.
Be it cooking pancakes or omelets, Pit Boss is ready to be your best cooking partner with a fast and facile clean-up after cooking.
So, it is gaining more and more love over time.
Blackstone Table Top 2 Burner Griddle
Talking about this 22″ tabletop griddle from Blackstone, all we can say is that it's a heavy-duty grilling tool you must try. Being architectured with high-quality alloy steel, this is a griddle you can trust anywhere.
Let's see how power-packed performance it delivers in practice.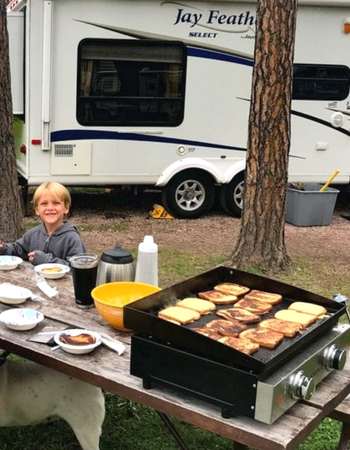 Top Features
24000 BTU count

Features a rear grease trap

Dimensions: 22.5×19×9 inches

Cooking surface: 339 sq. inches

Compact and versatile craftsmanship
---
Among all other amenities, what drew our attention are the two H-style burners for even heat distribution. Resultantly, you can expect smooth and burnt-free cooking of whatever you make.
Besides, the built-in ignition systems make the burners separately operable. That means you can cook two different items at two different temperatures at a time.
You can even cook one item and warm the other if required.
Above all, the versatile tabletop griddle is equipped with an exclusive grease management system to make after-cleaning a hassle-free process. Hope that helps you stay worry-free and enjoy your grilling to the fullest.
Comparison: Now it's time to have a head-to-head comparison between these two industry-leading gas griddles.
Price
Usually, Blackstone griddles are more budget-friendly. But in this case, Pit Boss is a bit less expensive with almost similar advantages and functionalities as Blackstone.
Grilling Surface
The Pit Boss Tabletop 2-Burner Griddle comes with 289 sq. inches of main grilling area whereas the Blackstone provides 339 sq. inches. That means the latter is more convenient to cook for crowds.
Ease of Cleaning
Although both the griddles are pretty effortless to clean and maintain, the exclusive rear grease trap makes the Blackstone more comfortably cleanable.
All things considered, it comes down to users' preferences and what griddle they would go for.
Pit Boss Vs Blackstone Portable Griddle
Next comes another very popular model from Pit Boss, their portable black gas griddle with two burners. Unlike most other Pit Boss griddles that have a 4.7mm pre-seasoned top, it has a 3.5 mm thick seasoning on the surface.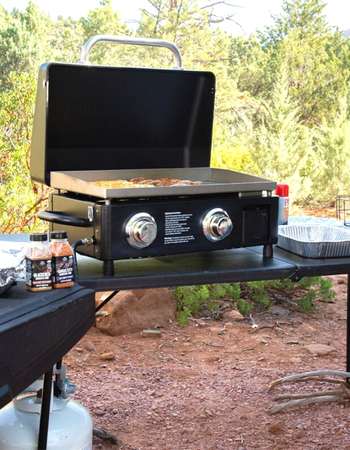 Top Features
Comes with a locking cover

18000 BTU stainless steel burner

Includes a grease management tray

320.76 square inches grilling surface

Dimensions: 32.68×19.69×14.06 inches
---
As already mentioned, it's made of industry-standard stainless steel. No wonder this griddle remains rust-free and corrosion-free for so long. If proper care is given, you can enjoy a long lifespan of this grilling tool without much hassle.
If you are preparing meals for 1 or 2 persons, literally you can have no better accessory than this 2-burner griddle. Being lightweight, it is very easy to carry wherever you want.
Moreover, it comes in a very reasonable price range compared to other portable griddles.
And the fold-and-go architecture lets you carry it for fishing, hunting, camping, and whatnot!
However, please remember that you should use it with the lid down while grilling something. That's how you can enjoy the best meal ever.
Blackstone Portable Griddle
Unlike the Pit Boss model from their Portable series, Blackstone costs more. But is it really worth the extra expenses? Let's try to figure it out.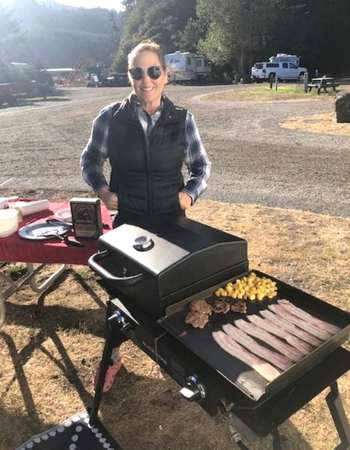 Top Features
Easy and effortless assembly

Includes easily adjustable legs

Two independently controlled burners

Comes with super sturdy cast-iron grates

One is made of cast iron and the other is an H-tube burner
---
Basically, it's a gas grill and griddle combo which comes in a package. That's why it's a perfect choice for picnics, camping, house-party, backyard BBQing, etc.
You will literally be blown away by the support its legs provide. They are so easily adjustable that you can set the griddle within seconds regardless of the ground.
Best of all, the versatility it offers is totally matchless. You can make use of both the grill box and the griddle top simultaneously. Otherwise, use the open burners as regular cooking pots.
Then again, it's highly desirable among the grilling aficionados due to its two separate burners. The cast-iron one offers 2000 BTUs whereas the H-tube one puts out up to 15000 BTUs.
In a word, the versatility and conveniences it offers as a grill and griddle combo are totally worth the hype and price for sure.
Comparison: Now you may ask that despite having a huge price gap, how come to these two products even compete with each other?
Let's find the answer below.
Cost
As the Blackstone one is a grill and griddle combo, naturally, it is more expensive and not exactly affordable if you have a shoestring budget. So, if you look for a budget-friendly pick, the Pit Boss one would just do fine.
Dimensions
In terms of weight and dimensions, Pit Boss falls behind the Blackstone. So, the latter would be a wise selection if you need to cook for more people.
Versatility
Certainly, the Blackstone is more versatile as you can use it in numerous ways. Be it as a grill, a griddle, or both- you can enjoy grilling to the fullest.
Cover
The Pit Boss griddle is blessed with a locking cover. On the contrary, you should look for some best covers for your Blackstone griddle to keep it protected off-season.
Pit Boss 5 Burner Griddle Vs Blackstone
Finally, let's compare a 5-burner gas griddle from both the makers. On that note, we have the Pit Boss 5-burner deluxe griddle in hand.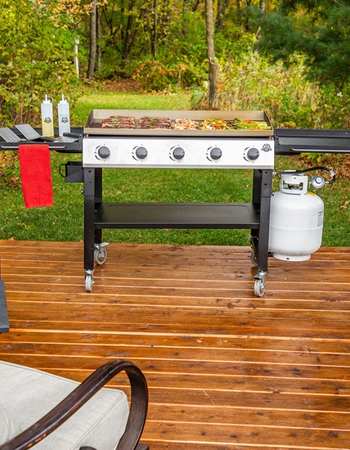 Top Features
5 heavy-duty stainless steel burners 

High heat resistance with 62000 BTU

753 square inches of large cooking space

A propane-powered heavy-duty gas griddle

Made of the finest stainless steel and cast iron
---
Nowadays, people tend to cook restaurant-style food at home, that too for family and friends. So, they generally expand their budget and look for more convenient grilling partners to cook quicker. 
That's when a 5-burner outdoor griddle comes in super handy. With this Pit Boss product, you can make breakfast, lunch, or dinner very easily.
More than that, it is a great deal as a gift for outdoor chefs with its unfailing high-heat cooking capability. 
Thanks to the heavy-handed steel construction, it's built to last. And all its users' reported that they found it effortless to assemble.
Overall, the griddle provides great value for the money with a larger grilling area. You can cook for around 20-30 people at a time. 
Blackstone 5 Burner Griddle 
If you want to take your outdoor grilling to the next level, look no further and add this 5-burner cooking top to your grilling arsenal. With this versatile griddle top, you can cook literally everything from pancakes to steak.
Top Features
Built-in cutting board

Easy electronic ignition

A 28″ flat-top burner with a hood

The built-in rear grease trap system

Features two cabinet doors for fast access to the tank
With easy access to the tank, this is one of the easiest to use griddle tops for beginners to experts. Blackstone truly stepped up in this arena by launching such an irresistible cooking top with five feasible burners. 
Some exclusive features such as the both-sided shelves, paper towel holder, cutting board, garbage bag holder, etc. make it totally worth the hype. 
Whether you want to feed two people or twenty, it would just be a perfect match for any occasion. 
Comparison: Now let's see which of the two products is a better bargain for you.
BTUs
The Pit Boss is made to deliver 62000 BTUs altogether. But the three independent prime cooking zones in the Blackstone deliver 48000 BTUs. Moreover, you get an additional 20000 BTUs from the two side burners. 
Additional Features
The Blackstone one is equipped with some extra features for better performance while grilling. For instance, it has raised shelves on both sides, a paper towel holder, and most importantly, a rear grease tray for easy clean-up. 
On the other hand, the Pit Boss is also preferable for its 2-in-1 shelves. 
Cost
If we consider the budget, it's not difficult to place the Pit Boss in the winning position. It is way less expensive than the Blackstone one despite offering more or less the same advantages. 
What Are The Differences Between Pit Boss and Blackstone Griddle
At this point, let's have a look at the key disparities between these two recognized griddle brands on the whole. 
Pit Boss products are engineered with pre-seasoned cast iron surfaces. On the contrary, Blackstone griddles have heat-rolled steel on the grilling area. 
As cast iron heats up pretty fast, usually, Pit Boss takes less time to cook or grill than a Blackstone griddle.
Generally, Pit Boss combines stainless steel and cast iron to manufacture their griddles. But Blackstone entirely relies on stainless steel which makes them more heavy-duty.
In most cases, heavy-duty Blackstone griddles are pricier than the Pit Boss ones, but for good reasons, of course. Although some Pit Boss models do come really pricey.
What Are The Similarities 
Keeping the othernesses aside, there are some basic similarities between Pit Boss and Blackstone griddles as well. That's the reason they are competing with each other here offering the same level of cooking conveniences.
Both offers easy cleaning options with just water and soap. You don't need to call the guardian of the galaxy to maintain these griddles. Thanks to their efficient grease tray, you can easily get rid of the food remains.
However, in both cases, you need to season the surfaces with oil before cleaning. 
Both the makers made some of their models with easily adjustable burners. In one griddle, you get the option to control several burners separately with different heat zones. 
Being made of premium-grade materials, both the griddles are made to last. It's up to you how carefully you use them and how you protect them when not in use. 
Apart from build quality, they also resemble each other in design. Both the brands come in multiple versatile designs with numerous options like 2-burner, 4-burner, 5-burner, tabletop, etc.
How Does Pit Boss Compare To Blackstone?
Pit Boss griddles are competing with Blackstone with their versatile range of products with durable cast iron seasonings. Although they are not as sophisticated as the Blackstone ones, Pit Boss is winning hearts with its flexibility, ease of use, and affordability. 
Is It Worth Buying A Blackstone?
Hell, yes. They are one of the most well-built griddles of all time. In fact, they are made from the finest material to last long. You can cook literally anything in one grill or griddle like the professional pitmasters. Besides, they are built with so many additional features to make the purchase a bang for your bucks. 
Are All Blackstone Griddles The Same?
Umm, in terms of quality, yes. We all know that Blackstone never compromises with quality in making cooking accessories. So, be it a more or less expensive product lineup, they make them with equal effort and quality control. 
But they do vary in features and functionalities. Based on two, three, or four-burner construction, their ergonomic designs also differ from each other. 
Can You Use A Pit Boss Griddle As A Grill?
Yes. In fact, a Pit Boss griddle is made with the motto of replacing a grill in terms of outdoor cooking. 
How Hot Does A Pit Boss Griddle Get?
With a Pit Boss 4-Burner gas griddle, you can get up to 62000 BTUs. That's actually more than enough to get a perfect steak sear or a smashed burger.
Does Pit Boss Make A Natural Gas Griddle?
No, they don't make a natural gas griddle. But you can convert their propane-powered griddles to natural ones by using propane gas conversion kits.
 How Big Is The Pit Boss Griddle?
A Pit Boss griddle is big enough to cook for a four-member family or forty guests at a time. Their 4-burner Deluxe Griddle offers 753 sq. inches of grilling surface. 
Conclusion
With all the reviews above, you surely have understood how difficult it is to choose from the Pit Boss Griddle Vs Blackstone Griddle. 
We prefer Blackstone models for some extra amenities like a handle on the grease trap, paper towel holder, built-in cutting board, etc.
But these added benefits don't come free, rather cost way more than a similar Pit Boss griddle in the same design. 
Are these extra features worth the extra bucks? Well, it's totally up to you. If you find them mandatory, why not spend a bit more?
Otherwise, an affordable Pit Boss model would do just fine delivering the same level of grilling efficiency.