If you are an old fellow in the BBQ field, you must have heard how good Pit boss or Masterbuilt smokers are. Providing a versatile range of smokers such as electric, gas, propane, or pellet- they have been ruling the market for a long time.
Every product is independently reviewed and selected by our editors. If you buy something through our links, we may earn an affiliate commission at no extra cost to you.
But recently both of them, especially Masterbuilt have a new competition which is Pit Boss. By manufacturing low-cost smokers, they are winning hearts day by day.
Moreover, they have a wide array of products both with digital and analog controls.
On that note, let's break down the two famous smokers of recent time- Pit Boss Vs Masterbuilt. Along with their top products review, we have pointed out both their uniformity and otherness.
Hopefully, you will enjoy this head-to-head comparison to the fullest.
Pit Boss vs Masterbuilt: Which Smoker is Right for Your BBQ Needs
It is said that with the right tool, even a novice can cook like a pro. That being said, both Pit Boss and Masterbuilt offer a plethora of choices when it comes to smoking, grilling, or barbecuing.
Here's our quick comparison chart that saves you time
| Key Comparison | Masterbuilt Smoker | Pit Boss Smoker |
| --- | --- | --- |
| Cooking Racks | Chrome-coated | Porcelain-coated |
| Available Fuel | Electric, Charcoal & Gas | Pellet, Gas & Charcoal |
| Temperature Range | Up to 700 F | 150F to 450F |
| The Hallmarks | Versatility, Durability, Digital Fan, Easy Temperature Control, Smart Technology, Built-in Meat Probe & More | Quality Material, Consistent Cooking, Set & Forget Option, Easy Cleaning, Control Panel, Advanced Technology & More |
| My Top Pick | Masterbuilt MB20073519 Electric Smoker | PIT BOSS PBV3P1Pellet Smoker |
| Price | Check on Amazon | Check on Amazon |
Now, which suits you best? In terms of customer ratings, both brands are pretty much identical. So, at this point, we cannot clearly declare one as the better smoker maker.
But Pit Boss smokers are undeniably the best bang for the buck as they come cheaper. Even they include a grease tray to collect the food drippings. Though sometimes Masterbuilt also shares the same feature.
However, the Masterbuilt is not far behind as well. Being high-tech smokers, they outplay Pit Boss with their rugged and robust ergonomics. Moreover, the overall quality control is better.
To bring the authentic BBQ taste home, you have to be wise enough to select the best smoker. Be it charcoal, gas, pellet, or electric smoker, it must have the ability for low and slow cooking for the longest.
With that being said, you can go for Pit Boss smokers. Their vertical series comes with the largest pellet hopper. So, you can cook for more than 24 hours uninterruptedly.
But in terms of durability and quality control, Masterbuilt is the name that is second to none. In fact, the Masterbuilt 40″ Propane Smoker is one of the best all-round smokers of all time.
Of course, they do not give the best value for money as the Pit Boss ones. So, with a shoestring budget, Pit Boss is the safest option.
Now, let's break down some of their popular products to know which brand's smoker is best for what in terms of grilling, smoking, and barbecuing.
Overview Of The Masterbuilt Smokers (Electric, Gravity & Propane)
First, let's dive into the detailed review of the top three Masterbuilt smokers with all their pros and cons.
Masterbuilt 30-inch Digital Electric Smoker – Top Pick In Electric Smoker
In the opening spot, we have this Masterbuilt 30-inch Digital Electric Smoker with stainless steel construction. Being equipped with a digital control panel, it's easier to run both for an amateur and a professional cook.
The black exterior is really eye-popping with a sleek and matt finish. Being electric powered, it even allows thermostat temperature control to maintain balanced cooking throughout.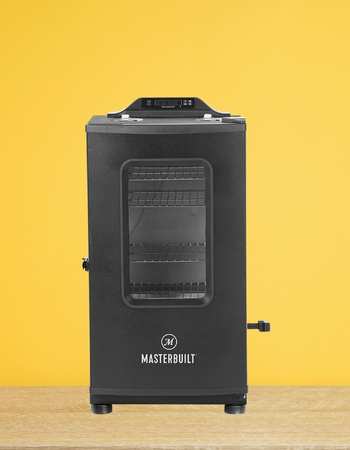 Top Features
Includes a grease tray at the back

Four chrome-coated cooking racks

Features Bluetooth Smart Technology

Comes with a built-in meat probe thermometer

Smooth and flawless stainless steel construction
---
Talking about the specifications in detail, the 54-pound-smoker comes with the overall dimensions of 19.88×20.66×33.46 inches. So, you can easily assume how roomy the stainless steel interior is.
Having four smoking racks that are completely chrome coated, this BBQ tool is capable of smoking up to six chickens, two turkeys, or four racks of ribs at a time.
Aside from that, you get a rear grease tray to collect all those food drippings. Therefore, you can enjoy smoking in a clean cooking environment.
Best of all, the inbuilt meat probe makes sure to maintain a consistent cooking temperature that leads you towards the best result. Tired of overcooking or undercooking your favorite meat in the backyard BBQ? Not anymore.
Get this premium quality Bluetooth Digital Electric Smoker from Masterbuilt and have a professional smoking experience at your next outdoor camping or house party.
Above all, you get a wood chip loader with the smoking tool. So, you don't need to open the door every time you refill it. The patented side-loading system is a true blessing for all the BBQuers out there.
However, it doesn't have any wheels. So, it's a bit challenging to move the smoker. Aside from this minor flaw, this is indeed a great electric smoker for brisket from Masterbuilt.
Also Read: Blackstone 1554 vs 1825 – Which Is Right For You?
Masterbuilt 40-inch Propane Smoker – Top Pick In Propane Smoker
Next comes this Masterbuilt 40-inch Propane Smoker, one of their top-rated products of all time. Similar to their electric smoker, it is black as well. And with the dimensions of 22.8×28.7×53 inches, it's a bit heavier than the electric version weighing 92 pounds.
Let's check out what key benefits it comes with.
Top Features
BTU output up to 15750

Maintains consistent heat for better results

Features temperature sensor to control the burner

40 inches in size to comfortably cook for the crowd

A propane-powered smoker with a stainless steel interior
---
If you carefully look into its features, it has a lot of common specifications like any other Masterbuilt cooking appliance. For example, the thermostat heat control system lets you cook at your preferred temperature with less to no adjustments at all.
And like the Masterbuilt electric smoker, it also consists of four chrome-coated racks. Therefore, you get a 961 square inches large cooking surface.
Being a 40-inch smoking appliance, it is also available in the 30-inch version. You can choose your desired size based on your demands.
Suppose, you are a complete beginner and don't know how to use masterbuilt smoker or to safely shut off a smoker. Don't worry, you are in safe hands with Masterbuilt. Their propane smoker features a safety valve to turn off the burner once the flame is extinguished.
What we liked the most about this smoking kit is the incredibly spacious smoking area. You can smoke up to 16 chickens, 6 turkeys, and 8 racks of ribs.
Nevertheless, the assembly is a bit time-consuming. As the user manual includes pictures only, you need to be careful to understand the instructions. But the affordable price point makes it worth investing.
Also Read: Akorn vs Kamado Joe: A Comprehensive Comparison of Price, Quality, and Performance
Masterbuilt 1050 Gravity Smoker – Top Pick In Gravity Smoker
And the last one from Masterbuilt is a Masterbuilt 1050 Gravity Smoker Combo. It is basically a digital charcoal grill and smoker combo. Among the three, it's the largest and heaviest, resultantly the priciest too.
However, the core specifications it comes with are as follows-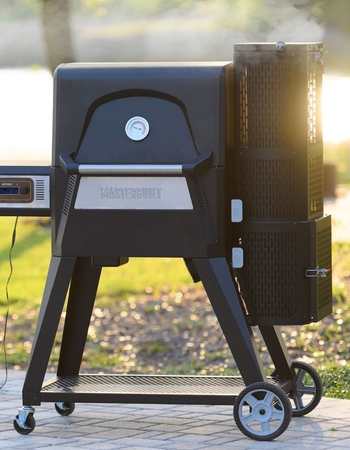 Top Features
Very easy to ignite

Reaches 700° F in just 15 minutes

Compatible with both WiFi and Bluetooth

A black stainless steel smoker that runs on charcoal

Comes with reversible cast iron grates to smoke and sear
---
As already mentioned, this is one of the largest smokers by Masterbuilt. Reasonably, it offers roomier cooking space than the other two, an area of 1050 square inches.
Being powered by charcoal, it lets you master the traditional art of grilling, smoking, barbecuing, or searing with minimum effort.
As the charcoal grill+smoker is engineered with the GravityFed charcoal hopper, you can enjoy an eight-hour constant fuel supply to keep the fire alive.
More than that, it can be connected to any of your smart devices via Bluetooth or wifi. So, you can set your desired temperature on the digital control panel of that device.
Alongside the reversible smoking grates, the high temperature reaching ability makes it a perfect pick for roasting or searing. You can grill or sear your favorite item at 700°F temperature.
On the other hand, it also offers low and slow cooking at 225° F temperature. What a versatile smoking kit, isn't it?
Also, it comes with additional accessories such as a cover. So, you can easily store the smoker during the off-season.
All things considered, this is a must-try deal for any smoking and grilling enthusiasts out there.
If only it were a bit affordable, it would have been more than perfect. But quality doesn't come cheap and so is this super versatile smoking tool.
So, give it a try right away! You surely won't regret it.
Also Read: Pit Boss Griddle Vs Blackstone Griddle – Has Blackstone Met It Match?
Pit Boss Vertical Pellet Smoker – Top Pick In Pellet Smoker
First, we have an exclusive Vertical Pellet Smoker from Pit Boss, the name always lives up to the expectations. Let's check out what key specialties this copper-colored smoker is built with to ensure users' satisfaction.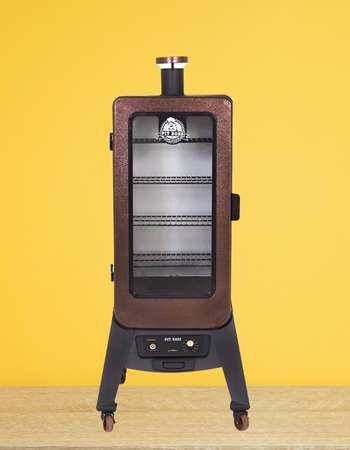 Top Features
Four porcelain coated grids

901 square inches of cooking surface

Easy to operate being entirely digitalized

Includes a digital LED readout and meat probe

Fully programmable 150-450 temperature range
---
Want to change your vertical smoking game? Then get your hands on this Pit Boss Vertical tool.
Coming with four porcelain-coated racks, the smoker ensures even heat spread. As a result, it eliminates the risk of having half-cooked foods.
Also, the cooking racks contribute to offering a larger cooking space of 901 square inches.
Compared to the other pellet smokers, we can guarantee that only a few of them can hold up to 40 lbs of wood pellets which is good enough for smoking a whole turkey. So, prepare for a limitless BBQ feast for your near and dear ones unapologetically.
Furthermore, it can provide up to 450° of a temperature reading. That's why you can opt for more outdoor cooking with ease.
As it's crafted with a fully programmable digital controller, even a beginner can operate it. Moreover, it assures widespread control over the 150°-450° heat capacity.
Cooking in a cold atmosphere? No worries. The double-wall architecture with blanket insulation holds the internal temperature correctly.
In addition, the 40lbs hopper lets you cook low and slow for over 24 hours. Can you imagine?
And thanks to the classy copper color, it instantly draws your attention by standing out from others. The auto-start and shut also fill the bill for this superserviceable Pit Boss smoker.
Overall, we highly recommend it in terms of ease of use, temperature control, accuracy, and flavor.
Also Read: Pit Boss Pellets Review – Are Pit Boss Pellets Any Good?
Pit Boss Electric Smoker – Top Pick In Electric Smoker
Moving forward to their electric smoker arena, we would love to introduce you to a decent silver color vertical smoker run by a corded electric power source.
Having the dimensions of 20.5×22×47 inches, it's neither too large nor too small. So, we guess it would suffice to smoke for a decent amount of guests at your next get-together.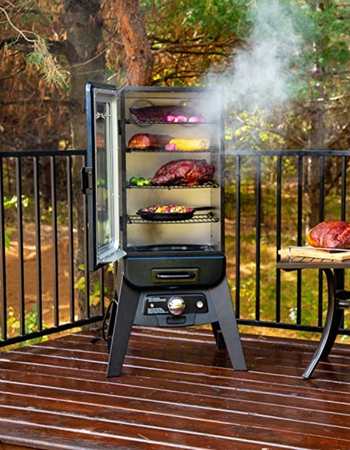 Top Features
Allows external access to the wood pan

Has five porcelain coated cooking racks

Offers LED reading for cabinet temperature

Comes with a 1008 square inches water pan

Very well-made craftsmanship with double-wall construction
---
Aside from ease of use and the easy assembly, the Pit Boss Electric Smoker resembles the pellet one in terms of holding internal heat with the double-wall formation.
It beats the pellet one providing five cooking racks. All of them are porcelain coated. Also, it offers a bit more smoking area than the pellet version.
With an eye-soothing silver exterior, it's no less than a high-end electric smoker, although Pit Boss tagged it as a budget-friendly pick. This is what we love about Pit Boss.
They always prioritize clients' contentment providing quality items in an affordable range.
However, if we compare the Pit Boss vs Masterbuilt electric smoker, the latter doesn't have any wheels whereas the former has locking caster wheels. So, it's easier to move outdoors.
With a wide range of operating temperatures of 100°-400°, you can cook anything to your heart's content including meat, veggies, pizza, or cookies.
In terms of cooking meat and vegetables, there is a replacement water pan and programmable meat probe to monitor the internal heat which results in a perfect smoky flavor.
However, some users found the digital control panel faulty. So, watch out before you make a purchase.
Pit Boss Vertical Gas Smoker – Top Pick In Gas Smoker
If you are in love with smokers with gas burners, we must say that you should try this new boss in town. Although it's smaller in size compared to the previous two Pit Boss smokers, the conveniences it comes with are truly commendable.
Let's look forward to whether it fulfills its promises or not.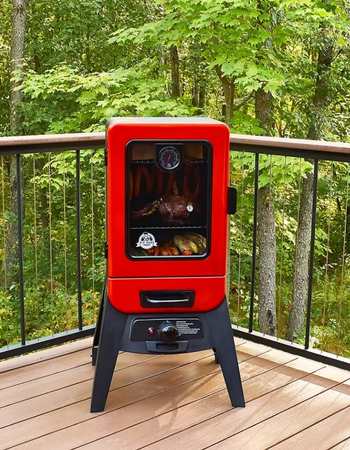 Top Features
12500 BTU output

Reaches 100°-350° temperature

Engineered with a dual valve system

A stable and sturdy stainless steel construction

Three cooking grids, finely coated with porcelain
---
You cannot but fall for this cute little red smoker from Pit Boss at first glance due to its striking structure. Honestly speaking, it could be a great addition to your cooking arsenal not only because it looks great but also because it works better.
A 12500 BTU total from a 52-pound smoking appliance, have you ever heard that? This is where this vertical LP gas Pit Boss smoker outplays many hefty high-end products.
Overall, it offers 884 square inches of pretty decent cooking area.
And the dual valve burner system consists of a stainless steel burner for wood chips. It delivers up to 3500 BTU value.
On the other hand, the other burner delivers up to 10000 BTU output on average and it's completely dedicated to the cabinet temperature.
In addition, the large glass viewing window lets you observe the whole smoking process without opening the door.
However, it isn't as efficient as the electric one in terms of baking food. But it will still be one of the best gas smokers of all time, thanks to its incredible smoke-filled flavor.
The Pit Boss Brand Overview
Founded back in 1999, Pit Boss is one of the leading manufacturers to produce reasonably priced pellet smokers. Also, Pit boss produces pellet grills with flame broiler that no manufacturer makes. Thus, they became one of the greatest competitors of some older smoker makers.
Apart from making pellet smokers and grills, they also provide charcoal, gas, or electric grills. Delivering high-quality products at an affordable budget- this is the motto of Pit Boss from the very beginning.
Being made in China, they are one of the finest smokers in terms of construction, and ease of use.
As it offers a plethora of choices in the grilling department, you can pick any of their functional smoking tools such as the pellet, gas, or electric smoker.
However, be the boss of your backyard BBQ with their exclusive smoking partner that offers the best value per inch. All their smokers have porcelain-coated racks for even and uninterrupted cooking.
Besides, the racks ensure maintaining a consistent heat flow throughout. Being engineered with the double-wall construction, they hold internal temperature for the longest to let you smoke, grill, roast, or sear at ease.
The digital range of Pit Boss smokers comes with fully digital control panels with an LED reading of the cabinet temperature. Moreover, the elevated frames of the cooking racks make food transferring a breeze.
Also, most of their amazing smoking appliances feature a grease tray to trap the food grease. So, rest assured they will keep the hassle of cleaning your smoker at bay.
Best of all, Pit Boss smokers are the best in terms of offering wider cooking space, versatile cooking options, less smoke production, and infusing an enchanting smoky aroma to your dishes.
But what truly makes them unparalleled is their excellent value for the money. Resultantly,
they are getting more popular day by day.
The Masterbuilt Brand Overview
Moving forward to the Masterbuilt, they are a year old fellows in this field. Being established back in 1973, it has come a long way with all the upgraded lineups of its products.
No wonder, they are still in competition with the newly formed smoker manufacturing companies.
With the versatile lineup of electric, charcoal, or propane smoker, it lets you master the art of smoking. You can literally take your outdoor smoking to an unthinkable level with the help of their feature-loaded smoking kits.
Talking about the prime specifications of Masterbuilt, they specialize in manufacturing outdoor cookers with some feasible features such as a digital fan, side wood chip loading system, Bluetooth connectivity, inbuilt meat probe, etc.
With all these innovative add-ons, Masterbuilt smokers have been bossing over this specific sector for years.
Although they are not always budget-friendly, their quality speaks for the price.
Masterbuilt believes in building long-term relationships with its customers and so, it never compromises the quality. With the motto of " Faith, family, and then the rest", they have truly evolved throughout the year to cope with modern-day customers' demands.
Manufacturing high-quality products are their pride and they tend to comprise that as long as the company exists.
Therefore, if you need a grill or a smoker for your next outing, rest assured that a Masterbuilt product would be your best buddy.
Differences Between Pit Boss and Masterbuilt Smoker
After going through an in-depth analysis of the top smokers of Pit Boss and Masterbuilt, now let's narrow down their key distinctions.
Price
The first point they differ on is the price range. Truth be told, Masterbuilt products are expensive. Despite being reasonable, they lack affordability. That's the reason Pit Boss is giving them hard competition with their affordable range of outdoor smokers.
Temperature Range
In terms of temperature range, Masterbuilt is a little ahead, but with selective products only. For example, their Gravity series can reach up to 700° F within 15 minutes.
Contrarily, the Pit Boss Pellet Smoker offers a 150-450° heat range.
Cooking Racks
Masterbuilt smokers have chrome-coated cooking racks while the Pit Boss ones come with a porcelain coating. Both work great to maintain a consistent heat flow. But in terms of functionality, the chrome coating is a little bit ahead.
Temperature Control
In terms of temperature control, Pit Boss tops the Masterbuilt by its double-wall construction, resulting in better internal heat retention.
Similarities Between Pit Boss and Masterbuilt Smoker
As both the company provides competition-grade outdoor cookers, their wide array of smoking kits do share some commonalities. Let's point them out then.
Consistent Cooking
Both smokers provide consistent results in cooking by spreading the heat evenly. No wonder both are competing here to win the crown.
Built-in Meat Probe
Whether you compare Pit Boss vs Masterbuilt gravity smoker or Pit Boss vs Masterbuilt propane smoker, all of them offer a decent amount of cooking area with a built-in meat probe thermometer. Resultantly, you can monitor the cooking temperature.
Grease Tray
As we already discussed, a grease tray is a common feature in most premium quality BBQ smokers. So, none of the manufacturers overlooked this spec while designing their products.
Traeger Vs Pit boss Vs Masterbuilt Smoker
We all know that Traeger is an equally popular name like the Pit Boss or Masterbuilt for making industry-standard outdoor smokers.
So, a comparison between Traeger vs Pit Boss vs Masterbuilt naturally follows the discussion of Pit Boss vs Masterbuilt.
So, let's look forward to how these three leading smokers resemble and differ from each other.
If we talk about the overall construction and quality control, a Pit Boss smoker runs behind the race. Both Treger and Masterbuilt have robust ergonomics to last long.
Here the Pit Boss smokers are the clear winner. They have a versatile range of budget-friendly options. In fact, the inexpensive price tag is the USP that keeps them in the race.
On the other hand, both Traeger pellet smokers and Masterbuilt are a bit more expensive offering a plethora of amenities though.
In terms of cooking space, all three are more or less the same. It depends on which model you choose from any of the brands.
But you get a bit more flexibility from the Pit Boss Vertical series as they let you maximize the cooking surface.
But in general, Masterbuilt smokers are heftier, and reasonably enough, they come with a bit more square inches to let you smoke comfortably.
The hopper size decides how long you can continue the low and slow cooking without refilling the smoker with pellets.
Whereas the Pit Boss pellet smoker lets you cook for over 24 hours with 40 lbs of pellets plus hopper capacity, the other two lack this longer cooking time.
You can get eight hours of the low and slow cooking period from the Masterbuilt Gravity smoker. And the Traeger smoker has a great temp controller with 18 pounds of hopper capacity which is still not enough compared to the Pit Boss one.
In a word, all three smokers have some exclusive features which make them stand out in their respective sectors.
Conclusion
Hopefully, our in-depth research on Pit Boss vs Masterbuilt helped you decide on your pick. As these two are closely connected in terms of performance, it surely is a tough call to choose between them.
Keeping that in mind, we tried to point out both their similarities and disparities for your better understanding. If you pay close attention to the aforementioned discussion, you can definitely decide on your preference between these two leading smokers of recent times.
So, first, narrow down the features you want from a smoker and then look for your best bet accordingly.