Now is the era of electric smokers. Because we all prefer the "set and forget" smoking method and no-mess-clean-up after BBQing, right?
Every product is independently reviewed and selected by our editors. If you buy something through our links, we may earn an affiliate commission at no extra cost to you.
Saying that Masterbuilt electric smokers are literally unparalleled nowadays in terms of cost, convenience, and temperature control.
With their long history, they produce some awesome BBQ electric smokers both with digital and analog controls.
However, it's a bit intimidating to choose the best masterbuilt electric smoker from their plethora of choices. That's why I handpicked five products below that are efficient, low-cost, and low-maintenance.
Let's check them out!
5 Best Masterbuilt Electric Smoker You Can Go For
If you are looking for a functional smoking unit from Masterbuilt, I have the following five products for your consideration. They top the list of the best Masterbuilt electric smoker in terms of versatility, longevity, and ease of use.
Masterbuilt 30 Inch Digital Electric Smoker
Truth be told, Masterbuilt 30″ digital electric smoker is the overall best on this list. On a moderate budget, it ticks all the boxes of a decent electric smoker.
With a fully insulated architecture, this wonderful electric BBQ smoker from Masterbuilt is capable of high heat retention. Therefore, it will deliver an even heat flow to provide a consistent cooking result.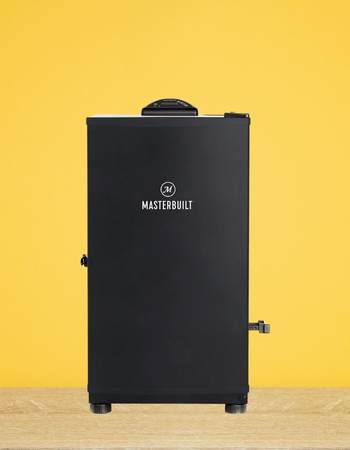 Top Features
Durable stainless steel interior

Thermostat temperature control

711 square inches of cooking surface

Easy power on/off control of time and temperature

A 30″ electric smoker with four chrome-coated racks
| Specifications | Parameters |
| --- | --- |
| Brand | Masterbuilt |
| Dimensions | 19.88 x 20.47 x 33.26 inches |
| Inner Material | Stainless_steel |
| Item Weight | 45.9 Pounds |
| Power Source | Corded Electric |
| Color | Black |
| Fuel Type | Electric |
Moreover, the 711 square inches of cooking surface lets you smoke chicken quarters, 2 turkeys, 4 racks of ribs, or 6 chickens at a time.
Besides, all four smoking racks are chrome-coated and resultantly, resistant to rust and corrosion.
Having a user-friendly digital control panel, the smoker produces competition-ready results whether you are a beginner or a pro. You just need to plug in the device and set the digital controls as you want to smoke your meat.
One exclusive add-on of this feature-loaded smoking gear is the patented side wood chip loader. You don't need to open the front door every time you refill the chip tray.
On the same note, you can experiment with different flavors to make your dish more delicious. Rest assured that anything you smoke, be it fish, meat, or seafood, will be evenly cooked with an amazing smoky essence.
Best of all, the durable cooking racks are extremely easy to clean. And the excellent size-to-cost ratio makes it an ideal selection for your next family get-together. What do you say?
Pros
Sleek and sturdy exterior

Plenty of smoking surface

Very reasonable price range

Useful side wood chip loader
Cons
Doesn't come with a temperature probe

The chip tray could have been a bit bigger
Also Read: Is Pit Boss Better Than Masterbuilt? - Pit Boss Vs Masterbuilt
Masterbuilt Analog Electric Smoker with 3 Smoking Racks
Next, I have an analog electric smoker in the same 30″ size. Although it's a bit heavier compared to the 30″ digital electric smoker from Masterbuilt, it is not as spacious as that.
Because it has only 3 cooking racks. That's why you get 526 square inches of the smoking surface. As a result, you can smoke up to 3 chickens, 2 turkeys, or 3 racks of ribs at a time.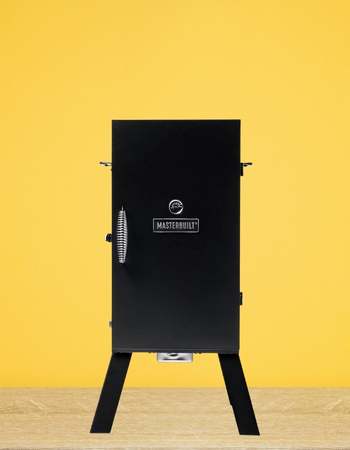 Top Features
A sliding wood chip tray

Strong and sturdy construction

A 30″ analog smoker with 3 cooking racks

Delivers 536 square inches of cooking space

1500-watt heating element for consistent smoking
| Specifications | Parameters |
| --- | --- |
| Brand | Masterbuilt |
| Model Name | Analog Electric Smoker |
| Dimensions | 20 x 21.69 x 40.15 inches |
| Weight | 49.86 Pounds |
| Color | Black |
| Inner Material | Stainless_steel |
| Fuel Type | Electric |
However, all the cooking grates are chrome coated and therefore, last longer. Plus, they are quite easy to use, clean and maintain.
With this smoker, it's easier to reach competition-ready smoking results without much hassle. The user-friendly analog dial does it all once you set the smoker.
Another exclusive feature of this heavy-duty BBQ tool is the built-in temperature gauge. With the gauge, you can keep track of the cooking temperature easily. Therefore, you will experience even and consistent smoking throughout.
There's a front access grease tray included with the smoker. The grease tray collects all the food drippings without making a mess out of them. Thanks to the tray, the process of after-cleaning becomes a breeze.
As the smoker produces a decent amount of smoke, you will end up enjoying a super savory smack whatever you cook.
And guess what, it takes a maximum of 10-15 minutes to be fully assembled. Isn't that an added benefit especially if you are using a smoker for the first time?
Pros
Regulates heat evenly

Affordable price point

Quite easy to assemble

Produces a high amount of smoke
Cons
The unit doesn't include a cookbook

Temperature control could be better
Also Read: How Much Wood Chips For Masterbuilt Electric Smoker (Answered)
Masterbuilt 40-inch Digital Electric Smoker
Do you want to master the craft of smoking? It's very much possible with a Masterbuilt 40″ digital electric smoker. With strong heavy-duty architecture, it stands head and shoulder above its competitors in terms of quality and cooking conveniences.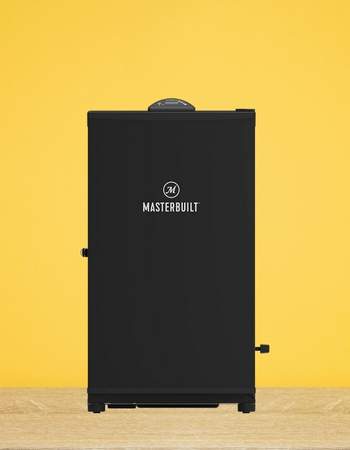 Top Features
Includes four racks

Comes with an easy-access wood chip loader

Provides over 970 square inches of smoking space

Features a cold-rolled steel body for an extended lifespan

Precise temperature control with an adjustable thermostat
| Specifications | Parameters |
| --- | --- |
| Brand | Masterbuilt |
| Model Name | 40-inch Digital |
| Dimensions | 19.9 x 25.6 x 41.3 inches |
| Weight | 58.32 Pounds |
| Color | Black |
| Outer Material | Chrome, Steel |
| Inner Material | Stainless_steel |
The first thing about this digital electric smoker that caught my attention is the removable grease tray. Thanks to that, you can enjoy a no-mess cleaning even after a long BBQ session.
Similar to the Masterbuilt 30″ Digital Electric Smoker, it has four chrome-coated cooking racks.
But contrary to what you may think, it offers a spacious cooking surface which is over 970 square inches.
As a result, you can smoke up to 4 turkeys, 8 racks of ribs, or 16 chickens at a time. Moreover, the smoker comes with an affordable price tag which is quite reasonable too.
Perhaps, this extraordinary size-to-cost ratio is one of its biggest selling points.
Being manufactured with a digital control panel, this industry-leading electric smoker offers precise heat control.
With the adjustable thermostat, you can regulate temperature evenly. Also, the electric timer lets you set both the cooking time and the temperature according to your convenience.
Besides, the wood chip loader is patented into the side so that you can add flavors without opening the door. So, the smoker won't lose heat every time you add wood chips.
Above all, you will be blown away by the rear-mounted handle and the mobile wheels. They make carrying the smoker to your backyard a breeze.
Pros
Perfect for low and slow heating

Provides excellent value for money

Easily portable with the mobile wheels

No-mess cleanup with the removable grease tray

Easy adjustment of cooking temperature and time
Cons
The wood chip tray is notably small

The water pan and drip tray could be a bit thicker
Also Read: Masterbuilt Chip Tray Upgrade – Replace Wood Chip Tray Today
Masterbuilt Analog Black Electric Smoker with 2 Racks
Next from the Masterbuilt lineup, let's explore another analog smoker with 2 smoking racks. Although digital smokers are considered more upgraded nowadays, a Masterbuilt analog smoker can also get your job done with perfection. You just need to know how to make the best use of it.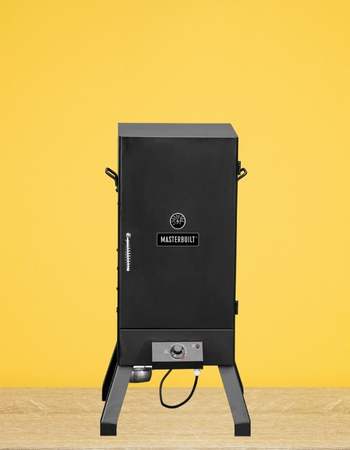 Top Features
Fast and facile setup

1800-watt heating element

A 30″ black electric smoker

354 square inches of smoking surface

Comes with two chrome-coated smoking racks
| Specifications | Parameters |
| --- | --- |
| Brand | Masterbuilt |
| Model Name | Analog Electric Smoker |
| Dimensions | 20.67 x 21.26 x 39.41 inches |
| Weight | 28 Pounds |
| Color | Black |
| Power Source | Manual |
| Fuel Type | Electric, Charcoal |
On that note, this Masterbuilt 30″ analog device comes with two cooking racks. They are entirely chrome coated to deliver a worth-noting performance.
With these two smoking racks, the smoker offers around 354 square inches of cooking surface. So, you can smoke up to 4 chickens, 2 turkeys, or 2 racks of ribs in a single BBQ session.
On the bright side, I would love to mention the adjustable temperature gauge. It's indeed a great addition to the smoker to make temperature control easier.
Even a novice can maintain an even heat flow throughout to infuse an authentic smoky aroma to the meat. All thanks to its thermostat temperature control.
As a 30″ electric smoker, it weighs 28 pounds which is pretty lightweight. So, you can carry the smoker outside comfortably.
It also comes with a removable wood chip tray and a water bowl. So, you can effortlessly add moisture and flavor to the food to make it mouthwatering.
Nevertheless, if you find the cooking surface insufficient, you can get one more rack as this smoker also comes in a 3-rack option.
Overall, it's a decent analog smoker from Masterbuilt that lives up to its capable craftsmanship.
Pros
Quite lightweight

Easy dial heat control

Infuses a great smoky essence into the meat
Cons
Sometimes, the temperature bounces up and down unexpectedly
Also Read: Do You Soak Wood Chips for Masterbuilt Electric Smoker (Explained)
Masterbuilt 40-inch Digital Electric Smoker with Window and Legs
On the final spot, let's review the Masterbuilt 40″ digital electric smoker with window and legs. As we all know, Masterbuilt has always been a staple in the world of electric smokers. This exclusive digital smoker with a window and legs is no exception.
Whether you have been smoking food for years or just stepped into BBQing, nothing can hold you back with this heavy-duty gear in hand.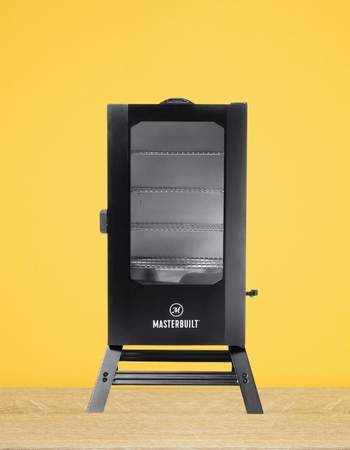 Top Features
Fits 16 chickens at a time

Includes four cooking racks

Includes air damper to control smoke

The temperature reaches up to 275° F

Offers 971 square inches of spacious cooking surface
| Specifications | Parameters |
| --- | --- |
| Brand | Masterbuilt |
| Dimensions | 22.7 x 27.2 x 50.2 inches |
| Weight | 72.1 Pounds |
| Color | Black |
| Power Source | AC/DC |
| Inner Material | Stainless_steel |
| Fuel Type | Electric |
The most practical feature of this smoking partner is of course the patented side wood chip loader. This innovative wood chip tray lets you make your dish more flavorful by adding as many flavors as you want.
Additionally, you get 971 square inches of cooking surface with the four chrome-coated racks.
Even if you are cooking for a large batch of the crowd, this smoker never falls short to provide plenty of smoking rooms. That's absolutely huge, especially when all your friends and families are together.
Another great thing about this electric gear is its ease of use. The simple digital control lets you set the smoker in a heartbeat. And you can observe cooking through the front viewing window.
Furthermore, the fully insulated body and the exclusive air damper join forces to offer precise heat and smoke control. You can manage the level of smoke quite efficiently.
Also, it's worth noting that the smoker lets you smoke any food of your desire whether it's fish, meat, or seafood.
On the brighter side, the sufficient amount of smoke delivers a restaurant-style result in your own backyard.
The downsides? Umm, nothing much but it doesn't have auto-feed wood pellets. You need to refill wood chips manually.
Pros
Easy to set up and season

Comes with a front-view window

Retains high heat for better smoking

A spacious smoker to cook for family and friends
Cons
The wood chips burn too fast

The temperature gauge is not always super accurate
Analog Vs Digital Masterbuilt Electric Smoker – Which Is Best
While deciding on a Masterbuilt electric smoker, I bet you are on the fence between a digital and an analog smoker.
In my opinion, digital smokers are way ahead in this race as they have digital controls.
Resultantly, they offer more flexibility and better control while smoking meat. You can effortlessly set the cooking temperature, time, smoke level, with the digital control panel.
But in analog smokers, Masterbuilt usually includes a thermostat which is affected by some variables.
The thermostat will rely on the inside and outside environment of the smoker to control the cooking temperature.
However, one good point of analog smokers is that they come with legs. But most digital smokers make you buy them separately.
But compared to the power on/off switch and manual thermostat of an analog unit, I prefer a Masterbuilt digital smoking unit with the push button operation. It's more user-friendly with the digitally programmed heat setting.
Sometimes, they even come with an electric timer. What more do you need?
How To Choose A Masterbuilt Electric Smoker
Take the following facts into consideration before you buy an electric smoker from Masterbuilt. These will help you choose the right smoking unit even if you use the smoker as a stepping stone into the BBQ world.
Size
The first thing to decide on an electric smoker is the size or capacity. Masterbuilt's most popular sizes of electric smokers are 30″ and 40″.
You can pick one that suits your needs. Plus, you must decide on how many cooking racks you want.
If you are cooking for your family only, there's no need to go with a smoker with four smoking racks.
But if you want to cook for the crowd, a 40″ smoker with four cooking racks is the wisest selection.
Heating Elements
For Masterbuilt electric smokers, the higher the heating elements, the better it is. Usually, most smokers offer 650-1200 watts.
But it would be great to have one that has a 1500-1800 watt heating element. It would make the smoker reach a higher temperature quickly.
Saying that you can check out the Masterbuilt Analog Black Electric Smoker with 2 Racks that comes with 1800-watt heating elements.
Cost
The next thing you should be concerned with is the cost. The Masterbuilt smokers I reviewed above are fairly reasonable with some functional features.
So, you can go for them without any hesitation. Moreover, they offer absolute value for your money.
However, instead of going after a premium price tag, you should consider whether the smoker has all the key specifications to meet your needs or not.
And when you are just a beginner, it would be wiser to start with a low-priced smoker.
Construction
Whether you purchase a digital or an analog model, it should be well-made to last long. Be it the wood chip loader or the grease tray, all these components should be made of high-quality materials to stand the test of time.
Plus, the full-body insulation worls6gtrat for high-temperature retention. The 30″ or 40″ digital electric smokers work great in this regard.
Portability
One major issue with using an electric smoker is portability. They aren't really designed for easy movement.
That's why I recommend going for the 40″ Digital Smoker from Masterbuilt that comes with mobile wheels.
You could carry it to your BBQ spot with the help of those wheels. Finding an electric smoker with wheels is quite rare and you shouldn't miss it at any cost.
Visibility
Among other features in a Masterbuilt smoker, visibility matters for those who love to keep a watchful eye while smoking meat.
On that note, you can go for the 40″ model that comes with a viewing window and legs. It will let you observe what's happening inside the smoker.
Conclusion
To wrap this review up on Masterbuilt electric smoker, all I want to say is that get a Masterbuilt smoker and you won't regret it.
They are indeed very well-made for heavy-duty performances. Moreover, their electric smokers produce a significant amount of smoke to retain the traditional smoky smack in your food.
Plus, all the models have patented side chip trays for external fuel feeding. So, you don't need to lift the lids while smoking.
Whether you go with a digital or an analog smoker from above, rest assured that it will live up to Masterbuilt's outstanding durability and innovative engineering.
But the 40-inch front controller unit with a viewing window is your best bet if you need extensive cooking space.