When you have an electric smoker, you can use it for cooking different types of dishes except for meat. Because the Masterbuilt smoker brings a mass revolution in the culinary world. One can make an immense number of food items using the smoker.
Here I will share an overview of 28 masterbuilt smoker recipes so that you can get a clear idea of how to cook them with your smoker.
Every product is independently reviewed and selected by our editors. If you buy something through our links, we may earn an affiliate commission at no extra cost to you.
However, you can use the smoker for cooking different meat, poultry, seafoods, vegetables etc. Let's check out the context to get an overview of the recipes based on the preparation time, cooking time, temperature,  and preferable eating time.
The Ultimate Collection of 28 Masterbuilt Smoker Recipes for Meat Lovers
It is very convenient to use your smoker to try some meat recipes. Some people can't even think that an electric smoker can cook other recipes instead of meat. That is another debate; I don't go there. Here are 6 different meat recipes for meat lovers.
Smoked Short Ribs Recipe
Smoked short rib recipe is not so hard, it's pretty simple, but you cannot try it when you are in a rush. However, come to the point. The main recipe lies in bringing the ribs.
Cut the short ribs as per your choice. Then brine the whole rib for almost three hours. Moreover, you have to coat both sides of the rib when rubbing the ribs with spices. Then, put the rib to the smoker. 
Keep the temperature 250°f. and wait for another three hours. It will take additional time to complete the final process. Then use a cooler for resting meat. At last, you can have it as a meal along with other associates. 
Here's the recipe you can try – 
Also Read: How To Keep Ribs Moist While Smoking – Ribs Won't Get Dry Again
Ultimate Prime Rib Roast -Masterbuilt Electric Smoker Prime Rib
You know, prime rib is a muscle area that is enriched with a lot of fat. However, when you make a roast of prime rib, try to select a bone-in prime rib, and it will appear to be very delicious, containing minerals and other nutritious ingredients.
You can eat rib roast as a snack when you are hungry. But make sure you have to prepare it before a specific time. It takes almost 3.5 hours to 4 hours without preparation time.
After cooking, serve with a sauce made with extra virgin olive oil, coarse sea salt, garlic dried thyme, black pepper, and so on. The sauce will take almost 10 minutes to prepare.
Also Read: Rump Roast vs Chuck Roast – Everything You Must Know
Flavorful Texas Beef Brisket
Texas beef brisket is another recipe that you can try using your brisket-friendly smoker. Moreover, it is not much different from making smoked short ribs. You can smoke it by rubbing it with various ingredients such as crushed black pepper, chilis, salt, etc.
But what's new is, it demands more time to smoke the beef brisket. It takes around 6-8 hours to smoke properly at a 225°f. temperature. The timing is not fixed for a random quantity's brisket.
There is a preliminary calculation for Texas beef brisket smoking is one pound takes one hour. But mostly, it depends on how thick the beef brisket is.
Also Read: How Much Wood Chips For Masterbuilt Electric Smoker (Answered)
Delicious Mexican Style Beef Ribs
You know in some cases Mexicans eat their meals in a unique style. By the way, you can also apply smoke to your beef in Mexican style. You will need to follow the smoking preparation time as a regular ribs recipe style, but you will have to add a beef broth with tomato paste for the final result.
However, it will take an average time, like 6-7 hours, for smoking at a designated temperature. After smoking now it is time to add the beef broth on the beef and wrap it with parchment paper. Then after a while, when ribs are done smoking, use a fork to apply the Mexican style.
Also Read: Do You Soak Wood Chips for Masterbuilt Electric Smoker (Explained)
Chinese Style Lamb Shanks
Another recipe you can cook is Chinese-style lamb shanks. The Chinese generally eat their meat item in different ways.
They do not smoke the lamb snacks directly. Instead, they boil the shanks first with their preferable mixed herbs. Then around 90 minutes later, they bring the snacks and place them on a tray.
Then they add some condiments mixed with some common cooking combination. Furthermore, they pour some oil into the snacks.
Also Read: Masterbuilt Electric Smoker Tips And Tricks To Become A Master Of Smoking
Glorious, Rosemary Lamb Shoulder
In this recipe, you will need a lamb shoulder bone. It is not a must, but you can get a bone-in lamb or boneless shoulder piece if you want. To smoke it, like other recipes, demands to coat with olive oil.
Let it season and marinate before cutting the excess fat over the lamb shoulder. Then, smoke it. Keep the temperature of your electric grill at 250°f. Allow a minimum of 3 hours to become smoky. Then it will be ready to serve. You can eat it as a meal with other food items.
Also Read: Masterbuilt Electric Smoker Instructions (Using, Cleaning, Maintaining & More)
Masterbuilt Electric Smoker Poultry Recipes
Chicken is another good source of protein, and you can make a delicious poultry recipe with your electric smoker. Let's explore 8 grill poultry recipes that you can take as breakfast, lunch, or dinner.
Perfect Whole Chicken
Smoked chicken is a delicious item to the foodie's world. Moreover, they like to try any item in different ways. You can smoke whole chicken at once, or if you want, you can smoke individually cutting pieces.
However, you can smoke a whole chicken for at least 3 hours at 240°f. In this recipe, you will need to preheat your smoker.
But make sure you have marinated the chicken with zest and condiments properly, and then let it smoke. After the final process, you can have it at your Dinner.
Also Read: Ultimate Guide On How To Get Crispy Skin On Smoked Chicken?
Easy Citrus Chicken Drumsticks
Kids love to eat chicken drumsticks rather than many chicken recipes. So you can prepare the citrus chicken drumsticks for your kids as evening snacks. First, take as many children drumsticks as you need, and then marinate the meat with your flavored herbs.
Now keep the marinated drumsticks for 1-2 hours. After marinating, grill the chicken for 50 minutes at a lower temperature.
Chicken meat is soft, and after marination, it's going to be more tender. That's why lower heat is enough to make a juicy flavor of your citrus chicken drumsticks.
Also Read: How to Use Masterbuilt Electric Smoker | Controlling, Cleaning, Cooking Process
Spiced Chicken Thighs
Do you frequently cook chicken and your family members get bored tasting a single chicken recipe? You can try spiced chicken thighs to bring a variation to your cooking and present a new taste to your beloved persons.
This spiced chicken recipe will be an excellent choice for your late-night dinner party. Just take some of the boneless chicken thighs and mix them with some common chicken recipe ingredients.
Such as lemon, smoked paprika, onion powders, cayenne pepper, and cumin. Now cook them for 30 minutes at 350°f to 400°f temperature. Finally, your dish is ready to serve.
American Style Chicken Thighs
Americans have their own cooking style. So most of the American cook chicken thighs in a different way. In this part of my words, I like to share one of their famous chicken recipes. They love to eat this recipe at lunchtime.
Prepare all the chicken thighs with the spices, and preheat your smoker at 400°f temperature. After that, reduce the temperature to medium heat and cook the chicken thighs for 20-30 minutes.
BBQ Chicken Legs, Wings and Breasts
Chicken legs, wings, and breast mixed BBQ will be the correct dish if you don't like to eat only boneless chicken. When you cook this BBQ recipe, you can taste boneless chicken breasts or wings with ranch dressing and legs as per your preference.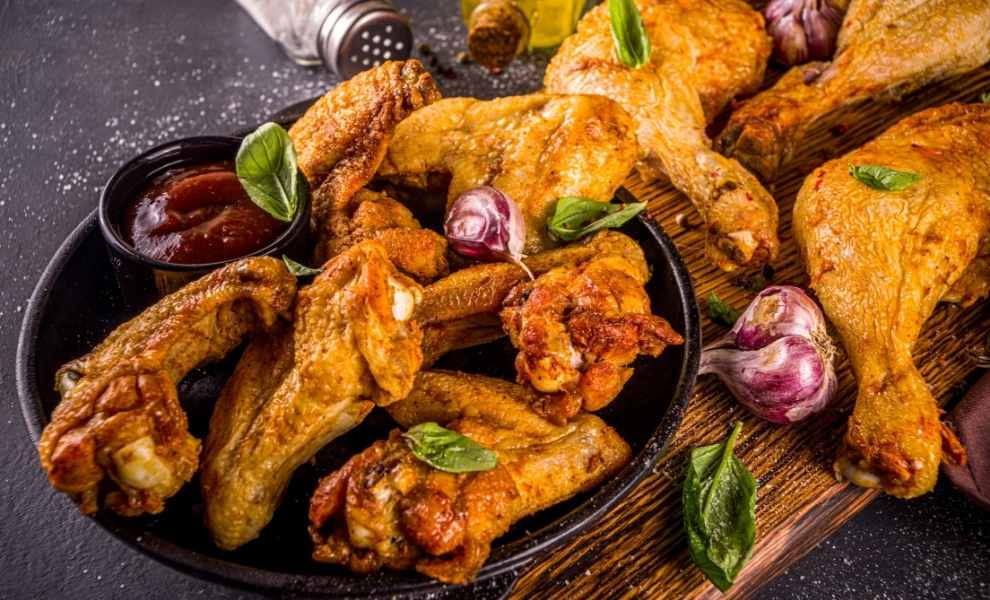 The ingredients and cooking process are pretty similar to any other chicken bbq recipe. Marinate the chicken with honey, Worcestershire sauce, lemon juice, tomato sauce, onion powder, apple cider vinegar and paprika.
Now place them in the grill to cook them at low to medium heat until they get your preferred color. You can take this recipe for dinner.
Special Dinner Turkey
Recently, turkey has been very popular among people because of its great taste and nutritional value. In addition, it is a better protein option than poultry.
Cooking a turkey is more or less similar to cooking poultry. First, prepare your turkey and preheat the grill at 325°f temperature. When your grill is preheated, place the turkey in the grill and cook it for 2.5 hours at 165°f inner temperature.
In the meantime, check the meat temperature with the meat thermometer to prevent burning or overcooking.
Thanksgiving Party Turkey
Everybody likes to appreciate any good deeds by giving thanks. But if you throw a Thanksgiving party, that will be excellent, right. And offering a delicious turkey to the thanksgiving party doubles your fun and enjoyment.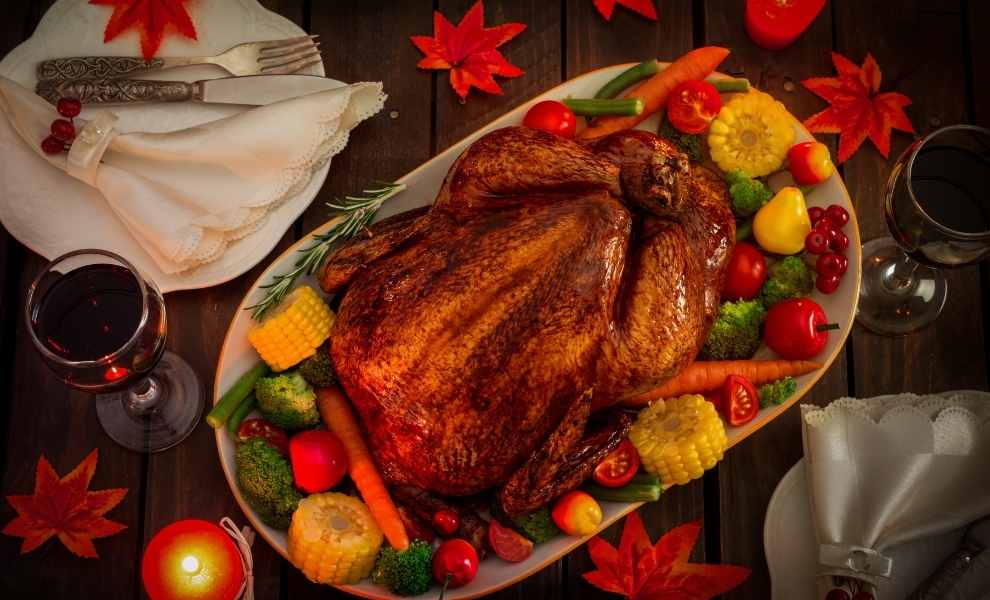 As the recipe is offered to your guest at a Thanksgiving party, you have to be careful about its cooking time.
You have to prepare the whole turkey by removing all the giblets from it. After that, use special turkey spices to bring a variation from everyday turkey recipes. Now cook it for 20 minutes at 425-450°f. You can enhance the time if the recipe is required.
Also Read: Can You Recook Undercooked Turkey? (Answered & Explanation)
Christmas Dinner Duck
You can try the Christmas Dinner Duck for the next Christmas party. Usually, you cook poultry, beef, mouton, and turkey on any occasion. But, you can bring a variation on your regular cooking with duck.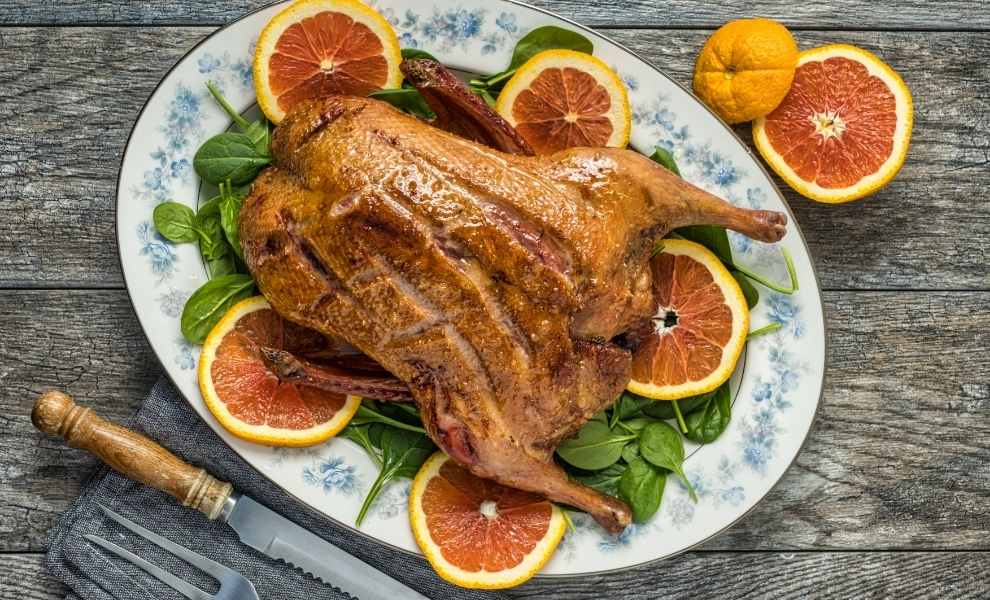 Take a full-grown duck and prepare it. You have to use the usual meat ingredients with some special duck spices. You should cook it for 3 hours at 450°f temperature on your grill.
Masterbuilt Electric Smoker Seafood Recipes
You know sea fish, meats, or any seafood offer you an exceptional taste than your typical foods. So you can buy sea fish from the nearest grocery shop to change your tongue's taste.
Refreshingly Tasty Salmon
When you have a hectic day with extreme work pressure and need refreshment, you can cook tasty salmon for your refreshment. The recipe takes 15 minutes to complete, and it will be a good fit for your dinner.
Take 4-5 fillets of salmon and spread salt, lemon juice, lemon wedges, garlic powder, and dried basil on them. Grill each side of the salmon for 5 minutes at lower heat. When the salmon fillets hold brown color, remove them from the grill and serve.
Also Read: Can you freeze smoked salmon? (Answered) 
Simple Brined Trout
It's an excellent feeling to catch fish from the sea and cook it. But if not possible, then buying is the safest option. Brined Trout is a sea fish that you can cook with minimal effort and ingredients.
Keep some of the fillets of Brined Trout and season it with Kosher salt, garlic powder, onion powder, brown sugar, and paprika. Now set your grill temperature at 280-290°f and grill the Brined Trout fillets for two hours. After that, bring them out and serve.
Gourmet Snapper Recipe
My following recipe is Gourmet Snapper. It's very simple, and you can grill the snapper within 30 minutes. Then, bring the snapper out from the freezer before 30 minutes.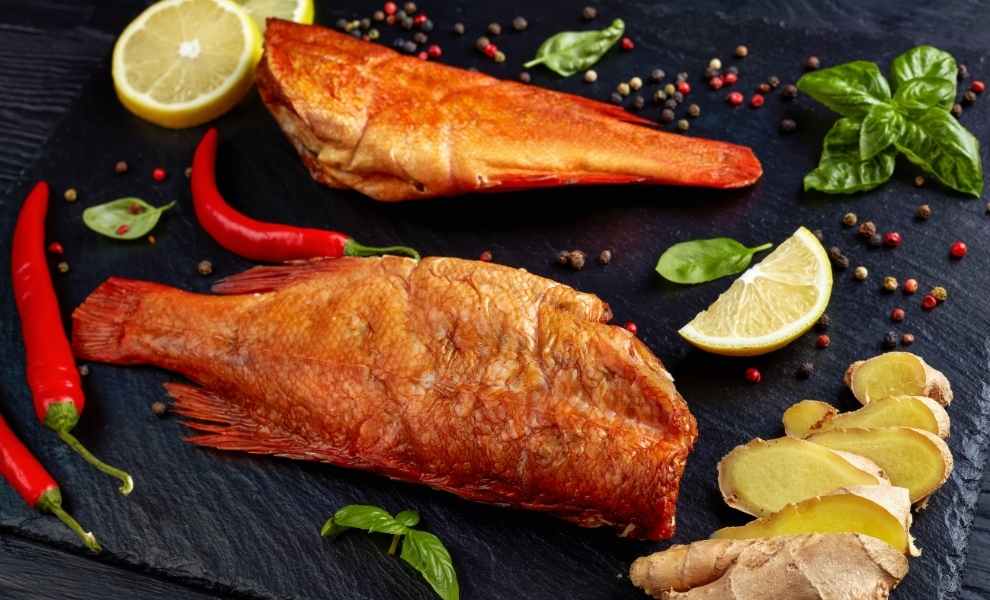 Finally, add turmeric, lemongrass, lime zest, ginger and some of your special spices with the fish.
In the meantime, preheat the grill to medium-high heat. Now place the snipper in the smoker for 25-30 minutes. The time may vary according to your fish thickness. In the middle of the cooking, pour some tomato sauce over the fish. After cooking, serve the dish by garnishing it with your preferred salad. You can eat this dish for snacks or dinner.
Alaskan Canned Salmon
You can prepare Alaskan Canned Salmon for lunch or dinner. The cooking process is very convenient for you when you are in a hurry. It only takes 15 minutes for you to serve your guest.
To cook the canned salmon, you need boneless salmon, eggs, onion, seasoned salt, paprika, avocado oil, parsley and bread crumbs.
Mix all the ingredients in a large soup bowl and make 5-6 patties. Now, brush avocado oil in the grates and place the patties two to three inches away to prevent sticking with each other. Cook the patties for 3-4 minutes on each side at medium heat. Then relive the salmon patties from the smoker. Let them two minutes to come to room temperature, then serve.
Delicious Smoked Shrimp
Shrimp is one of the favorite fish irrespective of gender, caste, and age. You don't need any reason or occasion to cook smoked shrimp. You can eat the smoked shrimp whenever you like, for breakfast, lunch, snacks, or dinner.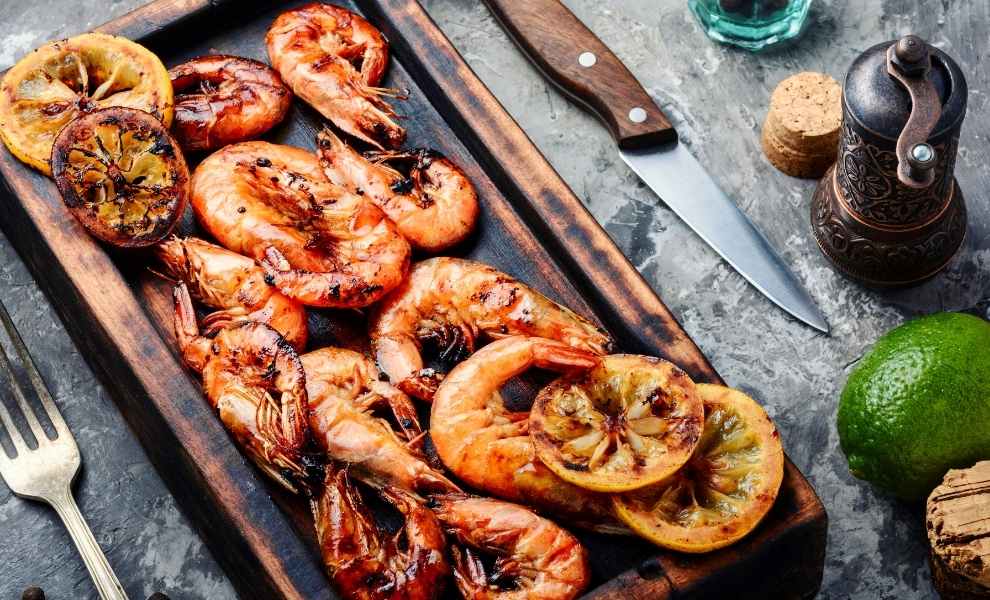 To cook smoked shrimp, you have to leave the shrimp shell to get a beautiful smoky flavor in your fish. Next, add your preferred spices with the shrimp and marinate them. You can use pecan, hickory, or maple wood to fire your grill.
After firing, set the smoker temperature at 225°f and spread the shrimp on the grill rack, or you can use a grill tray. Cook them for 25-30 minutes, and the shrimp turn into a smoky brown color. When you get the smoky flavor, remove them from the grill.
Perfect Summer Lobster
On a hot sunny day, the lobster recipe is enough to check your hunger. To cook perfect summer lobster, you need half to one pound large-sized lobster, small red potatoes, onion, lemon wedges, clams, mussels, and melted butter.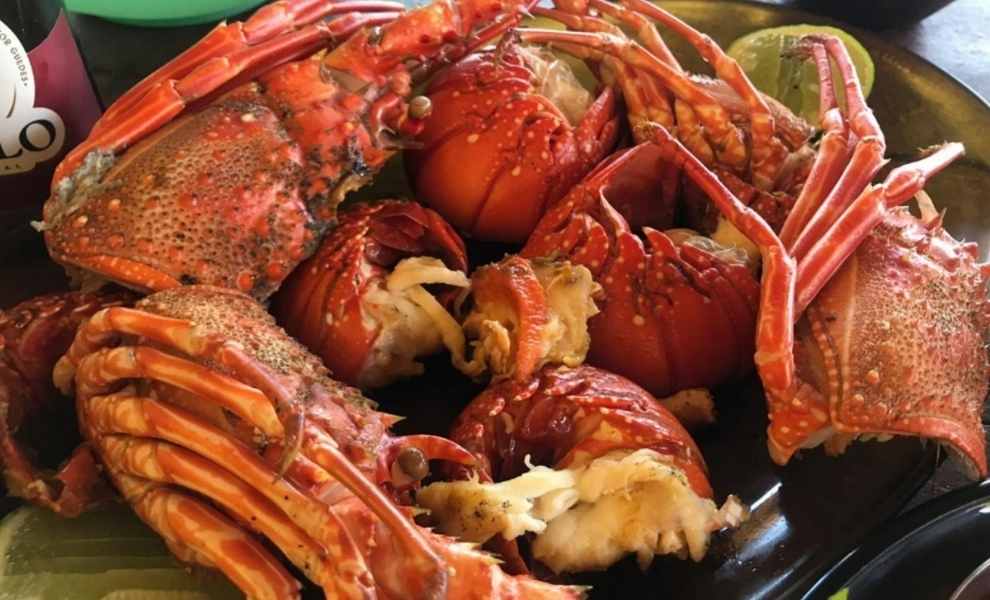 Take a mixing bowl and keep all the ingredients in a bowl one by one. Then mix them to get the perfect taste. Now, wrap the lobster with foil paper and place it in the griller for 35 minutes at 350-400°f temperature. 
World's Great Crab Leg
My last choice for seafood recipes is cooking crab legs for snacks or dinner. It is one of the simplest and easiest recipes to prepare at your home, and it requires 10 -12 minutes to complete the entire cooking process. 
First, preheat your grill and place the crab legs in the grill's grate. Before that, don't forget to brush butter in the grates to prevent crab legs from sticking. Grill the legs for 7-8 minutes on both sides. After 3-4 minutes, flip the legs with a long-handled tong. Then serve the crab legs with lemon wedges when the crab legs are remaining hot. 
Masterbuilt Smoker Vegetable Recipes 
Are you a pure vegetarian and think about what you can cook with your grill? Or do you feel disappointed by reading all the meat,‌ and fish recipes? Nothing to worry about, friends, I don't forget you. I also keep 7 vegetable recipes only for you.
Smoked Artichokes with Lemon Recipe
You can smoke the Artichokes with your grill to take it as your dinner. Then, you can add some lemon juice to bring a sour taste to it. 
It takes 20 minutes to complete all the preparation to place the Artichokes in the grill. After entering the Artichokes in the grill, you have to wait for 30 minutes to cook them. Lower and medium heat is enough for Smoked Artichokes with Lemon Recipe. 
Smoked Asparagus
Asparagus is a very renowned vegetable in the USA, and every veggie person loves to eat it because of its nutritional value and less preparation time. 
You can choose this smoked Asparagus for your breakfast. It takes only 5 minutes to season. Then cook it at 225-230°f temperature for 1 hour. Within 1 hour, it is fully smoked as it is very soft. 
Smoked Brussels Sprouts
You can smoke the Brussels Sprouts by using your smoker, and it's very simple. For breakfast, lunch or dinner, the smoked Brussels sprouts will fit your plate. 
To smoke the Brussel sprouts, cut them into small pieces and add olive oil, salt, pepper with it according to your taste. Now, keep it in the smoker and cook for 1.5 hours at 200-250°f temperature. Then, the recipe is ready to extinguish your hunger.
Smoked Cabbage
Smoked cabbage is the most important keto diet. If you are following the keto diet, you can try it once. To try it, you will need cabbage, olive oil, and a few spices. So now, get into the main recipe. 
First, cut the cabbage into two pieces, and then season it with simply salt and pepper. Then smoke it at 250°f. for at last 40 minutes. Make sure both sides become smoky. After that, remove the cabbage and serve it.
Smoked Cherry Tomatoes
It is pretty uncommon that you can smoke side dishes as well. When you plan to have a salad with your main meal, you can smoke the salad also. That's very lovely! Isn't it? 
You can smoke the salad by adding cherry tomatoes with olive oil, pepper, fresh basil, goat cheese, etc. First, you should marinate them for at least 3 hours. Then you have to pour them on a foil paper and enter them into the smoker. At this point, let them smoke for another two hours.  
Smoked Corn on the Cob
Smoked Corn on the Cob is a fantastic snack in the evening time. You can make a plan to eat smoked corn by reading the recipe in brief.  
However, first of all, the ingredients you will need are 6 to 12 yards of corn, olive oil, a bunch of green onions, salt, and pepper. Using these ingredients, you can smoke your corn. It will take 1.5 hours at a 250°f temperature. So the recipe is not very tricky; it's pretty easy.
Smoked Tomatoes and Potatoes 
You can smoke either potatoes and tomatoes individually or combined. In this case, you have to put your tomato pieces on the top of the potato piece.
However, to smoke potatoes and tomatoes, you should cut slices at first, then place them on the rack of the smoker. Before that, you should spray some cooking oil on the rack. However, then you can add some condiments as you wish. Then, place them into the smoker and set the temperature at 200°f. and wait for at least 2 hours. Then it will get ready.  
The Final Words
To wrap the article, there are plenty of Masterbuilt electric smoker recipes, but the matter is which one you will choose. Select your preferable recipe based on your processing time and smoking time.
Hopefully, if you are thinking of a massive combination of recipes made from an electric smoker, I could conquer your queries. By the way, you know masterbuilt smoker is a new version of the smoking technique, So enjoy it. Follow the ideas and have a wonderful and delicious meal each time. Make a diversity in your cuisine.