It often gets annoying to search through millions of electric smokers, read thousands of reviews, and still get the wrong one for smoking brisket. But your days of misery are over. I'm here to introduce you to the best electric smoker for brisket which will help you cooking brisket as well as other meat without any hassle.
Every product is independently reviewed and selected by our editors. If you buy something through our links, we may earn an affiliate commission.
5 Best Electric Smoker For Brisket You Can Go For
There's nothing quite like a cut of juicy, delicious smoked brisket. Considering the solid temperature control, easy setup, portability, total cooking area, adjustable smoking racks, beautiful design, set it and forget it option, and wallet-friendly price tag, Masterbuilt 20070910 30″ Digital Electric Smoker is the most wanted smoker.
Anyway, Here's our chart which represents two other electric smokers specially designed for the amateur chefs.
Quick Decision-Making Chart –
| Key Features | Masterbuilt Electric Smoker | Cuisinart Electric Smoker | Smokehouse Electric Smoker |
| --- | --- | --- | --- |
| Model Name | Masterbuilt 20070910 | Cuisinart COS-330 | Smokehouse 9900-000-0000 |
| Item Weight | 45.86 Pounds | 51.5 Pounds | 12.2 Pounds |
| Cooking Capacity | 730 sq. inches | 548 square inch | Up to 25lbs of meat |
| Best for | All experience levels | Beginners | Beginners |
| The Hallmarks | Versatility, Durability, Large Cooking Space, Easy Temperature Control & Easy to use | Spacious Interior, Quality Material, User-friendly, Versatile and Convenient | Good Engineering, Easy to Use, Consistent Temperature, Easy Cleaning, Durable construction |
| Price | Check on Amazon | Check on Amazon | Check on Amazon |
Masterbuilt 30-Inch Top Controller Electric Smoker
The Masterbuilt 20070910 Electric Smoker is very easy to use for any level of chef. Whether you're going to smoke chicken quarters, whole turkey, lamb shoulders, jerk sausage, 12 lbs beef brisket, salmon, lobster tails, or your favorite vegetables, this small smoker will give off the real smoky flavor with excellent smoking efficiency.
This smoker is very easy to handle, easy to smoke, and easy to clean. From controlling temperature to cleaning after smoking, you can do everything without the hassle of sliding a cotton yarn into the rusty needle hole.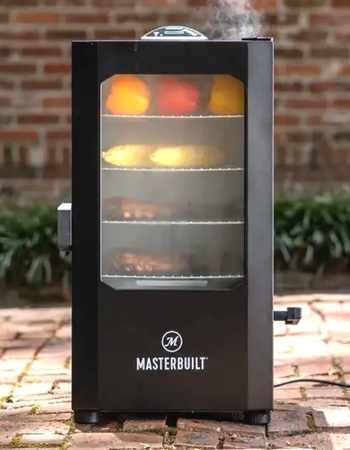 Top Features:
800-watt heating element

Can heat from 100° to 275° F

730 sq. inches of the cooking chamber

Can smoke anything from cheese to brisket

4 chrome-coated removable smoking racks

Suitable for experienced as well as beginners
| Specifications | Parameters |
| --- | --- |
| Brand | Masterbuilt |
| Model Name | 20070910 |
| Item Dimensions | 20 x 17 x 33.5 inches |
| Item Weight | 45.86 Pounds |
| Power Source | Corded Electric |
| Color | 30" Black |
| Fuel Type | Electric |
| Cooking Space | 730 sq. inches |
| Heating Element | 800 watt |
After smoking a brisket even without wrapping, it takes only a few minutes to clean the smoker because of its chrome-coated racks and drip pan that catches the fatty juices running out of your smoked meat.
Another exciting thing is that you don't have to go to restaurants to taste the delicious cut of smoked brisket or ribs. Its performance is surprising enough to let you smoke perfectly.
Also, you don't have to spend your cash every year purchasing a smoker as this one lasts years after years.
Its brilliant construction helps you maintain consistent internal heat and keeps your operating costs down. It allows you to smoke seasons after seasons.
To retain heat properly within the cooking cabinet, the main chamber of this smoker is made of aluminum, and the exterior of this chamber is protected with steel armor and plastic coating.
This extraordinary craftsmanship can make anyone fall in love with this smoker. I'm not exaggerating. Any normal aluminum or steel cabinet becomes too hot to touch if you cook something in it.
But, you'll find the exterior of this smoker cool enough to touch even after smoking a whole turkey or a giant beef brisket at the highest temperature.
You can fix the heat at any point between this range. For instance, the ideal heat to smoke beef brisket is 250°F. So, follow your favorite recipes, fix the heat at the recommended point, and smoke perfectly at the comfort of your home.
No matter it's the most traditional smoking using a charcoal smoker or the smart smoking with an electric smoker, heat plays the key role to make the food delicious.
So, the most important feature of any electric smoker is its consistency in generating heat and the temperature range.
I'm telling you that this smoker can generate 100° – 275°F hot temperature. But there's no guarantee that I'm not lying, and you also shouldn't trust a stranger. Masterbuilt has given a brilliant solution to this issue.
They have designed this smoker with a built-in thermostat. You can check out and control your cooking temperature with this internal thermostat. However, you'll need a digital meat thermometer to check the food temperature.
As you know, heat runs away every time you open your smoker. But, consistent heat is needed to smoke anything perfectly. So, it's recommended not to open your smoker frequently while cooking. Here you'll get another excellent craftsmanship in designing this electric smoker.
You don't need to open your smoker to refill wood chips. There's a drawer in its sidewall. Pull out the drawer, load your wood chips here, pull it back, and twist it to top up the wood chips box.
This unique refill system lets you add more chips without burning your hands. It also keeps the internal temperature stable which is crucial to ensure even cooking. Another excellent feature is that you can upgrade masterbuilt chip tray anytime.
Pros at a Glance
It'll come in top-notch packaging to prevent any damage

Sturdy smoker but not too heavy to carry

It generates enough heat and shut down automatically on time

Its insulated construction allows you to touch the exterior body when smoking

It comes with well-sealing doors to prevent the heat and smoke run away

It's designed with a probe for checking the internal temperature

Genius wood chip loading system to make the use super simple
Cons at a Glance –
It doesn't come with wheels or high stands.

Its 800-watt heating element loses its efficiency after more or less a year.
Cuisinart 30″ Corded Electric Smoker
We all know how Cuisinart has been dominating the barbeque industry. So, you can expect an electric smoker for brisket from Cuisinart to be as good as its other products. If you've never used anything from Cuisinart, there's no reason why you shouldn't start with this one.
The features are phenomenal for a basic smoker. Besides, the temperature is easy to control, the racks are even easier to clean, and you can cook perfect meals with little to no monitoring at all. I mean, isn't that what an electric smoker is all about?
If you still have any second thoughts, take a look at the features below to determine whether this is the one electric smoker you have been looking for.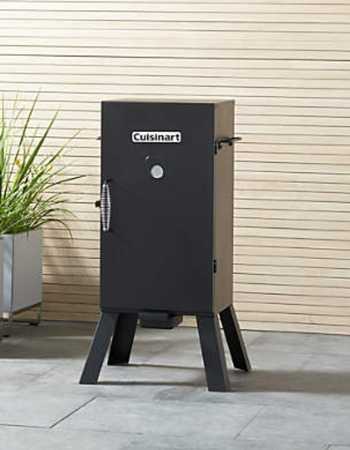 Top Features
Requires less monitoring while cooking

Built-in thermometer for better monitoring

Easy to control the temperature using a dial

It comes with a water tray and wood chip tray

Easily removable and dishwasher-safe chrome racks
| Specifications | Parameters |
| --- | --- |
| Brand | Cuisinart |
| Model Name | COS-330 |
| Item Dimensions | 22 x 19 x 37.5 inches |
| Item Weight | 51.5 Pounds |
| Power Source | Corded Electric |
| Color | Black, 30″ |
| Fuel Type | Electric |
| Cooking Space | 548 square inch |
| Heating Element | 1500-watt |
A 1500-watt heating element inside the smoker ensures that you can adjust the temperature between 100 degrees F and 400 degrees F. There's a dial for adjusting the temperature. All you have to do is use the dial and set the heat according to your desired level.
Once you set the timer, the smoker won't need any monitoring. In addition, there's an in-built thermometer. So, you won't have any difficulties monitoring the temperature.
The racks are worth mentioning for several reasons. For starters, they're removable. So, if you're planning on smoking brisket or a whole turkey, there's no need to worry about space.
You can conveniently adjust big size brisket, whole chicken, turkey, or large meat cuts inside the smoker. Besides, the racks are machine-washable, which reduces your work by a lot.
There is one tray to keep water inside. It ensures that your food doesn't dry out. The smoker water pan retains moisture, so don't forget to fill it up before setting the timer. There's a second tray for wood chips.
Of course, you need any type of good quality wood for smoking meat. Add a combination of your favorite wood chips, and you're halfway done with your recipe.
Smokehouse Electric Smoker For Smoking Brisket
Users look for different attributes when selecting the right electric smoker for them. Some of them value a smoker that can keep the temperature consistent. If you're one of them, I would highly recommend getting this one from Smokehouse Products.
If you're preparing sausages, fish, or want to get excellent quality bark on your brisket, you can rely on this smoker with your eyes closed. The smoke circulates inside the smoker and creates a deep flavor in the food.
Even though you can't smoke heavy meat like a brisket, if you're a fan of low and consistent heat, there's no reason not to love the Smokehouse electric smoker.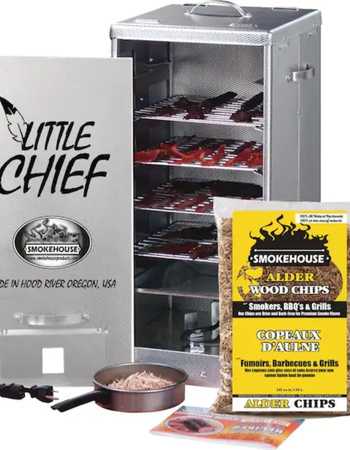 Top Features
Consistent low temperature

Easy to assemble and operate

Perfect for fish, jerky, and sausages

Lightweight aluminum construction yet strongly built

It comes with a cookbook and a pack of wood chips and chunks
| Specifications | Parameters |
| --- | --- |
| Brand | Smokehouse |
| Model | 9900-000-0000 |
| Item Dimensions | 11.5 x 11.5 x 24.5 inches |
| Item Weight | 12.2 Pounds |
| Power Source | AC/DC |
| Color | Silver |
| Fuel Type | Electric |
| Heating Element | 250W |
The most lucrative feature of this smoker is the low and consistent heat. You can't adjust the temperature. I know that's a limitation, but it works as a plus side too. You won't have to adapt and monitor the temperature from time to time.
Meat like brisket that requires more time and a low temperature to get cooked to perfection will be suitable for this smoker.
You're getting a pack of wood chips and chunks with this smoker. The wood chips are also from Smokehouse and are hickory flavor. Another fascinating thing you're getting is a cookbook with 50+ recipes. Talk about perks.
Even though the smoker is made of aluminum, it's not flimsy at all. That makes it lightweight in nature. For any outdoor grilling activities, you can easily trust this smoker to be your go-to product.
What Not To Like
You can't adjust the temperature

You can't cook large and heavy meat portions with this smoker
Char-Broil Analog Corded Electric Smoker
It wouldn't be normal if I skip the name Char-Broil while talking about smokers. If you want to get a perfect electric smoker to get started, Char-Broil won't disappoint. There are a lot of things to discuss about this smoker.
For instance, it comes with a large wood chip tray, a water pan, a drip pan, and a temperature gauge in front. Besides, the chrome racks are perfect for smoking your favorite meal with perfection.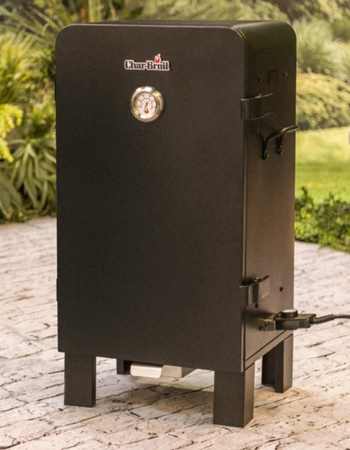 Top Features
Large cooking area

Large wood chip tray

In-built temperature gauge

Backed by one year warranty

Dual latches on the door to keep it shut
| Specifications | Parameters |
| --- | --- |
| Brand | Char-Broil |
| Model Name | 18202077 |
| Item Dimensions | 15 x 20.7 x 33.5 inches |
| Item Weight | 49.5 Pounds |
| Color | Black |
| Power Source | Corded Electric, Wood |
| Fuel Type | Electric |
| Cooking Space | 544 Square inches |
The cooking area inside the smoker is pretty satisfactory. However, there is room for four racks while the smoker comes with only three. So, if you want that additional rack, you're going to have to spend a few extra bucks. 
The internal cooking space of this smoker is about 544 square inches. So, you can imagine that you'll be able to cook a large brisket inside this smoker. You can add four racks inside the smoker, but it comes with three shelves. However, there is a small perk of this issue. 
If you want, you can accommodate larger meat portions by increasing the gap between two racks. This way, you won't have to remove any racks to make room for the meat. 
Everything you're getting with this is stunningly delightful. For instance, the wood chip tray is large enough so that you won't have to refill it too many times. You can quickly load the chips using the front door.
Besides, there are latches on the door to keep the smoke locked inside. So, you can expect your brisket to be deeply smoked. 
There's an in-built thermometer on the front door. You can conveniently monitor your food using the thermometer. 
What Not To Like
There are only three cooking racks when the smoker can support four
Royal Gourmet Versatile Electric Smoker 
Royal Gourmet is the brand you turn to when you're interested in versatility. This digital smoker is one of the best ones, in my opinion. The features are stunning, the materials are high-quality, and it locks the smoke inside so that you can get the best flavor in the meat. 
In addition to the wood chip tray and water pan, you're getting a convenient drip pan that makes your cooking process a lot easier. Cleaning becomes hassle-free, and the meat stays less oily.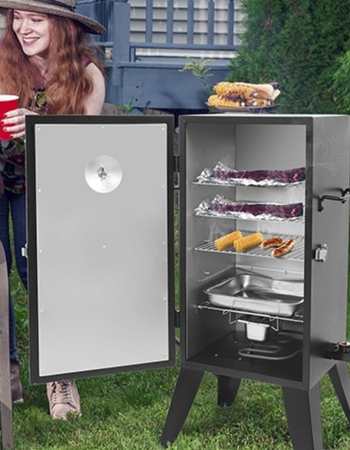 Top Features
Precise temperature control

Removable digital controller

Wood chip box and water pan

Drip pan for a better grease management

Double-wall construction for better heat retention
| Specifications | Parameters |
| --- | --- |
| Brand | Royal Gourmet |
| Model Name | SE2801 |
| Item Dimensions | 37.1 x 19 x 20.6 inches |
| Item Weight | 48.3 pounds |
| Color | Black |
| Power Source | Corded Electric |
| Fuel Type | Electric |
| Cooking Surface | 457. 86 sq. Inches |
You can remove the digital controller according to your necessity. If you're searching for a smoker with precise temperature control, I suggest you go for this one.
There are multiple aspects that make your smoking a lot easier. For instance, you can precisely control the temperature to cook your brisket to perfection. Secondly, there's a thermometer on the door to monitor the internal temperature without opening the smoker's door. 
The door also features latches to keep the heat locked inside unless you want it to be opened. And speaking of heat retention, the smoker features double-wall construction to smoke your food with perfection. 
There's a water pan to prevent your food from drying out. In addition, there's a wood chips box with a lid to ensure perfect flavor. Last but not least, a drip pan ensures that you don't face any difficulties while cleaning the grease. 
The smoker isn't limited to one or two dish types. You can cook a variety of meat and use different cooking procedures with this smoker.
So, if you wish to experiment and have adventures with your electric smoker, Royal Gourmet is a suitable smoker for smoking brisket. 
What Not To Like
The temperature doesn't rise very high
Things To Consider While Buying A Electric Smoker For Brisket
As you're here, I'm pretty sure that you've set up your mind for purchasing this amazing food-smoking appliance today. 
When it comes to buying George Foreman grills or electric smokers, it sometimes gets very tough for beginners to tell the difference between the competing models from different brands. 
So, how do you know which one is right for you? Don't worry! Considering the following things will help you pick up the best electric smoker for brisket: 
Cooking Space
Cooking space is an important thing to consider before buying your smoker. Unlike steaming or pan-frying, food smoking is a long cooking process that you can't do twice to prepare a meal. 
It usually takes 6 to 12 hours and even longer to cook a brisket or fish in this method, while fruits and vegetables take a bit shorter time.
So, if you want to smoke something for a large group of people, an electric smoker will not be a good fit for you. Most of the electric smokers can serve 15 to 25 people. 
If you don't need to smoke for more than that number of people, then you can easily go for a 30″ electric smoker.
But, a 30″ smoker is too small to play with a full rack of ribs or whole packer briskets. This size of small smokers come with around 700 sq. inches of cooking space which is more than enough to smoke a lamb shoulder or a whole turkey. 
So, define your requirements and then decide which size you actually need. If this size is not enough for you, then you can think about 40″ smokers.
Digital vs. Analog
First, I thought all electric smokers are digital, but I was wrong. Analog smokers are also available in the market. In an analog smoking appliance, you'll get 3 options to set your temperature; these are – low, medium, and high. So, an additional thermometer is needed to know the exact cooking temperature.
Moreover, you can't expect a cooking timer in this version of an electric smoker, which allows you to enjoy the "set it and forget it" cooking feature. It's actually not suitable for the tech-savvy cooks. 
I can't imagine an electric food smoker without a digital screen, pushbuttons, and other advanced features which make smoking as easy as boiling a pair of eggs in an instant pot.
Construction, Materials, and Durability
All smokers are not constructed equally. A lot of home cooks use self-made drum smokers, which can't hold heat as effectively as a well-constructed smoker can. Heat is always prone to escape, but you need stable heat to ensure even smoking. That's why you've to be careful about it.
Mobility
It's not a car, so you won't get mobility in all of them. But, it's important if you want to take your smoker out with you every weekend to beach parties or RV camping trips. 
You may also need to move your smoker when you want to clean it or for whatever reason. That's why your smoker needs to be durable yet lightweight and portable.
To ensure these qualities, some manufacturers design their smokers with handles, and others install caster wheels in their smoker's legs. A user-friendly electric smoker will come with either handles or wheels, or both.
Power & Temperature Range
Sometimes, pro-smoking enthusiasts need 1500 Watts heating devices or even higher, while 500 to 800 watts is ideal for beginners. 
This power determines the temperature range. Most smokers can generate up to 275°F of the constant heat, which is enough to smoke brisket, ribs, salmon, and several other foods for your family. Masterbuilt 20070910 also can generate 275°F heat.
Temperature Control
Do you know what makes a beginner smoke like a pro? No matter if you're a beginner or with hundreds of years of experience, if you can't control your cooking temperature, you can't smoke evenly. This is the key thing to smoking anything. So, you've to consider this before buying an electric smoker.
As you know, it's almost impossible for a new BBQ enthusiast like you to control cooking temperature without a digital control panel. 
Proper insulation, rheostats, sealed doors, drip pans, vents, smart wood chip loading system, and thermostats also help control and maintain the temperature.
Warranty and Support
A quality smoker never requires this, but a reliable brand always offers this with their products to make their customers feel safe. Any electric appliance, even from reputable brands, can easily go wrong within its circuits. 
So, warranty and customer support are the two most important things a user expects from a manufacturer. In this case, Masterbuilt is a very good option where you can invest your faith.
It's Time to Make a Decision
Despite being very easy to use and having dozens of cool advantages, a lot of pro-smoking guys don't like electric smokers. 
I don't know why they don't like it, but I've noticed something which pulls back these smokers from being so popular. These smokers can't produce as many smoke rings as charcoal or pellet smokers can.
Another issue I've got is that some recipes require a higher temperature than Masterbuilt 20070910 can generate. So, I can't try those recipes. Moreover, it lacks remote control features. But I'm happy with it as it offers the features I actually need.
Neither I'm a chef, nor I'm an expert. I am the husband of a crazy girl who's fond of smoky flavor, and my smoker never failed to please her. 
Once, I was also a newbie user of electric smoker like you are today, and after cooking not hundreds but more than a hundred deliciously smoked dishes, I've got that Masterbuilt 20070910 is the best electric smoker for brisket. 
Who These Electric Smokers Are Designed For
There's only one star in my nest (my sweetheart), but you'll get dozens of different smokers out there in the market. 
It's beyond any doubt that all of these BBQ machines are designed with unique characteristics, but how to know who the electric food smokers are best for. Well, let me fry one more egg.
Suppose offset smokers are the greatest of all, but what can you do if there's not enough space in your backyard to install one of those great pieces? 
Again, it's known to all that charcoal smokers are the best to impart the most distinguished smoky flavor. 
But, how many of the foodies can separate the meats cooked in an electric smoker from those that are cooked in a charcoal smoker if served together?
However, electric smokers are best for the smoking enthusiasts who want to celebrate all of their weekends with smoky flavored brisket but don't have enough time to babysit charcoal or pellet smokers. 
These slim smokers are also suitable for the cooks who don't know how to operate those traditional smokers but want to eat gloriously smoked food. 
And above all, electric smokers are wallet-friendly as well as beginner-friendly. So, as a beginner, you can go for a small electric smoker.
How Does An Electric Smoker Work
This is a technical part, and I'm not a tech. But as a loving husband, I know how to use it, and from my experience, I'm pretty sure that the "set it & forget" option of the electric smokers has made most of the beginners curious about the functioning of this tech-savvy food smoking device. 
However, because of this curiosity, you'll learn all the hacks of this machine which helps you get the best taste possible from your food.
A quality electric smoker comes with a digital control panel. If yours is Masterbuilt, you'll get this panel on top of your smoker. 
There's a power button to switch the smoker off or on. This control panel also helps you set the cooking temperature as well as the cook timer, and you can read the current temperature of your cooking on its digital screen.
Different electric smoker recipes require different temperatures. So, following your recipe book, you can set your desired temperature using the control panel.
But in a regular smoker, cooks have to control the temperature by limiting the flow of oxygen, which is not as easy as controlling with push buttons.
You can imagine your electric smoker as an insulated oven in your kitchen, but with smoke. Electric smokers are designed with electric coal or heating elements which you can see under the wood chips tray. 
This element heats up, makes the wood smoke, and the cooking chamber traps that smoke in with the food to impart new flavor. You can also get a water pan there, which helps maintain the moisture inside the food.
From the YouTube video I've embedded in the electric smoker assembling guide atop, you'll come to know how to settle the wood chip tray and water pan. 
Then it comes to get your food in the smoker (don't forget to preheat your smoker). Just over the wood chips, you'll get a few racks where you can put the foods you want to cook.
Now, you can close the smoker door and sit back. Your electric smoker will take care of the cooking. 
Even food smoking depends on controlling the temperature, which is completely automatic in electric smokers. So, beginners can smoke almost perfectly with this type of smart food smoker.
Conclusion
Masterbuilt is my number one brand whenever I want to smoke any dish. But the other smokers which I represented here also have dozens of positive reviews from the satisfied customers. So, there's no doubt that these are the best electric smoker for brisket.