As the smoking of meat is always done at a lower temperature than full-blown grilling, water is one of the most crucial ingredients. The evaporation of said water will bring the smoke temperature down so that your meat smokes slowly for the perfectly tender and juicy bite.
Every product is independently reviewed and selected by our editors. If you buy something through our links, we may earn an affiliate commission at no extra cost to you.
But most water pans that are included with the smoker are no good and even if they do get the job done, you might look at a replacement and think it is way better. But what are the best smoker water pan replacement for the various smokers available on the market? 
Let's find out-
Smoker Water Pan Replacement Guide
We scoured the market and brought forward 5 different smoker water pans from different manufacturers and they range all the way from first-party offerings from Weber, and Pit Boss to budget products that are worth every penny you pay for them. 
Each is made for a different brand of a smoker and while sometimes you can mix and match, usually it is a compatibility nightmare so we suggest you stick to the brand that your smoker/grill is from.
Weber Smokey Mountain Water Pan 
As the name suggests, this water pan is made by Weber as an in-house accessory for their Smokey Mountain series of smokers. But even if you do not own a Weber product, it will mostly work with any other smoker out there.
If you are a proud owner of a set forget smoker like the Weber Smokey Mountain charcoal smoker, especially the 18.5" version, this product might be the most prominent on your radar. And we are happy to announce that it deserves the spot by a huge margin.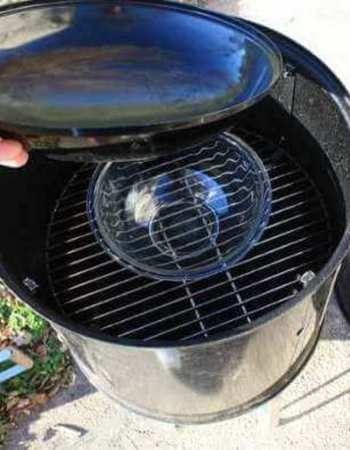 Top Features:
14.5" diameter

Porcelain Coating

2.5 Galon Capacity

Black Enamel Steel interior

Made for the 18.5" Weber Smokey Mountain
---
The dome shape of the pan here works flawlessly in terms of giving the water enough surface area for even heating and in turn, even evaporation.
The 2.5-gallon capacity is one of its biggest pluses as well. You won't really have to worry about refilling the pan during smoking and we all know how big of a hassle it is with boiling and spraying when we are trying to fill up a warm water pan.
The construction of this pan is as good as it gets with the black enamel steel exterior giving it little to no flex while the porcelain coating means it will stand up to years of use without much discoloration.
If you "accidentally" abuse your smoker, you will not have to worry either as even with a few accidental drops, the pan held its shape perfectly without any dents or chip-offs.
The main downside we could find is that the dome shape means it will hang really low and might touch the warm coal if you are not careful.
This is the prime reason why most people would want to look elsewhere but as long as you are careful with your coal spread, we really do not think this is an issue.
Overall, we are big fans of this product from Weber and we also think it is the top choice for anyone with a compatible smoker. It will get the job done perfectly while holding up to years and years of use giving you the perfect smoke result every single time.
Pros:
Top-notch durability

Efficiently controls the temperature

Perfectly maintains the moisture for hours of cooking

No hassle of refilling during long cooks because of its great capacity
Cons:
The shape requires more improvement
Also Read: 5 Best Temp Controllers for WSM – Upgrade Your Smoking Game
Masterbuilt Smoker Water Pan Replacement
Masterbuilt has an amazing reputation when it comes to making all things grilling and smoking and their water pan replacement should be particularly attractive to the budget-conscious folk out there.
By looks, this steam pan looks straight out of a Michelin star-winning professional kitchen and sure a water pan is not something we can see while in action, it sure will make you feel like a pro chef.
Top Features
Dishwasher Safe

7 x 6.38 x 4 inches Size

Lightweight at 1.6 Ounces

Industrial look and design

24 G Stainless Steel Construction
---
It is not all looks tho, as the signature silver color only comes from one thing: Stainless Steel. It is not weak steel either, coming in at 24 gauge of strength, it is fully dishwasher safe and will stay unscathed for a long time. Even with a relatively thin outer wall.
One of the most underrated features of this pan is that it is very versatile and can be used stovetop for sauces or marinating. It could be used for baking bread among other things too if not for the small size.
But the small size is just perfect for its intended purpose, steaming. The compact footprint ensures that it will fit inside almost every masterbuilt smoker available on the market and the superior heat retention of stainless steel means water will evaporate plenty fast and evenly throughout the smoking process.
If we were asked about cons, a product as affordably priced as this is sure to have a couple. The steel being a bit on the thinner side means if you mishandle the pan, it can get some kinks or dents but nothing too serious.
Additionally, you can not really expect it to stay in full working condition for decades.
Weighing out the pros and cons, this Masterbuilt Smoker Water Pan replacement is seriously good.
Especially for the money, you'd be hard-pressed to find something comparable at a better price. So it gets a glowing seal of recommendation from us.
Pros:
Quite easy to clean

Fits perfectly in every electric smoker

More affordable than average water pans

Versatile usage- can be used as a bowl, mold, water pan, and for cooking on stovetops
Cons:
Might easily get scratch marks

Not suitable for frequent usage
Also Read: Masterbuilt Chip Tray Upgrade – Replace Wood Chip Tray Today
Char-Broil Smoker Water Pan
The famous grill and smokers manufacturer Char-Broil brought this product to the market as the replacement water pan for most of their lineup and it beats expectation in every sense of the word.
If you loved the original water pan included with your Char-Broil smoker, you are sure to love this one as well. Everything is identical to the built-in pan except the build quality which is upped by a notch.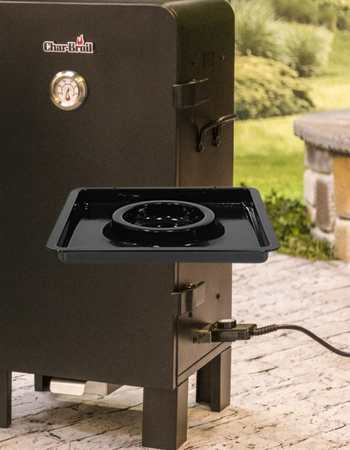 Top Features
1 lbs weight

14.18" x 2" x 14.18" dimensions

Compatible with most Char-Broil Models

Great Molding Tolerance for the Perfect fit

Unique shape built for increased surface area
---
The shape here is as unique as ever with what seems like a bowl on top of a baking tray. It is weird at first look and honestly, never really stops looking like an alien technology but it is also precisely why it does such a good job.
The dome-shaped bowl in the center holds a lot of water while the tray surrounding it gives the water a huge surface area for evaporation. This design truly is the best of both worlds in terms of capacity vs surface area.
The build quality is definitely an advantage over the stock pan. It is made with more durable materials and has a coating that will last you for years if not decades.
You don't even have to worry about accidental scuffs or dents. And with compatibility with most of the Char-Broil models, you can just buy it without any worry about fit issues.
Summing it up, this is the best smoker water pan we can recommend for owners of the Char-Broil smoker. It has all of the unique characteristics of the OEM one while one-upping in the build quality department.
Pros:
Great capacity and surface area

A perfect fit for Char-broil smokers

Lasts for years even with frequent usage

Innovative design for a hassle-free smoking
Cons:
Takes up much space inside the storage
Pit Boss Vertical Smoker Water Pan
Pit-Boss is famous for its vertical smokers as well as pellet smokers and this product will work on both. It is advertised to be primarily for offset smokers but you can also use it in the vertical configuration.
While Pit Boss made a name for themselves with pellet grills/smokers, their Vertical smoker series is nothing to be scoffed about either and this product will be the perfect accessory for those.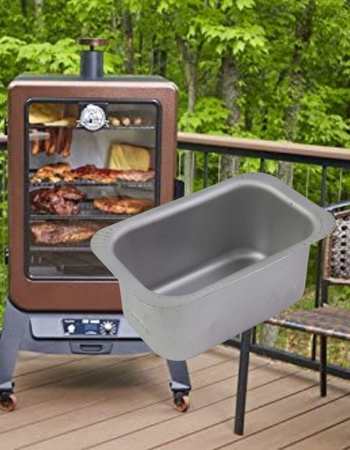 Top Features
7 Ounces weight

Stainless Steel Build

Built for Offset Smokers

7.5" x 4.65" x 3" dimensions

Compatible with Vertical charcoal Smokers
---
Looks can be deceiving yes, and it is especially true in the case of this stainless steel pan. The edges are kinda scruffy and the finish looks like it is straight out of the 80s but this water pan has got it where it really matters.
The construction is fully stainless steel with walls that are thick enough for good heat retention. It also holds a fair bit of water for a full smoking session. With a compatible Pit Boss model, you can just swap the previous pan in without any further hassle.
However, the versatility offered here is not what you would expect. The manufacturer strictly says that it is not for use on top of open flames and it thus rules out the possibility of using this pan for sauces and gravies.
But you have a different type of versatility as this product can also work well on offset smokers or pellet smokers.
Sure most backyard grillers will only have one type of smoker in their arsenal, if you decided to change it down the line or get a different model, you just won't have to replace this pan.
As long as you can move past the roughness around the edges of this product, it will be a very good buy and can sustain your smoker for years to come without any worry or hassle.
Pros:
The capacity is pretty decent

Simple and user-friendly design

Good at maintaining the temperature

Compatible with most brands of smokers
Cons:
The finishing could be better

Can cause accidents if left around open flames
Also Read: Pellet Grills With Flame Broiler – Everything You Must Know
Brinkmann Smoker Water Pan
Finally, to complete our roundup here is an option for all the Brinkmann smoker owners out there. It is made by Winco and will find the perfect home inside your Brinkmann appliance.
Like our suggestion for Masterbuilt smokers, this water pan is made by Winco and the quality here is fantastic. It is a smooth, domed, stainless steel bowl that can be extremely versatile.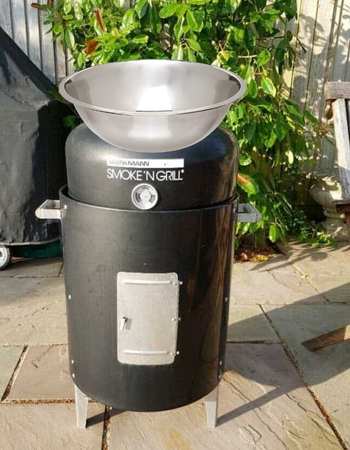 Top Features
22.5" diameter

1.6 ounces weight

Stainless Steel Construction

8 quarts or 7.5 liters capacity

13.25" x 13.25" x 4.13" dimensions
---
From marinating, making quick sauces, cooking over the stovetop, and holding produces, it can do it all.
The domed shape bowl is available in various sizes and you should pick the right one for your model of the Brinkmann smoker.
We think the 8 quarts will work out fine for everyone but if you have confusion, double-check. Oh and due to the size and shape of the bowl it will also work as a replacement for Weber Smokey Mountain smokers.
Everything else about this product is top quality just like advertised. It is durable and as you go up in size, it becomes wider and not necessarily deeper.
This is a huge plus if you want an all-purpose bowl for other applications around the kitchen. It will live a long and prosperous life inside your kitchen with minimal wear and tear as it puts on the years.
Easily, this is the best water pan replacement you can get out there for Brinkmann smokers, and we would also nudge you towards exploring the various other use-cases you can find from a bowl of this caliber. It is a great way to get more use out of a premium bowl with a matching price tag.
Pros:
Stays free of rusts and scratches

The coating stays intact for years

Easy cleaning inside the dishwasher

The massive-sized bowl can hold a large number of ingredients

Can be used for many purposes, such as cooking, smoking, marinating, etc.
Cons:
Too thin to endure excessive heat
What To Look For While Selecting Water Pan For Smoker
With our suggestions for water pans for the 5 most widely used smokers out there, you will not have to worry about picking the wrong kind ever again.
But we also understand there are some of you who are hell-bent on knowing all the options before pulling the trigger and this section is for them.
Below are the things you need to look for before selecting a water pan for your smoker-
This is perhaps the most important thing to look for when you are buying a water pan.
Sure there are some smokers out there that will work with anything from foil tins to baking trays, but if your smoker has a proper section for the water pan to go in, you should pay attention to that.
After all, you do not want to be stuck with a pan that does not work for the intended purpose.
You can take a tape measure to measure the pan that your smoker comes with or consult the manual for more accurate dimensions. And whatever product you buy should have the same dimensions for a perfect fit.
As the water pan works overtime inside your smoker close to the flaming hot coals, you should not skimp on the build quality. We always recommend something with good quality steel, preferably stainless with thick enough walls that will stay in shape for years as well as ensure good heat retention.
The capacity of the steam water pan will determine how many times if any you need to refill the water pan during the course of smoking. It is standard practice to need to refill once or twice but any more than that you will be kicking yourself for not investing in a bigger bowl.
Yes, you might be restricted in terms of size inside your smoker, but we still recommend you make the best of it and get a pan with a good water capacity.
This is important as the water inside the pan will need an adequate amount of surface area to properly evaporate all the water while making sure the steam reaches where it is supposed to.
A pan too narrow and too deep is sure to hold a lot of water but will not do much for you in terms of steam quality.
What Is A Water Pan For A Smoker
Some people might confuse water pans for drip pans and while it is an understandable confusion, they are two entirely different things.
Drip pans are there to catch the fat of your meat as they melt so that they do not reach the burning coals and create a grease fire.
Water pans, on the other hand, are made to be right on top of the coals or wood. They take the heat and evaporate the water in them so that your smoker get's filled with steam that reduces the cooking temperature along with giving you finer control over the smoking process.
Smoker Water Pan Or Not?
Technically, you do not really need to use a water pan inside your smoker. If you know exactly what you are doing and have been smoking for decades, sure you can get amazing results without smoker water pans.
But for a beginner or anyone with moderate skills, water pans are kind of mandatory. So you should always use them.
Why & When To Use A Water Pan In A Smoker?
A water pan inside a smoker is a must due to the following reasons-
Greater Flavor
When the temperature of water hits 212°F/100°C, it heats up and evaporates. Water condenses on top of the protein, causing it to combine with the spices on top of the meat and causing the flesh to become "sticky" as a result of the water condensation.
It is easier for the fumes from the fire and pellet aroma to adhere to the meat because of the moisture, which results in a significantly stronger smokey taste.
A more Pronounced Smoke Ring
The flow of steam is responsible for the formation of a lovely bark on meat. As the water evaporates, the fat on the meat begins to liquefy in the presence of the proper spices (salt, sugar, and so on), creating a denser and more apparent peel on the flesh. This method is also called the Maillard Reaction.
It's really the salinity in the seasoning that causes the lovely pink smoke ring that so many people like to see on their barbecue as well as other meats when it penetrates through the exterior of the meat.
Create a Better Smoking Environment
When you are smoking a piece of meat for longer periods of time, there is the obvious risk of the meat drying out or even burning. An environment with more moisture inside the smoker prevents exactly this.
It keeps your meat juicy while not letting the temperature get too high so that your meat can smoke slowly and not cook at a burning temperature.
As for when to use a Water pan in a smoker, the greatest time to utilize a water steam pan is while cooking for an extended period of time.
As an example, while preparing pieces like briskets, the time needed to cook fully will range from 13 and 16 hours, depending on the weight of the piece.
You really do not need to use a pan full of water for quick cooking because the meat will not be on the grill for long enough to be affected by the water pan's effects.
Where To Put Water Pan In The Smoker
This question will have different answers for different types of smokers or grills. For any of the typical vertical smoking machines, the water pan needs to be directly over the source of the heat and underneath the meat that has been cooking. Sometimes your water pan can do double duty as the drip pan as well.
If you are using a pellet smoker, the water pan will have to sit right beside the meat or anywhere inside the same chamber so that the meat will have access to the freshly produced steam.
Is A Water Pan Necessary For Brisket?
Yes, for the most part, it is absolutely necessary. The brisket is one of the most complicated pieces of meat to cook and it will dry out just like that. So you always need to pay the cooking process as close attention as you can afford. 
Can You Use A Weber Smokey Mountain Without A Water Pan?
Technically, you do not really need to do anything with the water pan. The meat will cook like it does without it. The omission of the water pan will not get in the way of the Weber Smokey Mountain or any other smoker out there. But for all the reasons we mentioned above, we recommend you use the water pan.
Do I Need A Water Pan In A Pellet Smoker?
A pellet smoker will have a lot of features from granular temperature control to an insulating exterior so it is a lot less necessary to use a water pan inside a pellet smoker. 
So it boils down to personal preference. Some people swear by using a water pan inside a pellet smoker while others say it is not needed at all.
How Often To Fill Water Pan In The Smoker?
Cooking something for up to 4 hours (poultry or small pieces of meat) eliminates the need to check and restock the pan. You only need to fill it out once at the beginning, and you're done. Check the pan and refill the water after every 180 to 200 minutes if you are cooking for an extended period of time.
Conclusion
Smoking meat requires a lot of time and effort. So expectedly we want it to come out nice in just one try. The water pan is crucial in this regard so it is always best to know and understand which smoker water pan replacement works for your device. Be it pellet grill or vertical smoker, we hope this article helped you in your current and future smoking endeavors!!!