Frequent grilling sessions can make you understand how crucial temperature control can be. People who want precision will be extremely happy with a good quality temp controller.
Every product is independently reviewed and selected by our editors. If you buy something through our links, we may earn an affiliate commission at no extra cost to you.
In this article, I'll only concentrate on the best temp controller for WSM. Even though the Weber Smoky Mountain grill offers a convenient way to adjust the temperature, it can still be bothersome for some users. So, if you don't want to miss out on them, stay tuned.
Best Temp Controller For Weber Smokey Mountain (WSM)
After comparing a lot of products, I've only selected the 5 best temp controllers for WSM. If you're struggling to monitor and control the temperature of your WSM, check out the temp controllers below and you won't have to worry about anything anymore.
Quick Decision-making chart –
| Key Features | BBQ Guru UltraQ Controller | IQ110 BBQ Temp Controller | LavaLock Automatic BBQ Controller |
| --- | --- | --- | --- |
| Brand | BBQ Guru | PitmasterIQ | LavaLock |
| Probes | 2 | 1 (6 inches) | 4 (3 meat) |
| Compatible with | Weber, BGE, Kamado Joe & other ceramic grills | WSM, Weber kettle & Other BBQ smokers | WSM, Oklahoma Joe, BGE, Kamado Joe & More |
| The Hallmarks | 5-in-1 Versatile, Bluetooth & Wi-Fi Enabled, Revolutionary Fan, Status Light Ring & Dishwasher-Safe Temp Probes | Standard pit adapter, Accurate temp control, Versatility, Durability, Easy to use & Easy installation | 3 meat and 1 pit probe, Multiple adapters, High & Low temp alarms, Open lid detection & Easy to use |
| Price | Check on Amazon | Check on Amazon | Check on Amazon |
BBQ Guru Temperature Controller For WSM
Let me warn you this is the most expensive option on my list. However, the price is well worth it, considering how effective it is in its function. So, if you have the budget, I would highly recommend you consider this one without second thoughts.
It can help you monitor your cooking and adjust the temperature as needed. When you want to go through minimum effort to achieve a successful recipe, there can't be a better option than this one.
Let's take a look at the top features you will be enjoying if you go with this controller.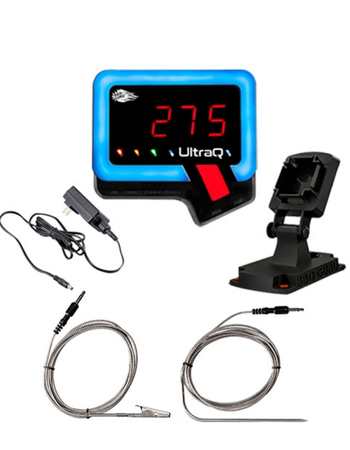 Top Features
Status light ring

10 CFM pit viper fan

Magnet mount included

Bluetooth and Wi-Fi compatible

Dishwasher-safe temperature probes
| Specifications | Parameters |
| --- | --- |
| Brand | BBQ Guru |
| Power Source | 12v – 3.5 Amp Power Pack |
| Unit Count | 1 |
| Color | Black |
| Controller Type | Android, IOS, Vera |
The first thing you need to know about this kit is that it's a complete package that will save you from the hassle of buying the components separately. That's one reason why this kit is expensive. 
However, with the precision and convenience that comes with this unit, you will find that it's completely reasonably priced. 
There are a lot of features to cover in this review. The first one to get the credit to make it an amazing unit is the automatic temperature control. 
I know that's what the unit is supposed to do. But I can't help but notice that the performance of the kit's fan is extraordinary. It's undoubtedly the best fan for Weber Smokey Mountain. 
You can set a temperature and the unit will monitor it. In case of the temperature drops, the fan does its job to create airflow to the charcoal and raise the temperature as needed. 
There are two temperature probes to offer utmost precision. One of them is for your grill grate that monitors the temperature of your WSM smoker. 
Another probe is for monitoring and maintaining the temperature of your food. Both probes are dishwasher-safe. 
The next thing you must know about this temp controller is its compatibility with Bluetooth and Wi-Fi. Whether you use an Android or iOS device, this controller can be connected via an app. 
It facilitates your control over the barbeque without hovering over the grill or smoker. 
When you're making something that requires slow smoking, the controller will be your savior and make the entire process easier than ever. 
Even though there are more things to discuss, I'm going to mention one last thing for this review. The controller features a unique status light that changes according to the situation to let you know about the adjustments needed for your cooking. 
Overall, it's one of the best temp controllers for WSM you will find in the market.
Pros
Two temperature probes are dishwasher-safe

Automatic temperature control for convenience

More juicy and tender results compared to before

Compatible with both android and iOS via Bluetooth or Wi-Fi

Unique status light rings allow you to identify the condition of your meat
Cons
Does not come with a user manual.
Also Read: Mold In Weber Smokey Mountain (Cleaning & Prevention)
Iq110 Weber Smokey Mountain Temp Controller
If you're not into fancy features and want something straightforward, this temperature controller can help. It's easy to install and can adjust the temperature according to your preset instructions. It will do a far better job at keeping the temperature consistent than you will be able to do manually.
Besides, it fits a wide range of smokers, so you can use it for something other than the WSM too. However, it will be most efficient with WSM smokers.
So, without any further ado, let's take a look at the features of this temperature controller.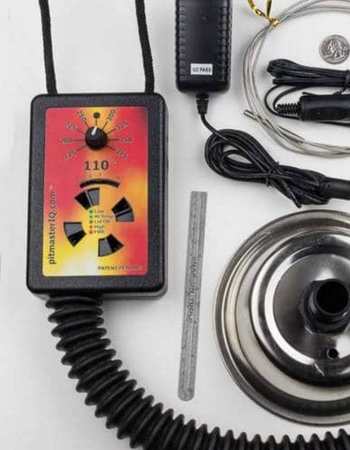 Top Features
Easy to use

Affordable price range

Precise cooking with less effort

Compatible with various smokers

Comes with everything required to run the device
| Specifications | Parameters |
| --- | --- |
| Manufacturer | PitmasterIQ |
| Package Dimensions | 11.2 x 10.4 x 4.9 inches |
| Item Weight | 2.49 pounds |
This unit will not offer you high-end features like smartphone compatibility. However, you will certainly be happy about the price it's offering. 
It can maintain a consistent temperature for a long time without your manual effort. And all of this comes within an extremely affordable price range. 
When you're preparing a juicy meal and have been failing to temperature inconsistencies, this controller will save the day. 
Even when you're slow cooking, it will back you up for a very long time. I certainly think that it's one of the best blowers for Weber Smokey Mountain, especially for its compatibility. 
Installing and using the device is pretty straightforward. Everything you need to get this unit running will be included in the package. 
However, there is one complaint about this temperature controller. One downside is that there is no instruction manual included with the package. 
In addition, the instructions found online aren't sufficient either. But you can't complain about anything else with this temp controller. 
It can be a great idea for a gift too. Anyone who is passionate about smoking recipes and owns a smoker that has a fire vent damper less than 5 inches in diameter, will be delighted with your gift idea. 
Pros
Long-term backup

Easy to use and install

Straightforward design

Automatic temperature control

Compatible with a variety of smokers

Comparatively a lot more affordable than other options
Cons
No fancy features like smartphone compatibility
Also Read: Best Weber Extension Ring For 22.5 Kettle Grills
Weber Smokey Mountain Fan Controller by Lavalock
Lavalock offers the perfect balance between price and quality. If you're searching for an affordable Weber Smokey Mountain blower with decent features and durability, you will be delighted with this one.
With a strong fan, four probes, and durable material, this is one of the best temp controllers for WSM. Using it is easy too. It features a one-button function.
In addition, the installation is as straightforward as it gets. You won't need any drilling whatsoever.
Top Features
Easy installation

35 CFM blower fan

3 meat probes and a pit probe

High-resolution bright display

1-year warranty on the controller and 3 months on the probes
| Specifications | Parameters |
| --- | --- |
| Manufacturer | Island Outdoor, LLC |
| Product Dimensions | 13 x 10 x 4 inches |
| Item Weight | 3.41 pounds |
| Speed Fan | w/ 35 cfm |
You may have already gotten an idea about what you can expect from this temperature controller. However, for those who want a detailed review, I'll put some light on those features.
First of all, let's talk about the fan. It's a 35 CFM fan that runs with a constant 110-volt power supply. So, you won't be worrying about any batteries here. The fan also comes with a stainless steel casing for durability.
The temperatures probes are another highlight of this controller. There are 3 probes and 1 pit probe. These are backed by a three-month warranty. The controller itself is backed by a one-year warranty.
There are also multiple adapter plates provided with the controller. So, you can use the unit with several smokers.
Installation won't require any drilling to save you from complexity. After all, simplicity is best when it comes to electric appliances. The pit probe is optimally designed for 356 degrees F. It can reach more than that.
However, the manufacturer suggests not to go higher than 450 degrees F. Other than that, there is nothing about this controller that you can complain about.
All in all, it's a great unit to get you going with your WSM for precision and easy cooking.
Pros
Easy installation with no drilling

Comparatively affordable price range

One-button operation makes the unit easy to use

Powerful 35 CFM fan for precision temperature control

Multiple adapters are provided to make it compatible with various smokers
Cons
The probe can't withstand more than 450 degrees F
Also Read: Best Temperature Controller For Big Green Egg
Iq120 Wsm Temperature Controller With Adapter
Iq120 is more like an upgraded version of the Iq110 that I've already reviewed. This one is certainly comparatively better. However, that also makes the price higher than the former one. So, if we are considering the price, it's better to go with the former model.
In comparison, if you don't mind adding a few more bucks to your budget, try considering this one. Let's see what features this model has to offer first.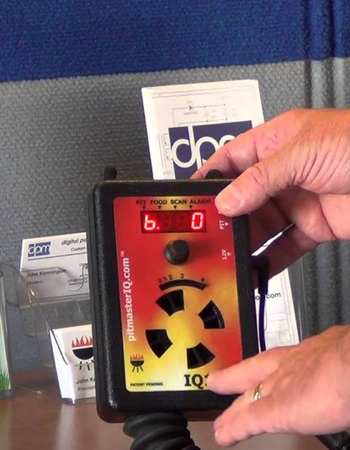 Top Features
Digital display

Easy to operate

Low fuel indicator

Meat and pit probe

Precise temperature regulation
| Specifications | Parameters |
| --- | --- |
| Brand | PitmasterIQ |
| Color | Black w/ Orange Label |
| Unit Count | 1 |
As I have already told you, it's a bit expensive compared to the older model. But you also get some upgraded features with this one. The temperature controlling system is very efficient. Besides, the device is super easy to operate.
Unlike most temperature controllers, there's a user manual with this one. Along with everything that's required to install and use this thing.
It can also work efficiently with a variety of WSM smoker models. It runs from an AC power source. Everything required to run it with the AC source is included.
However, you can also operate the device with a 12-Volt DC cigarette lighter socket but you will have to buy the adapter separately for that.
The device is pretty simple, yet offers some impressive features. For instance, you can program it according to your preference to achieve precise cooking results.
There are 12 parameters that you can set using the knob on the controller. Unlike a keypad, it's comparatively straightforward to use for all users.
There's also a lid-off detection method inside this controller. When you open the lid, the unit refrains from feeding the fire. It also comes with a low-fuel indicator.
In addition, you can set alarms to make your cooking comparatively easier.
Pros
User manual provided

Low fuel and lid-off detection

Proper temperature control for precision cooking

Everything required to run the device comes with the kit

Set temperature using the knob makes it easier for everyone
Cons
Comparatively expensive option
App-based WiFi Temperature Controller For WSM
If you want an app-based temperature controller for your WSM without spending a fortune, Auber Instruments is the brand you should take a look at. The secret to making the juiciest recipes when you're slow-cooking is a consistent temperature.
This controller ensures that without you manually adjusting the temperature. It won't vary more than 5 degrees, resulting in the perfect smoky result that you are seeking. Besides, it's really affordable.
Let's see what features the controller has to offer.
Top Features
Wi-Fi compatibility

Open lid detection

Three control modes

Accurate and consistent

Temperature monitoring and adjusting
---
It's really one of the most all-rounder devices you can own for your barbeque. Controlling the temperature will be easier than ever.
In addition, you can control the device using three modes. You can either go by the fan speed, duty cycle, or manual mode.
What's surprising is the Wi-Fi compatibility. You can control the device using your phone. It's an app-based temperature controller that makes your cooking experience easier than ever.
It's more convenient to monitor your food temperature on your smartphone rather than hovering over the smoker. Besides, the app is compatible with both android and iOS.
This controller can detect when you open the lid. It's one of the reasons why the temperature stays so consistent.
It won't differ more than 5 degrees F, which is understandable considering it's an electric device.
When you're manually monitoring the temperature, it's not possible to reach such accuracy, especially if you're a beginner.
Besides, when you're cooking something for eight or ten hours, it becomes difficult to monitor and adjust the temperature manually.
The last feature I would like to mention is how affordable the controller is. It's almost never possible to get so many features at such a cheap price.
So, if you don't want to break your wallet but still want some fancy features, I would highly recommend this one.
Pros
Open-lid detection

Consistent temperature

Three control modes are available

Easy monitoring using a smartphone

Affordable compared to other options
Cons
No instructions available
What To Look For While Buying WSM Temperature Controller
If you want to get a temperature controller on your own, I highly recommend evaluating it based on the essential features. Take a look at the following attributes and consider them before spending money on your controller.  
Compatibility
The first thing to consider is whether you can use the controller with your WSM or not. Some units are really easy and specifically suitable for Weber Smokey Mountain smokers. On the contrary, some may not be compatible at all. 
Another category of temperature controller may be usable with a WSM with some adjustments. 
However, since there are plenty of compatible devices, it's not necessary to go with one that requires adjustments. If you come across a temp controller that you really like, you can consider it even if it needs some adjustments. 
Built Quality 
The truth is, you won't need extraordinary materials for your temp controller. However, some smokers can get really high in temperature so you should select a unit carefully for those smokers. 
If the controller isn't sturdy enough, it won't be able to withstand the high temperature and end up getting damaged before you know it. 
Temperature Probes
There is usually one pit probe in all temp controllers. It's the meat probes that matter, especially in numbers. Multiple meat thermometers come in handy when you're cooking for a large crowd. 
So, if you're someone who cooks a large amount of meat frequently, make sure that you're getting a controller that comes with multiple meat probes. 
Open Lid Detection
if you want the controller to maintain a consistent temperature throughout the entire cooking session, it must come with an open-lid detection system. 
When you open the lid, the unit will detect it and lower the amount of oxygen getting to the fire. It ensures that the temperature stays in a constant place rather than fluctuating. 
Wi-Fi Compatibility
Whether you want it or not entirely depends on your preference. Wi-Fi compatibility will allow you to control the unit using your smartphone. Although it makes operating the device easier, it certainly makes the price rise. 
Price
There are plenty of affordable options that you can consider. So, there's no need to spend a fortune on a temp controller. However, if you have the budget and you want the fancy features, you can certainly get an expensive one. It will certainly be better than ordinary units and will last longer too. 
Conclusion
That was everything you needed to know about the best temp controller for WSM. Go with the one that suits you the most. Consider every feature you think is important. Not everyone will judge the same attribute with the same importance. For instance, the price may not matter for some people at all. In comparison, it can be a deal-breaker for someone. So, rather than comparing other people's choices, stick to the features you like most before spending your money.