People who are fond of backyard smoking often look for a high-quality mountain smoker like Weber. But the question is what is the best size Weber Smokey Mountain cooker? Which will fill the bill for you in terms of cooking capacity, price, and portability?
We all know that the iconic Weber Smokey Mountain comes in three sizes- 14″, 18″, and 22″.
Of course, the 22″ big daddy is the most convenient one for smoking meat if you have a lot of people to feed. Naturally, it will burn more charcoal. Can you afford that?
Every product is independently reviewed and selected by our editors. If you buy something through our links, we may earn an affiliate commission at no extra cost to you.
Okay, let's not make it too complicated. Below, team Topcellent offers an in-depth analysis of all the three sizes with all their features and functionalities.
Check them thoroughly to decide on the right size.
Best Size Weber Smokey Mountain Cooker You Can Go For
Compared to regular smokers, the Weber Smokey Mountain Cooker is somewhat more expensive. But still smoking enthusiasts go crazy over this product as it offers more consistent cooking, concise temperature control, and overall more cooking area. Besides, you can use a Weber Smokey Mountain as a grill/smoker combo too.
Let's have a look at the weber smokey mountain size comparison chart
Key Features
22 Inch WSM
18 Inch WSM
14 Inch WSM
Dimensions
24 x 23 x 48.5 inches
21 x 19 x 41 inches
31.4 x 14.75 x 14.75 inches
Item Weight
68 Pounds
39.1 Pounds
23 Pounds
Grilling Area
726 Sq. Inches
481 Sq. Inches
286 Sq. Inches
Racks of Ribs
6
4
2
Nylon Handles
2
1
1
Best For
Cooking multiple items at a time
Medium size cooking
Small feast
The Hallmarks
Versatility, High-quality material, Large capacity,
Superior heat retention & Easy heat control.
Durability, Individual vents, Efficient burning, precise heat control, & Easy to use
Lightweight, Easy to clean, Easy assembly, Convenient heat control & Cover Included
Price
Check on Amazon
Check on Amazon
Check on Amazon
On that note, let's break down the three popular models below to decide on which size Weber Smokey Mountain is the safest to invest in.
22-inch Weber Smokey Mountain
Let's start the search with the 22″ Smokey Mountain Cooker by Weber. If you need a large smoker to smoke multiple items at a time, you can go for this 22″ Smokey Mountain Cooker instead of buying a regular smoker.
With two big cooking grates, it avails the opportunity to smoke up to six racks of ribs in one batch. Therefore, feeding even more than twenty people will be no big deal with this cooker. 
Let's break down its top features to have a quick overview of the product.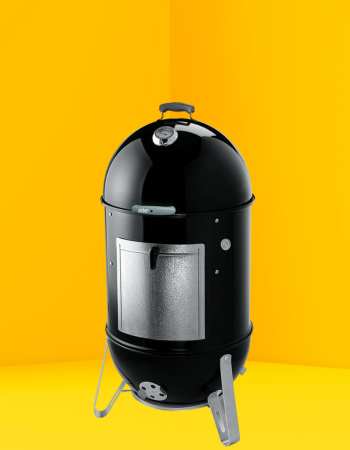 Top Features
Features a removable fuel door

Comes with two cooking grates

Heavy-duty stainless steel interior

Porcelain-coated lid, bowl, and center section

Easy temperature control by the dual dampers
| Specifications | Parameters |
| --- | --- |
| Brand | Weber |
| Model Name | 731001 |
| Item Dimensions | 24 x 23 x 48.5 inches |
| Item Weight | 68 pounds |
| Power Source | Charcoal |
| Color | Black |
What we loved the most about this smoker is the super consistent heat flow. The supreme heat retention capability of the porcelain-coated lid and bowl make it the set & forget smoker and lets you smoke consistently without creating any hot or cold spots.
Even more, the center section is also porcelain-enameled to remain rust-free. As a result, it becomes easier to maintain the same temperature flow throughout.
Naturally, it produces more smoke and infuses the smoke into the food equally. So, your meat tastes incredibly astounding with all those smoky aromas.
However, it also facilitates effortless heat control which is a dream for an average smoker. In fact, grilling experts have a very high thought about this special Smoky Mountain Smoker for its precise temperature control capability.
Thanks to the dampers that avail this option. With an easy adjustment of the dampers, you can maintain the heat as you want.
Moreover, if you close them completely, it will cut the oxygen flow to extenuate the charcoal.
Best of all, adding charcoal is not a nightmare anymore. You have the heavy-duty aluminum door here. As the fuel door comes off easily, you can add coals to the smoker hassle-freely.
One thing to consider is that the 22″ version of the Weber Smokey Mountain is pricier than its competitor smokers. But, you get a lot of additional amenities for those extra bucks. It even lets you cold smoke if needed, can you imagine?
And the dual grill design provides approximately 726 square inches of cooking space which is notably larger than others. So, we definitely recommend it if you regularly smoke monster cuts of meat.
Pros
Super consistent heat flow

A great value for the money

Precise temperature control

Offers spacious cooking surface

Supports low and slow smoking
Cons
A bit pricey

Use more fuel compared to smaller models
Also Read: Mold In Weber Smokey Mountain (Cleaning & Prevention)
18-inch Weber Smokey Mountain
Tired of waiting all day long for your dinner to be prepared? Not anymore, we have a convenient smoker for you from Weber. Meet this exclusive 18″ Smokey Mountain Cooker with all its unparalleled features to suffice all your smoking needs.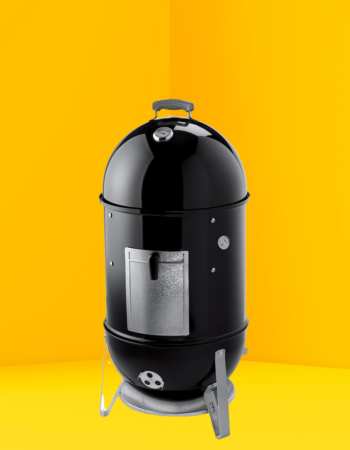 Top Features
Smokes a whole turkey at a time

Features a heat-resistant nylon handle

Two 18.5″ nickel-plated smoking grates

Offers an authentic smokehouse aroma at home

Rust-resistant construction with the porcelain-coated steel
| Specifications | Parameters |
| --- | --- |
| Brand | Weber |
| Item Dimensions | 21 x 19 x 41 inches |
| Item Weight | 39.1 Pounds |
| Fuel Type | Charcoal |
| Color | Black |
Compared to the 22″ size, it's more portable with only 39.1 pounds weight. An average person can lift the smoker as a single unit and even move it to a short distance.
And with 21×19×41 inches of dimensions, it offers around 481 square inches of smoking space.
However, keeping all these aside, you will be blown away by the genuine smokehouse flavor it offers. With exact temperature control and perfect low-and-slow smoking, it delivers the most delicate and juicy meat ever.
Speaking of the smoking capacity, the two 18.5″ wide cooking grates certainly seal the deal by accommodating a whole large turkey at a time.
Besides, you can also smoke a small brisket or 4 racks of ribs simultaneously.
As a medium Smokey Mountain Cooker smoker, the 18″ size is more popular among the pitmasters as they consume less charcoal than its larger counterpart.
Saying that that smoker is also designed with high heat resistance, thanks to the porcelain-enameled lid, bowl, and the center section. Due to the heavy-duty stainless steel architecture, it remains peel and rust-free.
In fact, they last more than a decade if you can use them properly.
In terms of transport, it is rather more convenient having a heat-resistant nylon handle. And the separate vents on both the lid and the bowl make temperature adjustment easier.
Having a water pan, the charcoal smoker adds moisture to the consistent heat flow by regulating the temperature inside. As a result, your meat doesn't get dry, but rather retains its original juicy gusto.
Above all, the silicone temperature grommet lets you monitor the inside temperature throughout. Therefore, it eliminates the chances of overcooking your food.
Overall, it's the best deal to go for if you have to serve 8-10 adults with a single smoke
Pros
Made in the USA

Comes with a cover

Great mid-sized smoker

Includes an external ash pan

Smokes four racks of ribs at a time
Cons
The removable fuel door is a bit flimsy
Also Read: Weber Original Kettle Vs Premium
14-inch Weber Smokey Mountain
Finally, let's review the 14″ model to see whether it lives up to the fame of Weber or not. Well, being the cheapest smoker on this list, it comes at a very affordable price. But does it perform like its two larger counterparts? What do experts say? Let's figure it out!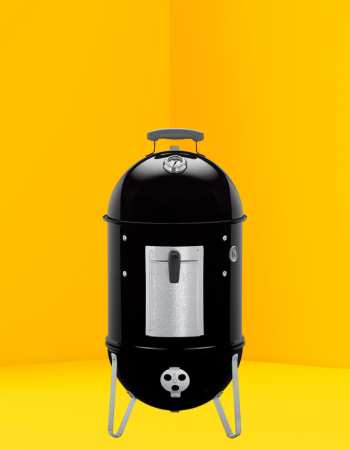 Top Features
Powerful construction in the USA

Cooking grid dimensions: 13.5×13.5 inches

Delivers up to 190° F smoking temperature

A total of 286 square inches of grilling surface

Weight: 24 lbs, Dimensions: 31.4×14.75×14.75 inches
| Specifications | Parameters |
| --- | --- |
| Brand | Weber |
| Dimensions | 31.4 x 14.75 x 14.75 inches |
| Item Weight | 23 Pounds |
| Fuel Type | Charcoal |
| Color | Black |
To begin with the benefits, it's a pretty cool little smoker with similar cooking performance as the 18″ or 22″.
But the key difference lies in the cooking capacity. It has the smallest cooking area of all. Resultantly, you can smoke at best two racks of ribs at a time.
Reasonably, it consumes less charcoal than others. So, if you cook for longer, make sure you refuel the charcoal chamber frequently.
Next, it holds heat pretty well reaching up to 190° F inside temperature. So, you can consider this Smokey Mountain Cooker both for hot-and-fast and low-and-slow smoking.
But the smaller cooking grates let you put a butt on each at best. Also, the water pan is very small as well.
Talking of the positives, the 14″ model beats the rest two in terms of portability. Of course, it's the most lightweight size of all.
Naturally, you can pick it as a single unit and carry it from your garage to the backyard all by yourself. That surely is a great add-on for this charcoal smoker.
Also, it's quite easy to assemble. With the detailed user manual, you can set it up within a few minutes.
And there are easily adjustable dampers to let you control the temperature throughout the smoking.
Another great advantage of using a 14″ Smokey Mountain is the less ash production. Using less charcoal, it delivers less ash, simple.
So, if you belong to a small family and the smoker is solely for your family's use, go for the 14″ size. After all, it costs pretty much half the price of the other two sizes.
Pros
Very budget-friendly

Fast and facile assembly

Adjustable double dampers

Lightweight construction enhances portability

Inbuilt lid thermometer to monitor inside temperature
Cons
Smaller cooking area

No external ashtray to collect ashes
Also Read: 10 Best Weber Drip Pan Alternatives: Finding the Perfect Fit for Your Grill
What Size Weber Smokey Mountain Should I Get
Well, this is not a one-size-fits-all thing. Based on your smoking needs, the size may vary from person to person.
As we already said, the three major concerns while buying the best size Weber Smokey Mountain are- cooking surface, portability, and price.
Undoubtedly, the 22″ smoker is the race winner in regard to the capacity offering a 726 square inches of space. This means it comes with close to 50% more cooking area than that of the 18″ Smokey Mountain. Yes, the extra 4″ diameter makes it much bigger.
Talking about the 18″, you cannot smoke a large brisket in it without chopping it into two pieces. Although it fits small racks of ribs finely.
Fast forward to the budget and portability, of course, the 14″ Weber Smokey Mountain is way ahead of the rest two sizes. But does that count as a plus or minus?
After all, you need to sacrifice the larger cooking area and some feasible features too. You can smoke 2 large or 3-4 short racks of ribs together. That will probably be okay for 4-6 people at best.
Being a Weber product, it doesn't compromise with manufacturing quality or material. It's just that you need to be a little forgiving about the small 14″ diameter.
But if you always cook smaller portions of meat, don't waste money on the bigger buddies. The 14″ will finely fill the bill.
However, in this dilemma, we suggest going for the 18″ one. The size is perfect to cook for 8-10 people for a small gathering. And you can even carry it a short distance.
In terms of budget, the 18″ is a reasonably priced smoker for an initial purchase. Also, you will be using less charcoal to heat it compared to 22″. It will cut down the maintenance cost as well.
Plus, it's more airtight than its counterparts which results in controlling temperature more conveniently.
However, it's always better to think before you buy. Don't go for the wrong size and regret it later. Rather analyze your requirements carefully and then choose the size wisely.
How To Measure Size Of Weber Smokey Mountain
The size of a Weber Smokey Mountain Cooker is usually determined by the width of the cooking grates. So, if you are confused about which size Weber Smokey Mountain to get, measure the diameter of the smoking grates and decide on your pick.
Is An 18 Weber Smokey Mountain Big Enough?
Umm, it's neither too big nor too small. To be more exact, an 18″ Weber Smokey Mountain Cooker is a mid-sized smoker on a mid-budget.
Like the two other models, it too comes with two cooking grates. You get a 481 square inches of smoking space that allows you to smoke 4 racks of ribs together.
Having 39 pounds of weight, it's heavier than the 14″ smoker which weighs only 24 pounds. But it's much lighter than the 22″ one and can be lifted to a shorter distance easily.
Since it's divided into three parts- legs, middle, and the lid, you can fit it in the back of a car as well. Thus, an 18″ Weber smoker is perfect for car camping.
We don't think someone will find it unnecessarily big unless it's a family of 2-4 people only. But a smoker isn't meant for family purposes only. Sometimes you will invite some friends or relatives too, right?
Another matter of fact is that it avails almost twice the space of the 14″. So, it's big enough for feeding 10 guests easily.
What Can You Fit On A 18 Weber Smokey Mountain?
We think the 18″ Weber Mountain is a perfect deal to smoke 4 racks of ribs together. You can even cook 6 of them if they are smaller. 
Similarly, it can hold up to 4 smaller pork butts or chickens at a time. 
And talking of the turkeys, you can smoke a whole turkey if you remove the upper rack. This will leave some extra space to adjust the height of the turkey.
Does A Brisket Fit On Weber Smokey Mountain?
Yes, absolutely. That's why the 22″ smoker is designed for. With the 726 square inches of wide cooking capacity, it can smoke an entire brisket at a time. 
But you may find the 18″ diameter too small for smoking the whole brisket. You can't lie it flat on the 18″ smoker. Instead, you need to divide the flat and point portion and only then you can smoke them placing them side by side. 
Although cutting the brisket in half will minimize your cooking time, it will affect the end result. The whole brisket will taste more toothsome and juicier. 
So, if you smoke brisket regularly, we highly recommend picking the 22″ model.
Can You Fit A Brisket On Weber Smokey Mountain 14?
The answer is both yes and no. You can fit a brisket on a Weber Smokey Mountain 14″ but not the entire one. You need to split it into two portions- point and flat. 
In that case, you can smoke the flat potion in one grate and the point portion in the other.
How Many Racks Of Ribs Can Fit On Weber Smokey Mountain?
At best, you can smoke 6 racks of ribs together on a Weber Smokey Mountain Cooker if you go for their biggest size, 22″. The other two sizes permit smoking 2 and 4 racks of ribs together. And in terms of smoking a whole brisket, it only fits uncut on a 22″ smoker.
Conclusion
For all the charcoal-smoked flavor lovers out there, a Weber Smokey Mountain Cooker can never be the wrong option whichever size you go for. They are durable, easy to operate, and exceptionally well-made. 
Moreover, the solid construction makes them worth both the hype and price. 
Now, it's your call to decide on the best size Weber Smokey Mountain that absolutely fits your requirements. 
For smoking a whole brisket by laying it entirely flat, the 22″ is a better selection. If you have the budget, why not the bigger one? 
But in an affordable budget, both the 14″ and 18″ are good value for the money. However, the 18″ is more popular with a moderate smoking surface to entertain at least 8-10 people at a time.