Among charcoal grill lovers, Weber is a reliable name for years. They launch some amazing BBQ products each year which make them rule the field invincibly.
On that note, the Weber original kettle vs premium is a year-old debate among the BBQ enthusiasts.
Although both the versions are unbeatable in their own ways, they do have some similarities and distinctions which make them comparable to each other.
Aside from the ash catcher, we found some other disparities as well. So, let's look forward to which wins over whom in terms of performance, cost-effectiveness, and convenience. 
Every product is independently reviewed and selected by our editors. If you buy something through our links, we may earn an affiliate commission at no extra cost to you.
The Ultimate Grill-Off: Weber Original Kettle vs Premium Kettle
Well, the basic difference between a Weber original and a premium kettle grill lies in the size and capacity. 
Here is quick comparison chart – 
| Key Features | 22 Inch Original Kettle | 22 Inch Premium Kettle |
| --- | --- | --- |
| Dimensions | 25″D x 25″W x 39.5″H | 22.5″D x 22.5″W x 27″H |
| Weight | 33.1 Pounds | 32.3 Pounds |
| Total cooking area | 363 sq | 363 sq |
| Special Feature | Superior Heat Retention | Lid Thermometer |
| The Hallmarks | Precise heat control, One-Touch cleaning system, Porcelain-enameled lid, Aluminum ash catcher & Holds up to 13 burgers | Rust-resistant dampers, Hinged cooking grate, High-capacity ash catcher, Hassle-free cleanup & Durable wheels |
| Price | Check on Amazon | Check on Amazon |
Usually, the premium models are larger offering more grilling surfaces. Resultantly, they are suitable for all occasions from small family gatherings to inviting the entire neighborhood.
For example, the premium 26″ Weber kettle comes with 508 sq. inches of cooking area. Yes, it's that spacious. 
But in terms of price, original grills are on the win as they are more budget-friendly. And keeping some advanced features aside, they just work fine for a smooth grilling experience from beginning to end.
Before discussing the disparities, let's have a look at the similarities first. Both versions are engineered with a powerful porcelain coating inside out that makes them rustproof. 
Moreover, both the models come with weatherproof flexible wheels which make them extremely portable. But what makes them compete with each other is- Weber charcoal rails vs baskets. 
The original kettle grill comes with two charcoal rails whereas the premium model includes two char baskets. 
On the other hand, the charcoal rails make you keep the barbecue in the same way for the entire session. On the other hand, the baskets are way more convenient by letting you push them and create different heat types. 
Another great advantage of the premium version is the built-in lid thermometer. It is, indeed, a massive plus for any kettle grill to decide on the right BBQ temperature. 
As opposed to the Weber original, the Weber premium comes with durable legs that have spring-loaded pins. Therefore, they are more securely fit to the body. 
And the original Weber kettle grill lacks the both-sided hooks on the handle to store the grilling tools. Although both the versions have a heat shield on the handles so as not to hurt your hands. 
But what sets these two products specifically apart is the hinged cooking grate. In the original model, you need to lift the food and remove the grate to add more fuel which is a real hassle. 
On the contrary, the premium pattern blesses you with the opportunity of adding charcoal without removing the food. 
And how can we not talk about the receptacle ashtray? In the premium series products, the ash catcher is high-capacity and more importantly, enclosed. So, it holds ashes in place and makes cleaning a breeze. 
This upgrade doesn't come free, of course. All these added advantages cost some more bucks compared to the Weber original series. 
That's why premium models aren't always suggested as budget-friendly picks. In that case, the original series will suffice. 
But if you opt for a larger grilling surface with some upgraded features like a hinged grilling grate or enclosed ash catcher, the premium series' products are actually incomparable.
Also Read: Smokenator or Slow N Sear: Which One Will Take Your Grilling to the Next Level?
Weber 22-Inch Original Kettle Grill
Have you ever burnt your hands while opening any kettle grill lid? Then look no further and try this amazing Weber 22″ original kettle grill from Weber. Because of the heat shield, it never lets the lid get too hot to burn your hands.
Of course, it offers loads of other amenities as well. Let's have a look in the form of the top features below.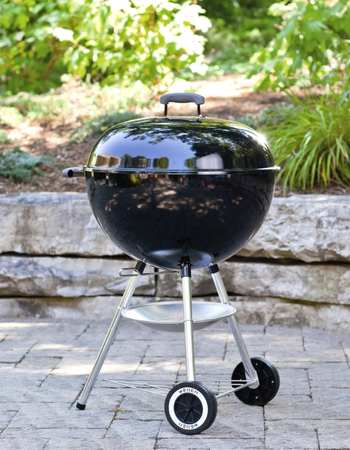 Top Features
One-touch cleaning system

Holds up to 13 burgers at a time

Includes an ultra-durable porcelain-coated lid

Comes with an aluminum-made removable ash catcher

3D interactive assembly guidance through the free BILT app
---
All we can say is that if you are into traditional charcoal grilling, you must try this kettle grill. Apart from added advantages, the grill lets you stay true to the roots of charcoal grilling in every way.
To begin with, the benefits, let us praise the hassle-free cleaning system first. As already mentioned, it comes with an ash catcher, that too a rust-resistant one. You can easily get rid of the charcoal ash by swiping them to the ash catcher with a single touch.
And if the biggest problem of a charcoal grill is solved, that is to clean the debris, what more do you need?
Wait, there are tons of other conveniences too. For example, it includes dampers for effortless temperature control. You don't even need to lift the lid, can you imagine?
Furthermore, the super-durable cooking grate retains high heat for both direct and indirect grilling. Therefore, you can enjoy a consistent cooking temperature throughout. On top of that, the grilling grate is easy to clean being steel-plated.
However, the wheels of the charcoal grill are equally durable to be moved smoothly. Resultantly, it's a super-portable kettle grill from Weber that suffices your needs both indoors and outdoors.
What we liked the most is the angled lid hook. It doesn't let you place the porcelain-coated lid on the ground while grilling. Rather it conveniently hangs it on the side.
And thanks to the butter-smooth finish of the lid and the bowl. Aside from high heat retention, they are rust-free and crack-free too.
Overall, it's a super cool deal from Weber to satisfy charcoal grill lovers.
Pros
High heat resistance

Ultra-durable lid and wheels

The handle doesn't get too hot

Offers a lid hook to hold the rust-free lid

Consistent grilling temperature for even cooking

Delivers precise temperature control while grilling
Cons
Poor coating over the metal

Sometimes the top doesn't fit accurately
Also Read: Choosing the Right Grilling Accessory: Firedial or Vortex Plate?
Weber 18 Inch Original Kettle Grill
Now, let's look forward to another original charcoal grill from Weber but in the 18″ version. What conveniences does this irresistible kettle grill come with? Dig into its key specifications below to learn in detail.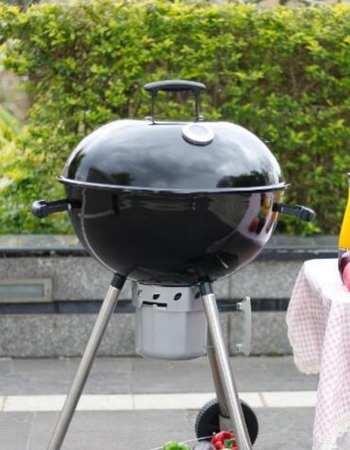 Top Features
Holds up to nine burgers

Readily made for everyday use

Durable plated steel grilling grate

Rust, crack, and peel-free bowl and lid

Very well built architecture with alloy steel
---
Compared to its 22″ version, the 18″ original kettle grill is a bit smaller in dimensions. Having the dimensions of 18″×23″×35″, it can hold up to nine burgers made with a Weber burger press whereas the 22″ counterpart can hold up to 13.
But when the lid is closed, it offers a little bit more measurements- 18.5″W×36″ H×23″ D.
However, the key advantage of this black Weber kettle is its easy assembly. The 3D interactive assembly instructions are really easy to follow. So, even a beginner can set this up and start grilling within a few minutes.
Being compatible with both high grilling temperature and low and slow cooking for hours, it is a popular minion method Weber kettle for all the grilling enthusiasts out there.
Moreover, you can have precision heat control with the dampers. Just close them completely and it will help put out the coals.
Need a consistent cooking temperature? Don't worry, the durable grilling grate is there for you. You can place the charcoal evenly on the grate no matter how high heat you expect.
On top of that, it features a pair of long-lasting wheels to move the kettle freely.
As it's a bit smaller in size, reasonably it costs less than the 22″ kettle grill. But in terms of performances, it's pretty much the same though!
Pros
Easily removable legs

Reasonable price point

Heatshield on the lid handle

Easy and effortless 1-minute assembly

Weighs 3.31 pounds, almost similar to the 22″ model

Effortless ash cleanup with a one-touch cleaning system
Cons
Sometimes it drips grease from the lid
Overall, it's a perfect kettle grill for a small family dinner. So, you should definitely give it a try.
Also Read: 10 Best Weber Drip Pan Alternatives You Can Go For
Weber 22-Inch Original Premium Kettle Grill
While comparing the Weber original kettle vs premium, now it's time to explore a premium kettle grill. So, let's check out this 22″ original premium kettle grill in detail.
Talking of this 32.3-pound porcelain-made black premium kettle grill, Weber did their best to upgrade it with advanced features such as a hinged cooking grate. As a result, you can add charcoal easier than ever while grilling.
Top Features
Features rust-free dampers

Maintains consistent grilling heat

Includes an inbuilt lid thermometer

Hinged cooking grate for easy charcoal add

Convenient lid hook to place on the side of the grill
---
To be honest, this advanced feature makes the basic difference between a 22″ original and a premium charcoal grill from Weber. Surely, it's a great benefit for all the grillmasters out there.
Moreover, the ash catcher is also upgraded with high capacity. No wonder you can clean the debris with one touch efficiently.
Resultantly, you can enjoy a smooth and hassle-free grilling from start to end without much effort.
Though it shares some similar features to the original version, the weight and size differ. The premium version is more weighty.
But that doesn't create an issue while moving the grill. Thanks to the super flexible wheels, you can easily carry the kettle grill around your yard.
Another great add-on of this premium Weber grill is the hook where you can hang the grilling accessories such as spatulas, tongs, etc.
Such rapid access to the grilling tools only fastens the cooking speed to satisfy your tummy, isn't it?
You can get the charcoal ready within just 20 minutes and you can still have nice sear marks on your food. And talking of the taste, rest assured your guests will ask for the next round. So, be prepared my dear!
To make cleaning a breeze, let us share a pro tip. Just oil the grates a bit with a little olive oil and enjoy charcoal grilling to the fullest.
Pros
Solid and compact ergonomics

Quick and high-capacity ash catcher

High-quality material makes it durable

Porcelain-coated bowl and lid for non-peeling performance
Cons
The ash can doesn't get removed easily

The assembly instructions could be a bit better
Also Read: Weber Extension Ring for 22.5 Kettle Grills (Top 3 Picks)
Weber 26 Inch Original Premium Kettle Grill
Here we have another premium kettle grill from Weber. This 26″ premium charcoal grill is the most weighty product on this list with dimensions of 42.9×27×33 inches.
However, this is a stand-alone grill with two moving wheels. Similar to the Weber original kettle grills, it is made of industry-grade alloy steel with thoughtful craftsmanship.
Therefore, the grill lasts forever if properly taken care of. The core amenities of this super cool premium grill are pointed below.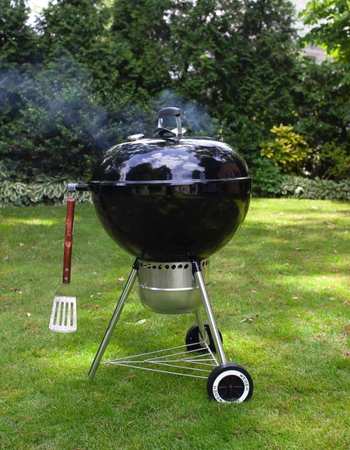 Top Features
A huge grilling space 

Easy one-touch cleaning

Perfect for every occasion

Features a convenient lid holder

Easy access to grilling accessories with the hook
---
If you want to spark your passion for charcoal grilling, what could be a better choice than this 56.6 pounds premium quality kettle grill?
Seems heavyweight? Worry not, that's not an issue. What you should consider while purchasing a kettle grill is the convenience and that's where it outplays most of its contemporary grills. 
Honestly, the most exclusive add-on of this grilling tool is the built-in lid thermometer. It displays the internal temperature to let you adjust the heat when needed. 
Another great advantage is having the 8-inches wheels. Being rubber molded, they move quite easily. Rest assured your next backyard barbecuing will be a breeze with even this heavyweight kettle grill. 
Apart from that, we cannot but praise the stainless steel cooking grate for its high heat resistance capacity. Moreover, it is hinged properly to let you add fuel effortlessly. 
Being a 26″ charcoal grill, it is more than enough to invite your whole neighborhood to the next BBQ party. It sure is an amazing grilling partner for those who have to feed a bunch of people.
If only it were a bit more affordable, people with a moderate budget could have enjoyed its amenities more. But quality doesn't come cheap, right? 
Therefore, we would suggest giving it a try and surely it will be worth the bucks.
Pros
Include a touch away lid holder 

Rust-resistant lid and bowl for high heat retention

Premium grade cooking grate for consistent grilling

Provides 508 square inches of primary cooking area

A 15-lbs porcelain-enameled lid for precision heat control

Comes with two char baskets and stainless steel hinged cooking grates
Cons
Expensive 

A bit heavyweight 
Also Read: What Size Vortex For 22.5 Weber Kettle Grill? Sizing Up Your Vortex
What Are The Differences 
After a thorough review of the four products above, now we would like to break down the key differences between the Weber original kettle vs premium kettle grill. 
Let's check them out!
Ash Management
Though both the models have easy-to-use ashcans,  and having an open ash catcher,  it's a bit difficult to manage the debris and charcoal ash with the original version. 
But the enclosed receptacle ashtray makes it way easier to get rid of the ash keeping them in place.
Thermometer 
Having an inbuilt lid thermometer makes the premium pattern lead the race by displaying the internal temperature. The regular original models don't provide this opportunity. 
Although some clients complained that the temperature gauge is not that effective. So, it's better to repurchase a digital one. 
Cooking Surface
You can already see the distinction. Both in weight and dimensions, premium versions outplay their original counterparts. So, reasonably enough, they will offer a wider grilling area to cook more food at a time. 
Grilling Grates
Weber hinged the high-quality grilling grates on their premium series. Resultantly, it wins over the original ones again with the easy fuel adding system.
Price
As already discussed, you should go for the Weber original ovens with a shoestring budget. But if that's not an issue, the premium patterns are much appreciated for their outstanding features.
What Are The Similarities
Keeping the otherness aside, they do share some equalities as well. After all, they are from the same manufacturers. 
Heat Retention
Both the ovens are capable of high heat retention. Being architectured with porcelain-glazed lids and bowls, both work equally well when you prefer high-temperature grilling.
Long-Lasting
As Weber tried their best to make these two products the industry-leading kettle grills, no wonder they are more than sturdy. The high-quality material makes them exceptionally durable and easy to use. 
In that sense, both of them are worth the investment. 
Heatproof Handle
Well, the review above shows that each of the products is equipped with a convenient handle to run it properly. 
Even more, the handles are protected with a heat shield so as not to get too hot. Be it an original model or a premium one, you get this benefit absolutely free of cost.
Is A Weber Original Kettle Grill Worth It?
Absolutely yes. In fact, every grill master should have at least one original Weber kettle as this is the most revolutionary oven in grilling history.
In terms of the size to weight ratio, this is, indeed, a perfect addition to your kitchen. And the traditional charcoal grilling it offers cannot be compared to any other grilling partner in the market.
Besides, the grilling surface is just perfect as well.  And the made to last ergonomics justify every penny spent on it. 
So, yes, it is very much worth it.
Is Weber Original Premium Kettle Grill Worth The Extra Money? 
Yes, absolutely. As the premium models feature some technological advancement, naturally, they will cost more. For insurance, the attached cooking grate is more than enough to charge some extra bucks as it lets you add fuel more comfortably. 
Besides, the easy one-touch ash cleanup is another great convenience for regular BBQuers.
And with some extra bucks, you can grill a good amount of food for a large family gathering as well.  
Which One Is More Easier To Use 
As the premium version includes a receptacle ashtray, it keeps all the hassles of cleaning the grill at bay. Resultantly, we would prefer it as a more easy-to-use kettle grill. 
But in terms of assembly, the original ones just take a few minutes and are more beginner-friendly. 
How Much Charcoal You Need For Weber Kettle Grill
Depending on your grilling preferences such as how fast or how long you want to grill your food, a Weber kettle grill should be filled with 50-60 briquettes of charcoal at first. That means you should fill it halfway.
How To Use The Weber Original Kettle Premium Charcoal Grill?
To ignite a Weber original kettle premium charcoal grill, first, you need to open all the air vents to ensure sufficient oxygen flow. Then arrange the charcoal briquettes and start the fire. Most importantly, remove ash from the bottom of the grill before you start cooking.  
How To Clean Weber Original Kettle Grill
Cleaning a Weber original kettle grill basically refers to cleaning its grates. Of course, you need to get rid of the ash and debris first. That's pretty easy though, thanks to the one-touch cleanup system. 
Then use a mild soap to clean the grilling grates. It's better to scrub them with a steel wool pad. But don't forget to preheat it at a high temperature to fasten the process. You should thoroughly remove any residue on the cooking grate for better results.
Conclusion
At the end of this age-old debate on the Weber original kettle vs premium, it's difficult to announce the race winner. Both have their own amenities and drawbacks. Most importantly, both the products are made for different audiences. 
For example, the original series serves the purpose of a budget-friendly charcoal grill. On the other hand, the premium series is more desirable in terms of power-packed performance with lots of upgraded features. 
But as an affordable option, the Weber 22″ original kettle grill won't let you regret your purchase. 
But certainly, the 26″ premium kettle grill is more convenient with a huge cooking space. 
So, decide your pick based on your budget, expectations, and preferences, and let us know if this review helped you.