Today, I'm talking about two unique accessories from Weber. Weber charcoal rails and weber char-basket are something everyone needs to be considering for their Weber grill. 
If you want to keep your coals gathered instead of spread through the grill, these accessories will be a game-changer for you.  However, which one should you go for?
Every product is independently reviewed and selected by our editors. If you buy something through our links, we may earn an affiliate commission at no extra cost to you.
In this article, I'll talk about the winner in this Weber charcoal rails vs baskets battle. Before jumping to their reviews, let's have a summary of which one is suitable for you and why. 
Weber Charcoal Rails Vs Baskets – Which Suits You best
Both accessories from Weber are excellent for diversifying your cooking experience. The difference between them is rather minor. 
For instance, price is a factor when comparing these two. The rails are comparatively more expensive than the baskets. 
However, the rails are well worth the price. What I am saying is, that both products are reasonably priced for what they offer to the customers. So, if you're looking for a cost-saving option, I will tell you to go with the baskets.
Some people naturally prefer the rails instead of the baskets. In the case of cleaning, the baskets are certainly a bit more bothersome than the rails. 
However, you can use the baskets for both direct and indirect cooking, which is not an option for the rails. 
The charcoal rails are specifically made to hold the coals on the side. These ensure even heat circulation inside the grill. Besides, they can hold enough lump charcoal so that you won't have to open the lid as frequently, which causes the grill to lose temperature.  
Some users have complained about the rails being a bit difficult to use with the instructions provided with the product. However, once you get the hang of it, they're pretty convenient to maneuver. 
If I'm talking in favor of the basket, they're ahead in some aspects compared to the rails.
For instance, you can arrange them any you want on the grill. This allows you to cook directly and indirectly using the baskets. They're excellent for searing meat too. 
Because of the height, the charcoal stays close to the cooking surface, allowing the meat to have that perfect crust after the sear. 
Now, let's see what's common in these products. For starters, both products are similar when it comes to durability.
So, there's no need to make a decision based on durability. However, the sturdiness is slightly different. The rails are sturdier than the baskets. On the contrary, the baskets are comparatively lightweight and convenient to maneuver. 
Also Read: Firedial vs Vortex Plate: Which is the Better Grilling Accessory
Overview Of Weber Charcoal Basket
Whether you're trying to sear your steak or going for a slow and indirect recipe, this basket from Weber will not disappoint you. You can use them both ways with utmost convenience. There are two pieces of this basket in a half-moon shape. 
The benefit of this shape is that you can gather your charcoal separately for indirect cooking and make a bridge with them for direct cooing.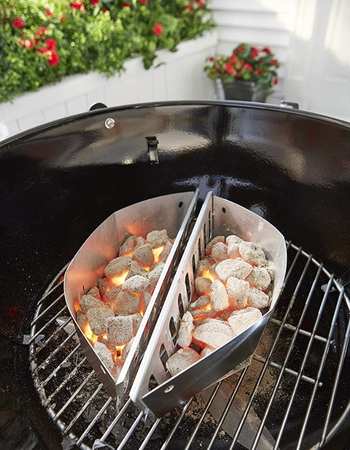 Top Features
Comes in pairs

Affordable price

Saves time and coal

Lightweight and durable

Convenient for direct and indirect cooking
---
Using the baskets is pretty easy. Instead of keeping the coals scattered on your grill, these baskets hold them together. This not only reduces the amount of charcoal you use but also reduces your cooking time.
If you compare the features with the price of this product, you will notice that the product is certainly worth it. By investing a little amount of money in this accessory, you can take your cooking experience to another level.
The baskets are made of aluminized steel. The materials make it lightweight as well as durable. So, you can store it with ease.
Besides, these baskets will last year before you have to think of another option for your grill.
Many users have complained about the baskets holding less charcoal than they want. However, this also contributes to a positive outcome. You can save the amount of charcoal you burn by using the baskets.
Searing is a real pleasure when you have these baskets. The heat is closer to the meat and takes less time than before. Keep the baskets together, fill them up with lit charcoal, and you will see how perfectly the meat is seared.
Pros
Easy to use and store

Comes cheaply compared to other accessories

Makes your Weber grill more versatile than ever

Can be used for both direct and indirect cooking

Makes your cooking easier and less time-consuming
Cons
Comparatively holds less charcoal
Also Read: Weber Extension Ring for 22.5 Kettle Grills: A Must-Have Accessory
Overview Of The Weber Charcoal Rails
If you're into slow-cooking, charcoal rails from Weber will be a perfect fit for you. Anything you're cooking will get the perfect amount of heat. In addition, the occurrence of any cold spots and hotspots will be eliminated.
These rails are also extremely durable. You can use them for many years to come. So, the money you're spending is certainly a wise investment for grill-lovers.
Besides, there's no easier way to make your Weber grill more versatile than ever.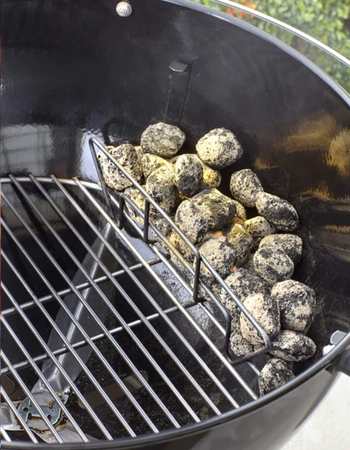 Top Features
Durable

Easy to use

Even heat distribution

Better temperature control

Can hold enough charcoal for precise cooking
---
Weber Charcoal Rails are specifically suitable for indirect cooking. It costs a few extra bucks but is certainly worth the price. These are convenient to use and you can keep the charcoal from spreading on the entire surface of the grill.
There can't be a better way to create two sources of indirect heat. The meat you're cooking will not experience any uneven spots if you're going for these rails.
Someone who does not prefer having baskets for their charcoal will certainly prefer these rails for diverse cooking.
Even though you're using indirect heat to cook your food, it will take less time than before to result in the same perfect recipe.
The cooking procedure also becomes easier with this product. You can simply place the rails on each side of your grill, place the lit charcoal there, and use a drip pan or aluminum pan as a drip pan alternative.
Whether you're roasting or cooking a slow recipe, even heat distribution is the key. And with these rails, you are guaranteed to have the result you want after the long wait. Overall, it's one of the best accessories to own for your Weber grill.
Pros
Durable and sturdy

Increase the cooking area

Makes cooking procedures easier

Eliminates hotspots and cold spots

Distributes heat evenly through the grill
Cons
Also Read: Chicken Thighs On Weber Vortex – How To Cook?
3 Great Alternatives To Weber Charcoal Basket
If neither of the options is suitable for you, there are some great alternatives you can go for. I have picked the three best alternatives to the Weber Charcoal basket. Let's take an elaborate look at them.
Stainless Steel Charcoal Basket
Grillvana offers a pair of stainless steel charcoal baskets similar to the baskets offered by Weber. The price point is also similar for both products. If you can't find the Weber baskets, these will perform fine for you.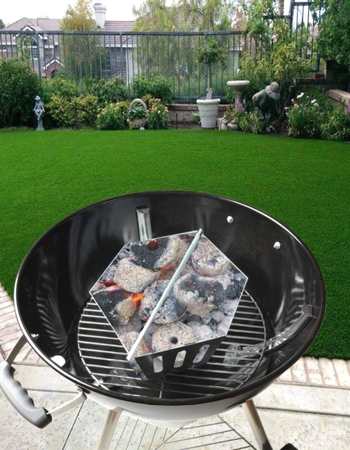 Top Features
Heavy-duty

Rust-resistant

Heat-resistant

403 stainless steel

Corrosion-resistant
---
You can utilize them for direct and indirect heat. In addition, they're rust and corrosion-resistant. They're also highly heat-tolerant, so you can reach a very high temperature for your cooking without worrying about damaging the baskets.
The material used for making these baskets will keep them as durable as you want. Whether you're slow-cooking a tender piece of meat or searing a crusty steak, the baskets won't disappoint you.
The great thing about these baskets is that they're superior to the Weber charcoal baskets in some aspects.
For instance, it's comparatively more heavy-duty. The construction is sturdier than the Weber basket. It may not be as lightweight as them, but it's certainly sturdier. By investing the same amount of money, you can get a better charcoal holder for your grill.
All in all, it's one of the perfect replacements for the Weber charcoal basket that you can find for your grill.
Slow 'N Sear Charcoal Basket
If you can increase your budget a bit, you can get this large basket for keeping charcoal. It will hold twice as much charcoal compared to any other basket. This basket will reduce the necessity of refilling the charcoal.
Your food can be cooked at a low temperature for more than 6 hours without refills.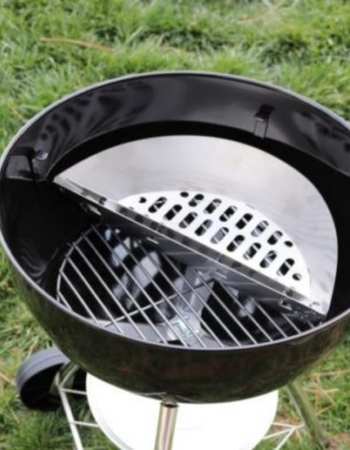 Top Features
Lightweight

Easy to clean

Large capacity

Suitable for direct and indirect cooking

Burn coals for longer than 6 hours without a refill
---
Users have mentioned their experience with this brand to be positive. The significant feature that wins it over the other products is the duration you can cook for without having to add any charcoal. However, that's not the only feature to enjoy.
Along with high-quality material and convenient shape, the baskets are also lightweight.
So, you won't have any issues while maneuvering the baskets. This feature makes the basket perfect to use outdoors.
So, if you're someone who goes on campaigns a lot, this is going to be a perfect addition to your weber grilling accessories.
Overall, Slow N Sear and smokenator is a reliable brand backed by many users. It may come a bit costly but is certainly worth the price.
So, if you're searching for an alternative to the Weber charcoal basket, this is one of the best options you can find.
Stanbroil Charcoal Basket Holders
Another excellent option that can save you charcoal and make your cooking procedure efficient is Stanbroil. It can replace the Weber charcoal basket with perfection. And the most amazing thing is it costs less than the Weber basket.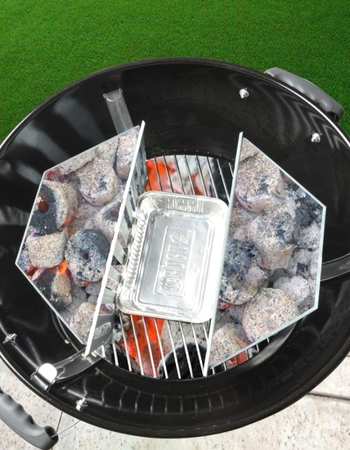 Top Features
Easy to clean

Diverse cooking

Affordable price range

Convenient to maneuver

Suitable for direct and indirect cooking
---
For both direct and indirect cooking, it can be used just like any other charcoal basket. In addition, it's super-easy to clean too.
You can expect these baskets to ensure optimum heat inside the grill. This feature helps you cook all types of recipes with perfection.
The affordable price range does not compromise the product's quality. It comes with a sturdy build that can endure high heat and last several years.
The amount of money you're spending on this product is worth the features you will be getting. So, if you want an alternative, you don't have to second-guess your decision about this one.
You can try out any recipe you want with these advanced charcoal baskets. They come in pairs so you can arrange them as you like. They'll make it easy for you to clean the whole grill too.
If you're looking for the most affordable option, this brand will win your heart. It's easy to use, fits a range of Weber models, and cleaning it is a breeze. Overall, it's one of the best alternatives to the Weber charcoal basket that you can find.
Oligai Charcoal Rails – Weber Charcoal Rails Alternative
If you want the perfect alternative to Weber charcoal rails at an affordable price range, Oligai is the one to go for. You can arrange it as you like and it works wonders when you're indirectly cooking using your charcoal grill.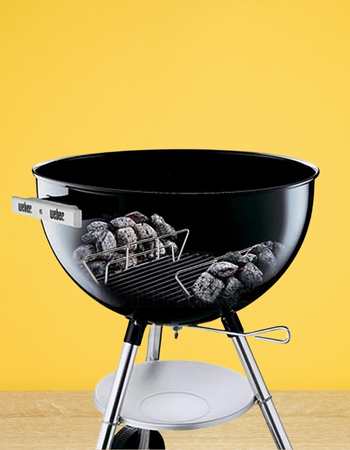 Top Features
Reasonably priced

Sturdy and durable

Stainless steel material

Perfect for creating zones

Suitable for indirect cooking
---
Its ability to hold charcoal is as great as any rails from an expensive brand. The material is durable stainless steel, so you can expect it to last. In addition, there are no concerns about the rails getting bent or damaged with time.
Instead of cooking with scattered charcoal, you can now have a tidy grilling experience. The rails not only save charcoal but also require less time to cook any food on your grill.
The rails from Weber are comparatively a lot more expensive than this one. So, if you're one of the users who want to save money on this accessory, you're in luck.
Considering the features, convenience, quality, and the price you're paying, it's a perfect alternative to the Weber charcoal rails.
Weber Charcoal Basket Vs Vortex
If you've heard about Vortex, it's easy to wonder how the Weber Basket compares to Vortex. Both accessories have great potential for someone who loves to cook using a Weber grill.
On the upside, A right-sized vortex can help you with a better performance. However, on the downside, Vortex is not as easy as a charcoal basket.
If I'm talking about the charcoal basket, it has some upsides and downsides too. For instance, you can use the basket for both direct and indirect cooking. On the downside, it's comparatively less durable.
Vortex is also pricier compared to a charcoal basket. So, if you want to save money on the accessory, I will highly recommend you go for the Weber charcoal basket instead of Vortex.
Another thing I would like to mention here is that you can use the charcoal baskets to make a Vortex. But vice versa isn't possible. So, the baskets are more versatile than the Vortex too.
Are Weber Charcoal Baskets Worth It?
If you ask anyone who has used the Weber charcoal baskets, they'll tell you that the baskets are totally worth the money.
In fact, these are one of the very few accessories that are actually helpful when cooking. You can use a variety of cooking methods if you utilize the baskets properly.
Arrange them in any way you like and the result will be as efficient as you want. It may take some time to get used to the settings.
However, once you get used to it, you will notice that there aren't many accessories that can match the quality of these baskets.
How Long Does A Weber Charcoal Basket Last?
Weber charcoal basket is made with high-quality aluminized steel. So, you can expect them to last several years. However, no manufactured product is perfect. This one is prone to wear and tear too.
It depends on how frequently and with how much care you're handling the baskets. If you use it pretty frequently and don't clean it often enough, this may not last as long as it is supposed to.
Tips For Smoking With Weber Charcoal Baskets
If you already have a pair of baskets or intend to get one, there are a few things you can do to perfect your recipe.
Take a look at the tips below to make the best out of the charcoal baskets.

Keep the baskets together in the center for perfect searing

Place the baskets apart on the edges of the grill for indirect heat

Use a charcoal chimney to light the coals easily

Arrange the baskets in different shapes to get the best out of them

Use a drip pan in the middle when you're placing the baskets on the sides

Combine wood chunks with charcoal to get the best smoky flavors
How Do You Use Weber Charcoal Rails?
The charcoal rails come with hooks on their bottom. These hooks are for placing the rails on the grill. The hooks are placed on top of the cooking grates and it's ready for holding the charcoal. You can either place them on the side or in the center for executing different cooking methods. 
How To Arrange Charcoal In A Weber Grill
The way you arrange the charcoal in a Weber grill depends on what type of cooking you're going for. 
When you need indirect heat, you can set the rails or the baskets on two sides of the grill. This way, the heat will circulate inside the grill and perfectly cook the food. 
In addition, using these will also eliminate the necessity of refilling or replacing the charcoal. 
In comparison, you will need to keep the charcoal whether scattered or gathered in the middle using the baskets or the rails if you are going for direct cooking. 
If you're using the baskets, it may take some practice to create a bridge with charcoal between the two baskets in case of direct cooking or searing. 
Conclusion
As you can see, there is no loser in this Weber charcoal rails vs baskets argument. Depending on what type of user you are and what you feel comfortable with, the suitable one will differ. Both accessories offer some distinct features that you won't find with other products. 
For instance, the charcoal basket is versatile as well as affordable. On the other hand, the rails are durable, sturdy, and convenient for indirect cooking. All in all, both accessories are worth the price you pay for them.