Weber grills are world-renowned and one of the most attractive features of these grills is the support for third-party accessories. The market is saturated with all sorts of different gear you can buy to unlock additional features while making the user experience even better.
Every product is independently reviewed and selected by our editors. If you buy something through our links, we may earn an affiliate commission at no extra cost to you.
Now if you want to turn your Weber kettle grill into a smoker, your two best options are Slow N Sear and Smokenator. You do not need us to tell you the world of possibilities this addition introduces but, Smokenator Vs Slow n Sear, which one is right for you?
Let's find out:
Smokenator Vs Slow N Sear – Quick Overview
Smokenator and Slow N Sear both look similar and from the outside have an identical set of features but you need to look a bit deeper to see the real differences.
Wait, First, let's have a quick tour of the key features comparison chart to make a qualified decision –
| Key Features | Smokenator | Slow 'N Sear |
| --- | --- | --- |
| Dimensions | 20 x 6 x 6 inches | 21 x 12 x 7 inches |
| Weight | 2.89 pounds | 7.3 Pounds |
| Material | Stainless, Aluminum | Stainless Steel |
| Purposes | Converting a grill into a smoker, Low and slow cooking | Low & slow cooking, water reserving, Indirect cooking |
| The Hallmarks | Durable construction, Versatility, design, Easy cleaning, Large capacity, Innovative & Space-saving Design. | Durable material, Easy to use, Versatility, Effortless slow cooking, Flexibility, Steady moisture & Maximize airflow. |
| Price | Check on Amazon | Check on Amazon |
While they do offer a lot of the same things, in our opinion these two products are pretty different and there is definitely one clear choice for most users out there.
The whole purpose of the Smokenator, which has been on the market for a lot longer, is to enable you to water smoke meat on your kettle grill. 
Upon release, it became an instant favorite among many amateurs as well as pro users, and quite frankly, this success has left them just enough stagnant for newer competition like Slow n Sear to take over. 
But the Smokenator will still be a perfect tool for you if all you are concerned about is smoking.
It still does that wonderfully and you won't really have any complaints. It is meant to sit on the top and one side of your kettle grill top and keep the lit coal on one side of the cooking surface. 
As a water smoker, this product also has a water pan that can keep up to 2 cups of water at one time. The water vapor as well as the indirect heat cooking method makes the Smokenator an almost perfect smoker.
Sure the design is aging at this point but if it ain't broke, don't fix it.
However, the Smoke N Sear is simply better because as well as smoking or cooking at a really low temperature for a long amount of time, you can bake at medium heat or sear a piece of steak to perfection. 
This range is what makes the Slow N Sear so much more versatile and better in my opinion. 
Unlike the Smokenator, the slow and sear employs a design where the coals are not completely covered all the time but still sit on a side of the grill. 
This design difference will enable you to cook in indirect heat away from the coals while also putting your meat right on top of the flames for the sizzling sears we all love. 
Additionally, the water pan on a Slow N Sear is also a lot bigger with double the capacity of a Smokenator at 4 cups or 1 quart. 
In later versions of the product like 2.0 or Delux, this water pan is detachable for you to get a bigger searing surface when you do need it. 
In summary, the Smokenator is a purpose-made tool that excels at one thing and one thing only, smoking meat. 
While the Slow N Sear can give you a lot of versatility with a kettle grill making it more useful for someone who needs more from their grills than just smoking.
These two products are still far better in terms of smoking ease or results when compared to things like the snake method and minion method for weber kettle.  
You can control the temperature better while being sure that your meat will not be overcooked. Basically, you really do not need to worry about if they are necessary. 
Other than that, the minor differences will be highlighted in later sections of this article but for now, let's move on to the reviews.
Also Read: Firedial or Vortex Plate: Which One Will Elevate Your Grilling Game?
Overview Of The Smokenator
The Smokenator was invented and launched at sub hundred dollars as an effective alternative for those who do not have the budget or space for two different cookers and want their kettle grills to be an adequate smoker. 
To this day, it sits near the top in this segment and is a great tool that can give you results that are as close to restaurant quality as you can get.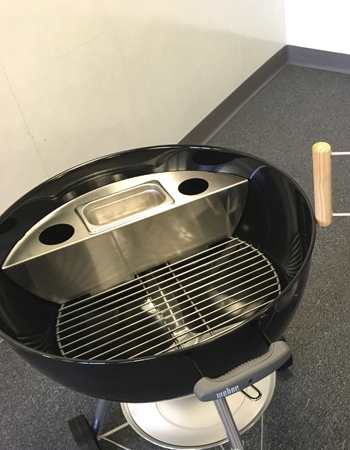 Top Features:
Stainless Aluminum construction

Can cook up to a 25-pound turkey

Fits 22" Weber or other Kettle grills

Included water pan with up to 2 cups capacity

Available in 3 sizes for 18.5", 22.5", and 26.75" kettles
---
From the 3 available sizes called Smokenator 180, Smokenator 1000, and Smokenator 2600, our review will focus on the Smokenator 1000 made for 22.5" kettle grills.
However, all three of these sizes have almost the exact same functionality and the differences are mostly exterior.
The best part of the Smokenator accessory happens to be how easy and effortless it makes smoking meat. For experienced grillers, taking one look at the tool will be enough to understand exactly how it works and newbies can figure it out after just a couple of cooks.
The curvature of the top is made to fit perfectly with all Weber 22" grills except the Jumbo Joe and you will not need much effort to fit it in other similarly sized grills either. No tools or screws are needed.
Usage is also as simple as it gets. Just put everything in the right position, fill the Smokenator with lit coals, fill the water pan, cover your grill, adjust the vents and wait around for long enough. Your perfectly smoked briskets or any other cut of meat, poultry, or fish will be ready.
Even after all that good, there is one thing we really dislike about the Smokenator. As there is no covering protecting the sides of your porcelain finished grill from banging onto the burning coals, the finish of your fancy kettle grill will wear out faster. We really hope Somenator fixes this on future revisions of their product.
Pros:
Great at smoking

Rust-resistant built quality

Compact enough to be stored easily
Cons:
Single-purpose Product

The existence of Slow N Sear

The design can damage the porcelain coating of the grill
Also Read: Weber Charcoal Rails vs Baskets: Which One Is The Ultimate Game Changer?
Overview of The Slow N Sear
If there is one reason why we would not recommend the fantastic Smokenator anymore, it is the existence of Slow N Sear. It improves upon the design so much that it easily ascends the level of a typical smoker into something that is considered by many a "must-have" Wever kettle grill accessory.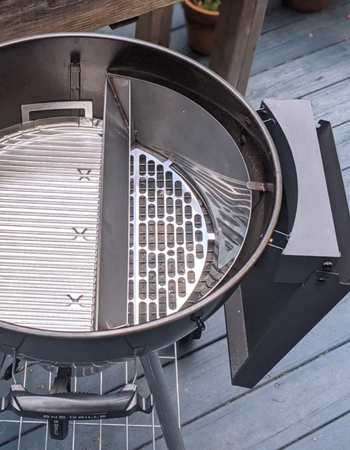 Top Features:
Stainless Steel builds

Removable Water Pan

10-year rust-through warranty

Fits 22" Kettle Grills including Weber

Indirect and Direct heat cooking both are possible
---
Among all the Slow N Sear versions available currently, we are going to focus on the Slow N Sear Delux. It was previously known as the Slow N Sear 2.0 and the rebranding did not change anything except the name.
If you know what size vortex to use for 22.5" Weber, picking the right one from the Slow N Sear lineup is exactly the same.
Either way, at the root of it all, the Slow N Sear is nothing more or less than a charcoal basket or divider for your kettle grill. However, it is amazing how much a well-designed charcoal divider can get done.
It sits just under the cooking grates and divides the cooking surface into 2 separate cooking zones, indirect and direct.
For smoking, the Slow N Sear is just as good as the Smokenator so we won't delve deep into that. What is special here is the versatility.
Along with smoked protein, you can make fantastic burgers, pizzas, or even deserts with it. Mixing and matching will also open a whole world of possibilities.
Searing is right in the name and it is one of the things this accessory excels at. You can even get away with using not as much fuel as the SS material is insulating enough and just use the grates directly on top of the coals.
Fill the rest of the sides up with coal so that you can use your grill for 2 things at a time. It is amazing, really!
Try as we might, we could not find a single thing we did not like about the Slow N Sear. It will even find a permanent home inside your kettle grill and save you storage space as unlike the Smokanator, this product is an upgrade for your kettle grill and not simply a modification.
Pros:
Fantastic build quality

Does not need additional storage space 

The water reservoir holds enough water for a 5-hour cook

Versatile enough to do everything from smoking to searing
Cons:
More expensive than the Smokenator
Also Read: Weber Extension Ring for 22.5 Kettle Grills: A Must-Have Accessory (Top 3 Picks)
What Are The Differences
Since we have already talked in detail about each product, we will keep this section as short as possible. But there are a few key differences that we can't but talk about. They are:
Versatility
While the Smokenator can only take care of meat smoking, the Slow N Sear is no one-trick pony. It is the jack of all trades and somehow, master of them all. 
From smoking to baking to high-temperature searing, Slow N Sear will do everything you need it to do effortlessly. The results speak for themselves.
Water Pan Design
Both products do have their respective water pans but they take entirely different routes. In the case of Smokenator, the water sits on top of the lump charcoal and it evaporates slowly throughout the cook. It offers a greater surface area but does not hold enough water for a long cooking session. 
Slow N Sear on the other hand has a water pan that has double the capacity and sits right next to the coal but does not get directly heated. Regardless of the differences, however, both these designs effectively get the same job done.
Weight and Durability
The Slow N Sear comes in at a whopping 7.25 pounds while the Smokenator is a mere 2.89 pounds. Yes, the Slow N Sear does need more material but even after that, the difference in construction is apparent. 
The material difference also makes the Slow N Sear last a lot longer and it is covered by a superior warranty.
What Are The Similarities
Even though they are both distinct in their own rights, some similarities are bound to happen. For example-
Smoking Meat
From results to methods, the Smokenator and the Slow N Sear will give you comparable results in terms of smoking briskets or anything else. 
Even after rigorous testing, we can not say that one product gives better results than the other. They both do an amazing job in this regard and you are bound to be happy with either.
Compatibility
Both accessories are made for a 22" inch kettle grill and both advertise their product to work best with Weber grills. So the compatibility is exactly the same. Any grill you can use the Smokenator with, you can use the Slow N Sear and vice versa. 
That is where the similarities end. Pick whichever one you choose but we definitely have our favorite and it is the Slow N Sear.
Is The Smokenator It?
Well, back when the Smokenator first came out, there was nothing quite like it in the market. It was a unique tool that did the job it was supposed to do so well that everyone started recommending it. 
However, that is not the case anymore. Sure the Smokeantor did not get any worse but there are products in the market (namely Slow N Sear) that can do everything the Smokenator can and more. So no, the Smokenator is not it, not anymore.
Is The Slow N Sear Worth The Extra Money?
Yes, definitely!! Slow N Sear might be around 30-40% more expensive than the Smokenator but it offers way more value. So much so that even if it were double the price, it would still be worth it. 
At the current price, the Slow N Sear is not only worth the extra money, but it is also a steal.
How Long Does A Slow N Sear Last?
With heavy-duty construction and 10 years of rust-free warranty, the Slow N Sear will last you at least one to two decades. That is if you use it with care and clean it properly. It really doesn't need much maintenance except for a good thorough cleaning once in a while.
Can I Use Lump Charcoal In Slow N Sear?
Slow N Sear was made to work perfectly with kettle grills and it will work with any fuel that you can use in a kettle grill. Including briquette, straight wood, and of course lump charcoal. 
Nevertheless, you should pay attention and burn the fuel until it gives off a clear smoke before starting the cooking process.
How To Refill A Slow N Sear?
Refilling the Slow N Sear is exactly how you thought it would be. We strongly advise you not to try to refill the charcoal during cooking without proper protective gear but if you have to it is pretty easy. 
First, you need to light your coals separately using a chimney starter and your preferred fire starter and wait until the dirty smoke cleans out. 
Then if you own a foldable cooking grade, put the weber drip pan or its alternative, wear temperature proof gloves and fold the tray outwards, if your tray is not foldable, take it off.
Finally, put the charcoal from your chimney into the Slow N Sear. Give it a good mix with any heat-resistant tool and you will be back in business. 
How Hot Does Slow N Sear Get?
At indirect cooking, the Slow N Sear can keep a sustained temperature of around 225 degrees Fahrenheit and that is the lowest it will go. On the other end of the spectrum, it will get hot enough to sear any meat at around 400-500 degrees Fahrenheit.
How To Add Charcoal To Slow N Sear?
Adding charcoal to the Slow N Sear is almost exactly the same as refilling charcoal. As usual, you light your coals and wait for the smoke to clean. 
Then you put the coals inside the Slow N Sear and refill the water. Put the grates and the lid on and wait for a while and you will be ready to start cooking or smoking.
How To Use A Smokenator 1000 – Smokenator 1000 Instructions
The Smokenator is pretty easy to set up as well. The most important thing to notice is the position of the vents as that will determine the temperature inside the closed lid. 
Here are the instructions on how to set up and use a Smokenator:
Put the Smokenator in place inside your kettle grill. The tabs of the Smokenator will lock with the grill grates to keep it in place.

Fill the Smokenator up with an adequate amount of charcoal.

Light up your preferred fire started and put it inside a chimney along with some coals.

Wait for the first wave of smoke to clear and put the lit charcoal inside the Smokenator and mix it with the charcoals that were already inside.

Wear protective gloves, fill the pan with clean water, and put the pan in place.

Wait around 15-20 mins before starting to cook.

Place the protein inside and close the lid.

The top lid of the kettle grill should be positioned in a way that the vents sit on the opposite side from the Smokenator and its burning coals.

The top vent should be opened around one-third of the way and the bottom vent should be opened one-fourth of the way.

Wait for however long your protein needs to cook.
That's it. That is how you use a Smokenator to smoke meat to perfection.
Conclusion
Once the king of smoking inside a kettle grill, the Smokenator has seen its fall from grace in recent times, especially since the Slow N Sear launched. It is not really a competition, it never was and the Smokenator Vs Slow N Sear argument was never really an argument to begin with. Yes sure you will find someone every blue moon that swears by their Smokenator but that is an anomaly and for everyone else we strongly recommend the Slow N Sear over everything else in the market.