Whether you are a beginner BBQuer or an expert pitmaster, burning food due to overheating is a year-old issue that everyone faces.
But I have a magical solution to it. Any guesses? Yes, using a heat deflector. 
Today's discussion focuses on comparing the two most demanding heat diffuser plates of recent times- Firedial Vs Vortex.
Both work great with a Weber Smokey Mountain to make grilling more accessible. But which is a better bargain?
Let's have an in-depth analysis below to see which diffuser wins over whom.
Every product is independently reviewed and selected by our editors. If you buy something through our links, we may earn an affiliate commission at no extra cost to you.
"In the realm of outdoor cuisine, the Firedial and Vortex Plate are the wizards of versatility, allowing you to sear, smoke, and sizzle with ease."

Jeff Koss
Firedial Vs Vortex Plate – Quick Comparison Overview
While comparing Vortex with FireDial, we often see a lot of similarities between them. They both are very strong and sturdy. Being carefully engineered, they are made to last. 
Quick Comparison Chart –
| Key Features | Firedial | Vortex Plate |
| --- | --- | --- |
| Brand | LavaLock | Hunsaker Smokers |
| Outer Material | N/A | Alloy Steel |
| Inner Material | Stainless steel | Stainless steel |
| The Hallmarks | Quality material, Reduces hot spots, Perfectly converts heat, Better efficiency & Longer burn time | Ultra durable material, Maintain constant temp, No temperature swings, Circulate hot air & Value for money |
| Cost | Expensive | Cheap |
| Price | Check on Amazon | Check on Amazon |
They both are readily compatible with your weber smokey mountain cooker without any assembly. Just a little bit of seasoning makes both the deflectors rust-resistant.
However, if you want to eliminate hot spots and burn marks in your food, get a good quality heat management system like the FireDial one. 
It is so efficient that you will have a rock-solid temperature flow throughout the entire smoking without any fluctuation. Moreover, the even heat distribution creates a wonderful smoky gusto.
In fact, it doesn't dry out the meat at all. Rather, the meat gets cooked using its own juice. Thus, FireDial is a great tool to retain the authentic juicy smack of the food. 
Allowing an easy start, it reduces flare-ups to a considerable extent. Even keeping the lid open, it delivers a consistent temperature flow to cook food evenly.
I loved the baffle plate for its long burn time as well. In terms of low and slow cooking, it is literally unparalleled with exceptionally high heat retention.
Whether you use it with or without the water bowl, rest assured that the baffle will work as a great flavorizer to enrich your meal.
On the other hand, the Vortex plate is also a pretty well-made competitor of FireDial with the same level of efficiency in heat dispersing. 
Maintaining an even temperature flow, it creates smooth and even surfaces to cook your food perfectly.
Being readily fit on top of the charcoal ring, it leaves enough room for the water pan as well. 
However, similar to the FireDial one, it is enough without the pan though. In the case of both the deflectors, we recommend seasoning them with cooking oil. 
On top of that, it circulates the hot air inside the smoker for delivering the most even cooking ever. No worries, your meat will not get burnt in any way.
Being made of the thick 11 gauge steel, it's more durable than most other heat deflectors of recent times. 
In terms of cleaning, both are hassle-free tools as a simple putty knife can get the job done. 
But both of them have a small disadvantage when placed on the charcoal basket. If you need to add more charcoal in the middle of cooking, you will struggle to do so. 
But they make up for the issue by preventing the drippings from hitting the charcoal directly. As we see the Vortex one comes with a lift handle, that makes it easier to use.
If you compare them in terms of cost, the FireDial comes a bit more expensive than the Hunsaker Vortex baffle plate. So, if you are looking for a budget-friendly pick, go for Vortex.
Howsoever, the FireDial is no less as it outplays in producing much-improved smokiness. Also, it cuts off the fuel cost more. 
Haven't decided yet? Let's look forward to their individual review to have a clearer idea.
Also Read: Smokenator Vs Slow N Sear – Which Is Better?
FireDial Plate Heat Management System
Tired of using the messy water pan with your favorite WSM? Here we are to help you with this amazing heat diffuser plate from FireDial.  
Let's look forward to what key conveniences it has in store.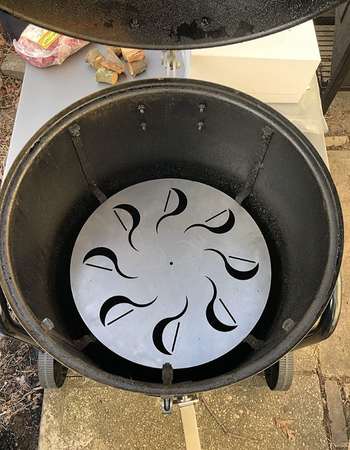 Top Features
Directly fits the WSM

Offers longer burn time

Infuses an enchanting smoky aroma

Available in three sizes- 14.5″, 18.5″, and 22.5″

Supports low and slow cooking very efficiently
---
If you encounter the issue of burning your food frequently, probably it's time to add a heat management system like FireDial to your smoker.
Generally, it happens due to the lack of even heat distribution. Yes, you can use the water pan. But that doesn't work as effectively as the heat diffuser plate. Besides, loading the pan frequently is a great hassle.
Instead, go for this FireDial diffuser which is available in three different sizes. Based on the size of your cooker, you can get your pick.
As it is a ready fit for a WSM, you can place the plate on the existing brackets under the bottom grate level. Of course, you can use the water pan too if you want. But that is not necessary.
Keeping a rock-solid consistent cooking temperature, this plate helps create an irresistible smokiness in your food. Also, it allows a rapid start of the fire which results in less fuel consumption.
Aside from the WSM, you can use this baffle plate heat management system with other charcoal smokers too.
Another great advantage of using FireDial as your heat diffusing plate is that it transforms the direct heat into indirect heat. That's why low and slow smoking with your cooker becomes a breeze.
Best of all, it eliminates the mess of food drippings getting lost in the water pan. So, enjoy a cleaner BBQing than ever.
Overall, expert pitmasters call it a must-have baffle plate for grilling, smoking, or BBQing.
Pros
Exceptionally good build-quality

Needs fewer temperature adjustments

Enriches the food by creating a steam of flavor
Cons
Also Read: Weber Charcoal Rails vs Baskets: Which One Is The Ultimate Game Changer?
Hunsaker Vortex Plate Review
Talking about the other people-pleasing heat diffuser plate of recent times, all we can say is that Vortex is giving hard competition to the FireDial one.
Let's break down its core specifications first and then move on to the detailed analysis.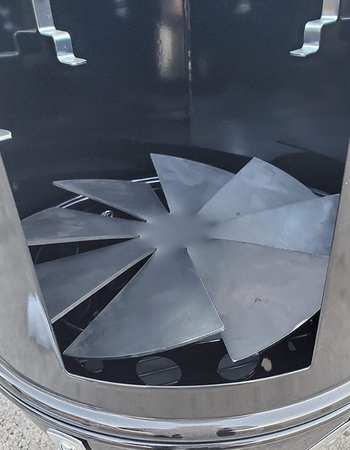 Top Features
No temperature swing

Maintains an even heat flow

Very well-made architecture

Made of 11 gauge plate steel

Directly sits on top of the WSM charcoal ring
---
Talking of this popular heat deflector, we loved the made-to-last ergonomic design with the 11 gauge thick steel. And the strong and sturdy lift handle makes it easy to operate.
Next, precise temperature control is a big benefit of this heat deflector. Maintaining a constant heat flow, it reduces burn spots.
Any avid BBQuer, be it a novice or a pro will find it helpful to run their WSM better. As the plate sits directly on the charcoal ring of your Weber Smokey Mountain, you can turn it into an indirect smoker from a direct one.
Similar to the FireDial one, you can get rid of the water bowl. The Vortex plate itself is more than enough to prepare a flavorful meal in a while.
However, it is also available in three sizes to fit 14.5″, 18.5″, and 22.5″ WSM. The 18.5″ model is 16″ in diameter, and the 22.5″ one is 18″. The 14.5″ model is a bit smaller measuring 11.5″.
Moreover, these plates are so functional that you can cook at around 225° temperature for more than 18 hours. Isn't that crazy?
As a result, it avails around 50% more fuel efficiency than its competitors.
No matter whatever you have used before to diffuse the heat evenly, sand or water, rest assured that you are going to enjoy the most stabilized cooking ever with this out-of-the-ordinary heat deflector plate.
Pros
Very easy to clean

Less fuel consumption 

No temperature spikes or swings
Cons
Also Read: Weber Extension Ring for 22.5 Kettle Grills: A Must-Have Accessory (Top 3 Picks)
What Are The Differences
Upon analyzing the two industry-leading heat deflectors, we see that they have a few differences between them. Let's have a look below!
Price
Despite being manufactured for pretty much the same purpose, they have a different price range. The FireDial one is a bit pricier than the Hunsaker Vortex plate.
As a result, people often tend to go for the later one. But the FiredDial is also quite popular for its incomparable even heat distribution. 
Fitting
In terms of the Vortex plate, it sits on top of the stock charcoal ring. Even after placing it on the charcoal ring, you can place the water pan underneath. There is enough space for both.
On the other hand, a Firedial baffle plate usually sits on the existing brackets below the lowest grate. This is the place where a water bowl is placed. That means a FireDial plate takes the place of a water pan. Although it too allows the use of the water pan underneath. 
Construction
Although both are heavy-duty deflectors with long-lasting construction, the ease of use varies due to a small yet crucial feature.
The Vortex plate has a lift lid in the center which makes it easy to hold. But the FireDial one lacks this feature.
What Are The Similarities
Keeping the distinctions aside, they do have some common features as well. Wish to know more? Keep on reading below.
Size
The first similarity lies in size. They both perfectly fit the three prominent WSM cookers, 14.5″, 18.5″, and 22.5″. All three model's heat deflectors are readily available in both brands. Also, they directly fit on a WSM without much assembly.
Even-Heat Distribution
In terms of heat diffusing, both systems are commendable. Whether you go for the FireDial or the Vortex plate, you will see a stable temperature flow without any swing. Resultantly, there are no hot spots to burn the food. 
Seasoning
Being made of heavy-duty steel, they both need seasoning before use. You can use a light layer of your regular cooking oil to season the surface. Thus, they will remain rust-free forever.
Is Firedial Worth It?
Yes, every bit of it. We know why people keep asking this question. Because it comes a little more expensive compared to its contemporaries. 
But you have to look at the other side of the story as well. It does come with some exceptional amenities too. 
For example, being metal made, it has an incredible capacity for heat transfer, way better than the stone deflectors. 
Furthermore, it works great when used with aluminum foil which seems pretty cost-effective. 
And in the case of low and slow smoking, you don't experience any heat fluctuation at all. As a result, it causes no hot spots, no overcooking, nothing. 
In fact, a FiredDial deflector lets the meat be cooked in its own juice. Therefore, you get the authentic smoky taste like never before.
Unlike a water pan, it's very easy to clean using a putty knife. 
So, all things considered, it's a premium-grade heat diffuser plate to disperse heat very evenly and yes, is worth both the hype and the price. 
Firedial Or Vortex – Which One Is Easy To Use
Both actually. It depends on your personal preference. Both of them need no assembly and directly fit a WSM cooker out of the box. 
In terms of cleaning, both are easier to clean with a putty knife and a little bit of pressure. But the lifting lid makes the Vortex one a better deal to place and remove easily.
Conclusion
While smoking food, it's quite challenging to monitor the temperature throughout as it's a long process. 
As a result, you cannot often control the heat and too much temperature burns your food. To get rid of this issue, a heavy-duty heat deflector is your sole warrior. 
In this Firedial Vs Vortex comparison, I described them both with all their pluses and minuses. 
However, as the Vortex plate is a bit more cost-effective and comes with a lift lid, it is the race winner for us. Though the FireDial performs quite better when it comes to eliminating heat swing. 
Now, it's your call to choose between these two prominent heat diffuser plates.