It's common to look for a multi-purpose ring kit for anyone who owns a Weber 22.5 Kettle Grill. Once you've explored everything with the grill itself, it's time to upgrade your game. 
A weber extension ring for 22.5 kettle grills not only expands your cooking experience but also makes your cooking process easier than before.
Every product is independently reviewed and selected by our editors. If you buy something through our links, we may earn an affiliate commission at no extra cost to you.
You can experiment with your food, and high-quality kits will facilitate the process. Without any further ado, let's get to the reviews.  
3 Best Weber Extension Ring for 22.5 Kettle Grills: An Essential Accessory 
The rings I'll be reviewing today are exclusive to offer you smooth control in virtually any barbecuing situation. Once you go through their features and perks, you'll know why you should go for any of these extension kits for your weber 22.5 kettle grill.
Quick Decision-making Chart
| Comparison | Multi-Purpose Extension Ring Kit | Rotisserie Extension Ring Kit | Caliente Extension Ring |
| --- | --- | --- | --- |
| Material | Stainless steel | Black coated steel | Stainless steel |
| Includes | Rotisserie ring with a thermometer, aluminum cooking peel, round baking stone, spit rod, meat forks, motor bracket, electric motor, and needed hardware | Kettle ring, spit rod, powerful electric motor, handle, counterbalance, bracket, and screws, meat forks, instructions | Charcoal grate, Lid & Cooking grate |
| Compatible With | Weber 22.5 kettle grill | 22.5 Weber kettle grill, Masterbuilt, Char-Broil, etc. | 22.5 Weber-Style Grills |
| Cooking Options | Multiple options with rotisserie ring, rod, and baking stone | Single option with rotisserie ring and rod | Single option with cooking grates |
| Special Feature | Thermometer Included | Thermometer Not included | Easy to clean up |
| Price | Check on Amazon | Check on Amazon | Check on Amazon |
Only Fire Multi-Purpose Universal Rotisserie Extension Ring Kit
This multi-purpose ring kit is a must-have for people who are passionate about cooking. It includes multiple tools to make a complete set, is made of high-quality stainless steel, features a thermometer on the ring, and makes your cooking procedure a lot more enjoyable than before.
There are a whole lot of features in this ring kit to cover. It comes as a complete toolset to enrich your Weber grill in ways you didn't know was possible.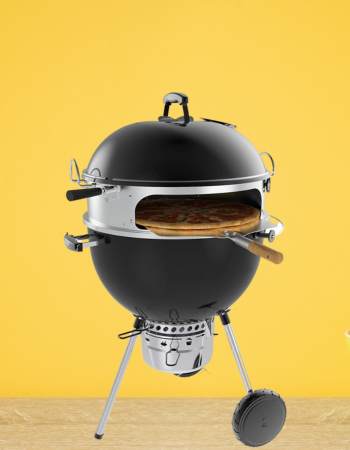 Top Features
Complete tool kit

Made of high-quality stainless steel

No need to open the lid to check on food

The ring extends the space inside the grill

The rotisserie is perfect for evenly roasting
| Specifications | Parameters |
| --- | --- |
| Dimensions | 29.45″ x 23.46″ x 7.09″ |
| Weight | 10 lbs |
| Material | Stainless Steel |
| Suitable for | 22 1/2″ Kettle Grill |
The Ring
The hero of this set is the rotisserie ring. It's made of stainless steel and increases your grill space inside. The ring has an opening that allows you to check on your food without opening the lid. You can easily insert and pull out the pizza using that opening.
In addition, the ring features an in-built thermometer to monitor your food temperature without using any external tool.
Rotisserie-Style
There is also a spit rod and a pair of meat forks that you can use to cook a perfect roast. A motor is included with the set to rotate the rod. Your roast will rotate evenly and slowly to ensure no undercooked or overcooked meat portion is present.
Baking Stone
There's a 15 inches round baking stone for you to make delicious pizza using your grill. All you have to do is, install the ring following the instructions, light up some charcoal, and place your raw pizza inside. You'll end up with a beautiful and delicious pizza inside your weber grill in no time.
Additionals
In addition to the tools mentioned above, the set also comes with the necessary hardware to install the ring and motor. Besides, you also get an aluminum cooking peel for your pizza. All in all, you won't need any extra tools to set up the accessories you're getting with this package.
Complete Set
You can't help but fall in love with the fact that the set comes with a variety of tools. You get a rotisserie kit, pizza tools, a built-in thermometer, and whatnot.
Getting a full package that includes diverse tools can be really motivating for all the cooks out there. Besides, no need to buy anything separately for the rotisserie ring.
Easy To Use
Each and every tool that comes with the package is super easy to use. If there's any confusion, you can simply check their instructions. Everything can be done within minutes, including inserting the rod, setting up the ring, attaching the motor, etc. unlike many other kits that take forever to set, you can save a lot of time with this one.
The ring, rod, forks, pizza stone, and everything else are surprisingly well built. Talk about perfect rotisserie. The baking stone with the help of a perfect size weber vortex assists you in making the perfect pizza due to its size and construction.
Pros:
Supercalifragilisticexpialidocious design

Fit perfectly on the 22.5" weber kettle leaving no air gap

Brilliantly designed to prevent heat loss

A great addition to your kettle grill to cook pizza
Cons:
Getting the grates in and out of this kit is a bit critical

It grate doesn't spin automatically
Also Read: Weber Original Kettle Vs Premium Kettle – Grab The Best One Today
Rotisserie Extension Ring Kit for Weber 22-1/2 Kettle Grills
If you don't want anything else besides the rotisserie tools, this one from Only Fire would be a suitable choice for you. It's a well-built kit, features a heavy-duty motor, a long chord, and a sturdy spit rod.
If you are expanding your cooking methods to a rotisserie ring kit, you shouldn't miss out on this Only Fire kit for your Weber 22.5 kettle grill.
Top Features
Heavy-duty motor

58 inches long chord

Standard 5/16 inches spit rod

Temperature-resistant steel ring

Compatible with various grills
| Specifications | Parameters |
| --- | --- |
| Dimensions | 23.27″ x 22.83″ x 6.81″ |
| Weight | 11.84 lbs |
| Material | Steel |
| Suitable for | 22 1/2″ Kettle Grill |
Let's see what it has to offer.
Compatibility
Unlike many other ring kits, this one is compatible with several 22.5 kettle grills. Even though it's made for Weber 22.5 charcoal kettle grill, you can use the ring for Masterbuilt, Char-Broil, and more. However, it won't fit a 22 inch WSM cooker, so take note of that.
Fitting
As for the fitting, the manufacturer clearly states that it's not a tight fit. I found it pretty unusual when I saw that in their product description. They stated that there would be a gap between the grill and the ring. However, the gap doesn't affect the ring except for a bit of heat loss.
Included
You get everything you need to set up your rotisserie ring. There is a ring, a spit rod, handle, electric motor, counterbalance, required brackets and screws, and an instruction included with the package. All of the items are of high quality and worth the money you're spending.
Even Cooking
As I mentioned before, the motor is heavy-duty. It rotates the spit rod consistently, so your chicken can get evenly cooked. Once you set up the kit using the instructions, you can start preparing for your roast in no time.
Well-Built
One minor example of how well-built the rotisserie rod is that it can accommodate about 20 pounds of turkey at once. Along with sturdy construction, the ring set is made for cooking perfect food. If you ruin a recipe, at least there's no scope of blaming the tools.
Material
The ring is made of black coated steel. It's temperature-resistant and durable in nature. There are universal foot-grade meat forks for holding the food you're cooking using the rotisserie style.
In addition, all other tools that come with the pack are made of durable quality materials and it can be one of the best gifts for meat smokers.
Post-Purchase Service
Many people don't care much about customer care, but they should. Imagine something went wrong. Imagine getting a broken product delivered. Who will you run to?
That's where prompt customer service comes in the scenery. If a brand has effective post-purchase services, you can rest assure that you have a solid backup behind you. In case I didn't mention, Only Fire has excellent post-purchase service.
User Reviews
I've always mentioned how crucial user reviews are. It allows you to know how many orders went wrong and how the authorities handled them. You'll find mixed reviews on this product. However, it'll surely help you understand why the ring is worth it.
Another feature I must mention is how easy it is to maintain and clean the kit. Assembly is also super easy. It's a perk not to go through any hassle with your newly bought extension ring kit.
Pros:
Super easy to install and assemble

Super easy to clean as this kit can be easily separated from the grill

Ensures glorious grilling every time

Wallet-friendly price tag makes it highly recommend
Cons:
Has no clear instructions to assemble and use

Motor has only one speed
Also Read: Minion Method Weber Kettle
Caliente Tuscan Style Extension Ring For Weber 22.5 Grills
If you're looking for a better extension ring for your weber kettle grills which will sear crispy tuscan style steak for you directly on the charcoal, then look no further than this extension kit by Extreme Max. It fits perfectly on the 22.5 inch round kettle grill.
If you feel that it'll be better to minimize the distance between the charcoal and your meat, then the handle of this Caliente Tuscan Style weber extension kit will let you do so even at the middle of your cooking.
This kettle grill extension kit is loaded with such cool features. Anyway, let's match its specs with your existing grill-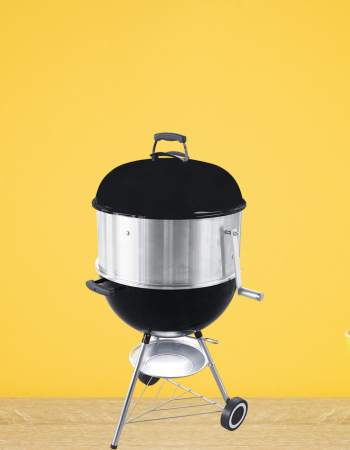 Top Features
Rust resistant

Easy to use and easy to clean

Cooks directly on the charcoal

Rock solid stainless steel body

Designed with a heavy-duty handle
| Specifications | Parameters |
| --- | --- |
| Dimensions | 23.5″ x 24.02″ x 10″ |
| Weight | 23 lbs |
| Material | Stainless steel |
| Suitable for | 22.5″ Kettle Grill |
| | |
Now let's see its specialties.
Adjustable Charcoal Grate
Temperature is the key factor in barbecue cooking. This grill kit allows you to control the cooking temperature by moving its integrated charcoal grate up or down. This moving adjusts the distance between the charcoal grate and the cooking grate and thus helps controlling the temperature.
Fits Perfectly
You don't have to worry about it. Make sure your grill is a 22.5 inch weber or weber-style grill. This weber extension ring perfectly fits on any 22.5" kettle grills. Moreover, this kit securely fits on 22" weber smoky mountain.
Exclusively User Friendly
Yes, it's very easy to assemble and use. It's designed with a handle that allows you to easily minimize or maximize the gap between your charcoal and cooking grate.
So, if you need to add extra charcoal during your cooking, just raise up the handle and add how much you want. Again, if you need extra heat, then take your cooking grate closer to the charcoal using that same handle. 
Easy to Clean
The cleaning process is just the same as the other two extension rings. Separate the kit from your grill first. You won't need any critical skill to dismount it. Then simply follow your comfortable cleaning method. It's made of stainless steel. So that you can clean it with almost any dish soap.
Durability & Design
The Caliente tuscan style weber spacer for 22.5" kettle grills is designed for durability and performance. The stainless steel construction of this grill kit ensures that it's built to last for many years.
Moreover, the lifting and dropping mechanism of the charcoal grate of this weber extension ring is very simple, yet effective. It allows you to cook using direct heat as well as indirect heat. The overall design is sleek and stylish.
Pros:
Offers additional way to control cooking temperature
Allows you to cook using direct heat and indirect heat
Super easy to assemble
Designed with a heavy-duty handle
Attractive look which ensures premium quality
Cons:
Very expensive
Packaging isn't premium
Handle attaching bolts are a bit large
Also Read: Firedial Vs Vortex Plate – Which You Need?
What To Look for Before Buying An Extension Ring For Weber 22.5 Inch Grill
You might think that a product like an extension kit doesn't require much attention. But in my opinion, anything you're spending a fair amount of money is worth getting attention.
So, let's see what features to look for when shopping for a weber extension ring for 22.5 kettle grills. 
How Frequently Do You Cook
The frequency of your weber grill usage is a determining factor when buying an extension kit. Let's assume you hardly use your 22.5-inch weber grill. It doesn't make much sense if you're spending a lot of money on something you'll hardly use. 
For occasional cooking, you should go for a pack that doesn't cost much and doesn't require much maintenance. In comparison, if you love cooking using your weber grill and experimenting, there's no reason why you shouldn't get a high-quality rotisserie ring. 
No one buys something to use it once or twice. Make sure you're spending your time and money on something well worth it. In other words, get something that's durable and can last a long time. 
Check for features like temperature resistance. Because the ring will go through frequent heat fluctuations, make sure that it can withstand them. 
Material is also a determinant when it comes to durability. Materials like steel and stainless steel last comparatively longer when it comes to rotisserie rings. 
If you're a frequent user of the weber kettle grill, you want your ring to be versatile. In other words, don't limit your cooking to roasting. Make sure the kit comes with some additional tools to facilitate your cooking procedure. A spit rod, meat forks, and an electric motor are some tools that your rotisserie ring must accompany.  
If you're willing to go a bit further and spend a few more bucks, look for a kit that comes with other tools too. It really depends on your budget. 
Talking about budget, that's important too. Don't go about spending money on anything. Make sure you're buying what you need. If you keep something idle in the kitchen after buying, it just means a waste of time, money, and space. 
What Are Users Saying About It
A common trick most people miss before buying anything is the user reviews. Looking at the product from an advertisement and listening to what users are saying is an entirely different thing. You get to know about little details or flaws that the manufacturer fails to mention. 
So, if you're having second thoughts, get opinions from users who are already using the product.
How Prompt Is Their Customer Service
If you're ever buying something without a warranty or guarantee, make sure that the brand has a reputation for its customer service. This way, you stay safe with your investment in case anything turns out to be a disaster.
Also Read: Smokenator Vs Slow N Sear – Which Is Better?
What makes a rotisserie ring good?
First comes the material, which should be sturdy and durable. Then you should look at what additional tools you're getting. The spit rod and meat forks are some of the items you'll need when cooking a rotisserie dish. So, make sure you don't have to buy them separately. 
Is Only Fire Multi-purpose rotisserie ring kit worth the money?
Given the items you're getting in the package, I would say they're definitely worth it. Besides, all the tools are high in quality, and their longevity is also satisfying. 
What can I cook on a rotisserie?
The recipes you can cook on a rotisserie are numerous. Generally speaking, you can cook almost all types of meat, whether chicken, duck, turkey, beef, or any other meat. 
Is the motor on Only Fire Rotisserie Ring Kit for Weber 22.5 Inch Kettle Grill loud? 
Surprisingly enough, the motor on this ring kit is extremely quiet. You can hardly notice the motor making any sound, which is great for keeping a peaceful environment around. 
Conclusion
When you're ready to get a weber extension ring for 22.5 kettle grills, there are ways to go wrong. To make sure that you don't mess it up, get the best one you can. Even though the brand is new on the market, it's catching up to the popular brands very quickly. 
If you're considering any of these ring kits from Only Fire, you won't have to think twice. You're not making the wrong choice. And it's not just me saying that; it's a lot of other cooking enthusiasts.
So, what are you waiting for?