Gone are those days when people used to measure internal meat and ambient pit temperatures with wired thermometers while grilling or barbecuing.
Now is the era of smart wireless thermometers and both Meater and Yummly are reliable names in this field.
But which offers the best user experience by predicting the accurate cooking time?
Every product is independently reviewed and selected by our editors. If you buy something through our links, we may earn an affiliate commission at no extra cost to you.
Well, Yummly is a more beginner-friendly cooking partner with its simplicity whereas Meater provides a more feature-packed performance
However, that's not all! There are other things to set them apart. Let's have a fair fight between Meater vs Yummly smart thermometers below to figure out the best buy between these two. 
Meater Vs Yummly Smart Meat Thermometer – Which Suits You Best
While comparing two of the major wireless meat thermometer makers, it's difficult to choose just one. But with detailed analysis, it's possible to decide on the better pick. 
Quick Comparison Chart
| Key Features | Meater | Yummly |
| --- | --- | --- |
| Top Pick | MEATER Plus | Yummly Smart |
| Special Feature | Dishwasher safe | Programmable |
| Range | 165 feet | 150 feet |
| Cook times | N/A | Up to 25 hours |
| The Hallmarks | Wireless, Yummly app, Timers and alerts, Preset programs, Stainless steel probe & Thermometer extractor | 100% wire-free, 2 Sensors, 1 Probe, Guided cook system, Advanced estimator algorithm & Connectivity suite |
| Price | Check on Amazon | Check on Amazon |
"A digital meat thermometer is the silent hero of your kitchen, ensuring that every meal is a culinary triumph, whether you're a novice or a seasoned pro."

Team Topcellent
Saying that Yummly is a well-known brand for making industry-grade meat thermometers with 100% wireless connection. 
They never fail to please their customers with the easiest-to-use Yummly app. This app is so user-friendly that it stands alone from others. 
In fact, the Yummly app is recommended as the top 100 essential apps from Apple and it has won the Webby award thrice. 
On top of that, Yummly devices allow you to subscribe to their paid recipes. So, it becomes more beginner-friendly.
However, you need to look for a Meater thermometer if you frequently cook for long hours. In that case, nothing can beat Meater as a smart cooking assistant. 
Not only it offers a wide range of smart thermometers but also provides a versatile price range. So, you can choose based on your budget.
On the same note, Meater tools are more good-looking with the wooden charging base. And thanks to their wifi integrated cloud connection, you can access the cloud service to monitor food using a computer as well. 
Another great advantage of using Meater is that they save your cooking history, unlike Yummly. Therefore, it helps a lot to have a better experience later. 
What I liked the most about Meater is that most of their tools are dishwasher-safe. And the internal sensor always unfailingly reads the meat's internal temperature.
So, you can get rid of overcooked or undercooked meals and surprise your dinner guests with restaurant-style cooking. 
When it comes down to budget, Yummly is surely a pocket-friendly deal. Though several Meater devices are on the same range. 
But the Meater Block smart thermometer is a bit expensive as it is a premium-grade wireless instrument. With a high price range, you get to enjoy more advanced features as well. 
However, you might face issues while monitoring the ambient temperature as the ambient temperature sensor is not that efficient. 
But keeping this minor issue aside, Meater definitely provides a better value for money with their more versatile devices. You can use them for deep fry, pan-fry, sous-vide, air-fry, and whatnot!
Now, let's review some of their most popular meat thermometers for your better understanding.
Also Read: MEATER Plus vs MEATER Block: Which Wireless Meat Thermometer Is Right for You?
Yummly Wireless Smart Meat Thermometer Review
First, let's talk about the Yummly wireless thermometer which is popularly known as a programmable smart thermometer as well. The key amenities of this battery-powered device are as follows-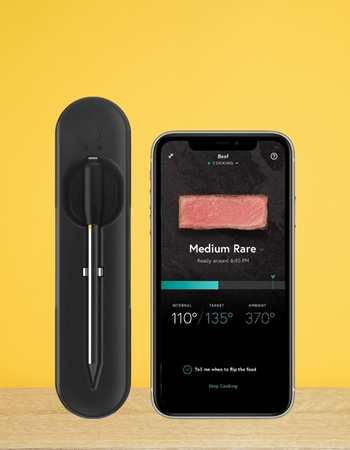 It offers control from 150 feet away

Comes with built-in timers and alerts

Comes with a durable stainless steel probe

Compatible with up to 25 hours of cooking time

Offers preset cooking programs for fish, meat, or poultry
---
As I have already mentioned, Yummly is very popular for its easy-to-use app. Therefore, it's basically cherished by novice grillers and BBQuers. Although all the features are equally beneficial for expert pitmasters as well. 
One good point about this famous wireless tool is the preset cooking program. There are several such programs that allow you to choose a suitable one and leave the rest to this extremely reliable kitchen partner. 
The leave-in thermometer probe lets you know the estimated cooking hours and notifies you accordingly. 
Besides, the magnetic charging dock is something it takes pride in. Due to this dock, you can store this thermometer easily. 
Overall, it's a pretty good choice for beginner BBQers to get rid of the guessing game while cooking. 
Pros
Includes 2 AAA batteries

Comes with a thermometer extractor

Completely wireless connectivity with a lightweight construction 
Cons
It's suggested to hand wash only

Not designed for air-fry, deep-fry, and sous vide
Also Read: Thermopro Temp Spike Vs Meater – Which Suits You Best?
Meater Plus Smart Meat Thermometer
If you are looking for a smart thermometer from Meater in the same price range as Yummly, Meater Plus is what you are looking for. Let's review its prime features below. 
Top Features
Offers 165 ft range

Includes 1 AAA battery

100% wire-free technology

Consists of dual temperature sensors

Designed to respond within 3 seconds
---
Truth be told, Meater Plus is said to be the first truly wireless meat thermometer and it is indeed, a crowd-pleasing cooking partner in every aspect.
For example, you can control cooking from 165 ft away which is pretty decent. You can observe your food anywhere from your house while doing other household activities.
Moreover, it can monitor internal temperatures up to 212° F and external temperatures up to 527° F.
Considering all these amenities, the price point is quite reasonable as well.
Of course, the wireless connectivity makes it a great investment for outdoor cooking.
Best of all, the Meater Plus smart meat thermometer can monitor multiple meals at a time, thanks to its dual sensor system.
Be it your smartphone or tablet, the easy-to-set-up device will connect quickly and predict the accurate cooking time always.
Pros
You can connect it to Alexa for proper notification

The sleek charging dock attaches to any metallic surface

Compatible with both Android and iOs operating systems
Cons
Not suitable for high heat over 250° C
Also Read: The Ultimate Guide to Fixing MEATER Block Update Problems
Original Meater Wireless Meat Thermometer
Next comes the original Meater wireless smart thermometer to cook meat. It is a well-made meat thermometer that is compatible with an oven, grill, smoker, or rotisserie.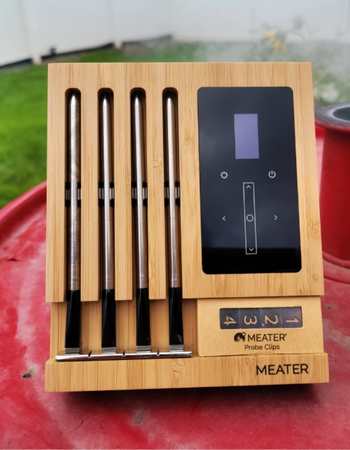 Top Features
Includes 1 AAA battery

A battery-powered device

It comes with a 33 ft range

Made of high-quality stainless steel

You can charge the probe up to 100 times
---
Similar to the Meater Plus, this latest meat monitor could be your ideal cooking assistant if used rightly.
The first thing I liked about it is the sleek bamboo charging dock. Thanks to it, storing the tool becomes a breeze while charging.
Also, it offers a smooth user experience without any hassle. From downloading the app to connecting it with your smart device through the app- all these procedures take less than 5 minutes. Can you imagine!
Another wonderful feature is the display of the estimated cooking time. It shows how much time is left to reach your desired temperature. That surely is a great plus, especially if you have just stepped into the field of smoking meat. Isn't it?
You can also extend the range by using Meater Link and connecting the tool to your home wifi.
Overall, this wireless cooking partner won't disappoint you by predicting cooking time accurately and monitoring real-time temperature perfectly.
Pros
Dishwasher safe

Includes guided cooking system

Suitable for both indoor and outdoor cooking
Cons
Not so compatible for high heat grilling
Also Read:  Don't Let a Wrong MEATER Ambient Temperature Ruin Your Cookout: Fix It Now!
Meater Block Premium Smart Meat Thermometer
As the name suggests, it's truly a premium-quality meat thermometer with 100% wireless connectivity. Among all Meater products, it's considered the most upgraded one with loads of advanced features.
However, let's check out the prime specifications first.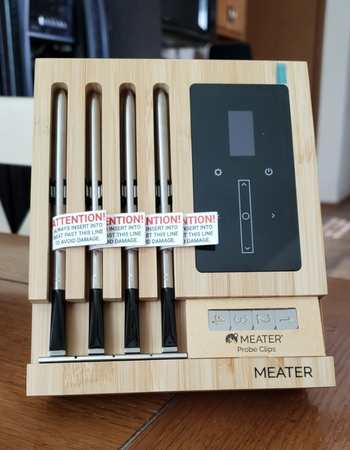 Top Features 
Includes 4 AAA batteries

A 4-probe smart thermometer 

500 milliseconds response time

Compatible with both Bluetooth and wifi

Followed by 165 ft built-in wifi and standalone mode
---
I absolutely love this Meater Block thermometer for its unfailing performance throughout. Not only it monitors your meat reliably but also notifies you when it's perfectly cooked. 
And you don't even need to be present in the kitchen. Just insert the probe into the meat and relax. 
Furthermore, you can see how much time it will take to cook the meat as you want. Therefore, it becomes easier to set your meal plans.
What blew me away was the audible alerts. You can get custom alerts to say goodbye to overcooked dishes forever.
Most importantly, it is superbly designed to connect multiple smart devices simultaneously. That surely seals the deal instead of its high price range.
Pros
4 AAA batteries provide more power

Estimates total cooking time accurately 

Prepares restaurant-quality meals at home
Cons
A bit overpriced 

Sometimes, it doesn't get updated easily
Also Read: MEATER Plus Probe Not Connecting? Here's What You Need to Know 
Difference Between Meater And Yummly Thermometer
Although both Yummly and Meater thermometers are designed to make your meat cooking experience easier, there are some basic differences between these two. Let's discuss them below in detail.
Long Cooking Hours
For professional grillers and expert pitmasters, Meater has several options that can withstand high-heat grilling. Besides, they are meant to accompany your long cooking hours. 
On the contrary, Yummly smart thermometer lacks the skill of withstanding long hours of cooking. 
Cloud Compatible
Meater is one step further from Yummly through its cloud connectivity. You can extend the range for most of the Meater devices using Meater Link WiFi and Meater Cloud.
Moreover, Yummly wireless thermometers are only Bluetooth compatible whereas the Meater Block has a built-in wifi facility. 
Controlling Range
You can monitor and control your cooking from 150 ft away using a Yummly smart meat probe. 
On the other hand, the Meater Block and Meater Plus offer a slightly better range of 165 ft.
Dishwasher Safe
Unfortunately, Yummly did not design their products as dishwasher safe. So, you need to carefully hand wash them. 
But Meater made their smart kitchen thermometers dishwasher safe and thereby they are more user-friendly. 
Price Range
In terms of price point, you can find the Yummly, Meater Plus, and the Original Meater smart thermometer in the same range.
However, the Meater Block is the most premium among them and that's why it is quite expensive compared to the Yummly.
Although the high price point is followed by a more satisfying user experience as well. 
Also Read: The Ultimate Guide to Using a Meat Thermometer for Cooking with Oil
Similarities Between Yummly And Meater Thermometers
Keeping the differences aside, there are some similarities as well, as both of these cooking assistants serve the same purposes. Let's look forward to them below.
100% Wireless Connection
Both Yummly and Meater are known for making smart wireless meat thermometers and they are true to their promises. 
You can get rid of the mess of those wires and enjoy string-free cooking while monitoring your food remotely.
Magnetic Charging Dock
Both of manufacturers offer magnetic charging docks for their devices. These sleek charging docks are not only excellent to look at but also attach to any metallic surface quite easily. 
Resultantly, you can place them in your oven or refrigerator without any hassle. 
Built-in Timers and Alerts
When it comes to remotely monitoring food with 100% reliability, you can count on both these smart meat thermometers. They let you know exactly when the food will be completely cooked. 
Thanks to their built-in timers and alerts, you can get customized notifications as well. 
Thermometer Extractor
You get a thermometer extractor with both devices. As a result, your hands are protected while removing the hot thermometer from the food.
Battery Included
Both Yummly and Meater manufacture battery-powered meat thermometers and you don't need to buy the batteries separately. They provide the required batteries with their tools. 
Conclusion 
So, have you decided on your desired wireless thermometer between Meater vs Yummly? Which one is your perfect kitchen partner considering all the pros and cons? 
As I have used devices from both manufacturers, I will definitely recommend Meater as your go-to brand if you are a professional griller. It beats Yummly in terms of high-temperature grilling, durability, and versatility. 
On the other hand, Yummly is the race winner if you are a beginner because of its award-winning Yummly app. It is so easy to run that you will be surely surprised.
However, the Meater Plus or Meater Block is still a better buy as they facilitate a wifi connection to access the cloud service.