As a meat lover, I frequently try different recipes and Meater Block comes in quite handy for not overcooking my meat. It's the smartest ever meat thermometer that goes perfectly well with a grill, smoker, pan, oven, and rotisserie. 
Although it's meant to serve both amateur and experienced BBQuers, you will have a hard time using it if the Meater Block won't update.
Every product is independently reviewed and selected by our editors. If you buy something through our links, we may earn an affiliate commission at no extra cost to you.
So, let's find out what to do if such a situation occurs. Also, I will suggest three alternatives to this premium wifi meat thermometer below. 
Meater Block Won't Update – What To Do Now? 
Are you using this super handy cooking thermometer for the very first time? Then you need to update it for a precise temperature reading. 
Also, sometimes new software is added, and therefore, the entire system requires the latest update to function properly. 
But what if you can't update the Meater Block even after trying several times?
Well, don't panic! There is a solution. 
Probably, the wifi it's connected to has some security restrictions. You just need to connect it to another network that doesn't have such restrictions. 
In that case, you can use a spare smartphone and enable its hotspot to connect your main device and the Meater Block. 
Then switch on the Meater Block and open the Meater app. The next step is to tap on the update alert and follow the instructions within the Meater app. 
That's it! Hopefully, the Meater Block will now update unfailingly. 
Also Read: Meater Plus Vs Meater Block – Which Suits You Best
3 Alternatives To Meater Block You Can Go For 
Honestly speaking, Meater Block is a high-priced wireless meat thermometer. So, if you cannot afford it, there are some excellent pocket-friendly alternatives as well. 
Let's check them out below! 
Meater Plus
Meater Plus is a high-quality meat thermometer with amazing Bluetooth connectivity. It could be an ideal alternative to replace Meater Block for your grill, oven, smoker, or rotisserie. 
Top Features
Includes 1 AAA battery

Response within 3 seconds

Provides 165 ft wireless range

A battery-powered meat thermometer

Monitors internal temperature up to 212°F and external temperature up to 527°F
| Specifications | Parameters |
| --- | --- |
| Brand | MEATER |
| Power Source | Battery-Powered |
| Item Length | 3.7 centimeters |
| Response Time | 3 seconds |
Well, the very first reason to go for a Meater Plus is its fairly low price range. You can easily avail of a Meater Plus below $100 and that is absolutely amazing, I guess.
Point to be noted, the Meater Plus is said to be the first truly wireless meat thermometer with smart Bluetooth connectivity.
The 100% wire-free construction keeps all the hassles at bay and makes it a perfect partner for outdoor cooking.
Moreover, the 165ft long-range lets you monitor food anywhere from your home while doing other important tasks.
Not only that, it priorly informs you of an estimated cooking time so that you could plan your meal properly.
And the best part is that it rarely fails while predicting how long your food needs to be prepared.
Whether you are an Android or iOs user, this smart meat thermometer is compatible with both. In terms of Android, your device must be 5.0 or later. And for iOS, it needs to be 10.3 and later.
Nevertheless, with one probe and two sensors, it takes pride in monitoring multiple meals at a time and you get to enjoy restaurant-quality dishes without digging much into your pocket.
Pros
Very easy to set up

Notifies when the meal is ready 

The sleek and magnetic backing affixes to any metallic surface
Cons
Only compatible with Bluetooth, no wifi connectivity
Also Read: Meater Vs Yummly Smart Thermometer – Which Suits You Best
MeatStick Set
Next, let's review another famous alternative of Meater Block which is the Meatstick set. Being manufactured with built-in Bluetooth technology, it lives true to the expectations by monitoring your meals like a true cooking partner.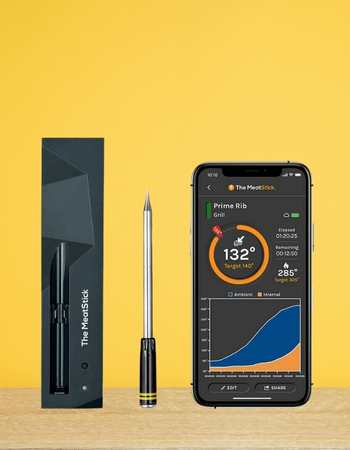 Top Features
Made to withstand high heat

Comes with a guided cook list

Completely wireless technology

Monitors real-time temperature

Compatible for both indoor and outdoor cooking
| Specifications | Parameters |
| --- | --- |
| Unit Count | 1 Count |
| Power Source | Battery-Powered |
| Item Length | 30 centimeters |
| Upper-Temperature Rating | 300 Degrees Celsius |
When it comes to producing industry-standard meat thermometers, The Meatstick never disappoints its customers. 
This limited range set is no exception as well. Just insert it into your favorite meat and get notified when the dish is completely ready. No babysitting, no checking, nothing.
Nonetheless, don't be disheartened by the term "limited range". It comes in different versions that offer different ranges of Bluetooth connectivity.  
You can get up to 260 ft range with the Meatstick X Set. 
However, the Meatstick Set we are talking about is 30 cm in length and requires 2 AAA batteries. 
It follows one simple rule- no wire, no mess. As a result, you can enjoy a wonderful culinary experience without fighting with the wire. 
Besides, it's completely controlled by the app, and therefore you can comfortably leave the meat in the kitchen and actively do other household tasks. 
Even if it's outdoors, no need to monitor your food by constantly opening the lid. Just leave the food in this smart thermometer's hand and it will give a reminder when the meal is perfectly cooked. 
Yes, it's that simple!
Pros
Deep-fry and dishwasher safe

Offers a long-lasting battery life

A versatile meat thermometer that is compatible with all cooking types 
Cons
The app is a bit clumsy

Sometimes, it loses connection while cooking
Also Read: Meater Ambient Temperature Wrong – What To Do Now?
Yummly Smart Meat Thermometer
On the final spot, I have a fantastic smart device from Yummly that allows you to always keep an eye on your meat. But you don't need to be physically present there. Let's check out its core specifications first.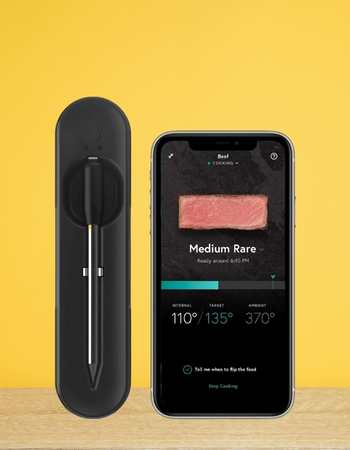 Top Features
Comes with built-in timers and alerts

Offers up to 25 hours of cooking time

Provides control from 150 ft distance

Consists of a durable stainless steel probe

Lightweight and easily portable for outdoor cooking
| Specifications | Parameters |
| --- | --- |
| Brand | Yummly |
| Special Feature | Programmable |
| Color | Black |
| Unit Count | 1.0 Count |
If you are looking for a meat thermometer with an easy-to-use app, nothing can beat Yummly. It takes pride in making one of the best apps ever.
And living true to the promise, the Yummly app is an award-winning app both from Apple and Google Play. It is free for all Android, iPhone, or iPad users and completely hassle-free.
One good point about this Yummly wireless thermometer is that you don't have to make wild guesses about the approximate cooking period.
There are some preset cooking programs to choose from and by doing this you can have the exact idea of how long it's going to take to cook the meat.
Don't like those preset programs? Okay, no worries. You can switch to the manual mode if you want 100% control over what to cook and how to cook.
Another great thing about using this wireless meat thermometer is that you can cook any type of meat to your heart's content. Beef, chicken, poultry, turkey, and even fish as well.
Also, it could be a wonderful cooking assistant with a 572°F upper-temperature rating and 210°F lower temperature rating.
So, do I recommend it? Absolutely yes.
Pros
Includes 2 AAA batteries

Comes with a magnetic charging dock for easy storage

Provides a thermometer extractor to protect your hands 
Cons
It's not dishwasher safe

Not suitable for deep-fry, air-fry, or sous-vide
Also Read: Meater Plus Probe Not Connecting To Block, Charger, and To The Base
Why Meater Block Don't Get Updated
There could be several reasons, to be honest. Sometimes, you need to recheck the internet connection. Sometimes, you need to recheck the device connection.
However, one possible reason for the Meater Block not getting updated is the wifi connection you are using.  
Most probably, it has certain security limitations. And because of those restrictions, it's affecting the Meater Block update.
Simply connect the Meater app with another internet connection. It could be the mobile hotspot of your spare phone. And the issue will be resolved.
Also Read: Meater Ambient Temperature Low (Know The Reasons & Fix It Now)
How To Update Meater Block Properly 
Once you open the Meater app and connect it to the Meater Block, there will be an alert if it requires an update. 
You need to tap on the alert first. Then there will be some instructions within the app. Just follow them accurately for a proper update. 
Always keep the app foreground throughout the update as it will show the progress bar. 
However, it will take some time to complete the update. So, have patience and keep the device as close as possible to the router for a stable internet connection. 
Also Read: Can You Use A Meat Thermometer For Oil? Here's the ultimate guide for you
Why Is My Meater Block Not Connecting?
If your Meater Block is having trouble while connecting, chances are, it's on the wrong wifi network. Simply, change the wifi network by putting the Block back to the "Set Up Wi-Fi" mode. Then set it up again from the beginning.
How Do You Reset A Meater Block?
You should go back to the "Set Up Wi-Fi" mode from the Block setting and follow all the steps again of setting up the Meater Block as instructed using the exact same wifi that your phone is connected to. That's how you should reset the connection of a Meater Block.
Does Meater Block Connect To Wi-Fi?
Yes, absolutely. That's what makes it different and updated for Meater Plus. Although Meater Block is a bit high-priced compared to its Bluetooth counterparts, the wifi connectivity is what makes it worth spending the extra bucks.  
Conclusion
Hopefully,  I have been able to show you a successful way of troubleshooting your Meater Block. If you find that the Meater Block won't update, follow the steps above and get the issue resolved. 
However, the 100% wireless design of this smart meat thermometer along with the ambient temperature monitor is its USP. 
But yes, being a bit expensive, it's not always affordable. So, you can easily choose a budget-friendly alternative from the aforementioned products which are equally efficient in monitoring your meat.