Do you want to make your meat cooking less stressful? Then get yourself a smart Meater thermometer and chill!
Is that so simple? Yes, it is, but with the right appliance only. Here I have two extraordinary smart thermometers from Meater to get your job done, Meater Plus and Meater Block.
Every product is independently reviewed and selected by our editors. If you buy something through our links, we may earn an affiliate commission at no extra cost to you.
The simplicity of use, reliable reading, and truly wireless technology make them stand apart from the alternatives.
But which one suits you the best between Meater Plus Vs Meater Block?
If you need the answer, dive deep into the details. I will compare them feature by feature to let you make an informed purchase.
So, let's get started! Shall we? 
Meater Plus Vs Meater Block – Quick Comparison Overview
If you are looking for a smart cooking assistant, Meater is the most reliable name in the industry. They, indeed, offer some wonderful wireless meat thermometers in several lineups. 
But when the preference comes down to Meater vs Meater, it will definitely give you a hard time deciding on your pick.
Quick Comparison Chart
| Key-feature | Meater Plus | Meater Block |
| --- | --- | --- |
| Number of Batteries | 1 AAA batteries required. (included) | 4 AA batteries required. (included) |
| Item Length | 3.7 centimeters | 15.7 centimeters |
| Response Time | 3 seconds | 500 Milliseconds |
| Probe | 1 Probe | 4 Probes |
| Expected Range | Up to 165ft | 165ft WiFi Built-In |
| Range Extension | Bluetooth Repeater | Built-In WiFi |
| The Hallmarks | 100% wire-free, Dual temp. sensors, Dishwasher safe, Guided cook system & Advanced estimator algorithm | Longer range, Durable materials, Water resistant, 24+ hours per charge, & easy to clean |
| Price | Check on Amazon | Check on Amazon |
"With a digital meat thermometer, you have the power to conquer even the most challenging recipes, creating dishes that leave a lasting impression."

Team Topcellent
Saying that both Meater Plus and Meater Block live up to the reputation of Meater. As a result, you can expect unparalleled cooking performance from both tools. 
The Meater Plus is a 100% wireless thermometer designed with a dual sensor. The 165 ft wireless range can compete with any high-end product in terms of precision and accuracy. Moreover, the guided cooking system makes it a beginner-friendly probe to cook delicious meals at home.
Besides, the dishwasher-safe architecture, user-friendly app, and efficient charging dock make it a great investment for smoking, grilling, or BBQing.
As a feature-packed product, it ticks all boxes you expect from a smart kitchen tool, whether it's about long battery life, uninterrupted Bluetooth connection, or LED indicator.
The Meater Block, on the other hand, is the more advanced addition to the Meater lineup. As a more power-packed product, it comes with four probes each of which has dual heat sensors. 
Therefore, it goes without saying that it delivers better accuracy in terms of a precise temperature reading.
Unlike the Plus variant, it comes with an OLED display in the charging dock. Moreover, the charging dock includes a stand instead of the magnetic backing of the Meater Plus model.
Having four probes, the charging dock is also a bit larger here. And thanks to the standalone mode, you don't always need your smartphone while cooking. 
Don't stress over the notifications. The Meater Block comes with an inbuilt speaker. So, set the probe into the meat and go anywhere inside the home. The audio alert will notify you once the cooking is perfectly done. 
On the brighter side, the Block has a built-in WiFi repeater in the base station, unlike the Bluetooth-only Meater Plus. 
However, all these amenities don't come for free. The Meater Block is notably pricier than the Plus model, for good reasons though.
But if you usually cook for a small batch of people and are not so regular in smoking, the Meater plus is good enough with an affordable price range. 
On the other hand, the Meater Block lets you prepare restaurant-style dishes with app-free monitoring. 
So, it fills the bill with almost a limitless controlling range as long as you have internet access. To cook more than one cut of meat, I absolutely recommended Meater Block over Meater Plus.
Also Read: Meater Vs Yummly Smart Thermometer – Which Suits You Best
MEATER Plus – Wireless Meat Thermometer
If you are looking for an all-around smart thermometer for an oven, grill, smoker, BBQ, or rotisserie, check out this Meater Plus probe. With the latest wire-free technology,  Meater Plus comes with no wires, no worries.
You say wireless meat thermometer, I hear Meater Plus. This is one of the best smart meat probes with zero wire. 
Top Features
Powered by 1 AAA battery

Provides 165 ft wireless range

Equipped with dual temperature sensors

Avails a free app to connect with a smartphone

Monitor internal and external temperatures up to 212° F and 527° F, respectively
| Specifications | Parameters |
| --- | --- |
| Brand | Meater |
| Unit Count | 1 Count |
| Power Source | Battery Powered |
| Item Length | 3.7 centimeters |
| Response Time | 3 seconds |
Naturally, it comes with a little bit of extra expense. But Meater makes up the cost with a very accurate reading and only 3 seconds response time.
Coming with two sensors and one probe, the smart device is one of a kind to make your meat smoking easier than ever.
Thanks to the dual sensors, you get reliable readings of both internal and external temperatures. On top of that, you can easily operate it through your smartphone. There are free Meater apps for both Android and iOS.
Best of all, the tool comes with a guided cooking system. Even if you are a beginner without much idea of cooking, it will let you prepare palatable meals easily.
So, never serve your dinner guests a dry bird again. Get a Meater Plus thermometer, it will always notify you how long to cook for a perfect cooking result.
Pros
Monitors multiple meals at a time

Very convenient for outdoor cooking

Dishwasher safe and therefore, very easy to clean
Cons
You must keep it out of open flame

The magnets on the back could have been stronger
Also Read: Thermopro Temp Spike Vs Meater – Which Suits You Best?
2-Unit Bundle MEATER Plus Meat Thermometer 
Well, it has pretty much the same features as the Meater Plus Smart Thermometer but you get 2 units here.
Reasonably, the price gets higher. But that's okay if you are smoking or grilling professionally. The double units truly come in handy. 
Let's break down its key features to understand how it works.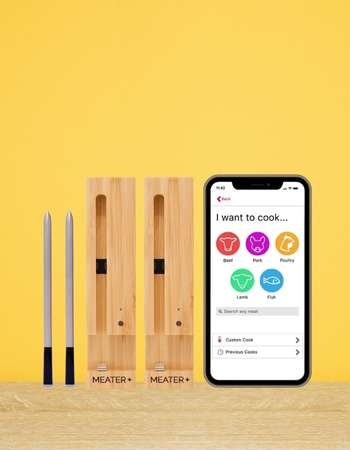 Top Features
Dishwasher safe

It covers 165 ft distance

Includes 2 AAA batteries

0.5 seconds response time

Architectured with an advanced estimator algorithm
| Specifications | Parameters |
| --- | --- |
| Brand | Meater |
| Color | Silver |
| Unit Count | 1 Count |
| Power Source | Battery Powered |
| Number of Batteries | 2 AAA batteries required. (included) |
| Response Time | 0.5 seconds |
However, the device runs on 2 AAA batteries that are included with the package. And the eye-soothing silver color is perfect both for indoor and outdoor usage.
The best part is you can even control it with your smartphone or tablet. Just connect it via Bluetooth and control your cooking from anywhere in the house.
You can even increase the wireless range using the Meater Link WiFi. That surely seals the deal for outdoor pitmasters who need to monitor the meal from afar.
What I personally liked about this 2-unit package is the versatility of use. You can use it with your smoker, grill, oven, and whatnot!
No need to stand beside the cooker anymore. Just insert the probe into your meat and do whatever you like.
It will automatically calculate the estimated cooking time and notify you, all thanks to the advanced algorithm system, no guesswork anymore!
Pros
Easy-to-use app

Works with Alexa and iOS devices

You can set custom alerts according to the temperature and cooking time
Cons
Doesn't function well in high temperatures over 250° C
Also Read:  Don't Let a Wrong MEATER Ambient Temperature Ruin Your Cookout: Fix It Now!
4-Probe MEATER Block Premium Meat Thermometer
Finally, let's review the Meater Block 4-probe smart meat thermometer to figure out if it's better or worse than Meater Plus. It is said that among all Meater products, Meater Block is the most advanced in terms of features and functionalities.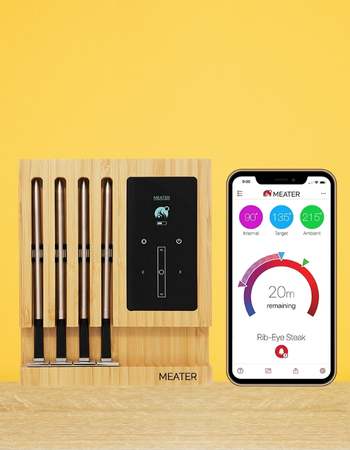 Top Features
Powered by 4 AAA batteries

500 milliseconds response time

Comes with a guided cooking system

Up to 165 ft built-in Bluetooth and WiFi connectivity

Dual temperature sensors on each of the 4 probes deliver reliable heat reading
| Specifications | Parameters |
| --- | --- |
| Brand | Meater |
| Special Feature | Dual Probe |
| Color | Silver/Black |
| Unit Count | 1 |
Living up to the claim, it is, indeed, a premium meat probe with loads of advanced amenities.
Like all other Meater thermometers, Meater Block also utilizes 100% wire-free technology. As a result, you can enjoy wireless cooking whether it's indoor or outdoor.
As I already mentioned, the smart thermometer comes with 4 probes. No wonder you can connect it to multiple devices at a time.
So, if you are running a restaurant or preparing a meal for the crowd, nothing comes closer to this top-notch Meater Block device.
Moreover, the dual heat sensor on each of the probes works amazingly well to predict the exact temperature reading.
Accurately enough, it can measure internal temperatures up to 212° F and ambient temperatures up to 527° F.
Yes, it's a bit overpriced compared to other models from Meater. But being the most upgraded product in their range, it is absolutely worth it.
Pros
You can use it in standalone mode as well

Made of high-quality water-resistant material

Sends a notification to your phone when the meal is ready
Cons
Expensive 

The probes are a bit too thick for thinner meat cuts
Also Read:  MEATER Plus Probe Not Connecting? Here's What You Need to Know
Differences Between Meater Plus And Meater Block
With all three devices reviewed above, you can make overcooked meat a nightmare of the past. But they certainly have some distinctions coming from two different Meater lineups.  Let's look forward to the disparities below.
Design
The first thing to catch my eye while comparing Meater Block with Meater Plus is the design. Although they have pretty much the same architecture, some things set them apart. 
For example, you see a magnetic backing in the Meater Plus device to attach it to any metallic surface.
Meater Block, on the other hand, comes with a larger charging dock accompanied by a stand instead of a magnetic back.
Probe
Meater Plus comes with a single probe whereas the Block is equipped with 4 probes. Naturally, you can use the Meater Block to monitor more meals compared to the Meater Plus model. 
Battery
For a single probe Meater plus thermometer, 1 AAA battery is required. But the 4-probe Meater Block runs on 4 AAA batteries. Additionally, you get a micro USB  port as an alternative charging option here.
Standalone Mode
The best part of using a Meater Block is that you can use it in standalone mode. No need to connect it to your smartphone or tablet. Still, you will end up cooking restaurant-style mouthwatering dishes.
But Meater Plus doesn't offer this facility. 
Wifi-Connectivity
Another difference between these two top-grade kitchen appliances is that the Meater Block is both Bluetooth and WiFi-compatible.
On the other hand, you can connect the Meater Plus via Bluetooth only. To run it via WiFi, you need the help of an extra smart device.
Price
In terms of the price range, the Meater Plus is an affordable choice. The Meater Block requires a higher budget as it comes with 4 probes. 
Also Read: Why Your MEATER Ambient Temperature is Too Low and How to Fix It
Similarities Between Meater Block And Meater Plus
Keeping all the dissimilarities aside, Meater Plus and Meater Block share the following common features-
True Wireless Technology 
Both are wonderful products from the Meater lineup with 100% wireless connection. 
Yes, you will get some other wireless meat probes in the market too. But nothing beats these two in terms of unfailing wire-free performance. 
"No wire, no worries' ' – that is the motto of Meater, and both these smart probes live absolutely true to that.
Dishwasher Safe
Meater made all its wireless meat probe dishwasher safe. So, you can easily clean them without much hassle. Furthermore, both lineups feature high-grade materials for extended longevity. 
Range and Accuracy
Talking about the controlling range, both are the same. You can monitor cooking from 165 ft away with both Meter Block and Plus.
As per the policy, Meater claims +/- 1° F of accuracy in temperature count. And it made me more than happy that these two devices proved it right.
Custom Alerts 
I set custom temperature and cooking time in Meater Plus and Meater Block and it worked. Using the Meater app, you can get custom alerts once the food is ready from both these devices based on your customized temperature or cooking time.
Battery Included 
Regardless of the battery number, both Meater Plus and Meater Block models include batteries with their smart meat thermometers. You don't need to buy them separately. 
Device Compatibility
Whether you are an android or iOS user, no worries. These two Meater kitchen tools are designed to work with both operating systems.
So, what do you say? Do the similarities outnumber the distinctions or vice versa? I think they are quite similar with some added benefits from the Meater Block model. 
Also Read: The Ultimate Guide to Fixing MEATER Block Update Problems
Is The Meater Block Meater Plus?
No, they are not the same. Despite being manufactured by the same brand, they are two different lineups. 
The Meater  Plus was launched first whereas the Meater Block is the more advanced variant. 
Resultantly, you get some added advantages from Meater Block such as 4 dual-sensor probes, 4 AAA batteries, a longer charging dock, a micro USB port, etc.
And unlike the Bluetooth-only Meater Plus, the Meater Block is WiFi-compatible. 
Can I Pan Fry With The Meater Plus?
Yes, you can use it for pan frying too. As Meater Plus is an extremely versatile kitchen tool, you can use it with an oven, grill, BBQ, kamado, rotisserie, or even on the griddle of a frying pan.
Can You Use Meater Block Without Wifi?
If you want to use the Meater app, you have to connect your Meater Block Meat thermometer to WiFi. Because the Block doesn't connect to your smartphone via Bluetooth alone.
Conclusion
In this Meater Plus Vs Meater Block discussion, I tried my best to point out their common features. At the same time, I focused on the distinctions more so that you understand their differences. 
Undoubtedly, they are great cooking tools with the 100% wireless design by Meater. And both offer the same controlling range. 
What sets them apart is the price, probes, and performance. 
If you are more into a budget-friendly pick, the Meater Plus is a better buy. 
But if you are smoking multiple cuts of meat, what could be greater than the 4-probe Meater Block with an OLED display?