Being a BBQ guy for years, I have used a fair share of wireless smart meat probes from different brands. 
Though I am pretty much a Meater lover in terms of wireless meat thermometers, ThermoPro is definitely a strong contender in this field with their TempSpike model.
Aside from having a sleek design, it also offers a great wireless range for smoking, grilling, or BBQing.On that note, let's compare ThermoPro TempSpike vs. Meater to find out the better wireless probe in terms of flexibility, features, and accuracy.
Every product is independently reviewed and selected by our editors. If you buy something through our links, we may earn an affiliate commission at no extra cost to you.
Thermopro Temp Spike Vs Meater – Which Suits You Best?
With no prior knowledge, you might be baffled to choose the right wire-free probe for you. 
That being said, let me share my experiences with both Meater Original and ThermoPro TempSpike for your better understanding. 
Undoubtedly, Meater produced the first wireless thermometer with feature-packed performance. But could ThermoPro beat the level? Let's find out 
Here's a quick comparison chart – 
| Key Features | Thermopro Temp Spike | Meater |
| --- | --- | --- |
| Specification Met | Usda | UL |
| Range | 500-Ft Ultra-Long | 33ft Long |
| Color | Orange | Silver/Black |
| Ambient Temperature | Up to 572°F | Up to 527°F |
| Special Feature | Get real-time alerts | Oven & Dishwasher safe |
| The Hallmarks | Waterproof, Ultra clear screen, Fast reading with high accuracy, Multifunctional app & Waterproof | Dual temperature sensors, Guided cook system, Advanced estimator algorithm, Quality material & Value for money |
| Price | Check on Amazon | Check on Amazon |
"With Meater, cooking becomes an art form, and the digital meat thermometer is your brush, painting flavors to perfection."

Team Topcellent
Although the TempSpike came into the market later, it's quite a worthy competitor to Meater in terms of temperature accuracy. 
It can simultaneously measure internal and ambient temperatures precisely with a 3-second response rate. Furthermore, it runs through a multifunctional app which is very user-friendly. 
You can set customized alarms to be notified how long to cook by using the app. This eliminates the tiring guesswork in a long BBQ session whether it's indoors or outdoors.
The 100% wireless connection allows you to observe food from anywhere you want. It's supposed to cover a 500 ft ultra-long range. Absolutely huge, right?
What blew me away about this versatile grilling tool is the waterproof stainless steel construction. Not only is it easy to clean but also easy to maintain.
Besides, the rechargeable lithium-ion battery makes the Thermopro Temp Spike ideal for longer cooking sessions.
The package includes a meat probe, booster, and a charging cable. The booster also works as a charger having a lightweight architecture. It retains charges for up to 3 months.
However, it's a Bluetooth meat thermometer with no WiFi compatibility. The booster connects to your phone through a dedicated app. Then the meat probe connects to the booster via Bluetooth. 
Moving forward to the Meater Original review, it costs less than TempSpike with some common features though.
For example, it also uses dual sensor technology to provide accurate heat readings. But the ambient temperature range is a bit lower than the TempSpike model. However, that's not a big deal. It can predict estimated cooking time better.
Aside from the sturdy stainless steel construction, it is also popular due to the easy-to-use Meater app.
Once you set the target temperature, sit back and relax. The app will send you a notification when your food is ready. 
Moreover, the app also facilitates a guided cooking system to let you try different recipes at home.
Frustrated with the 33 ft wireless range? No worries, you can increase the range by using Meater Link and connecting the device to a WiFi network. 
Most importantly, you can charge the probe up to 100 times with the magnetic charging dock. And yes, it's dishwasher safe.
However, in terms of accuracy, both smart tools are quite reliable. They won't disappoint you with their ultimate cooking results. 
Besides, they both are compatible with a number of BBQ appliances including grill, smoker, pan, or rotisserie. 
Now, it comes down to your personal preference whether you need a longer wireless range or a pocket-friendly pick.
So, Before you choose one, let's explore these two premium-grade meat thermometers in detail with all their advantages and drawbacks.
ThermoPro TempSpike
One of the major flaws of maximum wireless meat probes is their limited range. So, if you are aiming for a smart thermometer that offers a longer wire-free range, ThermoPro TempSpike is the name. The probe comes with a truly wireless technology and claims to cover up to 500 ft distance. 
Let's find out whether it's a hit or miss to be added to your cooking arsenal.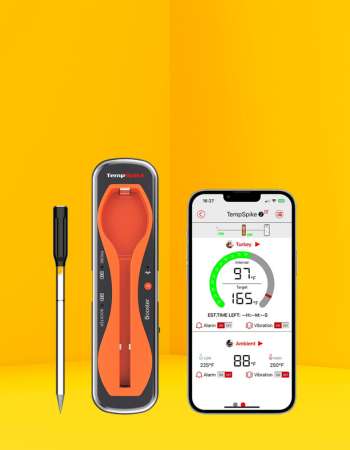 Top Features
High-heat resistant 

Easy to use out of the box

100% wire-free technology 

Absolute temperature accuracy with dual-sensor system

Durable stainless steel construction with a ceramic handle
| Specifications | Parameters |
| --- | --- |
| Brand | ThermoPro |
| Outer Material | Stainless Steel |
| Display Type | Digital |
| Connectivity Technology | Bluetooth |
| Specification Met | Usda |
As mentioned earlier, it offers up to a 500 ft super long wireless range which is an absolute bliss for all the BBQers. Undoubtedly, it's one of the longest ranges on the market right now.
With this dual-sensor smart meat probe, you can measure ambient temperature from 14°-572° F. And the internal temperature range is 14°-212° F.
Talking about the accuracy, you really get it accurate each time, every time. 
Best of all, the probe delivers a heat reading within 3 seconds of connectivity which is amazing. No overcooked meat to ruin your mood, yay!
To add more, it's accompanied by a feature-packed app that shows you a lot of data. You can also set several alarms through the app.
Another great thing about this meat probe is the accompanied booster which remains charged for up to 3 months. The booster/charger and the probe are connected via Bluetooth.
With the LED lights integration, the booster notifies you of the connection and battery life. 
Overall, it's a functional and user-friendly meat probe with a simple setup process. 
Pros
Numerous alert system

Zero connectivity issue

Waterproof compact architecture 
Cons
The app displays a lot of information at a time which  makes it difficult to see the readings
Also Read: Meater Vs Yummly Smart Thermometer – Which Suits You Best?
Original MEATER
With the Original Meater wire-free thermometer, life becomes much easier. You can monitor your cook through a smartphone and get an alert when it's done.
In fact, the Original Meater 33 ft wireless meat probe could be your best companion for outdoor grilling. Whether you are cooking in an oven, grill, or smoker, it's compatible with all of them.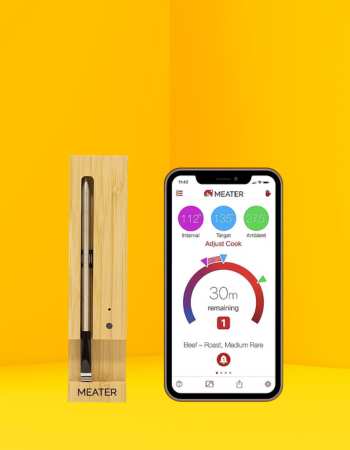 Top Features
Offers a guided cooking system

Heavy-duty stainless steel architecture 

The probe comes with a wooden charging dock

A hassle-free pairing between the app and the probe

Eliminates the guesswork with a precise temperature reading
| Specifications | Parameters |
| --- | --- |
| Brand | MEATER |
| Outer Material | Stainless Steel |
| Unit Count | 1 |
| Power Source | Battery Powered |
| Specification Met | UL |
Although it's the most basic meat thermometer from Meater, it has almost the same features as the premium Meter Plus or Meater Block models.
The only downside is its 33 ft limited range. Then again you cannot expect more from such an affordable meat probe.
Keeping this minor issue aside, Meater Original is a real bang for your buck in terms of performance. 
The 100% wire-free construction lets you cut the cord while outdoor grilling. You can see what's exactly going on in your cook by pairing the probe to your smartphone through the Meater app.
As for the app, it works smoothly without any interruption as long as you remain within the range. It shows the ambient, internal, and target temperatures precisely. 
However, it's a battery-run device which is powered by 1 AAA battery. Fortunately, the manufacturers included the battery in the package.
Besides, the sleek bamboo charging dock works as a safe storage solution for the probe. 
Nevertheless, if you want to extend the wireless range, use the Meater Link WiFi. For using Alexa, use the Meater Cloud.
Pros
Magnetic charging dock

Ovenproof and dishwasher-safe

The advanced algorithm can predict an estimated cooking time
Cons
Limited wireless range 

Not so compatible with high-heat grilling 
What Are The Differences Between ThermoPro TempSpike and MEATER?
If we run a head-to-head comparison between the Original Meater and ThermoPro TempSpike smart thermometers, we see some basic differences. 
Certainly, these disparities will lead the users to have different experiences while using the probes. 
So, let's point out them below- 
Wireless Range
They clearly differ in the range while offering wireless cooking control. Meater Original only covers 33 ft long distance in wireless cooking. However, the ThermoPro TempSpike is designed with a 500 ft ultra-long range.
Temperature Range
Although both the devices estimate cooking temperature pretty accurately, they slightly differ in the ambient temperature range. 
For the Meater one, the external temperature range is 527° F whereas TempSpike can read up to 572° F ambient temperature. The internal temperature range is the same for both.
App Compatibility
Meater Original is a basic wireless probe that runs through the Meater app, the signature app from Meater for all their wireless tools.
But the TempSpike doesn't run through the existing ThermoPro app. You need to download a separate app to run this model.
WiFi Connectivity
The Meater Original smart meat probe is WiFi-compatible. But the ThermoPro TempSkie is not. The latter connects via Bluetooth only.
Battery
For the Meater Original, the manufacturers included a single AAA battery. However, the TempSpike is powered by 2 Lithium Ion batteries which are also provided. 
Wooden Dock vs Booster
The Meater Original wireless probe is accompanied by a sleek bamboo charging dock with magnetic backing. That's why the dock attaches to any metallic surface without any hassle.
As for TempSpike, you get a booster in the form of a charger followed by a USB charging cable. The battery life for the booster is up to 3 months.
What Are The Similarities
Both Meater and ThermoPro designed their meat probes to make your grilling experience easier. No wonder the Meater Original and TempSpike share a lot of common features to monitor your cooks perfectly. 
The similarities between these two tools are as follows- 
100% Wireless
Both these smart meat thermometers are engineered with 100% wireless technology. There's no cord to cut your way. No wire, no hassle.
Dual Temperature Sensor
I truly appreciate their dual-sensor formula in terms of monitoring cooking temperature. The dual temperature sensors work great in calculating internal and external temperatures.
Stainless Steel Construction
Both the devices are architectured with durable stainless steel material which makes them long-lasting and high-heat resistant. 
Custom Alerts
You can set a number of custom alerts for both tools to get notifications about the cooking temperature, estimated cooking time, etc.
Bluetooth Connectivity
You can connect both the devices to your smartphones or tablets via Bluetooth. Moreover, these Bluetooth thermometers don't have any connectivity issues.
Dishwasher Safe
Whether you go with the ThermoPro TempSpike or Meater Original, both are quite easy to clean. Both the wire-free tools are oven-safe, and dishwasher-safe for a quick hand wash.
Why You Choose Meater Original Over ThermoPro TempSpike for Grilling and Smoking
Well, the verdict might seem a tad subjective but I vote for Meater Original between these two smart devices.
Being the first ever truly wireless meat probe, Meater Original is an affordable option even for beginners. 
It's true that the TempSpike offers one of the longest string-free cooking ranges which is absolutely delightful. But you don't always need to cover that long-distance wirelessly.
Moreover, you can extend the range with Meater Original using Meater Link WiFi and Meater Cloud. 
And the rest of the features are pretty much the same? So, why spend some extra bucks for a tool with similar features and functionalities?
Nevertheless, you can go with ThermoPro TempSpike if you need a probe that withstands high heat better.
But for basic grilling, I would stick to Meater Original for its excellent value for money.
Is ThermoPro TempSpike Worth The Extra Cost? 
Umm, that totally depends on what you are looking for from a wireless thermometer. If you prefer a longer wireless range, nothing can beat this model. 
It claims to cover 500 ft distance wirelessly. Plus, it's one of the most easy-to-use meat probes that connects to its app instantly. 
Talking about the construction, it's very well-built with an IP67 waterproof rating. That means you can submerge the device in water for 30 minutes maximum.
Thanks to the ceramic handle, it offers a nice grip. Also, the probe can withstand cooking chamber temperatures up to 527° F. It is, indeed, high-heat resistant.
However, the best thing is its flawless temperature reading. Both internal and external heat readings are absolutely accurate. That surely makes up for its higher price tag.
If all these added conveniences work for you, TempSpike is certainly a great buy.
Conclusion
In this digital era, who doesn't love a string-free cooking session? So, if you need a wireless meat monitor to observe the internal meat temperature or the ambient pit temperature, both Meater and ThermoPro are reliable choices. 
In terms of offering more control over your cooks, Meater Original is slightly better with advanced algorithms. It estimates cooking time perfectly. Besides, it costs less. 
But to get a longer wireless range with more accurate temperature readings, you should count on ThermoPro TempSpike. 
I sincerely hope the guide above helps you make an informed purchase between ThermoPro TempSpike vs Meater.