Did you know that there are only three things to achieving a gloriously smoked chicken in the comfort of your home? First, of course, an indoor electric smoker.
Second, a strong desire to taste that penetrating smoky flavor inside the crispy amber-hued skin. And third, this secret masterbuilt electric smoker chicken quarters recipe which I've got from my grandma.
Cooking is fun but not an easy task; it's an art. You have to keep patience for having a good command over this and making yummy dishes every evening. And so is smoking or grilling chicken. It also takes some time to cook perfectly.
Every product is independently reviewed and selected by our editors. If you buy something through our links, we may earn an affiliate commission at no extra cost to you.
But, no worry! Masterbuilt electric smoker comes to make your task hassle-free. Besides, it has a large interior space so you can easily cook for feeding a crowd, and my smoky chicken quarter recipe is also very simple to follow. So you can easily prepare it for your next dinner.
Masterbuilt Electric Smoker Chicken Quarters Cooking Process
Who doesn't love smoked chicken? But the success of perfectly smoked chicken totally depends on the recipe and, of course, on your electric smoker. In this case, controlling the temperature plays a vital role here. 
But Masterbuilt Electric Smoker makes the cooking process easy for you with its unique digital controls and external chip feeding feature. Besides, it has a spacious interior space with cooking racks. 
Today I will demonstrate a smoky, flavorful chicken quarter recipe with you. Of course, it is super easy to cook and super yummy to eat. I will suggest you use wood chips in the electric smoker for a better smoky flavor. 
Though lots of options are available nowadays, I would like to recommend you use Bradley's Whiskey Oak wood for better smoky flavor. Now let's see what you'll need –
Required Equipment:
Mixing bowl

Basting brush
Required Ingredients:
Salt

Water 

Original rub

Brown sugar

Barbeque sauce

Extra virgin olive oil

4-6 chicken quarters
Essential Information to Know:
Cooking time – 1.5 hours

Meat finishing temperature – 165°F

Preparation time – 10 to 15 minutes

Electric smoker temperature – 225-240°F

Suggested wood – Bradley's Whiskey Oak-wood
Brine The Chicken Quarters – The First Step of Making Chicken Quarters
However, brining the chicken is optional, but I suggest you not skip this step.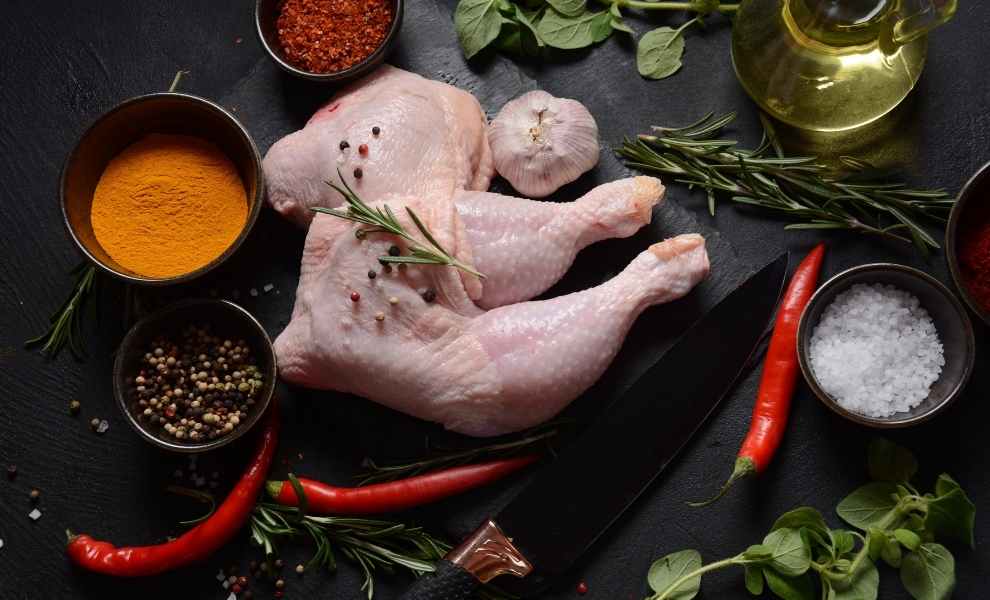 You Will Need:
Salt (1 cup)

Water (1 gallon)

Brown sugar ( ¾ cup, it is optional but recommended)
Adding slightly salt water (brine) to the chicken brings great flavor and juiciness. Brown sugar is used to provide a nice texture.
Directions
Step-1: To make the brine solution, add 1 cup of salt to the 1 gallon of water and stir the mixture until it dissolves.
Step-2: Now, add the ¾ cup of brown sugar and start to stir again as it is optional; you can skip it. But I suggest you use brown sugar to get a better result.
Step- 3: Then, put the chicken quarter into a zip-top bag and pour the brine mixture into the zip-top bag.
Step- 4: Now, keep it in the refrigerator or put it at 33 to 39°F. And wait for 4 hours.
Step- 5: After 4 hours, it is ready to proceed.
Season The Chicken Quarters- Finish This Step Carefully
In this section, you need to season the chicken quarter. It will help to enhance the taste.
You will need:
Extra virgin olive oil

Original rub (1 or 2 tbsp.)
I always use extra virgin olive oil in grilling, as it will play a vital role in grilling or smoked recipes. For dry rubs, adding olive oil is a must as it helps to stick the dry rubs on the meat's surface perfectly. Plus, it ensures an additional layer of flavor.
Dry rubs are used for increasing the natural taste of the chicken and also add a complementary flavor. I use BBQ Bros Rubs in this recipe because it gives an authentic and unique flavor that redoubles the original taste.
Directions
Step- 1: First, brush with some olive oil; it will help the original rub to stick the chicken.
Step- 2: Now add the original rub (1 or 2 tbsp.) and spread it all over chicken quarters. It will mix with the olive oil and make a paste. Remember, some rubs are high in salt, so be careful; otherwise, it will become salty.
Step- 3: Mix the rub well as it also needs to go under the skin.
Step- 4: Now, the seasoned chicken quarter is ready to go into the smoker.
Get Your Masterbuilt Electric Smoker Ready
Now it's time to set up the smoker ready for cooking. The preferable temperature is 225-240°F. Once it is ready, keep the rack containing the meat on the grate and leave a 1-inch space to allow the smoke to go into the chicken properly.
Now It's Time To Smoke The Chicken Quarters
You will need:
I would like to suggest you wood chips, and usually, I use dry Whiskey Oak-wood. Want to know why? Well, dry Whiskey Oak-wood is best for long barbeque recipes; it burns slowly and adds a delicate taste to the chicken.
Pecan wood chips also can be used here. It ensures a mild, fruity taste to the chicken that will undoubtedly enhance the overall taste.
Directions
Step- 1: Keep the meat in the smoker for 1 hour.
Step- 2: Add some wood chips (cherry or dry pecan wood). I recommend you to use Bradley's Whiskey Oak wood chips for a better smoke, as it will add a rich flavor to the chicken quarters.
Step- 3: Need to monitor the temperature; use a thermometer.
Finish The Chicken Quarters And Find Yourself WOW!
Now it's time to finish cooking the quarters on the smoker. In this step, I suggest you use some non sweet barbeque sauce, as I love, for better taste. However, many barbeque sauces are available in the store. 
But I use Sweet Baby Ray's Barbecue Sauce as it gives a perfectly balanced flavor, smoky grilled taste, and nice texture. Don't worry. It does not overpower the taste. So, you can try and trust this sauce.
Directions
Step- 1: Before the chicken quarter is finished cooking, heat it to very high.
Step- 2: After 1 hour of smoking, keep the meat over direct heat.
Step- 3: After cooking, brush a little barbeque sauce on the meat. Carefully monitor the temperature otherwise the chicken will burn. When it reaches 165°F, stop cooking.
Now it's time to garnish and serve the smoked chicken quarter with your beloved. 
Nutrition Facts: 
Fat: 21g 

Fiber: 0.1g

Protein: 16g

Calories: 261kcal 

Carbohydrates: 1.5g 
Course
This dish can be served at dinner or lunch as the main course. This dish can be perfect for low-carb diet eaters. Besides, as it is dairy-free and gluten-free so this dish can be perfect for health-conscious people who are going through a special diet.
Best Seasoning For Smoked Chicken Quarters
It can be a favorite hot dish for the summer season. You can easily fire up your smoker and prepare this yummy smoky flavored chicken by following my recipe to serve it for dinner or lunch. 
But I prefer to serve this dish in dinner as a main course with some freshly prepared coleslaw, baked beans, fruit or pasta salad. 
How To Get The Yummy Taste From Your Smoked Chicken Quarters
Here I will provide you with some useful tips for you to get a better result.
When smoking chicken quarters, try to pick the wood that will complement it. A variant of options is available in the store now. 
But pecan, apple, or cherry are commonly used wood chip flavors for chicken as wood chips will add a great smoky flavor that will definitely enhance the actual taste of the meat. Use woods for that. It will add the deserved flavor to the smoked chicken recipe.
Stop cooking and turn on warm mode after it reaches 165°F. Basically, the cooking time will depend on the meat size, but we consider it around 30 to 40 minutes per pound.
Add Fruit Juice to The Brine
It is better to add some fruit juice or wine to the smoked chicken quarters brine mixture, as it will bring some additional flavor and taste. Besides, the brine's salt breaks down the chicken muscle and enhances moisture absorption. 
Before you start to put the chicken quarters into the smoker, keep it for 1 hour to air dry. It will help the smoke to adhere better.
So many seasonings are available in the market, but not all are perfectly matched with this smoked chicken quarter recipe. 
Right seasonings will increase the taste and flavor of your smoked chicken. In this recipe, I use original dry rubs (BBQ Bros Rubs) to add more flavor and nice texture.
Are smoked chicken quarters healthy?
No doubt, chicken quarters have many nutritional facts and are a good source of heart-healthy protein. It is healthy as it contains less cholesterol than the legs and wings. Not only that, they are lower in saturated fats and also perfect for low-carb diet eaters.
Is it OK for chicken quarters to be a little pink?
Well, it is safe to eat, and it is OK to be a little pink. Because the pink color does not specify its doneness, sometimes we can observe that fully cooked poultry chickens also show a pinkish color. 
As the muscles contain hemoglobin, it comes to react with the air during smoking or cooking, giving the chicken a pinkish color even after fully cooked. So, no need to worry about the color. Hope this answer will help you.
How can I get crispy chicken skin?
To get crispy chicken skin, you can smoke it at higher temperatures around 250-275°F and allow the meat to air dry for 1 hour in the fridge. 
How can I get more smoke from the smoker?
To get more smoke, keep the rack cleaned and place it near to the heat. You can also create more smoke by opening the vent. And for better smoke, you also can use some wood chips. 
There are varieties of wood chips available in the store nowadays. But pecan or cherry woods are better for chicken or birds; mesquite is good for pork, and cedar wood chips are perfect for fish.
How long does it take to smoke a whole chicken in a smoker?
It will take around 4 to 5 hours at 225 degrees to smoke a whole chicken in a smoker but make sure it does not get too hot.
How long does it take to cook chicken quarters?
It will take to smoke the chicken quarters for 1.5-2 hours at 165°F. But in case, the temperature is between 200° and 225°F; it will take 3 to 5 hours.
What temperature are chicken leg quarters done at?
The chicken leg quarters are done at an internal temperature of 170°F.
Conclusion
Chicken quarters are the perfect cut of meat filled with flavor. They are just a suitable match for the masterbuilt electric smoker for feeding a good amount of people. 
Serve with freshly prepared coleslaw or pasta salad to make this recipe richer. So, this smoked chicken recipe is perfect for those people who are searching for a simple but delicious smoky meat recipe. 
This Masterbuilt Electric Smoker Chicken Quarters recipe is a perfect blender of juiciness and flavor. Besides, it has much nutritional value and is a perfectly balanced course. You can easily try this recipe and serve the smoked chicken quarters for your next family get-together!