Being capable of infusing the food with mid-level and moderate fumy flavors, this great grilling wood would never overpower your favorite meat while smoking it. Besides, you can add an enchanting deep brown hue to your palate.
But there are different types of oak woods to barbeque different meats, fish, and vegetables. Which one should you go for?
Below, meet my handpicked five best oak wood for smoking that work amazingly great to make the meal taste pleasant and palatable having the right portion of smoke-filled essence.
Every product is independently reviewed and selected by our editors. If you buy something through our links, we may earn an affiliate commission at no extra cost to you.
5 Best Oak Wood For Smoking – Make BBQ More Delicious
The following five oak woods are considered the current best smoking woods in the market right now. 
Jack Daniel's Oak Wood Chips for Smoking
Want to have a wow experience in grilling? Rest assured that Jack Daniel's Whiskey Barrel Oak Wood Chips will give you no room to complain. Truth be told, your dinner guests are going to be fascinated by the flavorful combo of whiskey and oak wood smoke. 
Maintaining a subtle balance between the smokiness and natural flavor of the foods, these wood chips are particularly popular for creating medium profile wood smoke, neither too mild to ignore nor too harsh to smell strong. 
Whether you are a beginner in grilling or a Pitmaster, certainly you want to enjoy your food with appealing incense.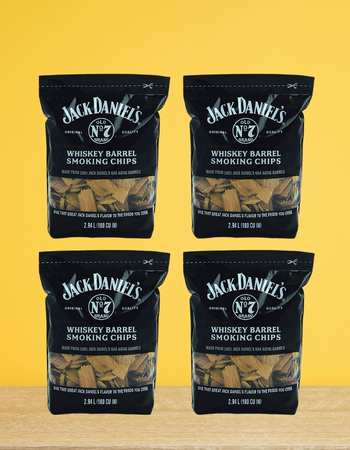 Top Features
Comes in four-pack

180 cubic inches of wood

Unique charcoal mellowed flavor

Compatible with all grills and smokers

Made from 100% Jack Daniel's oak aging barrels
| Specifications | Parameters |
| --- | --- |
| Weight | 7.75 Pounds |
| Brand | Jack Daniel's |
| Wood Type | Chips |
| Made In | USA |
Besides, a nice smoky taste is everyone's desire while barbecuing. Here comes these exceptional oak wood chips that you can rely on to please your BBQ buddies. 
As already mentioned, being made from the original whiskey barrels, a subtle symposium of both oak wood and whiskey is the power player for these smoking woods. Also, the tasty texture with an amazing smoke-filled fragrance makes you fall for this right away!
Have you got an electric smoker? Or do you prefer a charcoal one? No worries as you can use these chips to flare up both including a gas grill as well. And the 180 cubic inches of wood chips are perfect in size to support a large-scale grill too.
Any smoked items, especially the cold ones cooked at cooler temperatures are injected with too much aroma and flavor to fully satisfy your taste buds. 
Being larger in size than any regular wood chips, they last longer. Therefore, the extra bucks you spend on it come back twice in return.
Be it beef, chicken, or any other meats, the excellent essence it offers producing a nice smoke is just out of the word. Prepare any of your favorite smoked dishes and swallow the smack to the fullest.
Most interestingly, you can pair up these chips with any other wood chips to create a different flavor altogether. What more amenities do you need from smoking oak wood?
Cons
Need to refill frequently as they burn quickly

The weight of the package doesn't do justice to the expense 
Also Read: Is Apple Wood Good For Smoking?
Camerons Oak Kiln Dried Smoking Chips
Those who want 100% natural smoking wood chips can rely on these kiln-dried smoking chips by Camerons. To add a perfect smoky smack to every item you grill, these barbecue oak wood chips have no replacement. 
The manufacturers did not incorporate any additives or fillers to retain the original oak flavor. As a result, you can enjoy the highest quality of smoke that naturally gets infused into the dishes you serve. Let's have a look at its core specifications.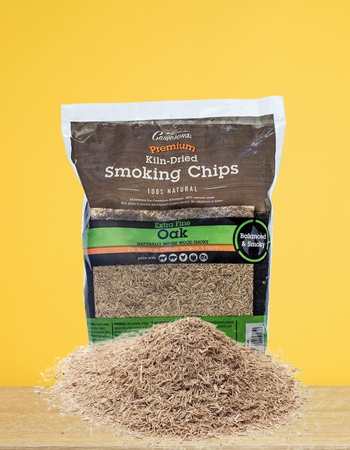 Top Features
Made in the USA

100% natural wood

Extra-Fine wood chips

Delicate smokey flavor

Perfect for grills and smokers
| Specifications | Parameters |
| --- | --- |
| Dimensions | 12 in. x 9 in. x 2 in. |
| Weight | 1.75 pounds |
| Brand | Camerons |
| Wood Type | Chips |
| Made In | USA |
Get these extra-fine wood chips that come in a bag of 2lb. Surely, you will get your desirable delicacy in the subtly smoked items in the form of smoke-filled fragrance.
The wood chips come in raw and timber having extra fine cuts. Be it an outdoor grill on a campsite or an indoor stovetop, the smoking wood will burn equally well to create the needed fume for your food.
However, if you want to know its specialty, originality is the one you should be informed of first. A chemical-free texture of the wood chips makes the food more flavorful.
The 260 cubic inches of wood chips are more than enough to change your grilling game for the better. The strong smoky aroma with the appealing hue it creates is rarely found in any smoked or grilled item at a time. This is where Camerons Oak Smoking Chips stand apart from other smoking wood.
Talking of the quantity, the 2lb bag is full of wood chips which are more than sufficient for the whole year, no matter how many BBQ parties you arrange.
And the cheapest possible price point is the next big thing you would be surprised about this product. Of course, Camerons has stolen the show in this field.
Though it flames up the fire rapidly and combusts completely, no additional heat or smell can ruin the original taste of your hard-cooked dishes. Instead, it entertains your taste buds with the most natural nourishment ever.
Cons
Some customers complained that it does not offer fine cut, rather comes with coarse cut

Smoking could be a bit better
Also Read: Pecan Wood For Smoking Meat
Zorestar Natural Oak Wood Chunks
For attaining perfect crisp and crust to any grilled or smoked item, you need a magical fume-filled flavor. This is exactly what Zorestar Oak Wood offers. To barbecue anything, especially meat, you need to create intense smoke for better results.
At the same time, the smoke shouldn't overpower the actual taste of the food. So, a strong yet stingy flavor is what perfect grilling demands. And with these oak wood smokers, you can create such distinct smoky delicacy in your barbecued item.
We found the best part of this oak wood for smoking is the capacity to create a nice mahogany color that catchingly covers your smoked dishes.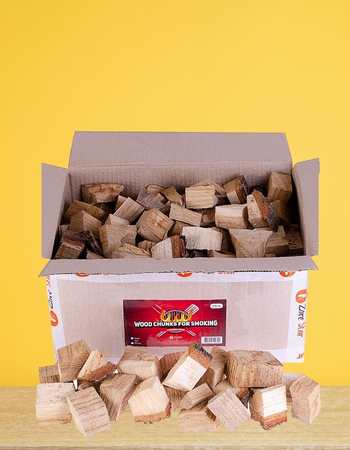 Top Features
Burn even and slow

No harmful additives

100% Natural and safe

2-3 inches compact size

Create a mild smoky flavor

No chemicals or pesticides used
| Specifications | Parameters |
| --- | --- |
| Dimensions | 15.59 in. x 12.24 in. x 8.15 in. |
| Weight | 14.97 pounds |
| Brand | Zorestar |
| Wood Type | Chunks |
| Made In | USA |
Besides, for maintaining the perfect proportion of natural barbecue bliss and your favorite fumy flavor, a mild flame is produced by these wood chunks that are even more alluring.
Basically, the deep and delicious hue it injects into the food is the most attractive amenity any grill master always looks for.
Howsoever, the 15-pound pack full of whole wood chunks is truly a blessing for smoky food lovers. As medium smoking wood, oak is always preferable for its magical mild essence of smoke and these flavorful chunks are no exception as well.
As no harmful additives are used to manufacture these smoking accessories, rest assured they are 100% safe both for your health and for the environment.
Besides, they burn completely to eliminate the chances of waste. Use 3-7 pieces at a time at best and that's enough to flavor up any meat.
To spice up your smoking game, you need wood chips that burn slowly to infuse the appealing aroma all over the food. Therefore, go for slow-burner chunks like Zorestar and let them last as long as possible.
What a cost-effective way not to affect your bank account yet enjoy grilling at its best, isn't it?
Cons
The box weighs less than it's claimed

Too expensive compared to other oak wood chunks
Also Read: 10 Different Types Of Wood For Smoking Meat
Smoak Firewood Red Oak Wood Logs
It's said that red oak is the king of all wood smokers and the claim doesn't seem senseless once you explore these oak smoking woods. Like the Camerons Oak Smoking Chips, these too are kiln-dried for better performance in producing smoke. The pest-free technology offers a professional-level grilling providing sufficient support of efficient fumes.
The core amenities it offers are discussed below for your careful consideration. In the fourth place of this review, meet an extraordinary cooking wood from Smoak that outperforms all the contemporary competitions.
As these are USDA approved, they are undoubtedly very well-made to endure hard grilling temperatures.
Top Features
USDA approved

Made in the USA

Long-lasting burn

Pest and chemical-free

Finely prepared for customers' contentment
| Specifications | Parameters |
| --- | --- |
| Dimensions | 9 in. x 9 in. x 9 in. |
| Weight | 25 pounds |
| Brand | Smoak Firewood |
| Wood Type | Logs |
| Made In | USA |
That being said, we cannot but praise this kiln-dried oak wood for grilling that comes in the form of either mini logs or standard logs.
The mini logs measure 8 inches and the standard ones measure 16 inches- quite convenient to smoke or grill on any type of grills and smokers.
As all wood logs are carefully processed at home, rest assured they would produce high heat to grill any strong meats. But, it would keep the natural flavor intact while adding some fume-filled aroma to create an exclusive archaic taste.
According to professionals, Smoak serves once but satisfies for life. This is 100% true for this premium-quality oak wood for cooking. Not only do they burn better but also cleaner. So, it's a hell lot easier to clean the smokers.
Regardless of what you're going to grill, take this irresistible oak smoking wood for granted that it won't disappoint you. So, barbecue the briskets, ribs, tri-tip or any other parts of strong meats like beef worry-free.
On top of that, an altogether fresh wood flavor sustains throughout the food for a long time, thanks to the long-lasting burn. The 100% organic material makes them more desirable despite being expensive.
After all, the unique and unfailing kiln drying process pays for its price by letting you smell the freshness of food like never before.
Cons
Way too expensive

Too small box with smaller logs

All wood logs are not dried properly
Also Read: What Are The Best Woods For Smoking Tri Tip?
Camerons All Natural Oak Wood Chunks
Who doesn't want the traditional smoky tastes in the grilled dishes, be it meat, cheese, or veggies? To achieve the perfect smoky essence, Camerons Oak Wood Chunks are the premium solutions you can always count on.
As the name suggests, it is sourced naturally to impregnate the barbecued ingredients with striking smoke-filled extracts. Being carefully dried over the kiln, these all-natural wood fragments are suitable for outdoor grilling only.
Camerons have always influenced Smoke Cooking Technology for the better with out-of-the-ordinary grilling accessories.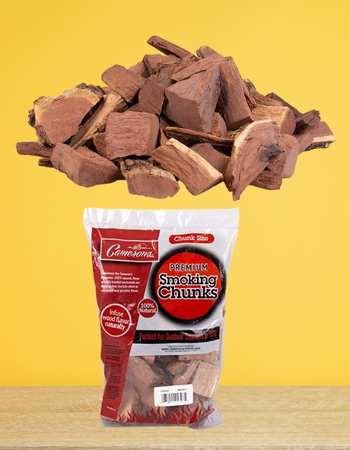 Top Features
100% natural wood

Precision Cut Chunks

Delicate Smoky Flavor

Kiln-dried wood chunk

Can be used instead of Charcoal Briquette
| Specifications | Parameters |
| --- | --- |
| Dimensions | 11 in. x 8 in. x 20 in. |
| Weight | 10.98 pounds |
| Brand | Camerons |
| Wood Type | Chunks |
| Made In | USA |
Their latest inclusion of these raw timber chunks is an excellent attempt to make barbecuing easier than ever while still maintaining its age-old essence.
On that note, these oak-flavored wood chunks come in a 10lb portable bag to accompany you on all your outdoor trips. And the wood fragments are exceptionally great for producing a magical mellow in the items you grill.
The soft and subtle blending of smokiness works as an appetizer in an outdoor tour. Furthermore, the oak lumps burn long for stable heat production making the food well-cooked.
Please note that you need to soak the chunks twenty minutes prior to cooking. Then place them on hot coals for getting the best-flavored meats. Nevertheless, an overnight soaking would prolong the smoking period to a considerable extent.
However, the bag is full of large wood chunks that will be enough for plenty of barbecue sessions. As they are kiln-dried, they burn pretty well so as not to cause any interruption while smoking or grilling.
Being produced from white oaks, these smoker oak wood chunks work best when placed on the base of a charcoal grill or on a gas grill's grate. Moreover, the 11×8×20 inches dimensions with precision cut make them a worthy option to grab for your next grilling session.
In a word, we highly recommend these nicely cut chunks that you only need 2 or 3 to cook a whole 15 lb turkey. Can you imagine how reasonable these oak lumps are?
Cons
The wood chunks are not as clean as claimed

The bag should contain more large chunks rather than chips

Considering the quantity, it's a bit overpriced
Also Read: 5 Best Wood For Smoking Chicken Wings
How Can You Tell If The Wood Is Oak
As a barbecue lover, perhaps you already know that oak wood flavors your food with an enchanting essence that is out of the world. But how do you find this wood? How to pick oak wood when they are pretty similar to other hardwoods?
Well, well, don't get frustrated. You just need to be a bit tricky and follow the rules below.
Oakwood is from the hardwood genre, resultantly pretty hard and heavy in appearance.

When putting on fire, oak woods ignite an intense smoke perfect for grilling any meat.

Although it's great for an earthy flavor, the smoke it creates is pretty mild as well, not as fierce as hickory to hit you hard. Instead, a subtle mixture of sweetness in the taste says that it's oak wood for sure.

The strong and bold aroma of oak wood is injected into the food in such a way that you can immediately identify it once you test the food.

Instead of depending on visual inspection, rely on the characteristics. Oak woods are hard and dense, holding moisture for a long time. Moreover, the flame of oak wood gives a strong smoked extract with a subtle hint of sweetness.
Post Oak vs Red Oak vs White Oak For Smoking
Hopefully, you have already cognized the urgency of oak wood for smoking your favorite items. But there are variations in oak wood types and different categories serve different purposes.
That being said, it's time to specify the roles of three prominent varieties of oak wood- post oak, red oak, and white oak to add different smoking flavors to your food.
The specialty of this kind of wood is that it burns for a long time imparting a slow but steady flame. That's why cooking ribs or brisket are cooked perfectly with these oak woods.
Like apple wood, the main purpose of post oak is to infuse a slightly sweet flavor to food, a perfect balance of smoky and mild essence.
Resultantly, post oak is considered the finest smoking wood of all. And it is best to smoke all types of proteins, meats to vegetables for its subtle symposium between sweet and smoky flavor.
Next comes the red oak, the king of smoking meats. It delivers a stronger flavor than the post oak without overpowering your hard-cooked meal to ruin the original essence.
As red oak produces much more smoke than any other oak wood, you should use them to prepare items that need quick cooking. People who prefer the age-old strong BBQ flavor in food should always go for red oak.
Out of these three oak woods, white oak has the longest lifespan when burnt. They inflame longer than the rest two, which resultantly are suitable for smoking meats that need a longer baking period.
You can mix it with other hardwoods as well. We found it as an all-around smoking wood applicable for smoking any red meat you want.
Let's learn what type of oak is best for which purpose through the following chart.
| Wood Type | Best for |
| --- | --- |
| Red Oak | Ribs, Tri-tip, and Beef |
| White Oak | Any red meat that needs a longer BBQ session |
| Post Oak | All sorts of protein |
A Beginner Guide For Smoking With Oak Wood
No matter how much you are fond of barbecuing, it's not an easy task at all. It can particularly be intimidating for beginners who have just stepped into the grilling world.
On that note, below, we have prepared a complete BBQ guideline that explains some common rules to smoke with oak woods. Also, you'll get to know what mistakes you should avoid.
First, you need to pick the right smokers from the available types. Choose your appropriate smoker from the varieties of gas, charcoal, electric, pellet, or wood smokers. But one thing to remember, never fall for the cheaper ones as they are overwhelming to control by beginners.
Now you need to decide what types of oak woods to use- chips, chunks, logs, or pellets. Not each type will offer the same amount of smoke.
Howsoever, if you use chips, please don't forget to soak them in water at least thirty minutes before cooking. For other types, soaking or bathing is unnecessary. Just use them dry.
As oak is a versatile wood offering strong to medium ranged smokiness, you can smoke almost all sorts of meats, sausages, and vegetables using it.
Even seafood can be perfectly grilled as oak will pass its mild smoky flavor, neither too light nor too strong to the food. So, choose the meat you want to BBQ and marinate it properly.
Before starting the flame, you need to ignite the wood first and burn it properly. Grilling in this way will attain the exact aroma of oak you want to enjoy.
But barbecuing is more preferable when you are technically cooking over the wood. In that case, start the fire with a lighter and kindling.
But mixing the wood chunks with coals is always a wise decision as excessive wood can cause unnecessary smoke and ash.
To maintain the steady temperature needed for a balanced BBQ, you must maintain the smoker well. Try to keep it between 225 degrees to 250 degrees Fahrenheit.
However, you should focus on perpetuating both the oxygen flow and the smoke in the chamber for stabilized heat production.
An expert tip from the BBQ masters is to add water to the pan that comes with the smoker as moist smoke is best-known for making the food taste better.
Actually, foods absorb more smoky flavor when it's moist. So, adding about a half-inch of water would help make the food more flavorful. This step is optional though!
Last but not least trick to master over barbecuing is having patience while cooking. Don't look into the pit every 20 minutes.
It will only let both the heat and smoke escape. Smoking is a low and slow process that demands several hours. So, be patient and open the lid once it's duly cooked.
Advantage and Disadvantage Of Smoking With Oak Woo
Now, let's focus on the plus and minus points of using oak wood to smoke your favorite dishes.
Advantages
A medium smoky flavor to make your food taste better

Oak doesn't overpower the natural essence of meat

Perfectly blends with the bold flavor of any meat giving a subtle hint of sweetnesses

You can smoke seafood and veggies as well other than meat

Produces an adequate amount of smoke to offer the authentic smoky flavor
Disadvantages
The smoke is not as strong as hickory. So if you need stringer smoke, oak is a bit mild in that case

Oak produces plenty of heat while smoking. So, you need to keep a careful eye on the temperature control

You can get a great flavor by using oak wood for smoking, but it's even greater when combined with apple, hickory, or cherry wood
Characteristics Of Oak Smoking Woods
The fundamental characteristics of oak as a smoking wood are as follow-
Medium ranged porous hardwood

Produces a medium smoky flavor

Produces stronger flavor than apple and cheery but lighter than hickory and mesquite

Has a subtle hint of sweetness that adds some more essence to your barbecued food

Despite being strong enough, oak wood doesn't vanquish the original taste of any food

Oak comes in a variety of options such as red oak, post oak, white oak, etc. to smoke different meats with different flavors

This wood burns slowly producing sufficient heat and smoke to grill food as long as needed
What Does Oak Wood Smoke Taste Like
Oakwood is hardwood for sure. But it doesn't deliver as strong a flavor like hickory or mesquite. Still, your taste-buds will be content by the medium smoky essence it offers. In fact, oak wood offers a sweet fruity aroma when you use it for smoking meat, fish, seafood, or vegetables.
The light fruity flavor is intense enough to announce its presence but not too dominant to overpower the natural taste. A mild mixture of sweetness makes oak more preferable to smoke poultry, lamb, beef, and any other meat wonderfully.
To be more exact, the smoke created by oak wood blesses your BBQ dish with an intense fruity essence which is stronger than apple and cherry but less harsh than hickory.
Can you smoke with fresh oak?
To get the right share of smokiness in your food, you must avoid fresh or green oak wood and use dried or seasoned wood.
Is Oak good for smoking chicken?
Absolutely yes. In fact, it should be the go-to wood for smoking chicken, thanks to its perfect balance of smokiness and tenderness. Due to the soft and subtle mixture of mellowness, the native smack chicken doesn't seem to be knocked out.
Can you use oak firewood for smoking?
Yes, you can. In fact, using oak firewood to smoke meat can bring an altogether unique flavor to your dish.
Is Oak a good smoking wood?
Undoubtedly yes. Truth be told, oak is the most versatile smoking wood that is perfect for your everyday smoking. Additionally, it is the most available smoking wood as well.
Is oak good to smoke meat with?
Defiantly, oak is good for smoking meat also, the best wood to spice up your smoking game. You can smoke any type of meat with oak having the flavor you desire. Being 100% natural, oak is completely safe and subtle to add a medium-to-strong level of smokiness.