Just like a juicy tender brisket, smoking tri tip also needs to be done perfectly to get that dream flavor which your grandma used to cook. To bring back that old taste today, you will need the best wood for smoking tri tip.
You may wonder why I'm talking about wood. But I don't feel shy to unlid the secret that having all the necessary ingredients, you won't get the desired taste if you use the wrong wood to smoke meat.
Every product is independently reviewed and selected by our editors. If you buy something through our links, we may earn an affiliate commission at no extra cost to you.
So, that's what we'll be discussing today. I know it can be overwhelming, especially for new cooks to select the perfect wood for specific meat cuts. That's why I'll walk you through a list of 5 woods that can make your smoked tri tip more delicious than ever.
5 Best Woods For Smoking Tri Tip To Get Ultimate Deliciousness
If you've exhausted yourself by researching what type of wood goes with a tri tip, cool down mate. I'm recommending specific woods that'll help you get the smoky flavor you're looking-for. Go through the list below, and you'll know why these're better than others.
Quick Decision-Making Chart-
| Comparison | Red Oak Wood | Hickory Smoking Chips | Apple Wood |
| --- | --- | --- | --- |
| Brand | Smoak Firewood | Western | Weber |
| Flavor | Medium Smoky | Sweet, Strong | Mild Sweet & Fruity |
| Size | Chunks | Chips | Chunks |
| Weight | 9 lbs | 1.6 lbs | 3 lbs |
| Best for | Tri-tip, Beef or Lamb | Chicken, Turkey, Tri-tip, Brisket | Poultry, Tri-tip, Beef, Lamb |
| Special Feature | Burns slowly, Strong | Can create a unique flavor, Versatility | Add sweet, warm flavor |
| Price | Check on Amazon | Check on Amazon | Check on Amazon |
Red Oak Smoak Firewood Smoking Wood Chunks
Smoak is one of the most famous brands among cooks. It helps you get the perfect flavor, burns slow and long, and is 100% organic with no chemical substances. That's why this is the wood I kept in the first place on my list.
If you want to amp up your cooking game, having a box of Smoak firewood chunks can be really helpful. They offer several wood types, among which red oak is most suitable for smoking tri-tip. People who say it doesn't matter which wood you're using don't know what they're talking about.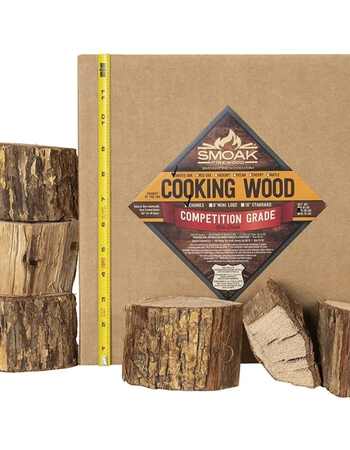 Top Features
Burns slowly

100% organic

Stays lit longer

Creates perfect flavor

Free from any harmful chemicals
---
You'll experience the difference yourself when using Smoak chunks. These wood chunks are harvested from Georgia. The parts that prevent proper burning are left out of the package. That's why these chunks burn a lot cleaner than others.
The moisture in these chunks is on a perfect level. If wood chunks are too dry, they'll burn quickly. In comparison, if they're too wet, they won't burn at all. With Smoak Firewood, the moisture is perfect, so these chunks will burn hot slowly and create just the temperature you need.
As for the flavor, going for the red oak will create excellent taste on a tri tip. There are other options you can choose for other meat cuts. Available options include maple, hickory, and white oak wood for smoking tri-tip or any kind of meat.
The versatility of Smoak will surely leave you wanting more. Unlike many other wood chunks, these go with almost any type of meat. So, it doesn't matter if you're not cooking beef because these work with chicken, turkey, or any other kind of meat you want to smoke.
Pros:
Premium quality wood chunks

Least amount of chunks with bark

Suitable for almost any kind of meat
Cons:
Western Premium Hickory BBQ Wood Chips
If you're searching for professional-grade wood chips to spice up your BBQ, Western Hickory Smoking Chips is the one to go for. It's amazingly flavorful, compatible with both a smoker and a grill, and you can mix it with other types of chips to create unique flavors.
Let's start by saying how satisfied customers are with these wood chips. If you check the reviews of this product, you'll be surprised. Almost all BBQ lovers agree that these are high-quality wood chips that create the perfect flavor.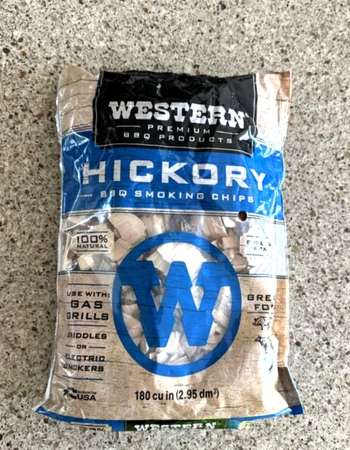 Top Features
Suitable for gas grills

Usable on electric smokers

Creates perfect smoky flavors

Works terrific on charcoal grills too

It can be mixed with other types of chips
---
Even though Western offers a variety of wood chip types, the best one among them is hickory. For any kind of BBQ, including a tri tip, hickory creates a fantastic flavor, also, hickory is considered one of the best wood chips for chicken wings. You can perform experiments to create new flavors on the meat too.
For instance, half hickory chips and half oak chips can create a smoky flavor, precisely like the restaurant. These wood chips will work best if you use a wood chip tray or a pouch made out of foil.
Nonetheless, if you're using an electric smoker, chances are, there is already a wood chip tray inside. In fact, gas grills also come with wood chip trays these days.
Every BBQ lover knows how essential wood chips are for adding depth to the meat flavor. With these heat-treated chips, you are bound to get a robustly smoky flavor that everyone craves. Even if you are a newbie in this field, you can't go wrong with these hickory chips when cooking a delicious piece of tri tip.
The manufacturer advises you to avoid lighter fluid when cooking with charcoal. It can mess with the flavor you get from the hickory. So, to keep the flavor as strong as possible, avoiding lighter fluid will work wonders.
Pros:
Burns well

Can be used in any smoker and grill

Gives gently smoky flavor

Never over smoke the food

Goes well with almost any meat/food
Cons:
Not suitable to impart strong flavor

Not recommended when you're on a very tight budget
Weber Apple Wood Chunks – Subtle Sweet Flavor
If you want a sweet and subtle flavor in your tri tip, it's better to go for applewood chunks. This pack from Weber is affordable, creates a sweet and subtle flavor, and can work as a heat source for your charcoal grill.
Weber offers the best apple wood chunks you can ever get. They're perfect in size, burn long, and create a sweet flavor in your dish. One thing I like most about these wood chunks is their versatility.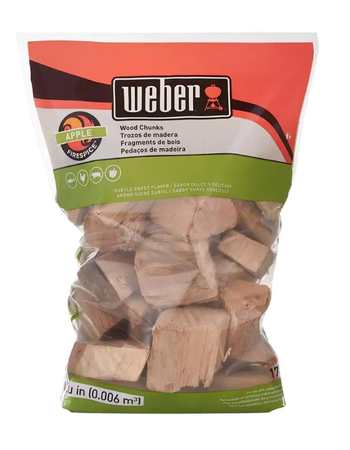 Top Features
Affordable price range

Great for creating soft flavors

Works with a variety of meat types

Provides a sweet, fruity, and subtle flavor

Can work as a heat source in an outdoor grill
---
No matter what type of meat you're smoking, you can create stunningly smoky flavors using these wood chunks. Unlike other flavors, apple wood is relatively sweet and fruity. So, if that's something you're interested in, Weber is your go-to chunks.
Weber has always been a trustworthy brand when it comes to barbequing. So, it has a significant advantage there. You can trust the brand with your eyes closed. You won't find any cooking enthusiast who hasn't heard of Weber.
These chunks from Weber can not only create excellent flavors but also work as a heating source when you're using a charcoal grill. Outdoor grilling has never been so perfect before. You'll experience the difference once the chunks start burning. The smell will speak for the chunks.
Weber apple wood chunks are surprisingly cheap too. Even though you may find some chips inside, but the amount is neglectable. Most wood chunks inside the pack are perfect in size. If you want an affordable option, this is one of the options to consider.
Pros:
The best size of wood chunks for smoking

Fit perfectly in any electric smoker

Add a great flavor to any meat

Burn slowly if soaked in the water
Cons:
You may get some small debris in the bag

May burn fast if not soaked
Camerons Pecan Natural Barbecue Dried Wood Chips
If you're into pecan flavor for your tri tip, you should definitely go for the one from Camerons. These wood chips are kiln dried, can create a delicate flavor, and light quickly reduces your work for the bbq.
People love adding Camerons pecan flavor when they're cooking beef. If you prefer using pecan for smoking your tri tip, Camerons will not leave you disappointed. The wood chips are raw timber, kiln-dried, and one hundred percent natural.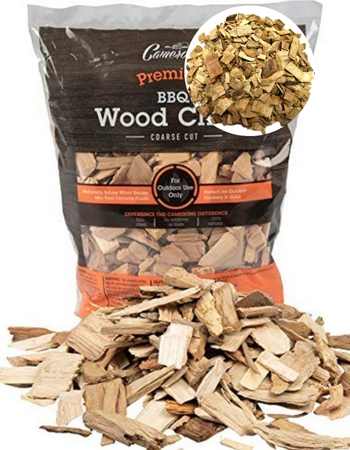 Top Features
100% natural

Lights quickly

Combines with all meat types

Creates a delicate smoky flavor

Kiln-dried premium-quality wood chips
---
One of the most notable features of these wood chips is that they ignite quickly and create enough smoke without wasting any time. That means less time wasted on doing extra activities. You can concentrate entirely on your barbequing with pecan wood chips.
It doesn't matter what bbq method you're using. The wood chips work equally impressive with an electric smoker, a gas grill, and a charcoal grill. Besides, if you don't have a smoker box for your grill, you can get one from Camerons too.
When you mix different wood chips to create a unique flavor of your own, it's better to pick the best one so you can get the exact smoky flavor you want. For the pecan, you can trust Camerons with your eyes closed.
They're backed by numerous user reviews and can become the power player in your cooking, especially if you're preparing tri tips.
If you don't want to mix wood chips from different brands, Camerons offers other flavors too. You'll find many other wood chips, including apple, oak, hickory, mesquite, maple, alder, etc.
Pros:
Decent size

Burns completely

Gives the flavor that isn't too intense

Best for smoking low and slow
Cons:
Need to soak for long time
Oklahoma Joe's Cherry Natural Wood Smoker Chips
Oklahoma Joe's Cherry wood chips are always a good idea when you want a sweet and fruity smoky flavor on your tri tip. The best thing about these chips is you can use them on any food, including fish! They're also all-natural and compatible with multiple bbq methods.
It isn't easy to find wood chips that are compatible with both meat and fish. Oklahoma Joe's cherry wood chips got an advantage over its competitors there. It works just as great with fish as it does with various kinds of meat.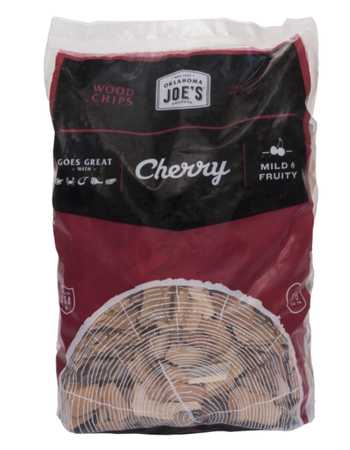 Top Features
All-natural wood chips

Compatible with gas grills

Produces mild fruity flavor

Works in various meat types

Compatible with charcoal grills
---
For your electric smoker, this is one of the best options you can go for. In addition, you can add them to your gas grill or charcoal grill using a smoker box or aluminum foil. It creates smoke and infuses them deep into your food. You can experience the fruity flavor in your food.
Nonetheless, remember that not everyone can bear mild and fruity flavor in their tri tip. If you're someone who prefers robust flavors in their beef, you should avoid using cherry wood chips. There are other options you can go for.
The chips are perfectly cut to fit any shallow wood chip tray. Different smokers may feature different tray shapes, but these chips fit them all without difficulties. You just have to soak the wood chips for about half an hour before putting them inside the smoker.
These chips are made from natural trees. Nonetheless, they contain chemicals to make them suitable for smoking and more efficient for flavors. So, caution should be practiced when used.
Pros:
From natural trees

Small enough to fit the smoker tray

Impart mild smoky flavor to any meat

Budget-friendly price
Cons:
Need to keep the chips airtight to get the best out of it

The pieces are comparatively smaller
Wood Chips Vs Wood Chunks For Smoking Tri Tip
Both wood chips and chunks are great for smoking meat. However, one may have a little advantage over the other when you're smoking a particular meat type.
Let's evaluate the pros and cons first.
The wood chips can add strong, mild, or delicate flavor depending on the type you're using. They burn pretty quickly, which can be both a plus side and a minus side.
You don't need to spend any extra time monitoring those wood chips. They're pretty set once loaded. However, you'll need to reload them from time to time if you're smoking something that takes quite a long time.
As for wood chunks, they burn long and slow. This feature is perfect when you're cooking large portions of meat. Tri tip also turns out amazing when you're using wood chunks.
Another benefit of using wood chunks is that you can use them as a heat source too if you're using a charcoal grill. Mixing them with charcoal is a great idea to control the temperature and create a strong flavor.
To sum up, I'll surely go for wood chunks when I'm smoking a tri tip. However, if you're using a smoker or don't have access to decent wood chunks, it's better to use chips.
Chips will also create great flavors, but you'll need to reload them as needed. Besides, when using charcoal and gas grills, you'll need a smoker box for using those chips.
What To Look Before Buying Wood for Smoking Tri Tip
Several factors determine whether a particular type of wood is suitable for smoking tri tip or not. Let's take a glance at them before buying a pricey pack.
As I said, it's better to go with chunks when smoking tri tip. They're comparatively larger, lasts long, burns slow, and create stunning flavor on almost all meat types.
Something that doesn't take much time to cook, like fish, won't be suitable with wood chunks. In comparison, longer cooking meat like a tri tip would be ideal with chunks. Besides, they'll cost you less.
That doesn't mean that you can't use chips for tri tips. You absolutely can. Nonetheless, if we are comparing effectiveness and efficiency, wood chunks make a lot more sense.
As you already know, there are different types of wood, including oak, mesquite, maple, pecan, oak, apple, etc. These different wood types create different flavors when mixed with meat or fish.
For example, oak is a great choice when it comes to tri tips. They burn long and hot but don't overwhelm the meat with smoke. Hickory also creates a strong smoky flavor on tri tips.
If you don't prefer robust flavors, you can try milder wood like pecan, apple, cherry, etc. Note that apple and cherry give you a fruity flavor that may not blend well with beef. However, if that's what you like, you should definitely go for them.
Another great idea to create innovative smoky flavors is to mix different wood types. For instance, creating a mix using hickory, oak, or pecan can create a flavor that no individual wood can.
Are wood chips better than wood chunks for tri tips?
Wood chunks are more suitable for smoking tri tips because they're large meat portions that take longer to smoke. If you use wood chips, you'll need to reload them because they burn quickly. In comparison, wood chunks burn slowly and long to infuse the flavor inside the meat.
What wood works best with a tri tip?
Pecan, hickory, and oak are some of the best wood chips or chunks for smoking tri tips. Besides, you can mix two of them in equal proportion to create unique flavors. Professional chefs often use this trick to create restaurant foods.
What temperature should I cook my tri tip at?
Tri tips are best when you cook them slow and long. Use 250 degrees F before reaching 125 degrees F. After the meat becomes medium-rare, sear the meat before finishing it off.
Conclusion
So, that's pretty much everything you needed to know about smoking your tri tip with perfection. Remember that wood plays a crucial role in executing the perfect dish, so make sure you select the best wood for smoking tri tip. As long as you're clear with your recipe and have the suitable wood in your bag, nothing can go with your smoked tri tip.