Whenever it comes to please our Thanksgiving guests with the most palatable smoked turkey on the dinner table, we feel the essentiality of the best pellets for smoking turkey.
It's because smoking turkey is quite challenging as it's very lean meat. So, from picking up the turkey as well as pellets and other ingredients to even following the recipe, you need to be careful enough to keep the meat tender while infusing the addictive smoky smack in it.
Every product is independently reviewed and selected by our editors. If you buy something through our links, we may earn an affiliate commission at no extra cost to you.
To help you in this regard, I have handpicked some of the most favorite pellets for your turkey. And essentially, different wood pellets bless the bird with different delicacies. So, you may try different pellets at different times.
5 Best Pellets For Smoking Turkey You Can Go For
With years of experience in smoking turkey, I used lots of wood with different flavors in different forms. For example, wood chunks, chips, pellets, etc. Based on my personal satisfaction as a cook, the following five pellets serve the purpose of smoking a whole turkey the best right now.
Quick Decision-Making Chart
| Key-Features Comparison | Traeger Turkey Blend Pellets | Bear Mountain Wood Pellet | Ol' Hick Cooking Wood Pellets |
| --- | --- | --- | --- |
| Flavor | Amazing Turkey & Wood-Fired Taste | Mild Sweet & Smoky Flavor | Unique Flavors of Bourbon |
| Item Weight | 20 lb | 20 lb | 20 lb |
| Best for | Especially for Turkey With Unmatched Flavor | Poultry, Turkey, Meat, Vegetable & Fish | Turkey, Chicken, Seafood, Beef, Desserts & More |
| The Hallmarks | Quality Material, Versatility, Turkey Flavor, Perfect Smoke | Versatility, Perfect Mixture, Fresh Materials, Rich Perfect Flavor | Premium Material, Versatility, Smooth Flavors, Savory Taste |
| Special Features | Clean Burn & Special Turkey Pellet | Low Moisture & heavy, dense pellets | Bourbon Smell & Outstanding Performance |
| Price | Check on Amazon | Check on Amazon | Check on Amazon |
Let's figure out why they stand out from other regular pellets available in the market!
Traeger Turkey Blend Pellets | Best Traeger Pellets For Turkey
The Traeger Turkey Blend Hardwood Pellets tops this list with a plethora of prime features. This hardwood blend is specially prepared to smoke turkey with a subtle smokey savor.
I bet once you try this out-of-the-ordinary pellet smoker, you cannot but get used to them in any of your BBQ parties.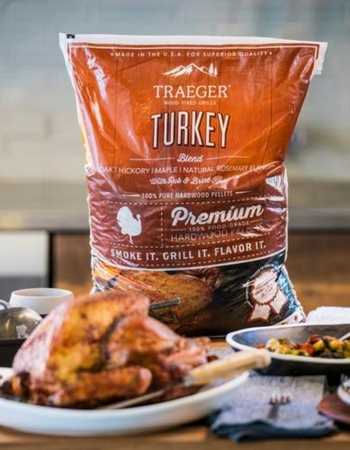 Top Features
Only high-quality materials used

Perfect blend of smokiness and sweetness

Sustainably sourced with years of research

All-natural hardwood pellets, made in the USA

Good for smoking anything including fish, veggies, seafood
| Specifications | Parameters |
| --- | --- |
| Brand | Traeger |
| Product Dimensions | 20 in. x 8.5 in. x 14 in. |
| Flavor | Turkey |
| Weight | 20 Pounds |
| Made in | USA |
Now, go through the detailed discussion on the top features to make an informed purchase.
Fried Flavor
Whether you smoke, roast, grill, or braise your favorite bird, the fantastic fried flavor will always be there to satisfy your tongue. Get your desired smokiness along with the exact sweet smack that comes only with these hardwood pellets. 
No wonder, experts recommend Traeger Turkey Blend as one of the best pellets for smoking turkey that leaves an unforgettable taste on your dishes. You cannot but fall in love with the subtle woody sapor to multiply the turkey's taste.
100% All-Natural
The next big thing about this product is the 100% all-natural preparation. The manufacturers added no fillers or additives to demean the overall quality. So, the exclusive woody flavor comes from 100% pure hardwood.  
The authentic oak, hickory, and maple woods pair up with 100% natural rosemary for imparting the original smokey smack a turkey can produce.
Obviously, your grilled or barbecued bird will let you enjoy a heavenly savoriness with the aid of these non-compromising natural pellets. 
Sustainable Sourcing
As I have used these hardwood blends multiple times, the fact that surprised me is that these are naturally resourced from sustainable sources.
These premium-quality pellets for smoking turkey are sourced from high-quality sawdust of green hardwoods without harvesting any tree.
Consistency in Smoking
Traeger outperforms others by offering the finest pellets that are very well-balanced to produce a clean burn.
On top of that, you can get the perfect blue fume even on the first try. The wood fire is more than dependable to create a subtle smack without overpowering the hardwood flavor in the food. 
Thanks to the finest raw materials, the flame remains consistent throughout the cooking procedure. And the right amount of moisture retains the original taste of turkey as well. 
Careful Construction 
Traeger is a big name in producing the most perfect BBQ pellets, obviously for good reasons. They monitor the whole procedure of preparing these hardwood pellets in American mills to make sure the users get the perfect smoke ever. 
Pros:
Exclusive blend of hardwoods

Imparts the desired smoky flavor

Best pellet for smoking thanksgiving turkey
Cons 
A bit pricey

The packaging could have been better
Also Read: 3 Best Lumberjack Pellets For Smoking Brisket
Bear Mountain All-Natural Maple Wood Pellet 
Second on the list, meet a similar type of smoking pellet from Bear Mountain, a reliable name in the industry. Even if you have never tried smoking your turkey,  don't get nervous. Rest assured that these 100% all-natural wood pellets would astonish you with their high combustion efficacy.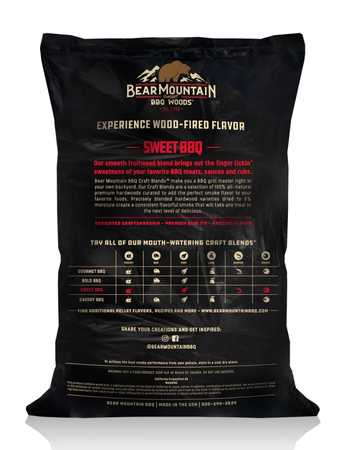 Top Features
Compatible with any outdoor grill

A balanced blending of sweet and smokey flavor

Pairs up well with fish, veggies, poultry, and turkey

Compliments turkey with a great note of tenderness

100% natural maple wood with an enchanting aroma
| Specifications | Parameters |
| --- | --- |
| Brand | Bear Mountain Premium BBQ Woods |
| Dimensions | 14 in. x 4 in. x 20 in. |
| Item Weight | 21 Kilograms |
| Material | Wood |
| Made in | USA |
Like the previous ones, these too are premium-grade hardwood pellets. Rely on these authentic BBQ pellets be it your backyard gathering or outdoor adventure.
Moreover, the mild yet intense sweetness of the high-performance hardwood works wonders to let you prepare a magical meal for your guests.
With a view to helping you decide whether to purchase it or not, let's dig deeper into the key features.
Premium Quality 
These pellets for smoking are high in quality with the balanced blending of natural hardwood. Resultantly, you can create a fine flame without burning your eyes.
All-natural hardwoods are choicely chosen to deliver industry-grade products. No substandard filler is mixed to compromise with the supremacy of these hardwoods.
Compatible 
Another great advantage of these original maple wood blending is that you can use them with any outdoor pellet grill including gas, charcoal, electric, etc.
Whatever the manufacturing company is, they are compatible with all types of smokers or grills to let you cook on a wide range. What a great amenity it is!
Intense Aroma
Being prepared from 100% all-natural maple wood, a mild sweet smack is always there whatever you cook. But that doesn't affect the overall smokiness of your favorite recipe.
Instead, it creates an enchanting aroma along with a strong spicy flavor to make the meal more desirable. The intense savoriness is not overpowering though! 
However, these pellets are also available in oak, hickory, apple, pecan, cherry, alder, and mesquite flavors.
Great Packaging
Being available in both a 20 lbs and a 40 lbs pack, it offers you the luxury to choose the amount based on your requirements. Both the packages are well-maintained and are conveniently carryable to your outdoor spots.
Besides, storing pellets can be much easier than the earlier. Just use a pellet storage container and store them for your next BBQ event.
No Additives 
As already mentioned, these are cautiously picked from natural hardwood. So, rest assured there is no filler, additive, or binder mixed to affect the product quality. As a result, they fire up so easily and create the most desired blue flame so amazingly. 
Furthermore, you can enjoy clean smoke regardless of the long smoking hours.
Pros:
Burns efficiently

Produces a very nice smell

Each bag contains minimum sawdust 

Known for mild yet robust smoky flavor
Cons
Sometimes it takes longer to ignite

Need a lot of pellets to start the fire
A 20 lbs pack of original maple wood is meant to accompany you pretty well when you smoke a big turkey, poultry, or anything of your preferences. Besides, the bag is more than enough if you need long burning hours with consistent flames.
Also Read: Bear Mountain Pellets Vs Lumberjack Pellets
CookinPellets Perfect Mix hardwood Pellet
Just imagine you get a pellet being made of the four basic hardwoods- hickory, apple, cherry, and hard maple. How would your turkey taste with the blend of such all-around woody flavors?
This is exactly what you get from these out-of-the-world premium pellet mixes. In the firewood field, CookinPellets is synonymous with excellence and efficacy.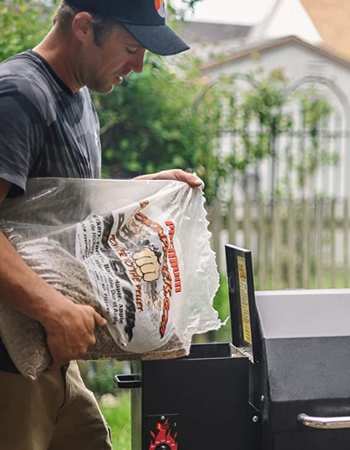 Top Features
100% true to their claims

100% all-natural hardwood

No flavorings, fillers, or additives

Strictly follows the manufacturers' warranty

Adds power to smoking with a perfect mixture
| Specifications | Parameters |
| --- | --- |
| Product Dimensions | 22 in. x 14 in. x 6 in. |
| Item Weight | 40 pounds |
| Flavor Name | Perfect Mix |
They always manufacture high-performing fuel, especially for smoking fish, meat, and veggies.
But this particular package of the four premium hardwoods stands out from all their firewoods proudly presenting an exclusive fruity flavor.
When they say premium hardwoods only, they mean it. Therefore, you will find no mixture of other woods like oak or alder.
Being true to their claims, CookinPellets is currently rocking the BBQ sector with these superior quality hardwood mixes.
Thus it's a perfect mixture of the four premium hardwoods having them in a balanced ratio. Besides, the following specs make them a great deal for turkey smoking.
Perfect Mix
As the name suggests, it's literally a perfect mixture with a balanced proportion of the prime hardwoods. All the pellets come with perfect finishes to start the fire at once.
Besides, the four basic wood flavors create an awesome taste infusing all those mouthwatering essences to the smoked turkey.
Top Four Smoking Woods
This 40 PM perfect mix pellet pack consists of the most popular hardwoods that include hickory, hard maple, apple, and cherry only.
Out of these four flavors, two impart intense smokiness, and the rest two spice up the food with a subtle sweetness. What an amazing smack it creates!
100% Authenticity
You can go for these BBQ pellets with closed eyes. Because CookingPellets never make fake promises. They are very careful about their reputation.
Therefore, the perfect mix comprises no filler woods like oak or alder. Only premium hardwoods of superior quality are used. And they never get back from the warranty they issued if you face any problem with the pellets.
Long Smokes
Only fine wood logs are used to manufacture these fine pellets. No barks, filler woods, or even oil is mixed. Being made of 100% original hickory and other hardwoods, the pellets are meant to produce longer smokes with the ultimate consistency.
You can smoke your big bird for over six hours with a single pack, also you can store these pellets for a long time without losing flavor. Apart from that, they are quite effective for short cooking too.
Grill Cleaning Blocks
CookinPellets presents you with an exclusive feature that no other brands offer. Their grill cleaning block works wonders in cleaning even the worst mess. On top of that, you will smell no chemicals at all, thanks to its all-natural materials.
Pros:
Produce little ash
Gives a very nice smoky flavor
Burns consistently and steadily
Cons
Produces tons of ashes

Pellets are too soft and tiny

Some customers found blue plastic inside
Furthermore, all the pellets are prepared from the hearty woods, with no barks used. As a result, they produce clean and long smokes, be it indoor or outdoor.
Also Read: 7 Best Place To Buy Pellets For Smoker (Online Vs Local Stores)
All-natural Genuine Jim Beam Ol' Hick Cooking Pellets
How about trying an altogether different flavor to spice up your turkey? Then rely on these Jim Beam bourbon barrels smoking pellets and enjoy unlimited roasting, barbecuing, smoking, or grilling. Being available in four different packages, it offers you a chance to seal the deal within your budget.
Moreover, you can use these cooking pellets to flavor your favorite recipes of beef, turkey, poultry, veggies, or even seafood.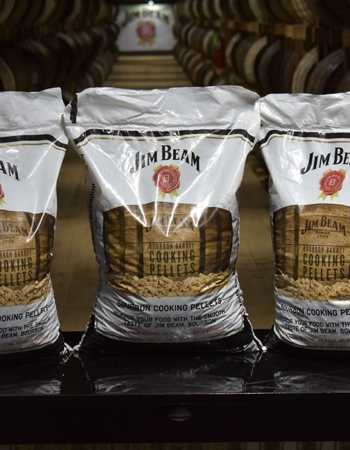 Top Features
Thick and tear-proof bag

No additives or artificial flavors used

Best for BBQing, grilling, braising, smoking, etc.

100% all-natural oak with genuine bourbon flavor

Unique grilling flavor due to the authentic Jim Beam
---
However, the packages include a 20-pound bag in high quality, a 20-pound bag in regular quality, two twenty-pound bags, and one 40 pound bag. According to your smoking requirements, you can choose the package.
As these grilling pellets are made of genuine Jim Beam, the smooth yet enchanting Jim Beam essence pairs up pretty well with your precious taste buds. So, use this exclusive aroma right away at your next BBQ party to please your guests.
However, let's explore what's more these cooking pellets have in store for you.
True Bourbon Flavor
As no flavorings, chemicals, or additives are used in the preparation process, you can enjoy the original bourbon essence when you smoke something with these irresistible pellets. The delicious bourbon tastes better when infused into any lean meat like turkey.
The light smokiness is still there to make the meat flavorful with the hint of genuine bourbon smack.
All-natural Oak
Usually, oak wood is considered to overpower white meats like turkey. But incorporating genuine Jim Beam barrels, these pellets create a nice reddish tint that is truly eye-catching.
Also, the 100% authentic oak infuses a rich smoke inside the food to make the dinner table more appealing.
Tear-resistant Bag
These pellets come in four packages. Resultantly, users are offered a wide range of choices. But the most important convenience is the bag. The bag is pretty well-made, sturdy, thick, and above all, tear-resistant.
Genuine Jim Beam Made
These cooking pellets are made from genuine Jim Beam, resulting in a subtle savouriness in the taste. So, oak doesn't play the sole role here to flavor the food. A profound harmony of both blesses the white meat with an exclusive aroma yet keeps the original taste intact.
Natural Cooking Pellets
Another great advantage of this one of the best pellets for smoking turkey with mouthwatering essence is that the bourbon barrels come straight from Kentucky. After that, they are processed naturally without the use of any artificial flavor.
That's why you get the natural smokey savor no matter what you cook with them. Besides, the flavorful fumes are really fascinating.
Pros:
Burns steadily and leaves very little ash

It produces a light and subtle smoke flavor

Subtle bourbon elements make it the best fit for turkey
Cons:
Produces more ash than expected

The smokiness lacks bourbon smack

Could have been a bit more affordable
BBQR's Delight Pecan BBQ Pellets
Lastly, let's put an end to this review by introducing an extraordinary smoking pellet made of pecan. Although it's on the last spot of this review, it performs pretty well just like the rest four cooking pellets on this list.
BBQR's is a dependable name when it comes to producing quality wood pellets for roasting, grilling, or smoking your favorite dishes. They manufacture high-quality smoking pellets at a very reasonable price.
Moreover, the wide variety of flavors including hickory, pecan, cherry, apple, mesquite, etc. make it a great grab for what it offers.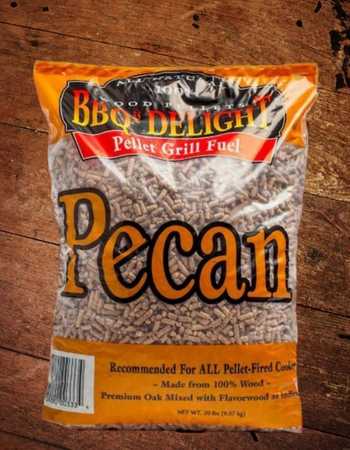 Top Features
Flavorful oak blending

A mild nutty after-taste

Clean and consistent fire

Rich and intense smokiness

Mild and malleable pecan smell
Given the plethora of exclusivities in the cheapest possible price point, these grilling pellets are something you cannot miss out on. Check out the key specifications in more detail below.
Clean and Consistent Flame
A decent mixture of oak pellets makes these smoking pellets more flavorful than any regular pellets for smoking. Not only do they produce plenty of smoke to flavor the food but also the flame remains consistent throughout the whole process.
However, as a smoking fuel, these pellet blends are great to offer clean burning without making many ashes. Above all, thanks to the high BTU, you can reach high temperatures quickly if needed.
Easy to Use
Given high BTU output, you can easily start the fire using a little number of pellets. Moreover, the low-ash output doesn't create a mess around your cooking surfaces.
So, they are quite easy to use. In fact, even beginners can make the best use of these pellets as they are as easy as using BBQ smoking chips.
Mild Flavor
We all know that smoked turkey needs a special kind of treatment which is different from any traditional turkey recipe.
In that case, 100% flavor wood is a bit too much, resulting in a strong woody aroma that reduces the original appeal of the turkey itself. So, BBQR's came up with this unfailing trick to blend it up with oak.
This blending retains the original smokey taste in one hand. On the other hand, it impacts the white meat to be smoked with a magical mild sapor. So, it's a win-win situation both for the manufacturers and the users.
Enchanting Essence
Once you enjoy the palatable smokey smack in your turkey smoked with this flavor wood blend, you will go for the second bag, for sure. You can even smoke red meats with this balanced oak and flavor wood mixture.
However, the perfect amount of smoke spices up your smoking game keeping the authentic Turkish appeal intact, of course.
Pros:
Easy to store

leaves very little ash

Imparts a great smoky flavor

Ensures enough smoke for turkey
Cons
Overpowering if fares up high

Leaves residue over the meats
Among the plethora of flavors, pecan is particularly my favorite, for some specific reasons, of course. Not only does it allow you to smoke for a longer period but also the flame is up to the mark.
Besides, you can also afford it with a shoestring budget. What more do you want to make your smoked turkey more appealing?
What To Look For Before Buying Wood Pellets For Smoking Turkey
After reviewing the five best smoking pellets for turkey, what's your thought about the top-rated wood pellets? What makes them better than any regular wood chunks or chips?
Didn't notice yet? No worries, use the following features as a quick checklist to pick the best wood pellets to smoke a decent turkey.
Flavor
As turkey is light meat unlike red meats, you should choose the wood flavor carefully. In spite of 100% flavor wood, a subtle symposium of flavor wood with fillers like oak or alder would make the meat taste better. Besides, the smokiness would not ruin the authentic tenderness of the original turkey.
Pecan or cherry also impacts the smoked turkey in a great way.
Hardwood
In a timeless debate between hardwood and softwood, hardwood wins the race by producing pure smoke flavor with a more consistent flame. As smoking a turkey demands long cooking hours, a stable temperature is an absolute must to infuse the fume. So, go for 100% hardwood like CookingPellets.
Quality
Usually, pellets are more preferable when they are prepared from heartwood. Being manufactured from barks results in junks and ashes. Moreover, the ignition takes a long time. So, be sure to invest in wood pellets that are made of 100% authentic hardwoods.
All-Natural Wood
Most pellets are a mixture of hardwoods and additives. But that should not be the case if you want a genuine smokey smack in your BBQued turkey. Chemicals, flavorings, and fillers affect the original rich smokey flavor.
So, try choosing all-natural wood pellets to smoke a turkey in a more flavorful way.
A Few Exclusive Tips For Smoking Turkey With Pellets
Apart from choosing the right wood pellets, you need to focus on a few more things to smoke a turkey perfectly. Below, I have listed some exclusive tips in this regard.
As larger turkeys dry out quickly, I prefer using two small turkeys if I need a lot of meat to smoke. You can smoke at best a 15-pound turkey at a time.

Never forget to brine the bird before cooking. Brining makes the meat juicier and more tender.

You can use pellets that come

with a brining container

. Take a gallon of water, half cup of sugar, and half cup of salt to make the solution. Then soak the turkey entirely into that solution.

Don't forget to clean the bird thoroughly after brining. After several washes with cold water, use a kitchen towel to dry it out.

Do not stuff your turkey with so many items. This will only make the cooking slower. Instead, cook the stuffing separately.

Have patience while smoking a whole bird. Certainly, it will take time. But concentrate on the temperature more than time. Usually, a turkey needs 40-45 minutes to be cooked per pound.

I always preheat the pellet grill before smoking turkey. This infuses the fume better.

In case you buy a frozen bird, let it defrost first leaving it in the normal refrigerator for two/three days.

To maintain the temperature consistency, you can use a thermometer. Trust me, it works great.
Don't remove the lid in the middle of cooking. This will make both the heat and smoke escape. Leave the smoked bird for at least 15 minutes before serving.
What Kind Of Pellet To Smoke A Turkey
You can smoke a turkey with all kinds of wood pellets. But what makes the best result? Which flavor actually goes the best with this light white meat?
Usually, maple, cherry, hickory, pecan, etc. are best known to smoke a turkey with irresistible flavors. You can use oak and apple as well. Let's explore what kind of wood pellets impart which flavor.
Maple- If you want to create a rich golden tint over your smoked turkey, maple could be the best bet. Besides, a subtle sweet smack compliments the bird meat with a hint of floral flavor.
Cherry- Being 100% authentic hardwood, Cherry is one of the best choices that make top-quality pellets for smoking. As turkey meat is mild and gentle, it should be impacted with a deep smokey aroma of Cherry. Furthermore, you cannot avoid the deep red tint created by Cherry that is way more appealing.
Hickory- Want to serve the guest with magnificently malleable turkeys? Rely on hickory wood pellets to infuse a rich smokey essence with an inviting outlook. But you need to make sure you can create the right amount of smoke for the best result.
Oak- Oak pellets are versatile in their own way with a wooden aroma. The hearty flavor they impart makes a turkey taste way better than a traditionally roasted one. You can use oak pellets mixed with other hardwoods as well.
Apple- If you want a mild smoky flavor with a hint of fruity aroma, apple pellets should be your pick. These are particularly best for beginners without imparting any strong smack. But you need to make it slow to infuse the exact fruity flavor.
Conclusion
Smoking white meat seems to be easier. But actually, it isn't. It needs a lot of effort and patience to master smoking meats, especially lean meats like turkey. 
So, deciding on the best pellets for smoking turkey is even more confusing. But nothing can hold you back if you make a wise purchase. In this regard, you can try out any of the abovementioned five wood pellets. Rest assured, you are going to surprise your dinner guests with an appealing smokey aroma.