Among the top-rated smoking pellets, both Lumberjack and Bear Mountain stand out from the rest for their amazing aromatic extract and superior smoking capabilities. 
But who wins over whom if we draw a head-to-head comparison between these two?
Although both the pellets are highly recommended by expert pitmasters, while choosing one, you should focus on the flavor, burn rate, pellet composition, ash buildup, and many more to get the best value for the money.
So, let's have a fair fight between Bear Mountain Pellets Vs Lumberjack to decide on the race winner.
Every product is independently reviewed and selected by our editors. If you buy something through our links, we may earn an affiliate commission at no extra cost to you.
"The right smoking pellets are the unsung heroes of BBQ, quietly imparting incredible flavor that transforms your dish into a masterpiece."

Team Topcellent
Bear Mountain Pellets Vs Lumberjack Pellets – Quick Overview
When these two renowned wood pellet makers are competing with each other, it's very important to have a quick overview of both. 
| Key Features | Bear Mountain Pellets | Lumberjack Pellets |
| --- | --- | --- |
| Top Pick | Gourmet Blend Pellets | Competition Blend Pellets |
| Weight | 40 lbs | 20 lbs |
| Scent | Gourmet Blend | Competition Blend |
| Available Flavor | 10 | 3 |
| The Hallmarks | Versatility, Longevity, Low moisture, Balanced flavor, All-natural & Compatibility | Mixed flavor, Longevity, Smaller diameter, Hotter burn, Fruity flavor & Easy to use |
| Price | Check on Amazon | Check on Amazon |
Having said that, Bear Mountain is a prominent name in this field over the past 30 years. So, they are incomparable for their enormous experience in making top-tier smoking pellets. 
Rest assured that all their products are prepared with the highest concern with all-natural ingredients only. No filler, no fake flavor, no chemical.
Also, Bear Mountain outplays other pellet makers by offering a wide array of wood pellets in different flavors. It suffices the needs of all ranges of pitmasters, novice to pro.
Being made with pressed sawdust, the 100% hardwood pellets contain low moisture. 
Resultantly, they heat the pellet grill or smoker faster and deliver an even heat flow. Only 5% moisture in the pellets helps them win the hearts of the BBQ lovers due to their ease of use.
Most importantly, they do not include any binder or bark. That's why it's easier to reach maximum temperature quickly and they produce less ash buildup by the end of grilling or smoking.
Talking of the Lumberjack, they are also a leading wood pellet manufacturer. With years of experience, they do overpower Bear Mountain in some ways. 
For example, they keep the cambium layer while making wood pellets. And we all know that this cambium layer, mostly known as the outer layer or bark contains most of the flavor of hardwoods. 
That makes a huge difference in pleasing your tastebuds. Be it a beginner or a pro, everybody wants that authentic smokiness in their food, right? And that mostly lies in the bark, not in the core.
Aside from that, LJ pellets are also popular as they only pick high-quality wood chips, with no residual sawdust or any other by-products. 
Similar to Bear Mountain, they also produce 100% pure wood pellets only. But due to the bark, LJ pellets produce more amount of ash compared to the BM ones. That definitely counts as a minus. 
But in terms of authentic smoky aroma, they indeed win the battle by offering exceptional savoriness in anything you prepare. 
Though Bear Mountain wood pellets are not far away in the race. If we go through the Bear Mountain BBQ pellets review, it is evident that they also provide a deep smoky smack in your dish.
In fact, their refined pellet-making process is truly commendable.
However, both pellets are USA-made, and thus, both give each other a hard competition in terms of quality control. Budget becomes the deciding factor then.
So, let's compare one top pick from each brand to learn more in this regard.
Gourmet Blend Pellets – Top Pick From Bear Mountain
Let's start the battle with Bear Mountain. To figure out how this fan's favorite pellets perform for smoking fish, meat, or veggies, we will break down their striking features first.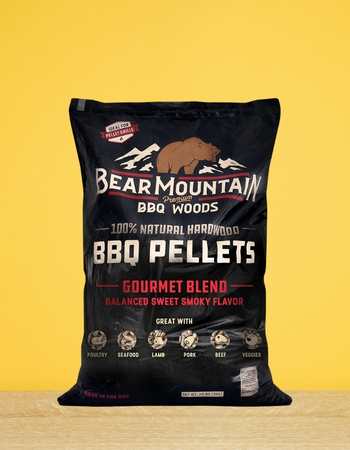 Top Features
Offers a sweet smoky flavor

Suitable for all types of grills

Made of 100% all-natural hardwood

Infuses a well-balanced essence into food

Includes no additives, fillers, or artificial flavors
---
Expecting your favorite people at the dinner table? Then shouldn't you prepare something great to surprise them?
We have a suggestion. Why not try this outstanding pellet pack from Bear Mountain to smoke your favorite, beef, chicken, or seafood? Worried about the outcome? Okay, we guarantee that the exceptional smoky aroma will leave the guests awestruck.
But what makes the pellets so pleasant? Let's try to find that out!
First thing first, they are made of 100% natural hardwood, that too in their finest quality. No substandard wood chunk is included here to affect the aroma.
Secondly, you can 100% trust the brand for maintaining health standards. The top-notch quality control is what made Bear Mountain so reliable, we guess.
Rest assured that these premium wood pellets add no filler, binder, artificial aroma, or wood oil.
Talking of the subtly sweet flavor, this all-natural hardwood gourmet blend pellet pack offers the best BBQ flavor ever with a traditional smoky essence.
Moreover, they are compatible with any type of grill of any brand. Be it a gas grill or a pellet smoker, that doesn't affect its superior smokiness to be infused into the meal.
Most importantly, it delivers a well-balanced taste to make the dish more delicious. You will experience a different level of delicacy with the perfect gourmet extract.
And being outdoor-friendly, they come either in a 20 lbs or a 40 lbs bag. So, you can easily carry them anywhere.
Finally, you will be blown away by the amount of smoke it delivers. Having been formed with low moisture, it burns cleaner than average wood pellets providing low ash build-up.
If you are looking for the best pellet for smoking turkey, beef, chicken, poultry, seafood, veggies, or something else, get this flavor-enriched pellet pack to enjoy a 100% authentic wooden aroma.
That surely seals the deal for any BBB pellets out there, what do you say?
Pros
An exclusive gourmet essence

100% authentic wooden flavor

Easy to carry with the 20/40 lbs bag

A great balance of sweetness and smokiness

Delivers cleaner burn as they contain low moisture
Cons
A bit challenging to ignite
Competition Blend Pellets – Top Pick From Lumber Jack
Moving forward to the Lumberjack BBQ pellets, we would like to introduce their most popular product, the competition blend pellets. Combining three leading hardwoods of all time for smoking meats, it offers an addictive essence altogether.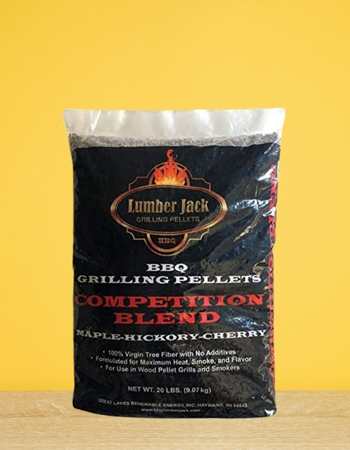 Top Features 
100% natural wood

Comes in a 20 lbs bag

Delivers a decent amount of smoke

Infuses a tinge of fruity flavor into food

A balanced blending of hickory, cherry, and maple
---
Looking for the best Lumberjack pellets for brisket? Congratulations, you have got your pick. 
Having delivered sufficient heat and smoke, these are the pellets you need for a low and slow cooking process like smoking a brisket. It is also suitable for grilling fish, meat, veggies, or seafood keeping the tenderness of the food alive.
Thanks to the high heat production capacity, you can enjoy your desired dish with the expected wooden aroma. The enchanting essence not only pleases your tastebuds to the fullest but also works as an appetizer. 
Whether you are smoking red meat or white meat, put your faith in these irresistible BBQ smoking pellets to get the best extract ever. 
Actually, these wood pellets differ from others in taste as they include the tree bark while being manufactured. 
As we all know, tree barks are the most flavorsome areas of hardwoods, and therefore, you get to taste the most toothsome meal ever with these 100% virgin pellet blends.
And delivering adequate heat and smoke, it eliminates the risk of overcooking or undercooking. You can evenly smoke a turkey, poultry, brisket, or any of your favorite seafood.
Having said that, the hotter they burn, the more perfect a smoke ring they create on the food. No wonder, this is considered the most effective wood pellet of LJ.
The 20 lbs pack boasts a proportionate blending of the three kinds of wood- hickory, maple, and cherry. All wood pellets are carefully collected and prepared to last a lifetime. 
Yes, they don't have a definite shelf life. As long as they don't encounter moisture, all their integrity will remain intact. That's what counts as the USP of these smoking pellets. 
Just be careful to store them properly. You can rely on the wood pellets storage containers to keep them dry. 
Overall, they are the best pellets if you prefer a subtle hickory hint in your dish along with a natural woody essence. 
Pros
No expiry date

Burns hotter to cook faster

Perfect for a bold BBQ flavor

No fillers, additives, or chemical flavors

Made of premium-quality natural wood
Cons
More ash buildup

Burns very quickly
What Are The Differences 
Upon comparing these two high-quality wood pellets from the two leading brands, let's see what disparities we find.
Ash Build Up
The first point that makes them different from each other is the ash build-up. As the LJ includes tree barks, naturally, it delivers a large amount of ash.
But due to less ash leftover, Bear Mountain wins the race by making after-cleaning a breeze.
Cost
What do you see from the reviews above? One comes in a 20-pound pack and the other is a 40. But in a similar price range. Who is the winner then?
So, it's evident that Bear Mountain Gourmet Blend pellets come more budget-friendly. 
Packaging
Both the brands are well-received among the grill masters for their extraordinary packaging quality. But when it comes to quantity, Bear Mountain gives you the option to choose either the 20-pound or the 40-pound pack.
On the contrary, LJ comes only in a 20-pound pack. Although it's easier to handle.
Flavor
Both the BBQ pellets differ in flavor as well. The Lumberjack competition blend is a bit more favorite among BBQ lovers for its flavorful aroma. 
Having included the cambium layer of the all-natural tree fiber, they deliver a wholesome savor. Besides, the subtle hint of hickory retains the authentic woody smack altogether. 
On the other hand, the gourmet blend from BM is a bit sweet in taste. Though it adds an exclusive gusto to the meal, some people might find it a bit eccentric. 
Burn Rate
From first-hand user experience, we can say that the LJ pellets burn quicker than the BM ones, and thus you will finish the same amount of these pellets faster than Bear Mountain.
What Are The Similarities 
Despite having the differences, they have some similarities too to satisfy the BBQers. After all, they both are meant to make your grilling experience better. Let's check out the resemblances below.
Compatibility 
First of all, both BBQ pellets suit any type of grill or smoker, be it gas, electric, or charcoal. You can use these famous wood pellets to smoke with any smoker/grill from any brand.
Authenticity
Both LJ and BM pick the finest wood blends to manufacture these two premium pellet packs. They both include all-natural wood, with no filler or binder added. 
Most importantly, you will find no artificial scent or additive which ensures the authenticity of both the products. 
Smoke
As we disclosed earlier, these two are top-rated wood pellet brands. That's why they leave no stone unturned to offer more and more smoke while cooking. After all, the more smoke a pellet delivers, the more flavorful the dish tastes. 
Burning hot and clean, these two leading BBQ pellets offer an addictive smokiness overall.
Made in the USA
Both Lumberjack and Bear Mountain are USA-based brands that manufacture their wood pellets with ultimate perfection. From collecting hardwood to preparing them with low moisture, the whole process takes place in the USA maintaining absolute health standards.
Regardless of which pellet you choose for your next BBQ, it will create no health issues at all.
How Are Lumberjack Pellets Made
We all know how popular Lumberjack pellets are for their awesome aroma and wholesome flavor among the BBQ aficionados. But how are they made so flavorful?
With the rich bark-on wood chips, of course. Being mixed with the de-barked Oak, all the hardwood blends are balanced equally to maintain a mouthwatering gusto. 
Thanks to the de-barked Oak, the pellets burn hotter and provide consistent temperature flow for an even cook. Besides, the bark left on extracts the best flavor from the wood.
Best Place To Buy Lumberjack Pellets
If you want to buy LJ pellets online, Amazon is the safest option we guess. And for in-store shopping, go to the Lumberjack Retailer website and you can find your closest retailer shop by typing your zip code there.
Are Bear Mountain Good pellets?
Yes, absolutely. Not only good, but they are also one of the best BBQ pellets on the market right now.
Are Bear Mountain pellets made from real wood?
Of course, they are made of all-natural wood excluding any filler or binder.
Where are Bear Mountain pellets made?
They are carefully made in the USA with ultimate quality control.
Can Bear Mountain pellets be used in a Traeger?
Absolutely yes. You can use them with any brand's smoker or grill including Traeger. 
Can you use Bear Mountain pellets in a pit boss smoker?
Why not? As we said, they are compatible with any outdoor grill or smoker out there.
Are Lumberjack pellets real wood?
Yes, they are made from 100% virgin tree fiber. 
Who makes Lumberjack wood pellets?
GLRE Great Lakes Renewable Energy, lnc makes Lumberjack wood pellets.
Conclusion
That's it, guys. Hopefully, you are now fully armed with the information above to choose the best pick between Bear Mountain Pellets Vs Lumberjack.
Truth be told, they are quite similar in terms of quality control, smoke production, and composition. 
But upon reviewing the two hotcakes from these two major wood pellet brands, it's evident that the Bear Mountain wins over the LJ in quantity for the same price.
However, the Lumberjack is no less though. It offers a distinctive smoky smack including the real tree bark in the production. 
Now it's your call to choose. If you love a bold BBQ taste, go for the competition blend from LJ.
And if you want more pellets for the same price, certainly the gourmet blend from BM is the clear winner.