Not getting the expected flavor in your recent BBQs? Chances are, you should change your wood pellets. 
Although a flavorful dish depends on many things while smoking, grilling, or barbecuing, such as pellet smokers, meat type and size, etc. But when you are smoking a brisket, the quality of wood pellets can make the difference.
Nowadays, Lumberjack wood pellets are quite popular among grillers for their amazing flavors, consistent heat flow, and convenient burn quality. 
Saying that, let's check out the three best Lumberjack pellets for brisket below to see how they perform.
Every product is independently reviewed and selected by our editors. If you buy something through our links, we may earn an affiliate commission at no extra cost to you.
"When it's all about that smoky perfection, Lumberjack pellets are the secret ingredient that elevates your brisket from ordinary to extraordinary."

Team Topcellent
3 Best Lumberjack Pellets For Brisket You Can Try Today
As Lumberjack pellets provide more fire and smoke, they let the smack get infused into the food thoroughly. Among its top-rated smoking pellets, the following three stand out by offering a different level of delicacy while smoking a brisket. 
Let's get into the detailed review with all their positives and negatives. 
LumberJack Competition Blend Pellets
First, let's talk about the most popular production by Lumberjack, their competition blend pellets for BBQ. You can use it with any pellet smoker and grill. That being said, let's break down its core specifications below.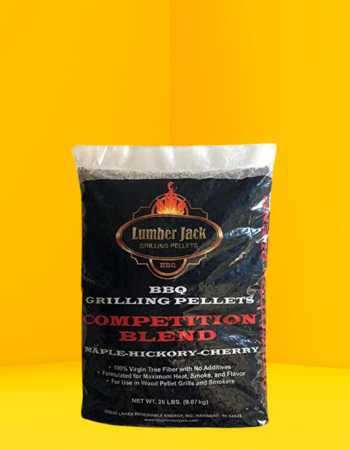 Top Features
No additives used

Comes in a 20 lbs packet

Made of 100% virgin tree fiber

Provides maximum heat and smoke

A balanced blending of hickory, cherry, and maple wood
| Specifications | Parameters |
| --- | --- |
| Brand | Lumber Jack |
| Material | Wood |
| Flavor | Cherry, Maple, Hickory |
| Item Weight | 9 Kilograms |
If you prefer a fantastic flavor while smoking brisket, look no further and get a pack of competition blends from Lumberjack.
Aside from providing the maximum heat and smoke, you will also get to enjoy the most flavorful meat ever.
Coming in a 20 lbs pack, it offers plenty of wood pellets to smoke anything you want. Besides, it will create a wonderful smoke ring too. 
And when they say wood pellets, they actually mean it. All their pellets are carefully collected from real trees, not just residual wood used here.
In fact, Lumberjack prepared these pellets using tree bark and cambium layer, the most flavorful areas of a tree. 
This article on bear mountain pellets vs lumberjack pellets shows the other in-depth features and benefits that will surely impress you.
Compared to the contemporary wood chunks, these are smaller in diameter. But that doesn't stop them from burning hotter and delivering more smoke. 
On top of that, all the three kinds of wood, maple, hickory, and cherry are perfectly blended in this package to create an exclusive fruity flavor that you have never experienced. 
Above all, a subtle hint of hickory puts the cherry on the top by adding an awesome gusto to the meal.
What's more surprising is that these wood pellets have no expiry date as long as you keep them dry. Once encountered with moisture, they will naturally expand and lose their integrity. That's why always store them in a dry place and use them as long as you want.
But you need to handle them carefully to enjoy the indefinite shelf life. Because rough handling can also damage their density. So, watch out!
Overall, this is one of the best blends by Lumberjack to compliment your brisket with a super savory smack.
Pros
No limited shelf life

Top-notch quality control

Infuses delicious flavor into the meal

Creates a sufficient amount of smoke

Made in the USA with premium wood
Cons
Burns a bit quickly 

Provides too much ash
"The importance of choosing Lumberjack pellets for your brisket is simple—it's the difference between good BBQ and unforgettable BBQ."

Team Topcellent
LumberJack Hickory Pellets
Next, let's move on to the Lumberjack 100% hickory is one of the best pellets for smoking turkey, brisket and ribs. But why so? What makes them so great among loads of other smoking pellets out there? Let's check that out below.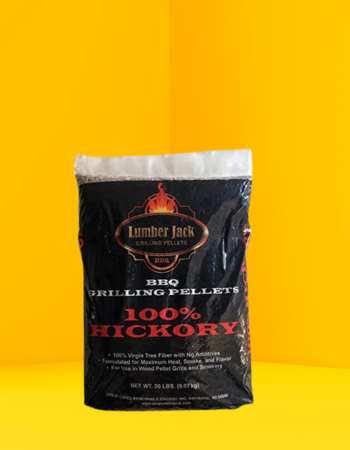 Top Features
No cheap filler wood included  

Lasts quite long if handled properly

Made of 100% original hickory wood

Suitable for any pellet smoker or grill

Offers an awesome hickory flavor to make the dish more palatable
---
To be honest, it's a great hickory pellet overall considering the savoriness it offers. Moreover, the pellets deliver maximum heat and smoke to cook the brisket evenly. 
Whether you cook the whole brisket or the brisket in half, rest assured that you are going to enjoy the same smoky smack, thanks to the flavorful hickory blend without any additives. 
That being said, as the package doesn't include any additives, oils, or cheap wood filler, the 20lbs pack offers the best bang for your bucks.  
On the same note, they are completely healthy as well. Especially, if you are a novice pitmaster, hickory is quite a good choice to start your grilling journey. Being a favorable hardwood, it helps anyone to achieve their desired smell and smack whatever they smoke.
That's where Lumberjack appears as a power player by manufacturing the best hickory blend in the market in terms of quality, cost, and taste.
Similar to other LJ pellets, these are collected from real trees too. And being carefully packaged in the USA, they leave no room to complain about the quality control.
As they burn very hot, you will get a great amount of smoke within a very short time. Although that indicates that the pellets will burn quickly. 
But considering the flavorful essence it delivers, that doesn't count as a deal-breaker.
In addition, once you taste its toothsome hickory hint, you will no longer use any other pellets other than Lumberjack. Yes, they make your meals that savory! 
Pros
Pretty easy to use

Very reasonable price range

Offers authentic hickory flavor 

No additives or chemicals used

An impressive amount of smoke
Cons
But keeping this minor flaw aside, we highly recommend this all-natural hickory pack to smoke your brisket beautifully. 
LumberJack Oak BBQ Pellets
Third, on the lineup, we have the oak pellets from Lumberjack, one of their best seller products for smoking, grilling, or barbecuing.
Similar to the previous two pellets, this too is prepared carefully maintaining all the health and quality control standards. Resultantly, it doesn't include any artificial scent, chemical, or additive. 
Besides, it offers maximum smoke with minimum wood pellets to cut the plethora of expenses a regular BBQer has to bear.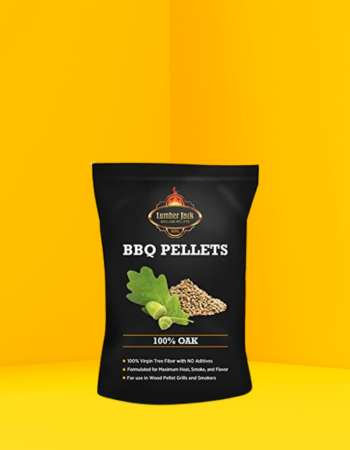 Top Features
Very easy to carry

Comes in a 20 lbs bag

Made of 100% pure oak wood

Compatible with all pellet grills and smokers

All-natural wood pellets without any additives
| Specifications | Parameters |
| --- | --- |
| Brand | Lumber Jack |
| Material | Oak |
| Item Weight | 20 Pounds |
| Made in | USA |
What makes them stand apart from other oak pellets is the use of tree barks, usually, where the most flavor exists. When you are grilling a big turkey or smoking a fairly large share of brisket, the bark produces an enchanting aroma around. 
That's why people love these pellets unconditionally.
For your information, these are made of red oaks, one of the most famous wood pellets for smoking brisket and turkey keeping the tenderness intact.
But will it equally work to cook a  beef brisket evenly? Hell yes, in fact, better than many regular wood junks in the name of premium oak pellets. 
What we liked the most about this 20 lbs pack is that it's exceptionally easy to carry. So, be it an outdoor tour or a backyard party, you can effortlessly carry them.
Another great advantage of this pellet is the consistent burning. Therefore, you get a balanced heat flow throughout which plays a vital role to decide how good the smoked brisket will taste. 
Generally, most of the oak pellets in the market are basically a mixture of hardwood with oak. 
But these pellets are labeled as absolutely virgin oakwood and they prove what they claim. Once you taste the addictive aroma, surely you will fall for this pack.
However, it's a bit pricey compared to other brands. But as they burn fully without any jam-ups, it deserves the extra bucks, we guess. What do you say?
Pros
Offers a consistent heat flow

Burns clean producing less ash

Burns fully, and therefore, lasts longer

Includes the tree bark for better flavor

Made of virgin oak woods with no mixture
Cons
A bit expensive 

It burns a bit quicker
Why Lumberjack Pellets For Brisket?
Truth be told, Lumberjack pellets are ruling the pellet smoking field, for good reasons obviously. But why are they so popular among BBQ lovers? Let's explore! 
Well, first of all, they are made of 100% wood collected from real trees. Resultantly, they deliver a pleasant smoky scent in everything you cook, be it fish, chicken, or beef.
And due to the inclusion of the metabolites or cambium layer, the best flavor-enriched portion of a tree, LJ pellet blends outperform others in terms of producing a natural wooden gusto.
That means Lumberjack collects the flavorful barks of the trees to provide effective BBQ pellets creating a perfect smoke ring and an addictive smoky smell. 
If you need to please your taste buds the best, use LJ wood pellets. Because, they assure the authenticity of whatever wood you choose to smoke with, hickory, oak, or pecan. 
Furthermore, Lumberjack is available in almost all the wooden flavors used for smoking. Their wide variety of flavorful pellets lets you enjoy different delicacies such as hickory, cherry, maple, apple, oak, or pecan.
Also, they blend some amazing pellets together to satisfy those who prefer versatile flavor in one dish. For example, their Competition Blend Pellets combine maple, hickory, and cherry perfectly.  
And this kind of combination comes as a rescue for beginners who cannot decide which pellets they should go for.
Compared to other brands, LJ pellets produce more smoke and heat for a consistent grilling experience that is particularly needed to grill a whole brisket.
Resultantly, they have become the yardstick by which all other wood pellets' performances are measured.
How Much Lumberjack Pellets Need For Smoking Brisket
Usually, pellet smokers burn 1-3 pounds of wood pellets in one hour. That means a 20-pound pellet bag from Lumberjack would last for 6-20 hours while smoking. 
But that's not all. To decide how many LJ pellets you need to smoke a brisket, you should analyze some other factors as well. 
Of course, the making of the smoker, grill setting, pellet quality,  ambient temperature, etc. also matter to decide the burn rate per hour. 
But aside from everything, the brisket size does matter the most. As smoking is a low and slow cooking process, you can assume that it will burn one pound pellet every two hours. 
So, you should go for two pounds of LJ pellets for one pound of meat. Hope this ratio would help smoke the entire brisket evenly. 
A Beginner Guide To Use Lumberjack Pellets For Smoking Brisket
To reap most of the benefits out of LJ wood pellets, you must know how to use them correctly. Having said that, we came up with a detailed guide to smoking with these superior pellets properly. 
First, you need to prepare the brisket by trimming the fat before smoking. Then cut it according to your preferred size. Then season it with your favorite rub, wrap it carefully, and let it rest in the refrigerator for 12-24 hours.
Now, fill the pellet smoker tray with your favorite LJ pellets. Don't have a tray? No worries, you can use heavy-duty aluminum foil too. Create a pouch of the foil by folding it. 
Add ⅓ cup of LJ BBQ pellets to that pouch. Please remember to leave enough space inside to inflate it and then seal it. Making a small hole by the side of the pouch will let the smoke come out when heated.
Once your grill/smoker is prepared by being preheated, place the brisket on it keeping the fat side down, and smoke it approximately for eight hours(based on the size).
Now, take it out and wrap it with good-quality butcher paper, place a probe thermometer into the center position of the flat, and smoke for an additional 3-4 hours. At this point, you should keep the smoker at a 250-degree temperature. 
When the internal temperature is 200 degrees, remove the brisket from the grill grate and let the brisket rest in a cooler. 
Finally, slice the brisket against the grain and serve.
Trust me, every bite will remind you of the super savory smack of the all-natural LJ BBQ pellets.
Hickory Or Oak Lumberjack Pellets – Which Suits Best For Brisket
Umm, this depends actually. For shoes or clothes, we see that one size doesn't fit all. Similarly, different people have different taste buds and they prefer different flavors. 
So, you cannot say which works for whom, particularly when you are smoking a brisket.
But one thing is sure, hickory offers a robust hardwood flavor which makes the meat have a strong wooden essence. 
So, if you prefer a bold BBQued brisket, go for it.
On the other hand, if you prefer a lighter flavor in your brisket, oak is a better selection. It infuses a medium wooden aroma with addictive smokiness. 
Being milder than hickory and stronger than apple or cherry, oak pellets are one of the best-selling BBQ pellets of Lumberjack.
How To Store Lumberjack Pellets 
As already discussed, LJ pellets are affected by moisture. So, you should store them in a low humidity environment. Because a high humility ambiance could make them absorb moisture and that could affect their heat output.
Therefore, the manufacturers always suggest storing the pellets indoors, that too within moisture-proof containers.
For instance, you could keep them in a garage or basement locking them in an airtight container.  
Even if you need to store them outdoors, be sure that the carrying bag is sealed properly
within a water-tight plastic or metal box.
And the wood pellet storage containers should preserve the freshness and density of the BBQ pellets. 
Usually, keeping Lumberjack pellets within a food-grade plastic container retains their flavor and integrity to the fullest.
Conclusion
To wrap up, all we can say is that if you aim at getting a full-flavored wooden aroma in your next BBQ, no other wood pellets could match the quality of LJ.
If you are a beginner and wondering which LJ pellets will serve your purpose better, hopefully, this researchful guide on the best lumberjack pellets for brisket would help you decide on your pick.
For a bold hardwood flavor, you can use 100% hickory pellets.  But if you prefer milder essence, blend it with oak, cherry, maple, etc. In that case, the LJ competition blend is a great choice overall.
Have you tried any of the above to spice up your brisket? Don't forget to share by commenting below.