Traeger has been one of the most well-known brands in the pellet grill world. Their reputation definitely precedes them as the Pro series of grills have been the best-selling one in the entire world.
Every product is independently reviewed and selected by our editors. If you buy something through our links, we may earn an affiliate commission at no extra cost to you.
However, with the introduction of their new Ironwood models, it has become more confusing than ever to pick one from their prestigious line-up of products. 
If you want the bigger one of the two sizes available, you WILL be torn between the Pro 780 and Ironwood 885. So Traeger Pro 780 vs Ironwood 885, which one is right for you?
Let's find out – 
Traeger Pro 780 Vs Ironwood 885 – Quick Comparison
Let me just start by stating the fact that both the Pro and Ironwood series from Traeger are fantastic pellet grills and will give you absolutely unmatched taste no matter what you decide to cook in them. 
| Key Features | Pro Series 780 | Ironwood 885 |
| --- | --- | --- |
| Item Dimensions | 48.7 x 26.7 x 54.4 inches | 53 x 27 x 47 inches |
| Item Weight | 145 Pounds | 175 Pounds |
| Available Color | Bronze & Black | Black |
| Cooking Space | 780 sq in | 885 sq in |
| Hopper Capacity | 18 lb | 20 lb |
| Power Source | Electric and Woodburning | Wood Pellet |
| Double Side-Wall Insulation | No | Yes |
| Traeger Downdraft Exhaust System | No | Yes |
| The Hallmarks | 6-in-1 versatility, Precise temp control, WiFIRE technology, Heats up faster & Better quality smoke | Large cooking space, High quality built material, Advance technology, Built-in meat probe & Easy to use |
| Price | Check on Amazon | Check on Amazon |
The numbers in the names basically stand for the internal grilling space as the Ironwood sports 885 square inches and the Pro is capped at 780 square inches.
The differences between these two products boil down to the feature sets available. The Pro comes only with the most basic features and it will not have many knobs and dials to confuse you. Just set it and forget it.
On the other hand, the Ironwood 885, on top of all the basic features the Pro 780 has, comes with extras like Downdraft Exhaust, True Convection, Keep Warm, SuperSmoke, and Double Walled Insulation. 
To know more about what each of these individual features does, check out my in depth analysis section.
Aside from these differences, everything else that makes a Traeger grill, a Traeger Grill is available on both these models. That includes the same DC Drivetrain, Magnetic Hopper clean-out door, WiFIRE technology, and storage compartment for pellets and hooks for accessories.
So the naming scheme is pretty confusing here as the Pro series is the one that lacks more "Pro" features. However, for a newbie to the world of pellet grilling, the Pro series is definitely the better choice as it will give you fewer chances of being confused.
Also Read: Traeger Ironwood 650 vs Pro 575: Which Grill Is Right for You?
Traeger Pro Series 780 Pellet Grill In Detail
The Pro series of grills from Traeger has been a market leader ever since its inception. However, Traeger has not rested on their laurel and redesigned the whole series very recently and it's all upgrades.
With this Pro Series, smoking, grilling, or BBQ is as simple as Traeger puts it to be, "Set it & Forget it". You are only going to have the best experience with their proprietary technology of a D2 drivetrain that delivers pellets to the firepot automatically. 
You can place it up to get the grill lit faster or you can turn the knob way down for a slower and more relaxed experience.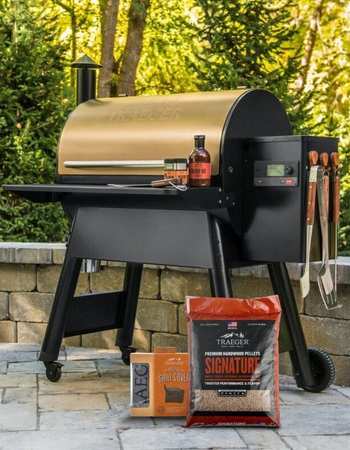 Top Features
Included Porcelain Grill Grates

780 Square Inches of Grilling area

D2 Drivetrain to Get you Cooking Faster

A temperature range of 165 to 450 degrees F

Controllable with an App over WiFi with WiFIRE technology
| Specifications | Parameters |
| --- | --- |
| Brand | Traeger |
| Model Name | Pro Series 780 |
| Dimensions | 48.7 x 26.7 x 54.4 inches |
| Weight | 145 Pounds |
| Grilling Area | 780 sq in |
| Inner Material | Stainless steel |
The controller on one of these units is fully idiot-proof. They only feature one Ignite button and one knob. You can even connect the controller to your home WiFi and download a smartphone app that can control the whole unit from anywhere. Everything you can do using the on-board controller can be done via the app.
As for the taste and quality of smoke, they are truly a league above everything else available on the market, only beaten by Traeger's own Ironwood series. 
With minimal effort, you are going to get the most delicious smoky flavor on any meat, dessert, or cocktail you decide to make. 
The cooking process is also entirely hassle-free and the space inside is enough even for the largest of turkeys. 
Now coming to the things I did not like, this is a very beginner grill and as such does not deserve the name "pro". It is missing creature comforts and features that I would love to see at the price. 
Additionally,  my unit came with a few dents in the body. Only cosmetic damage but for the price, dents should not be there.
Here's what Grilling Dad Says about Traeger Pro Series 780 Pellet Grill:
Pros
Great taste and flavor

Incredibly easy operations

Magnetic Hopper clean-out door is a lifesaver

A spacious interior can cook a lot of things at once

With their improved Drivetrain, you can start cooking really fast
Cons
No extra features at all

Shipping damage is very common

The LED screen is too dim to be seen in bright daylight
Also Read: Best Controller For Traeger Pellet Grill (Top 5 Picks)
Traeger Ironwood 885 Pellet Grill In Detail
Forget the fact that "Pro" is short for professional for a second. If you want a truly pro pellet grill, the Ironwood is made exactly for you. It has the basics to keep a beginner occupied but also has all the frills for a true pit master to extend their wings.
You would do well to read the Pro 780 review before jumping on to this one. Everything I said is also true for Ironwood. I will only walk about the specific features that make the Ironwood 885 special here.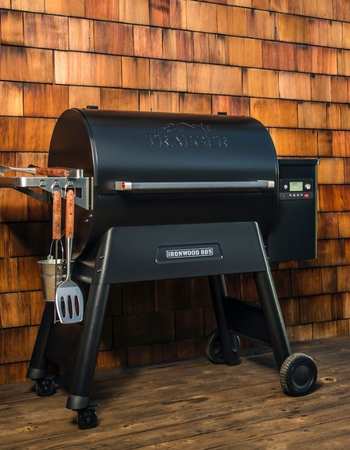 Top Features:
885 Square Inches of Grilling area

D2 Drivetrain to Get you Cooking Faster

Downdraft Exhaust and True Convection

Supersmoke to supercharge the smoky flavor

Double-walled build to keep the exterior cool to the touch
| Specifications | Parameters |
| --- | --- |
| Brand | Traeger |
| Model Name | Ironwood Series 885 Pellet Grill |
| Dimensions | 53 x 27 x 47 inches |
| Weight | 175 Pounds |
| Fuel Type | Wood Pellet |
| Power Source | Wood Pellet |
| Color | Black |
| Grilling Area | 885 sq in |
Starting off with the larger grilling space. While 780 square inches was enough for a large family, the extra space here will come in really handy if you are a frequent party thrower and love to fire out the grill at the slightest hint of people coming over.
On top of that, the Ironwood can reach a max temperature of 500 degrees F for better sear and grill marks on your meat. If you want to go low and slow, the Downdraft Exhaust and True Convection come into play. 
Downdraft Exhaust is a clever tweak to the smoke exhaust so that your food inside the grill is constantly surrounded by fresh smoke from the pellets. 
The old and cold smoke will find its way outside and the true convection will use purpose-made channels inside the grill to cycle the smoke inside for truly unbeatable smoke rings.
If that is not enough smoke flavor for you, the super smoke feature will boost the smoke production inside the grill for an even more robust and flavorful piece of meat. 
The cons are pretty much the same as the Pro one. Dimscreen, poor shipping method, and the paint chipping off easily are common complaints that Traeger should definitely pay more attention to.
Here's what The Barbecue Lab says about Traeger Ironwood 885
Pros
Great flavor and taste as always

Easy operations even with many extra features

The keep warm feature is a great one for busy folks

Downdraft Exhaust does wonders for the smoky flavor

Double Wall insulation keeps the exterior cool even in long sessions
Cons
The paint comes off easily

Shipping damage is very common

The LED screen should be a lot brighter
Also Read: How to Clean Grease Trap on Traeger (5 Simple Hacks)
What Are The Differences?
Too much effort to read a full review? Worry not as here I will list down the exact differences between the Pro 780 and Ironwood 885. Just see if the differences are enough for you to warrant the extra cost of the Ironwood.
Here are the key differences:
Structure and Size
This difference is literally in the name. The Pro 780 has a 780 square inch internal cooking space while the Ironwood 885 upgrades that to 885 square inches. Also while the build material is the same, Ironwood used 2 layers of insulation to keep the exterior extra cool.
Also, The Ironwood has a storage space to hold around 20 lbs of Traeger branded pellet while the Pro is capped at 18 lbs. If you need to know Ironwood comes in at a slightly lower overall height than the Pro but it is not that significant.
Downdraft Exhaust and True Convection 
These two features are exclusive to the Ironwood and all they do is create better smoke circulation inside the grill. Meaning while there is a chance that your Pro 780 will be circulating older colder smoke, the Ironwood will kick the old smoke out and make room for freshly created smoke and the True convection will circulate that smoke around the food being cooked better.
SuperSmoke
Unfortunately, Super Smoke is another feature that is only available in the more expensive Ironwood models. This mode basically boosts the smoke production so that you get a more pronounced flavor. It is nothing you can not achieve in the Pro with a bit of fine-tuning but still worth a point.
Controller
From the outside, the controllers in the two machines look exactly identical. They both even use the WiFIRE feature to connect to your smartphone. However, upon closer inspection, you will see that while the Pro only has one button, the Ignite, the Ironwood has Timer, Super Smoke, and Keep Warm. 
I have explained what super smoke does. The times and Keep warm are also very self explanatory.
Also Read: 5 Best Traeger Grill Cleaner Alternatives You Must Consider
What Are the Similarities?
Even with all the differences, these two products share the same Traeger DNA and thus have a lot of things in common between them.
Storage Space and Inclusions
Aside from the small difference in pellet holding capacity, every other storage unit is identical. They both have the same racks to store your accessories and the same bucket holder and the same utensil stand. 
As for inclusions, the racks included with both are the same porcelain ones and you will get the same legs with the exact same caster wheels. These wheels are pretty heavy duty as you can basically wheel these big machines anywhere you want.
Drive Train
To a lot of pros, the drivetrain is the most important feature of a pellet grill. That's why it is nice to see that both of them share the same fantastic DC D2 drive train. 
The motor and the fan inside also share the same industrial build quality and they both automatically keep the temperature constant even when you take the lid off for a peak inside.
WiFIRE Technology
WiFIRE is basically a fancy name for the feature that connects your grill straight to your smartphone. You need a dedicated app and must connect your grill to a 2.4 GHz network but once you do that, you can do all the same things from your smartphone for both these grills.
Also Read: How To Clean Traeger Grill Grates – 5 Easy & Effective Ways
Which One Is Worth The Money?
Speaking purely from my decade of experience testing grills, the Ironwood and the Pro both are worth the money. Even though they cost a lot, the features they each provide at their price point leaves everything else on the market in the dust.
They are just made for different types of users. So as long as you know which one is right for you, buy it!
Does Traeger 780 have WiFi?
Yes, the Traeger Pro 780 has WiFi functionality through a smartphone app.
How Long Do Pellets Last in Traeger Pro 780?
On average, you are going to go through around 1-2 lbs of pellet every hour you are using the grill. Seems like a lot but it is worth it.
Does The Traeger Pro 780 have Super Smoke?
Ans: No, the Traeger Pro 780 does not have Super Smoke feature. This feature is available on the Ironwood series.
Does the Traeger Ironwood 885 have a pellet sensor?
Yes, the Traeger Ironwood 885 does have a pellet sensor and it will notify you through the smartphone app when you are running low.
Does Traeger Ironwood 885 have Super Smoke?
Yes, the Traeger Ironwood 885 has Super Smoke.
Can You Use Traeger Ironwood 885 in the rain?
The Traeger Ironwood 885 can be used in the rain only if it is a very light drizzle and the pellets, and electrical components are dry.
Conclusion
And that's it! All the differences and similarities between two competing Traeger products under one neat article. Hopefully, I have been able to answer all your questions and helped you make a decision on which one is right for you. Regardless of what you choose, a Traeger grill will give you fantastic results and look pretty on your backyard for years and years!