The brains of a pellet grill happen to be the controller. Especially for high-end brands like Traeger, where the grill lasts a lifetime and most issues are caused due to an old or faulty controller. Not just that, an upgraded controller can also change your grilling experience entirely with its shiny new features.
If your pellet smoker & grill is out of warranty and you are looking at a controller upgrade or replacement, it is better to know which are the best controllers for Traeger pellet grills are before just buying any controller and hoping it works.
Every product is independently reviewed and selected by our editors. If you buy something through our links, we may earn an affiliate commission at no extra cost to you.
We are here to help and cherry-pick the 5 best controller options for any Traeger grill owner.
Best Controller For Traeger Pellet Grill You Can Go For
Picking up a controller that works seamlessly while offering the same sets of features or more is tricky. Do you go for a first-party one? Or do you look at small boutiques making custom controllers? 
That is why we delve deep into a few different options at different price points but all of them are solid upgrades over the typical Traeger Pellet Grill controller that comes built-in. 
Quick Decision-Making Chart –
| Key Comparison | Traeger Pro Series Controller | Smoke Daddy Pellet Pro Controller | Replacement Traeger Controller |
| --- | --- | --- | --- |
| Meat Probe | Dual | 5ft Meat Probe | 2 Temp Probes |
| Compatible for | Traeger Grills | Traeger & Other Pellet Grills | Traeger Brand Models |
| The Hallmarks | LED Display, Perfect Temperature Accuracy, Automatic Shut Down System & Simple Operation | Set It, Forget It Technology, Industry Grade Temp. Technology & Accuracy & Very Easy Installation | Durability, Plug & Play Technology, LED Display, Multiple Combination, Perfect Temp. Accuracy |
| Special Feature | No Installation Required | Versatile Controller | Waterproof Temperature Probe |
| Price | Check on Amazon | Check on Amazon | Check on Amazon |
Since the controller directly controls the rod ignition, combustion fan, as well as pellet auger while also receiving critical information from inside the grill, they are key to a good grilling experience. So we suggest you consider the following offerings:
Pro Series Digital Controller By Traeger
What better way to start this list off than to take a look at a first-party controller made by Traeger themselves as an upgrade for their regular stock controller. Traeger advertises this as an upgrade and/or replacement of their Elite Digital Controller and it is undoubtedly our best pick for any Traeger Pellet Grill.
Although it is a bit pricier than third-party options, it is well worth every penny from the physical construction to ease of use to feature set. If you don't mind shelling out the extra grill (you probably don't after all you do own a fancy Traeger grill) you don't have to look any further than the Pro Series Digital Controller by Traeger.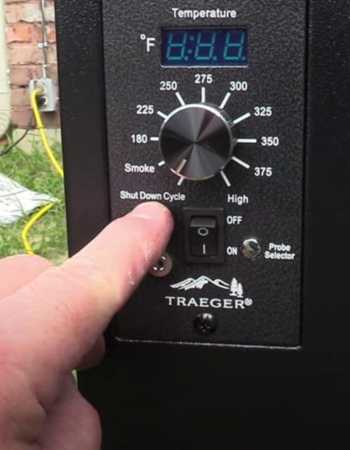 Top Features
Easy Installation

Dual Meat Probes

Reduces excess ash

Assembled out-of-the-box

Digital LED temperature display
| Specifications | Parameters |
| --- | --- |
| Brand | Traeger |
| Model Name | BAC365 |
| Meat Probe | 2 |
| Color | Black |
Overall, you can see why this is the best controller made for many Traeger grills. Trust us, you will not regret picking this up.
Here's an in-depth review of each of the features-
Easy Installation
Since Traeger designed this product from the ground up as a replacement for their existing and future pellet grills, it is no wonder that the installation method is as easy as it gets.
The wiring is color-coded exactly like the existing controller and it makes installation without a manual go by in a breeze.
That is not to say it does not have a proper manual. The manual is surprisingly detailed and will answer any of your potential questions. Really fantastic to see this amount of attention to detail from Traeger.
All you need to do is just release a few screws from the existing control panel and the bottom covering and unplug the old connectors for data and temperature sensors.
Although it is a bit difficult to disconnect, that is all for good reason as you do not want a poor connection interrupting your Sunday bbq.
From there all you need to do is pull out the old controller and connect the pro series digital and the wires will match their corresponding colors.
Screw them back up and you won't even realize you changed something from the sandblasted plate to the Traeger logo, it all looks right at home.
Two Meat Probes
The stock controller for much of Traeger's product line does not even have the options for temperature sensing probes. Here you get two. They are even helpfully colored for you to remember which probe goes where inside the grill.
The probes work exactly as advertised. You will find a helpful probe inserter on the cover of your grill. Route the probe through their to inside the meat you are cooking for granular control on the cook for those fall-off-the-bones ribs.
You can use the other probe to have a better look at the ambient temperature inside the grill.
You will see a probe selector button and pressing that will show you the temperature of each probe on the blue led display.
We did not manage to find a way to get a celsius reading but that should not be much of an issue as Fahrenheit does the job just fine.
Low-Temperature Swing
This is where cheap controllers really fall apart. We were glad to see that Traeger took the time to dial their augur control so perfectly that if you dial in 350 degrees you will get something very close to that number inside the grill. Even when it is not exactly precise, it stays within 25 degrees more or less.
Your grilling will be no good if you see a 400 reading on your controller and the actual temp inside happens to be 300 or 350.
That is why this feature is our favorite one for this controller and we were scratching our heads on why this can't be found on Traeger's marketing for this fantastic product.
Compatibility
Let's face it, this controller is pretty expensive. So obviously, you would not want to buy it only to see it does not support your particular SKU of the pellet grill.
In their document, Traeger states that the Pro Series Digital is compatible with the Pro 34, 22, 34, Lil Tex, Mesa 22, Silverton, Century 22, Ridgeland, Texas Elite 34, and Heartland pellet grill.
That is a surprisingly long list of compatible grills and we even saw it fitting perfectly on other pellet grills with little to no modification. But if you do not have the know-how, we recommend you avoid modifying this device.
Pros:
Easy removal of ash

Effective temperature control

No flame-outs during low cooks

Compatible with most grills with and without modifications
Cons:
Not budget-friendly

The wires might be hard to identify
Also Read: Traeger Pro 780 Vs Ironwood 885 – Get The Best One
Smoke Daddy Controller With Advanced Technology
Smoke Daddy Inc. has recently become a household name in the world of pellet grills and smokers. They are a small family business based in Illinois and their Pellet Pro PID controller brings an unheard-of new technology to the stage that has been stagnant for most of the last decade.
It can cope with changing weather fast and still give you an amazing tasting bbq or ribs. We just wish the aesthetics were a bit better as it does stick out like a sore thumb on hyper-polished Traeger grills.
But that is mostly nitpicking as the technology offered here makes the competition look like something from the yesteryears.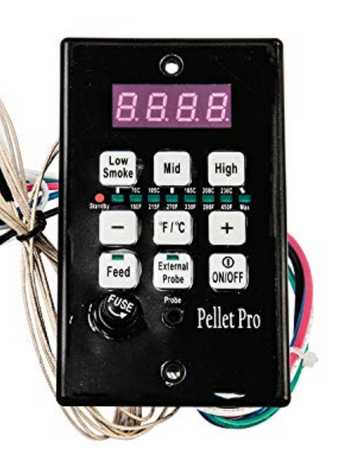 Top Features
A single meat probe

Fantastic Customer Service

500 degrees F of max temp

Adapter plate for easy fitting

Manual option for pellet feed

PID Algorithm for Autotuning Temperature
| Specifications | Parameters |
| --- | --- |
| Brand | Pellet Pro |
| Power Source | Corded Electric |
| Color | Black |
| Item Weight | 1.39 pounds |
The Smoke Daddy Pellet Pro PID Pellet Grill controller might be a one-trick pony but oh my that one trick is a fantastic one. It gets one seal of recommendation easily.
Want to know what these fancy technological terms mean for you? Read below:
PID Technology
Let's get right down to the claim to Smoke Daddy's fame. The PID tech is something that works so well so effortlessly, we were left wondering why no one else thought of it before.
Included in the Pellet Pro box, you will find an RTD probe that is 6 feet long and that is the media through which this technology works.
When the probe is connected to the controller and inserted inside the meat in the grill, it will do something called feedback.
In Layman's terms, this means the probe will let the controller know the internal temperature of the meat and the controller can then adjust itself automatically and accurately.
Sounds like magic right? Well, it is not magic, just some clever programming and algorithm work get this done and we can attest that it works even better than we thought.
Especially for long-term cooking like smoking brisket, the PID is an absolute lifesaver as it can keep the temp in control within 10 degrees of what you set it to.
The controller does this every 4 seconds, basically removing any room for error as the temp is constantly monitored and adjusted accordingly. According to us, this feature is what makes this otherwise mediocre product.
Meat Probe
If automation is not your thing and you want to have the power in your own two hands for granular control of the cook temp, don't worry as Smoke Daddy thought of you too.
A 4 feet temperature probe is also included and you can use the same probe port on the controller to use this.
It works much like all other probes. Once connected properly and the probe end is inside the meat being cooked, you can just press the "external probe" button on the controller to see the temperatures inside your protein.
It is that simple and you will get readings in the Fahrenheit or Celcius scale whenever you want.
Sure it is not the two different probes offered by Traeger. But for most regular grillers working off their backyard, one will get the job done just fine. That is not to say having an extra probe is not nice to have.
Compatibility
Smoke Daddy did not make this product with any particular pellet grill in mind, so their goal was to be as widely compatible with as many grills as possible. It works with Pit Boss, Camp Chef, and of course Traeger, mostly seamlessly.
If your model does not support it, fear not as there is also an adapter plate available and on their website, Smoke Daddy even says that wires can be cut and connected as long as the positive and negative ends are correct.
That might sound very daunting but honestly, it is the equivalent of adult lego. You just need to be brave enough to try it.
Great Customer Support
As we talked about earlier, Smoke Daddy is a small family-run company and it is reflected in their after-sales service. Customers rave about how they easily sorted out problems as well as got replacements for faulty devices.
An important thing to keep in mind is that this product requires firmware updates sometimes. But that is no issue either, Smoke Daddy pledges to get it done for you without any additional charges as long as you send the product to them.
Pros:
The temperature stays stable

Compatible with different brands

Auto and manual adjusting of temperature

The automated cooling down system ensures safety
Cons:
Requires regular updates and needs to be sent back to the company for updates
Also Read: Traeger Ironwood 650 vs Pro 575: Which Grill Is Right for You?
Digital Thermostat Controller For Traeger Grills
Are you looking for the classic Traeger looks and features on a budget? This one is for you. The Digital Thermostat Controller for Traeger Grills made Yaoawe looks so much like the Pro series Controller by Traeger that we had to double-check every step of the way lest we make some mistakes in the comparisons.
However, you can not patent a look and this product works well and it is enough to get a budget recommendation batch from us any day of the week.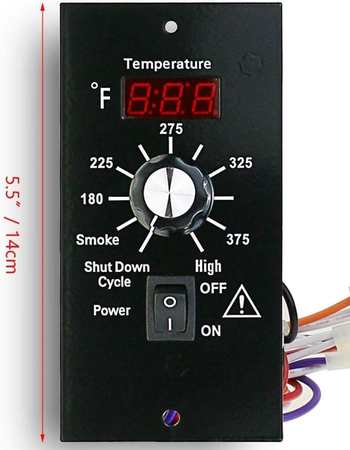 Top Features
Reasonable Price

Easy Fault Troubleshooting

Two Meat Temperature Probes

Ease of Installation with Traeger Grills

Imitates the look of First party Traeger Product
| Specifications | Parameters |
| --- | --- |
| Brand Name | YAOAWE |
| Probes | 2 |
| Weight | 14.57 Ounces |
For the price, we really haven't seen something better, so for the budget-conscious shoppers, this is definitely our top suggestion.
Since this brand is not very well known, let's see if the features actually work as advertised-
Compatibility
Since this is our suggestion for grillers in a pinch, compatibility is the most important aspect. And Yaoawe does not disappoint there.
This digital thermostat controller is compatible with all Traeger pellet grill models including the Elite 34, Junior Elite 34, Lonestar 20, Pro Series 34, Century 34, Deluxe Elite 300, and a lot more.
In our research, we found out that this company used to be OEM for Traeger and made a lot of their grill accessories. That makes a lot of sense as the fit with most Traeger models here is almost perfect.
If you are forgiving about the build quality, you won't even know that this is not a Traeger original accessory.
However, a lot of users reported that beyond Traeger, this is not really compatible with anything else. While that does not matter here, we still feel like it is something a potential customer should know.
Plug and Play
Much like controllers from Traeger, this thermostat is also installed super easily. Even the process is pretty much the same and as long as you know what tools to use and which cable to connect where the whole process can be done in 5-10 mins.
The cables were color-coordinated in our unit but we did see reports of that not being the case so might depend on the particular shipment of the product you get.
Other than that most everything we said about the Pro Series Controller from Traeger still holds true here without any notable omission or difference in the installation method.
Two Meat Probes
Yaoawe decided to copy the features so we are very glad that they managed to copy the most attractive feature of the Traeger pro controller. This digital controller also comes with twin probes in the box that can sense the temperature in real-time as you cook.
It also works exactly in the same way. You will have to connect two probes to the controller and from there on you can only monitor the temp in Fahrenheit scale with the Probe Selector button.
Easy Troubleshooting
Yaoawe managed to implement a fantastic error or troubleshooting system for this control. It works through the blue LED display and the codes are simple and easy to understand. You will even find the error codes corresponding to the issues on their product page.
You can see if the ambient temperature inside the grill is too high, too low, or has been too low for too long. You can even check if the temperature probe is working properly among other things.
The necessity of this feature might not be felt every day but it's like one of those things that when you do need it, it is absolutely perfect to have.
Pros:
Helpful customer service

Extremely budget-friendly

Extra probe helps in grilling multiple pieces of meat

Effective reading and control of internal and external temperature
Cons:
The cables might not be color-coded in every packaging
Also Read: 5 Best Traeger Grill Cleaner Alternatives You Must Consider
Ortech Digital Controller With Ignition Indicator
The RealTemp TR-100 digital controller from Ortech is as no-frills as it gets. It offers just what you need to grill some meat and nothing else. That might be a bad thing to some, but in our books, this kind of solution definitely have their place in the market as some users only want what they absolutely need and hate being overwhelmed by tons of options. Don't see the short feature list and scoff at the RealTemp TR-100. It does its job very well.
Top Features
Cool Down Cycle

Sixteen Smoke Settings

Ignition & Fuel Rate Indicator

Eight Cook Temperature Settings

Front Panel Smoke & Cook Control
| Specifications | Parameters |
| --- | --- |
| Brand | Ortech |
| Item Weight | 1.21 pounds |
Rich Smoke Settings
The TR-100 offers sixteen smoke settings. Yes, you read that right, SIXTEEN!! You have all the granularity you could ever ask for in terms of smoking and you will have no one to blame but yourself if a cook goes south.
It certainly is a lot better for smoking than the stock Traeger controller and we witnessed some fantastic results. However, since there are so many options, you really should take the time to experiment and see which one works the best for you and the things you cook.
Protective Measures
When we said this product was "no-frills" we definitely did not mean it skimps on any of the mandatory features. Ortech was smart enough to equip this controller with various sensors and indicators that will help you keep your grill as well as controller working for decades.
The ignition indicator is right in the name so obviously, it is there. Low-temperature indicator as well er high-temperature indicator is found too. You also get a cook idle fuel rate indicator.
That was for the sensors and indicators. As for actual protection, overtemperature protection is there in the case that your grill decides to malfunction and get soaring hot to the point of damaging itself.
On the other end of that spectrum, you will find low-temperature overshoot protection. That is also incredibly helpful.
One Year Warranty
Just because it's cheap and from a relatively unknown manufacturer, you will get some quality after-sales service. Namely, the one-year manufacturer's warranty will save you the headache of troubleshooting or buying a new controller if anything goes wrong.
Applying for said warranty also was very easy and painless. It was pretty shocking that a lesser-known brand outperformed the big names in customer support but it is in the best interest of the customers.
Compatibility
Again, the all-important conversation of compatibility. Ortech made the TR-100 with Traeger Grills in mind and it is considered an upgrade for the whole line of Traeger pellet grills. The only few models it misses out on are the PTG, Scout, and Ranger.
If you have any other Traeger grill except those three, you will be golden with this product.
While there are some notable feature exclusions, we can still say this digital controller from Ortech is worth every penny you will spend on it.
Pros:
Easy installation

Worthy of its price

Great customer service

Accurate temperature control

More smoking options than average controllers
Cons:
Also Read: 3 Best Traeger Drip Tray Liner Alternatives You Can Go For
Pellet Pro Controller Upgrade For Traeger
To be frank, when I first came across this product I almost wrote it off as the packaging and overall looks were way too tacky and corny. It straight up looked like it was from the 80s.
However, against my instincts I gave it a try, and let me tell you, it quickly became one of my favorites. What it loses on aesthetics, it easily makes up on actual features and functionally. Oh and btw, it is also from our friends at Smoke Daddy.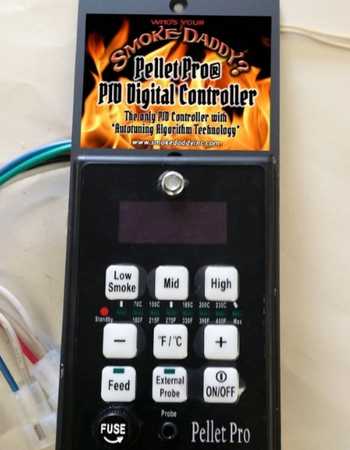 Top Features
OLED display

WiFi-enabled PID controller

Over-the-air Firmware Update

Two Meat Temperature Probes

Included Adapter Plate for wider compatibility
| Specifications | Parameters |
| --- | --- |
| Brand | Pellet Pro |
| RTD Probe | 6 Ft |
| Meat Probe | 4 Ft |
| Made In | USA |
In a way, you can think of it as a fancier version of the Smoke Daddy controller from our second entry. Here's why:
WiFi Capabilities
While it retains the exact PID autotuning algorithm of the other Smoke Daddy product, the Patriot controller improves upon it with wifi capabilities. You can get an accompanying app available for both iOS and Android. 
Through the app, you can monitor your cook temperatures and settings from anywhere on your home network.
Working over a 2.4Ghz network, this really is a way to make your dumb grill into a smart one. You might think it is unnecessary but once you know the usefulness of being able to monitor your grill remotely on a busy day you'll definitely feel like how you lived without it.
It is not all good, however, as the wifi connection is a bit limited. If you have a 5Ghz or mesh network, this product won't work.
OLED Display
Most grill controllers come with a traditional LED display that looks almost vintage by comparison. An OLED display is better in every aspect as it is the same type of display that most high-end smartphones use.
Easy Firmware Updates
With the PID technology comes the need to update it from time to time. For other Smoke Daddy products, you needed to send them back to the warehouse for a routine update but in the case of the Patriot Pro, you can do them simply from your home.
On the product page of this product from the Smoke Daddy website, you can find a step-by-step direction on how to update your controller. It is simple, easy, and deserves a lot of praise.
Compatibility
Compatibility here is pretty much the exact same story as the other Smoke Daddy controller. You can go back and check that section for details but in short, it supports all the big Pellet Grill Brands including Traeger.
The eye-watering price is the only caveat of this controller but I guess with a premium feature set comes a premium price tag. So if you have a few hundred dollars burning holes in your pocket, definitely give this one a try.
Pros:
Pre-assembled controller

Efficiently regulates the temperature

Temperature monitoring through app

No need to send to the company for updates
Cons:
A bit overpriced

Packaging isn't satisfactory
Also Read: How to Clean Grease Trap on Traeger (5 Simple Hacks)
What To Look Before Getting The Best Controller For Traeger
Now that the roundup is over and you know the best controller options in the market for Traeger Pellet Grills, you should know what to look for before shelling out for any particular one. Here are what to look for:
This is the most important aspect before choosing a controller. Yes, most controllers advertised as working with Traeger grill works on the entire lineup of pellet grills minus a few. So there is a small but not zero chance of the controller not exactly being compatible with your grill. 
To save yourself some hassle, just read the manual online before ordering.
Different controllers can unlock different features of a Trager grill. If you want just the rudimentary functions you had out of the box, sure just buy the first controller you see. 
However, if you truly want an upgraded experience, we suggest shopping by looking at the feature list. There have been a few recent developments like PID technology in the world of Pellet Grills and you might want to try a few of them out.
A Traeger Grill lasts a long time. It is only fair that you pair it with a controller that can match the lifespan. This is where cheaper products should be avoided as they give up after a year or two at best. 
Look for a manufacturer warranty and overall a well-built controller, even if you have to pay a bit more.
Conclusion
Whether you have a faulty controller or just want to upgrade, we hope that we could help by bringing some of the best controllers for the Traeger pellet grill to your attention. Pick any of the 5 we talked about today and unlock the true potential of your Traeger Pellet Grill!!