Got a Traeger grill? Then you must be concerned about its maintenance to make sure it lasts long.
It is particularly important to prevent any grease build-up on the grill. What do you think works the best in that regard for a Trager drip tray? A drip tray liner?
Honestly speaking, it's not always true. Because they cannot withstand heat over 400°. Also, they are pretty expensive.
Every product is independently reviewed and selected by our editors. If you buy something through our links, we may earn an affiliate commission at no extra cost to you.
So, you must look for alternatives, right? Try out the aluminum foils instead. Trust me, a heavy-duty aluminum foil is way cheaper and works great as a Traeger drip tray liner alternative. Besides, you can wrap it around the corners as well. 
Below, I have reviewed three such amazing foils alongside discussing some most asked questions about the Traeger drip tray liner.
Let's dig in!
Best Traeger Drip Tray Liner Alternative For You
Instead of using non-branded drip tray liners for your Traeger grill, it's far better to choose a heavy-duty and wide enough aluminum foil. On that note, I handpicked the following three products that would provide much help to enjoy a gunk-free grilling experience. 
Pitmaster's Choice Heavy Duty Aluminum Foil
Whether you are a beginner barbecuer or a professional pitmaster, this 18″ wide grill foil would let you enjoy a flavorful meal. 
Let's check out its top features first.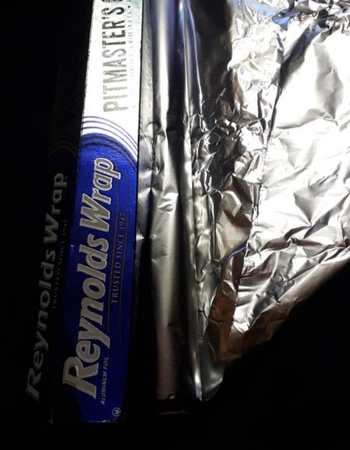 Top Features
Tear and puncture-resistant

25 feet long and 18 inches wide

One roll of 37.5 square feet of tin foil 

Supports the 3-2-1 method for competitive BBQ

Perfect for roasting, baking, searing, or barbecuing
---
After using this aluminum foil with my latest Traeger grill, all I can say is that this is the thing to abandon all those messes coming from grease and oil build-up. Once you use this heavy-duty foil, you will feel the same as well. 
First of all, the foil is exceptionally thick not to tear or puncture while supporting serious BBQ. Suppose, you need a heavy-duty BBQ for your next family gathering. Rest assured that it will be compatible with cooking at a high temperature as long as you want. 
Moreover, the 18″ width is ample enough to cover even the largest cut of meat. It is suitable to smoke a big brisket at once.
You can cover your drip pan with this cooking foil for a hassle-free clean-up. This will minimize grease and gunk build and you can clean the pan without much effort. 
Aside from using it as a drip tray liner alternative, you can also use it as a smoker packet. Wrap some wood chips of your preference with it and make some holes. They will let the smoke infuse into the food while grilling.
As opposed to the Traeger tailgater drip tray liner, it doesn't melt or rip even at temperatures above 400°. That makes it a pretty good replacement for the former product.
Best of all, you can try any of your family-style recipes with this super durable cooking foil to make barbecuing a breeze. 
And to add more, it traps moisture pretty well to keep the food fresh. What more do you want from a heavy gauge foil like this? Indeed, it belongs to the premium category foil of all time. 
Pros
Optimizes heat dispersion

Comes thicker than regular foils

Delivers leak-proof performance

Very good moisture trapping ability

Withstands high heat for a long time
Although it doesn't seem spendy in terms of bottom-line price point. Rather the price-per-foot is a bit higher compared to others. But if you want 100 conveniences from a single roll, you can at least spend that much, right?
Overall, it's a must-try Traeger drip pan liner replacement for sure. 
Also Read: Traeger Grill Cleaner Alternative
Reynolds 75 Square Feet Aluminum Foil
Secondly, I have another premium foil sheet for heavy-duty cooking from Reynolds. In fact, it's a very well-known name for manufacturing grill foils, for good reasons obviously.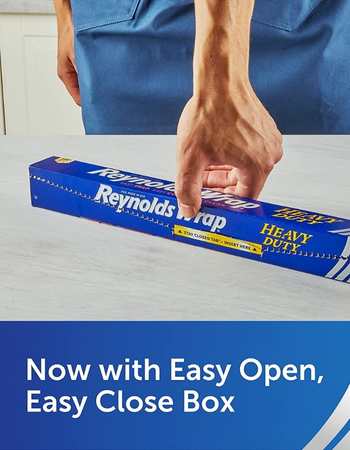 Top Features
Made in the USA

Prevents splatters on the drip pan

Compatible with heavier holiday cooking

Measurement: 50 feet long and 18 inches wide

One roll of 75 square feet of Reynolds Wrap aluminum foil
---
Compared to the previous 37.5 square feet of Reynolds foil, it has the same width of 18 inches. But it wins over the former by delivering double-length. 
The most important amenity of this aluminum foil sheet is that you can cut the edge easily. Resultantly, it's easier to measure the dish sizing accurately which makes the preparation smoother. 
Above all, it has superior strength to be sustainable throughout the grilling. The precut wrappers are incredibly strong when it comes to baking, grilling, or roasting. 
You just need to cover the pan properly. Then cook your favorite dishes worry-free even with the highest temperature count. 
Let alone leak, it won't even splatter the food or create any grease build-up. 
Another good thing about this super-strong foil wrap is that you can use them for keeping food warm as well. Suppose, you are going to a movie on the weekend. You can easily pack your favorite snacks or side dishes with these foil papers without a second thought.
Trust me, your food will taste as it's cooked right away. 
Being thick enough, they are reusable. This is surely a great advantage for any foil wrap out there. 
Even after being way longer than the Pitmaster's Choice Reynolds Wrap, it comes cheaper.  So, the price per foot is also reduced. 
And if I compare it to a standard heavy-duty aluminum foil, it is around 49% thicker.  I hope you got why I chose it over countless regular foils out there.
Pros
Can be molded easily

Keeps food fresh and juicy

Can sustain extra high heat

Non-stick foil sheet for gunk free grilling

Locks in flavors and moisture for the longest
Cons
Isn't readily available everywhere

The gauge is not mentioned on the package
Also Read: How To Clean Traeger Grill Grates – 5 Easy & Effective Ways
Amazon Brand Heavy Duty Aluminum Foil
Lastly, let's talk about the Amazon Brand-Solimo Heavy Duty Aluminum Foil, the largest of all of the three in terms of overall dimensions. To learn more about this product, check out its core specifications below.
Top Features 
Comes with 12 inches of width

Allows longer period of cooking

Used as a liner, food wrapper, or foil packet

Permits easy drip pan clean up with minimum effort

One 125 square feet roll of concentrated aluminum foil
---
Though it is not as wide as the previous two foil sheets, the 125 square feet measurement increases the overall dimension. That's why you can line any of your favorite grill's drip pan with it pretty conveniently.
If you have a Traeger pro 22 drip tray liner or Traeger pro 780 drip tray liner, I suggest replacing them with this irresistible cooking foil for high heat searing. 
One good thing about this solid aluminum wrap is that you can use it for regular cooking. Line your baking sheet or roasting pan and stay worry-free. You don't need to clean the pan by scrubbing much. Just a little bit of effort will get the job done. 
Most importantly, it doesn't charge an arm and a leg like other heavy-duty foils. Besides, you can wash and reuse it as many times as you want. Definitely, it's a great bang for your bucks!
All things considered, I can assure you that the product lives up to the claims it made. 
Moreover, the multipurpose usage makes it a real winner. Apart from lining your grilling pan, you can wrap hot dogs and store them in the refrigerator with it. The food will remain tender and delicious without being dry.
Surely, it holds moisture for pretty long.
Pros
Very fair price range

Washable and reusable

Solid construction for long term use

Thick enough to withstand high heat

Provides much more length than the competitors
Cons
Could be a bit wider

Sometimes it gets ripped easily
Also Read: Traeger Pro 780 Vs Ironwood 885 – Get The Best One
Keeping these two minor flaws aside, I highly recommend this budget-friendly grill foil to line your drip pan. Considering its cost, you won't be disappointed by the performance.
Traeger Drip Tray Liner Vs Foil – Which Is The Best
Well, that's an arguable issue. Some people love using the original Traeger liner. On the contrary, some opt for foil sheets. 
Both have their amenities and drawbacks. Aluminum foils come cheaper than the Traeger
drip tray liners.  So, you can save your hard-earned bucks. Also, they are wide enough to line the grilling pan or baking sheets thoroughly. 
Resultantly, cleaning the pan becomes a breeze. But the only issue with aluminum foil is that you need to replace it after every cook. Otherwise, it becomes sticky which might lead to fire breakouts. 
On the other hand, drip pan liners also work great to maximize the tray's lifespan by keeping it clean. But the biggest issue is that they cannot sustain heat over 400°. 
Although the manufacturers don't mention it, they actually start melting once you cross the temperature limit. 
Therefore, I found the aluminum foil as the better alternative to the Traeger liners in terms of cost-efficiency, heat resistance, and ease of use.
Also Read: Traeger Ironwood 650 vs Pro 575: Which Grill Is Right for You?
Is It Possible To Using Traeger Grill Without Drip Pan
If you are on the fence about whether it's possible or not to use a Traeger grill without a drip pan, let me assure you that it is possible. 
But that's not recommended. On one hand, it will make your grill dirty. On the other hand, it can cause accidental flare-ups. 
Also, it will be a real hazard to clean all those sticky greases dripped from the food. 
Still, if you lack enough space on the grill grate, you can avoid using a drip pan. But that is only recommended for cooking small items. 
How To Install Traeger Drip Tray Liner
Follow the four basic steps below and keep all the hassles at bay while installing a Traeger drip tray liner. The steps are as follows-
First, you need to turn your grill off and let it cool down completely.

Then take the drip pan out of the grill. Now wrap it up with a drip tray liner. 

Thirdly, you should make sure there is no gap in between. So, fold the edges carefully. 

Finally, place the drip pan under the cooking grate of the grill. 

And guess what, you are done! 
Where To Put Drip Tray Liner On Traeger Grill
Wondering about where to put the drip tray liner on a Traeger grill? Then you need to be informed of the Traeger drip pan placement first.
Usually, the pan is placed on the side of a Traeger grill. It catches all the food greases to keep the grill clean. 
To make this pan long-lasting, you need to line it up with an appropriate tray liner. And you need to place the liner on the outer surface of the pan. 
The liner would protect the pan from being affected by the food grease. Although an aluminum foil would do the same. 
You should make sure that there is no gap between the tray liner and the drip pan. Only then it will offer full coverage to keep the pan hygienic. 
As a result, you don't need to clean it frequently. 
How Often To Change Traeger Drip Tray Liner
To be honest, it depends. If you cook shorter meals, it's okay to change the liner after cooking five times. 
But if you cook for a long time, it is highly advised to change the liner after every cook. 
Otherwise, it can get messy making it harder to cook meat properly. 
And to change the tray liner, you simply need to follow the installation method. Once your grill is cooled down, take the pan out and unfold the liner from its edges. 
Now after a gentle wipe on the drip pan, put a new liner over it without any gap in between. Now put everything back as it was. 
Great, you are ready to cook a new meal!
Traeger Drip Tray Liner Instructions
While installing a Traeger drip tray liner, you should focus on two crucial factors. Once you place the liner over the pan, make sure that-
The Traeger logo always faces upward. 

The tray liner is totally flat and sits fully over the edges of the pan. There should be no gap outside the pan.
How To Use Traeger Foil As Drip Tray Liner
If you want to go for Traeger foil to wrap your Traeger drip pan, you need to follow the same method of using any other foil as a drip tray liner. 
Cover the pan with the foil properly and start cooking. However, you can put five or six layers at a time so that you can take off the used layer and get a new one for several next cooks.
On the contrary, putting a single layer of Traeger foil needs to be replaced with a new one after every cook. 
Conclusion
While grilling or smoking meats on your Traeger grill, it's pretty common to drop the fat and juices from the meat. That's why there are drip pans to catch all those gunky substances. 
Otherwise, the leftover food greases can start a fire. 
However, it's also important to keep the drip pan hygienic. On that note, you can rely on the Traeger drip tray liner alternatives as they have higher heat surviving capacity. 
Try out any of the aluminum foils above to save your sweat-earned money instead of using those expensive Traeger liners. 
Hope this helps!