Are you planning to add a new Traeger grill to your kitchen armory? But it's always been a longstanding debate between Traeger Ironwood and Pro series grills.
As we all know, Ironwood is the more expensive lineup of Traeger compared to their budget-friendly Pro models. 
But as they share pretty much the same appearance on the surface, deciding on a better pick between these two famous Traeger series of grills is a bit tricky.
Here I came up with a forthright comparison between Traeger Ironwood 650 Vs Pro 575 grills based on their construction, cooking surface, exhaust design, and more.
So, let's get straight to the point.
Every product is independently reviewed and selected by our editors. If you buy something through our links, we may earn an affiliate commission at no extra cost to you.
Traeger Ironwood 650 Vs Pro 575 – A Quick Comparison
If we talk about the Traeger Pro vs Ironwood series, we have to talk about their best-selling models, 575 and 650, respectively. 
Here is the key feature comparison chart – 
| Key Feature | Ironwood 650 | Traeger Pro 575 |
| --- | --- | --- |
| Item Dimensions | 27 x 46 x 48 inches (LxWxH) | 27 x 41 x 53 inches (LxWxH) |
| Item Weight | 147 Pounds | 124 Pounds |
| Grilling Area | 650 sq in | 575 sq in |
| Hopper Capacity | 20 lb | 18 lb |
| Downdraft Exhaust System | Yes | No |
| Double Side-Wall Insulation | Yes | No |
| Power Source | AC | Electric |
| The Hallmarks | WiFIRE technology, Alexa technology, 6-in-1 Versatility, Porcelain grill grates & Built-in meat probe | Precise temp control, Versatile cooking, WiFIRE technology, Heat up faster & D2 drivetrain |
| Price | Check on Amazon | Check on Amazon |
With a wider cooking department of 650 square inches, the Ironwood 650 is ahead in this race with the porcelain grilling grates. Moreover, it fills the bill with a more precise temperature consistency. 
As it comes with WiFire technology with Alexa compatibility, you can control the grill from anywhere with voice commands.
What's more exciting is the twin wall insulation. Thanks to that, the grill can function efficiently even in cold weather. This supreme temperature consistency is one of the biggest selling points of this heavy-duty grill.
Further to the above, the Ironwood 650 is also equipped with the D2 drivetrain mechanism. Because of that it starts and heats up quickly.
However, the biggest difference between the Traeger Pro 575 and Ironwood 650 lies in an advanced feature called Super Smoke Mode.
When your Ironwood grill reaches the temperature between 165-225° F, you can activate the feature and enjoy the thin blue smoke that every griller wants.
Also, the exclusive rear-mounted smoke vents in this grilling device ensure better convection cooking. 
On the other hand, Traeger provided 575 square inches of cooking area in their Pro 575 model. So, you can grill up to four chickens at a time.
But in the Ironwood one, you can grill eight chickens. Though both can accommodate five rib racks.
Nevertheless, it's an equally versatile cooking partner compared to the Ironwood one as it also supports six grilling styles. Whether you smoke, bake, BBQ, braise, roast, or grill, it holds heat pretty well. 
And the maximum temperature setting is up to 500° F, the same as the Ironwood 650.
But it doesn't have the Super Smoke Mode. Naturally, it produces less smoke when compared to Ironwood. 
Although it's hard to beat in terms of cooking time. Being engineered with the D2 drivetrain technology, it offers 25% faster cooking time than conventional grills and smokers. 
As this grill uses 100% natural hardwood pellets, it delivers an amazing smoky essence to your dishes.
However, the Pro 575 is way more budget-friendly than the Ironwood 650. So, if you are looking for an economic deal, Pro 575 could be your best bet ever.
On the contrary, Ironwood 650 is a premium grill with premium performance. Given the additional features like a larger cooking space, better temperature control, and perfect low and slow cooking, it certainly deserves the premium price tag as well.
Though the Traeger Pro 575 beats it in cooking time as it takes slightly more time to cook your meal. 
So, if you are looking for an affordable grill with some essential features, the Pro 575 won't be disappointing. But yes, the Ironwood 650 is intended for more serious grillers with a relatively more cooking capacity. 
Also Read: Traeger Pro 780 Vs Ironwood 885 – Get The Best One
Traeger Ironwood 650 Pellet Grill with WIFI 
As already mentioned, Ironwood grills are quite expensive and so is this 650 wifi-enabled pellet grill. With the Traeger app, you can run the pellet grill from anywhere you like. And guess what, you get Alexa technology here for following voice commands. How amazing is that?
Let's check out its key amenities first.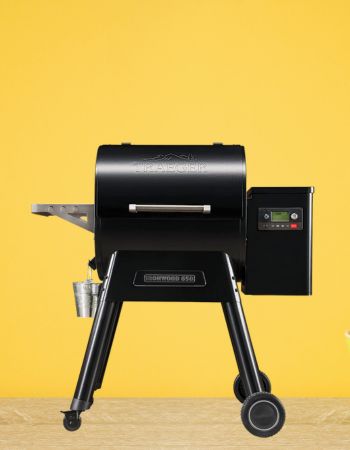 Top Features
Supports six-in-one cooking style

Made of heavy-duty stainless steel

Up to 500° F temperature retention

It's a black wood pellet grill that weighs 147 pounds

Offers 650 square inches of wide grilling space for family cooking
---
Let's say you are in search of a versatile Traeger grill. Congratulations! Your search ends here. Get this Traeger pellet grill right away to enjoy grilling to the fullest.
If you look into the Traeger Ironwood 650 review, you will be thrilled to know how versatile it is. Smoking, grilling, BBQing, roasting, braising, baking, you just name a cooking style and it supports them all.
On top of that, it can be connected to your home wifi network for long-distance control through the WiFire-enabled controller.
Generally, avid BBQuers love the authentic wood-fired smack in their food. And with this Ironwood 650 wood pellet grill, you can produce as much smoke as you want to make your meal palatable.
Plus, with the dimensions of 27×46×48 inches, it has 650 square inches of spacious grilling surface.
Therefore, you can grill eight chickens, six pork butts, or five racks of ribs at a time. A perfect family dinner, isn't it?
Pros
Double-side wall insulation

Delivers unrivaled wood-fired flavor

Very consistent temperature control
Cons
Expensive

Has only one port for a meat probe, should have included more
Also Read: Best Controller For Traeger Pellet Grill (Top 5 Picks)
Traeger Pro 575 Wifi, App-Enabled Pellet Grill
The Traeger Pro 575 is an electric wood pellet grill that is a market leader in the grilling arena. Similar to the Traeger Ironwood 650, this is also a versatile cooking companion with a six-in-one grilling style. But this versatility doesn't leave a mark in your pocket. Yes, it's pretty budget-friendly.
The key specifications of this top-selling grill are as follows-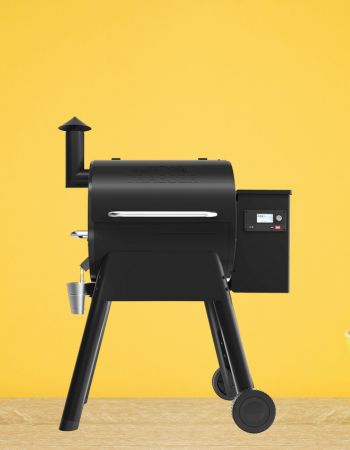 Top Features
Easy to use Traeger app

Includes a built-in meat probe

Porcelain-enameled grill grates

500° F maximum temperature retention

Delivers 575 sq. inches of cooking surface
---
However, with the dimensions of 27×41×53 inches, it has 575 sq. inches of grilling space. So, you can easily prepare 24 burgers, 4 chickens, or five-rib racks at a time.
Another best-selling point of this pocket-friendly pick is the WiFire technology. It connects your grill to the home wifi easily.
And the Traeger app lets you control the grill remotely.
With very precise temperature control, Traeger 575 produces an unrivaled wood-fired aroma in anything you cook.
As this grill heats up pretty fast, you can produce a superb amount of smoke to take grilling to the next level.
What I liked the most about this wonderful grilling partner is the porcelain enameled cooking grates. Thanks to that, cleaning this grill becomes a breeze.
Overall, you get all the amenities of Traeger in this Pro 575 grill on a moderate budget. In my opinion, you shouldn't miss the deal.
Pros
Affordable price point

Rapid recovery of temperature even after lifting the lid 

Easy and effortless operation with your smartphone through the Traeger app
Cons 
Single meat probe

Needs at least two persons to assemble it
Also Read: How to Clean Grease Trap on Traeger (5 Simple Hacks)
What Are The Differences 
Now let's look forward to the key differences between these two popular Traeger grills. Why is the Ironwood 650 a high-end grill? Is it worth the extra cost? Let's discuss it!
Grilling Area
Honestly speaking, the size says it all. As you can see, the Pro 575 has 575 sq. inches of cooking surface.
On the other hand, you get 650 sq. inches of grilling area from the Ironwood 650 grill. 
Resultantly, you can grill eight chickens in the Ironwood one whereas the Pro 575 can accommodate only 4 chickens at a time.
Isn't it a notable difference when you are buying a pellet grill?
Pellet Hopper
Just like the cooking capacity of a grill, the hopper capacity is equally important. And the difference in the pellet hopper size is another thing to set these two grills apart. 
The Traeger Pro 575 comes with 18 lbs of hopper capacity. 
On the contrary, the Ironwood 650 has a slightly bigger hopper capacity than the Pro 575 which is 20 lbs.
And yes, this 2 lbs does make the difference. Because a bigger pellet hopper makes a grill capable of providing more temperature for an extended period of time.
Heat Retention
In terms of heat retention, I have to go with the Ironwood one. As it is constructed with double-wall insulation, it's only natural that it will retain more heat.
As a result, the grill functions quite effectively even during chilling winter days.
Besides, the double wall insulation also enhances the temperature consistency in the Ironwood 650 compared to the Pro 575.
Cooking Time
Because of the D2 drivetrain mechanism, the Pro 575 starts faster and heats up pretty quickly. Thanks to that technology, the grill recovers heat rapidly even after lifting the lid.
So, it beats the Ironwood 650 in terms of faster cooking.
Cost
As we all know, the Ironwood series introduced some high-end grills with some advanced features. Naturally, they cost more.
Contrarily, Traeger Pro is quite an affordable series of grills. And the Traeger Pro 575 is a cost-effective pick considering its construction, efficacy, and ease of use.
Also Read: How To Clean Traeger Grill Grates – 5 Easy & Effective Ways
What Are The Similarities 
As both grills are manufactured by the mighty Traeger, it's obvious that both have some signature Traeger features. Let's break down the similarities between Traeger Pro 575 and Ironwood 650 below.
Versatility 
If you talk about cooking versatility, I cannot choose one of these two. They both are compatible with six-in-one grilling styles which include smoking, baking, roasting, braising, grilling, and BBQing. 
Maximum Temperature
In both cases, the highest temperature range is 500° F. So yes, they both are compatible with high heat grilling, maintaining temperature precisely. 
Meat Probe
Actually, this is the only downside for both grills. There's only one port to accommodate a single meat probe.
Nevertheless, it would have been great if Traeger included at least two meat probes in both models.
Smart Control
In terms of smart control, the Traeger Ironwood 650 and Pro 575 share some similar features.
They both are equipped with WiFire technology which connects them to your home wifi network.
Resultantly, you can remotely control these grilling devices from your smartphone or tablet.
And yes, they can be monitored by the Traeger app which is quite efficient as well.
Also Read: 5 Best Traeger Grill Cleaner Alternatives You Must Consider
Ironwood 650 Or  Pro 575 – Which Should I Go For 
See, there's no one size fits all policy when it comes to choosing a piece of grilling equipment. Both grills are wonderfully made by Traeger and are dominating the market right now.
But yes, there are some significant distinctions that set them apart. 
For example, if you prefer a larger grilling area, you need to go with the Ironwood 650. After all, it comes with a 650 sq. inches wider grilling surface than the Pro 575.
Also, given some additional features like the super smoke mode, double side insulation, TRU convection system, and a stainless steel side table, it's clearly a better grill in terms of overall performance. 
At the same time, it's quite expensive. So, if you cannot afford it, the Pro 575 is also a decent choice in an economic price range. It offers the same versatility and temperature setting while grilling, smoking, or BBQing.
But what makes the extra cost for an Ironwood 650 justified? In a word, it's the downdraft exhaust that distributes both heats and smokes more evenly. 
So, I cannot but name the Ironwood 650 model as a better grilling device in this comparison. 
Conclusion
That's the end of the Traeger Ironwood 650 Vs Pro 575 debate. I hope the discussion above answers all your queries regarding these two crowd-favorite grilling tools.
The Ironwood 650 provides more smoke and flavor, thanks to the Super Smoke Mode. Moreover, its downdraft exhaust design is truly worth the extra expense.
However, the Pro 575 is also a good choice as a family-size grill. If budget is your concern, it's quite cost-effective too.
So, which of the two grills will you go for?  Let us know by commenting below.