The invention of the Kamado Grill changed grilling worldwide by a significant margin. And it is no short feat that they stood the test of time for so long and obviously as the technology advanced, so did the functionality of Kamado Grills.
Every product is independently reviewed and selected by our editors. If you buy something through our links, we may earn an affiliate commission at no extra cost to you.
Today, the modern version of the Kamado, pioneered by Akorn and Kamado Joe has found home in the backyards of many novices to advanced cooks and it is justified by their superb versatility from smoking briskets to cooking pizza.
But which one should you buy? Which is the best kamado-style grill? Fear not as our akorn vs kamado joe round-up will get rid of all your confusion.
Let's begin-
Akorn vs Kamado Joe: Which Ceramic Grill Should You Choose?
The most important thing about Kamado Grills is that they should retain most of the heat from the burning charcoal inside them. This is definitely the job of a good insulator and that is precisely why the material of the grill is the first thing you should pay attention to.
Anyway, Here's the quick decision-making chart –
| Key Specifications | Akorn Kamado | Kamado Joe |
| --- | --- | --- |
| Material | Alloy Steel | Stainless Steel, Ceramic |
| Weight | 33 lbs – 97 lbs | 75.58 Pounds – 445 Pounds |
| Color Variant | 5+ | 1 (Blaze Red) |
| Cooking Space | 155 Sq. In. – 447 Sq. In. | 13.5 Sq. In. – N/A |
| My Top Pick | Akorn Kamado E06614 | Kamado Joe Classic Joe II |
| The Hallmarks | Versatility, Insulated Design, Portability, Easy Temp Controlling, Large Grill Space, Easy Uses & More… | Versatility, Eye-catching Design, Durability, Flexible Cooking System, Airflow Management System, & Many More… |
| Price | Check on Amazon | Check on Amazon |
Did we get too ahead of ourselves there? Okay, let's track back a bit.
Akorn and Kamado Joe both have a cult following in the Grill market but they achieve that by pretty different means.
Typically a Kamado Joe will cost you a bit more and that is due to their premium material use.
Akorn, on the other hand, focuses on giving you a more well-rounded experience that will not necessarily leave a hole in your pocket.
Going back to the whole material talk, ceramic is one of the best insulators around and Kamado Joe takes pride in the fact that their grills are made from good quality ceramic.
It can retain heat exceptionally well while the outer surface remains relatively cool to the touch. So you should only consider Kamado grills made from ceramic right?
Wrong!!! Ceramic is a fancy material and likewise comes at a fancy price. Even then, it is a 9 on the hardness scale and that basically means it is extremely brittle. Any sort of drop or impact is almost sure to break it into pieces.
This is where porcelain-coated steel comes into the picture. Akorn primarily uses this type of material due to them being the second-best in heat retention while also being infinitely more durable.
Sure it will not give you a BBQ experience as well as the Ceramic grills can, but you can also live in peace knowing that your dog going rampant in the backyard will not end in you looking for a new grill.
Now sure there are other differences between these two highly esteemed brands and their wide range of Kamado Grill products, and yes I will highlight them in later sections of this article but as we discussed earlier, the material is the main thing at consideration here.
Are you ready to pay a high price for a better bbq experience? And are you sure you don't have any "destructive elements" around you that will leave your grill in pieces? Then, by all means, Kamado Joe especially Kamado Classic Joe is the better option for you.
But if you want a product that will get you like 75% of the performance at a much cheaper price while being useful for years and years, you should pull the trigger on any of the Akorn models.
That is simple enough but if you care about things beyond durability and the cost, perhaps what feature sets each offer, you can check out the following sections of the article for a more in-depth look at the similarities or differences between these two brands.
Before we delve into the details, an important thing to note is that everything we say in this section and the next might not be true for every Akorn and Kamado Joe grill out there.
These two companies both have a wide range of products that has a varying degree of features or lack thereof and it will be almost impossible to list every model in the scope of this article.
Having said that, assessing the market for these Kamado Grills and especially these two brands, we can give you a baseline that will mostly remain true in a high percentage of cases.
Also Read: Egg Genius Vs Flame Boss 400 Vs 500 – Which Is Right For You
Char-Griller Akorn Kamado
In the world of expensive Kamado Grills, the Char-Griller from Akorn makes its name due to being very affordable for what it offers.
This might not be the best option for a backyard grilling veteran, but for anyone who wants to kick their grilling game up a notch with a shiny Kamado, this one is a very easy recommendation.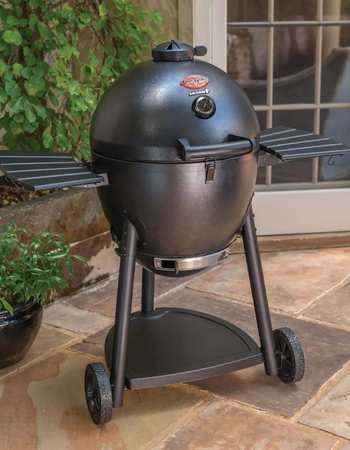 Top Features
Cast Iron Grates

8 inch Caster Wheels

20-inch Cooking Diameter

Removable Easy Dump Ash Pan

Triple-Wallet Steel Insulated Design
---
Made from a build of steel that is 22 gauges with powder coating on the outside and porcelain on the interior, the Char-Griller sub-brand from Akorn is made with the budget griller in mind and for the same reason, it is not a product you will find the best quality in.
However, the inclusion of a few nice-to-have features is great to see.
The lid has a locking mechanism and that along with double-wall insulation ensures all the heat stays trapped inside.
The cast-iron grates are also far superior to steel grates available in some models. There is also a warming rack and bottom storage shelf.
If you need to add more fuel in the middle of the cooking, that can also be done really easily with the built-in mechanism.
Add that to the ease of controlling the heat easily with dual dampers and a great included thermometer and your cooking experience is sure to be a great one.
Other highly useful features include foldable shelves for your meat and hooks for your tools.
The caster wheels also ensure easy maneuverability whenever you need them and when you are done cooking, the modularity makes the grill very easy to clean while the easy dump ash pan makes your life easy and riskless.
Overall, for the price, we can not complain about anything with the Char-Griller E16620. It is durable, fuel-efficient, and offers great price to performance.
Pros:
Very fuel-efficient

Amazing Bang-for-the-Buck

Cast iron grates are the best in class

Foldable workstation, hooks for tools, and additional storage space included
Cons:
Some quality control issues reported

Needs a good amount of maintenance over the years
Also Read: Kamado Joe Charcoal Basket Vs Kick Ash Basket – Which Is Worth The Money?
Kamado Joe Classic Joe
Kamado Joe makes high-end products and the classic joe is one of if not the best products to have ever graced the shelves. It is innovative, stylish, and overall one of the best Kamado Grills money can buy.
While there is a classic Joe III available currently it is only a minor upgrade over the Classic Joe II and the latter is also a lot cheaper now that it is a whole cycle old.
So according to us, Classic Joe II offers a much better value proposition.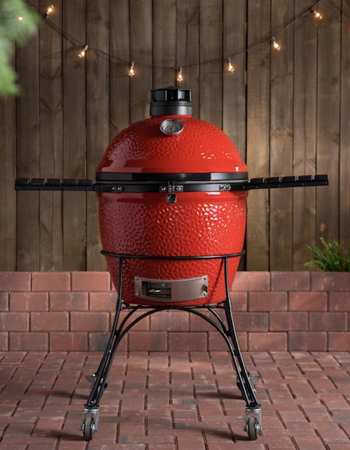 Top Features
Ceramic build

Light airlift hinge

18-inch Cooking Diameter

Multi-level cooking design

Precise airflow management
---
In addition to the airlift hinge, which decreases the mass of the domed top by about 96%, the second version of Kamado Joe Classic incorporates several other noteworthy advancements.
An entirely new double-thick fiberglass gasket that is made with small wires and a six-piece firebox design is included in the package.
Also included is a multilevel "divide and conquer" grilling mechanism, and a kamado joe slow roller which enables the cooking of a few different meals on multiple surfaces at the same time.
This really does increase the unit's versatility, at the same time it increases the amount of cooking space by 2 times.
Instead of the standard complete grill rack, you'll get two separate half-moon-shaped grills using a kamado joe soapstone that are set at different levels on the grill.
This allows you to cook different foods at varying temperatures simultaneously because you have different heat zones available.
This grill can withstand temperatures ranging from 250°F to 750°F. The top vent is in charge of the finer temperature adjustments, and it is meant to be rust and rainproof in order to function well.
The Kamado Joe is my preferred grill smoker combo of choice because of its high build quality and adaptability and we would recommend it to anyone who can splurge the cash on it. It is worth every penny.
Pros
Easily cleanable

The high-quality ceramic build

Feels and Looks super Premium

Everything needed to grill comes included

The innovative 2 level setup is a game-changer
Cons
Very expensive

Is a relatively small grill at only 18 inches
Also Read: The Ultimate Kamado Joe Dojoe Review: Is It Worth the Investment?
Kamado Joe Big Joe
So are you looking for the Kamado Joe quality but the classic is a bit too small for you? Then Big Joe is just the product you have been looking for. It also has 3 versions but for the same reasons as stated above, the Big Joe II is our favorite.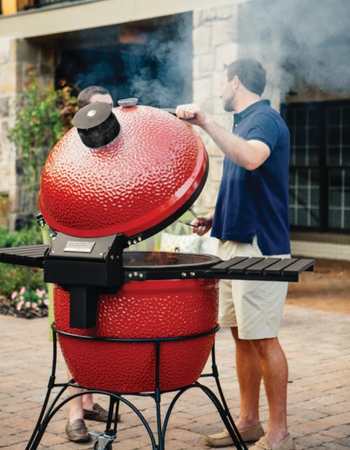 Top Features
Airlift Hinge

24-inch Cooking Diameter

Multilevel Cooking System

Thick wire mesh fiberglass gaskets

Ceramic build with aluminum cover
---
The Classic Joe and the Big Joe both are cut from the same cloth. From looks to build to functionality, it is almost exactly one-to-one.
That is not a bad thing by any stretch of the imagination though, as the classic is already an amazing kamado grill and the Big Joe is just its larger brethren.
But since the grill is physically a lot bigger, some might worry about the weight of the lid and how difficult it might be to work a hot grill.
Kamado Joe actually thought of that and created their Air Lift hinge mechanism. The lid is already pretty light. It is made from rust-proof aluminum and offers rain-proof functionality.
But the cherry on top is the Air Lift hinge mechanism that makes handling so much easier. You can even lift the lid with a single finger.
The built-in thermometer is also surprisingly accurate. That might be something you would want to take for granted, but let us tell you that including a thermometer of this caliber is no mean feat and definitely deserves praise.
These are the only two features worth talking about as everything else is identical to the Classic Joe so take another quick glance at that section if you are interested.
But if a huge unwieldy kamado grill is what you need, we can safely say that you would be incredibly impressed by the Big Joe.
Pros
Amazing Built-in Thermometer

All the same pros as the Classic Joe

Superlight lid without compromising functionality
Cons
Very expensive

Portability is next to none

The vents on top can get gummed up with repeated use
Also Read: Weber Original Kettle Vs Premium Kettle – Grab The Best One Today
The Similarities Between Akorn and Kamado Joe
While these two brands have their differences in the material of choice, they have a lot more in common than you might think.
So let's see what are the things that remain constant, whichever brand you choose to go with:
Overall Functionality
This one isn't rocket science, these two brands make different versions of almost the same product, and thus the functionality remains the same.
Kamado grills are known for their versatility, you can smoke some meat one day and cook some burgers the next while having the option to bake a cobbler or make a pizza in between.
Given that you are considering comparable sizes, you can use the same silverware.
Fuel Cost
Again, given that you consider the same sizes, your fuel cost will not skyrocket on either of the two brands. Both are known to be incredibly fuel-efficient, going as far as a single load being good enough for multiple cooking sessions.
The Profile
Kamado Grills are almost always the same overall shape. A dome top with an elongated bottom with legs.
Throughout their product range, Kamado Joe or Akorn did not think this needed any reinventions and thus their overall shape remains the same.
There are differences in the legs and how they work yes, but even considering that these grills will occupy the same footprint in your storage space or cooking area.
Range of Sizes
Different customers require different sizes of grills, and to own the most market share, Akorn and Kamado Joe both offers a wide range of sizes.
You do not need to choose either of the brands for a particular size as no matter what your preference might be, each of them is sure to have an option for you.
Well, that is where the similarities end. Also as we discussed earlier, there might be more in some cases so take this section with a small grain of salt.
Also Read: Cambro Vs Carlisle – Which Brand Fits Your Needs?
What Are The Differences
There are more differences than there are similarities between these two brands and if that weren't the case, the point of this article would be pretty moot. The most prominent differences we observed across many different models are.
Materials
We have talked at length about the different materials used and the advantages and disadvantages of each so let's not lengthen this further.
In summary, Akorn uses porcelain-coated stainless steel while Kamado Joe uses Ceramic for their Kamado grills.
Out-of-the-box Experience
The unboxing experience might be something you, or anyone you know, never really cared for but it goes a long way in the perceived expense of a product.
In that vein, Akorn typically likes to make their users do most of the work as their products come in parts, and with the help of a handy manual, you need to assemble the grill yourselves.
That is a stark contrast to Kamado Joe as most of their products come pre-assembled and you can cook straight out of the box without much of a delay.
While the case with Akorn is certainly no deal-breaker, it still warrants some conversation.
Air-Leakage
If you want to use your Kamado Grill as a smoker as most people do, you need to have a model that keeps the hot smoke from the coals inside the grill.
That requires minimum leakage and the part of the grill that has the biggest influence on the leakage is the gasket.
A felt or rubber gasket is the best for this job and Kamado Joe usually includes a high-quality gasket with their grills while Akorn has cheaper fiberglass gaskets throughout most of their lineup.
Fiberglass is not as good as silicone or felt and thus some amount of air will leak out of your Akorn kamado grills.
Temperature Control
The temperature control of a kamado grill also ties into the material and gaskets we talked about earlier.
A ceramic grill with a great gasket system will give you unparalleled temperature control and retention. The vent system is also at play here and both brands have an adequate, albeit different, vent system.
Additionally, the good heat retention of ceramic might prove to be a bad thing in certain situations as even with a little bit of air leakage a lot of heat can escape which is not the case for steel grills.
It basically boils down to your own experience and preferences. Another important factor happens to be a somewhat widespread issue of Akorn grill thermometers not being accurate enough.
Weight and Portability
Two comparable grills from each brand might have the same size, shape, and footprint but portability is an entirely different story due to the weight.
Ceramic is a lot denser than steel and as a result weight a few times more in the same volume.
Also, it is not as forgiving of accidental drops due to ceramic being fragile. So if you want something that you can easily carry around or move from place to place, Akorn is your brand.
Resell Value
With the proper amount of care, both brands can last you a long time and you can even decide to sell them after you feel like they have given you your money's worth.
Typically since Kamado Joe costs more new, it will cost more used too. Means you can get a bit more money out of potential buyers if you do decide to sell the grill down the line.
Now that we have cleared out exactly what sets these two brands apart, in the following section I will give my recommendations for the best Kamado grill products from each of the two brands.
Kamado Joe Jr Vs Akorn Jr – Which is Best For You?
It is our understanding that not everyone can afford the space that is needed to store a giant Kamado Grill. Especially in the colder months, you won't get much use of the grill.
For this reason, smaller kamado grills have been all the craze recently. And the two best ones available on the market currently are the Kamado Joe Jr and the Akorn Jr.
Both these products have around 13 to 14 inches of cooking area and have a footprint small enough to stay in your shed without any annoyance.
Note that you will have to give up on creature comforts like storage space or foldable shelves but that is a small price to pay in our opinion.
Other than that, all the basics are covered by both and they come with the signature features from each brand (i.e. ceramic vs steel).
The Akorn here offers better value as the grate is cast iron along with a removable design. It is also significantly lighter and comes with a removable ash pan.
The Kamado, on the other hand, has a better-looking product that is made from top shelf-material.
Sure it might have stainless steel cooking grates and a nonremovable grate design, but the inclusion of a fire ring and smoking stone more than makes up for it.
But you can buy third-party accessories for both the grills and even modify accessories made for bigger grills to use with these Jr-sized ones so included accessories should not be much of a concern for a potential buyer.
Simply put, if you want a reasonable product at a reasonable price that will get your grilling job done reasonably well, go for the Akorn Jr.
But those who want the best-of-the-best and do not want to settle for anything less, Kamado Joe Jr all the way.
If you want a more detailed look at each of them, here it is:
Char-Griller AKORN Jr. Kamado Grill
Think the Char-Griller Akorn Kamado but much smaller. It has the same guaranteed Akorn quality and will offer you an amazing experience in a small package.
Even at the smallest of sizes, a ceramic kamado grill is not exactly portable, as you may have discovered if you have ever had one. The ceramic is very heavy and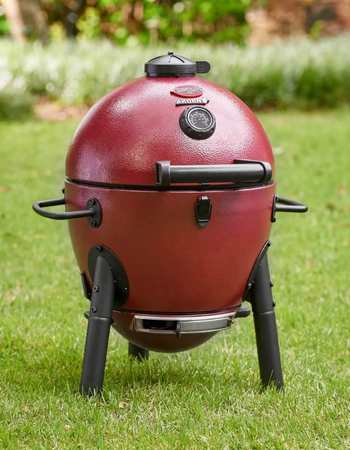 Top Features
Removable Ash Pan

Cast Iron Cooking Grate

Lightweight Steel Design

Removable Cooking Grate

14-inch Cooking Diameter
---
So, the Char-Griller AKORN Jr. is probably one of the only viable options to consider if portability is what you need.
Sure there might be no warming rack, but it performs exactly the same functions as the bigger Char-Griller AKORN Kamado. The steel body is virtually indestructible, and it holds heat at a level comparable to that of a ceramic cooker.
Cooking on the well-seasoned cast iron grate is also a guarantee of pleasure and satisfaction. While the size is very small, it is still spacious enough to get dinner for a family of four in no time.
What you spend for the AKORN Jr. is not going to be beaten anywhere! In terms of value for money, the Akorn Jr. is one of the best products in this segment.
Pros
The most portability offered

Cast iron cooking grate included

Carries the same exact functionality as the bigger Akorn grills
Cons
Changing fuel is a chore.

Third-party accessories are hard to find
Kamado Joe Jr Portable Grill
Jr does not necessarily mean portable and the Joe Jr is the living proof of that. However, the footprint is even smaller than the Akorn Jr and if you don't need to move your kamado around but still want a small footprint for easy storage, the Joe Jr is for you.
The thick ceramic walls of the Kamado Joe Jr. allow for exceptional heat retention, and the lower fuel requirement results in lower overall cooking expenses. An equipment rail and a ceramic smoking stone are also found inside the packaging.
Top Features
Spring Assisted Lid

Included smoking stone

13.5-inch Cooking Diameter

1.25-inch thick ceramic walls

Included Fire box and Fire ring
---
The Joe Jr. does not have the "divide and conquers" feature of the bigger Kamados, but at this size and footprint, that is to be expected. However, it produces wonderful delicious pizza using kamado joe dojoe in the same manner as its larger brothers.
The classic II and the Jr. also share the same stainless steel grates for cooking which are also equipped with a hinge, enabling you to fill the grill easily. Furthermore, the included thermometer is accurate and works very well.
If you have an existing larger Kamado Joe barbecue, the Joe Jr. can be used as an additional secondary grill and if you have some muscles, nothing is really stopping you from taking the Kamado Joe Jr places. Overall, a solid recommendation from us.
Pros:
Amazing fit and finish

Best BBQ performance at this size

The other ceramic Kamado Grill pros
Cons:
No multilevel cooking system

Third-party accessories are hard to come by
Is Akorn Kamado Worth it?
Yes, for the price, Akorn Kamado grills are some of the best grills you can buy. They are not top-of-the-line by any means but are worth the price in almost all cases.
Is the Akorn Kamado a Smoker?
Ans. Kamado Grills are hybrid equipment that can do a lot of different things including smoking. So yes, while the Akorn Kamado might not be custom-built for use as a smoker, it can certainly be used as one.
Is Kamado Big Joe Worth It?
The answer to this question depends on who you are and what you need a kamado grill for. The Big Joe is a very expensive piece of equipment and it is only worth it if you have the disposable income and also use it every month if not every week.
Why is Kamado Joe Better?
Kamado Joe is better than Akorn Kamados due to being made out of ceramic. Ceramic has amazing heat retention abilities and can give you the best BBQ experience and taste out there, albeit at a steep price.
What are the Akorn Grills Made of?
Akorn has made a name for themselves by making porcelain-coated steel kamado grills.
Who makes Akorn Grill?
Akorn grills are made by Char-Griller and they are made in China.
Conclusion
A Kamado Grill can be an indispensable piece of equipment in your arsenal if you love cooking on charcoal. From BBQ to Pizza to Burgers and Deserts, kamados can do it all and that is why you need to understand your needs before choosing a brand of Kamado. Hopefully, our Akorn vs Kamado Joe roundup has helped you decide which brand is right for you.