If you are a fan of low and slow cooking then you must know how disturbing hot spots can be while cooking. To solve this issue once and for all, Kamado Joe came with their latest invention, the SloRoller. 
For the grill and BBQ lovers, achieving the perfect smoky flavor is really challenging. But these slow rollers infuse the maximum amount of smokiness in food. Besides, they minimize hot spots around the cooking area.
Every product is independently reviewed and selected by our editors. If you buy something through our links, we may earn an affiliate commission at no extra cost to you.
On that note, let's have a discussion on the Kamado Joe SloRoller review below to understand how they can be useful if you have a Kamado Joe grill. 
Unlock the Secrets of Perfect BBQ with Kamado Joe SloRoller: A Comprehensive Review
As you already know,  Kamado Joe came with their new SloRoller back in 2019. Although it is a pretty new technology, it is already winning hearts of the regular BBQ lovers.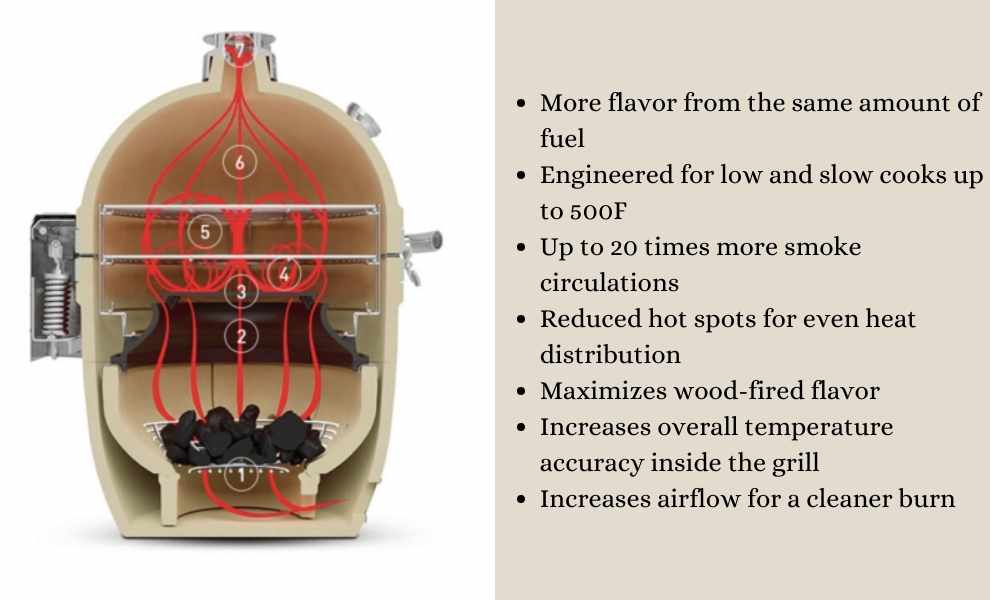 Being architectured with Harvard science technology, it's a hyperbolic smoking chamber that traps heat and smoke inside the Kamado Joe grill. Resultantly, it helps spread the heat evenly for better grilling.
To put it differently, the SloRoller deflects heat so that it can be distributed evenly to produce more smoke. While you are cooking at a low temperature, equal heat distribution is an absolute must to avoid hot spots and that's what this revolutionary roller does quite efficiently.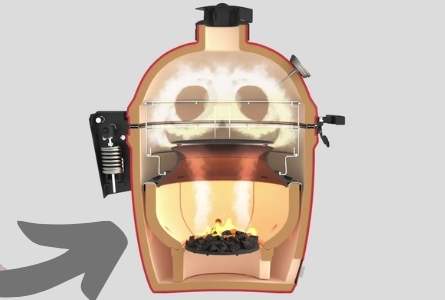 If hot spots are created, which is a common issue while grilling or smoking food, chances are, your food will not be cooked properly. One side will be overcooked and the other will be undercooked. People are used to using deflectors in this case.
But a SloRoller works much better than a deflector for even cooking all around. On one hand, it results in producing more smoke by even heating. On the other hand, the smoke is trapped to pass through the food.
However, most grill makers always try to reduce hot spots inside the cooking surface. And Kamado Joe is successful to a considerable extent by introducing this incredible technology in the form of SloRoller. 
It is basically a tool design that results in consistent cooking while smoking, grilling, or barbecuing. 
Talking about the taste, a SloRoller can do wonders in cooking flavorful dishes. It can literally take the grilling game to an altogether different level. 
Whether you are a beginner or pro, you can easily reach those long-desired smoke rings while smoking your favorite food. The reason behind this is pretty obvious. Kamado Joe SloRollers are one step ahead of the existing cooking appliances on the market. 
And thanks to the constant rolling procedure, these SloRollers continue to distribute both heat and smoke and thus encircle the food with flavorful smoke. Therefore, you get better results in terms of flavor using the same amount of fuel. 
On top of that, they support low and slow cooking up to 500F temperature. No wonder you will enjoy the optimum wood-fired flavor like never before. Also, the rollers ensure cleaner fuel burn by enhancing the airflow. 
Aside from reducing hot spots, the SloRoller also takes pride in maintaining absolute temperature accuracy. Resultantly, you will get 20 times more smoke circulation regardless of the fuel type.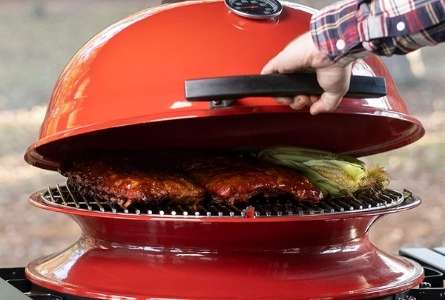 Naturally, using these rollers with the Kamado Joe smokers offer unparalleled results in smoking food. 
Although these smoking chambers come with the classic III and Big Joe III grill, you can buy them separately as well. 
That being said, let's look forward to the two prominent KJ SloRollers below and try to get through their amenities.
Also Read: Kamado Joe Dojoe Review – Is the DoJoe Worth It?
Kamado SloRoller For Big Joe 
First, let's have a discussion on the Kamado Big Joe SloRoller that comes with a rack. Having dimensions of 23×23×7.7 inches, it is very easy to install. With the incredible ability of even heat spread, this roller is a great tool for consistent cooking. 
However, the top features of this tool are stated below for your better understanding.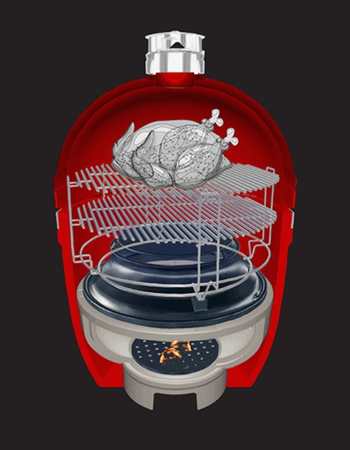 Top Features
Comes with a cooking rack

Perfect for low and slow cooking

Compatible with KJ Big Joe l and ll

Includes a hyperbolic smoking chamber

Supports temperature range of 150°-500°F
| Specifications | Parameters |
| --- | --- |
| Brand | Kamado Joe |
| Model Name | Big Joe |
| Dimensions | 23 x 23 x 7.7 inches |
| Weight | 15.9 Pounds |
| Power Source | Charcoal |
| Inner Material | Stainless steel |
Want to bless your BBQ with the best smoking tech? Look no further and add this advanced cooking accessory to your kitchen tool right away.
Although the rack sits a bit higher, the cooking surface is not affected at all. You get the same amount of heat and smoke a BJ SloRoller should provide. 
As the SloRoller supports a wide temperature range, smoking or barbecuing becomes a breeze with this expert tool. 
With that being said, it's not that only experts can use it. In fact, using the tool makes an absolute beginner cook like a professional within a few periods.
Talking of the flavor and smell, you get an unprecedented result in both cases as the SloRoller makes sure to maintain a consistent temperature throughout. 
That's why it infuses maximum smoke in the food, be it meat or something else. And you can achieve the best possible result with the minimum fuel consumption. 
While opting for reducing hot spots, it also focuses on recirculating heat and smoke as much as possible. That's what makes the KJ Big Joe smoker one of the greatest smokers of all time in association with the revolutionary SloRoller. 
Just make sure not to surpass 500°F if you don't want to warp the metal. This minor precaution can make the roller last really long.
Pros:
Compatible with several grills from different brands

Efficiently distribute heat and smoke to ensure even cooking

Incredible temperature range to ensure absolute slow smoking
Cons:
Not suitable to cook large meats
Also Read: The Ultimate Kamado Joe Soapstone Review: Is It Worth the Investment?
Kamado Joe SloRoller For Classic Joe 
When it comes to Kamado Joe's SloRoller review, naturally comes their Classic Joe in order. This black color slow roller weighs 10 pounds and has dimensions of 17×17×5.25 inches. If you are aiming at an amazing smoky smack at your next BBQed dish, you should definitely try it out. 
Being compatible with KJ Classic l and ll, it brings outstanding results in easy slow, and low long cooks. Now, let's get straight to its key specifications below.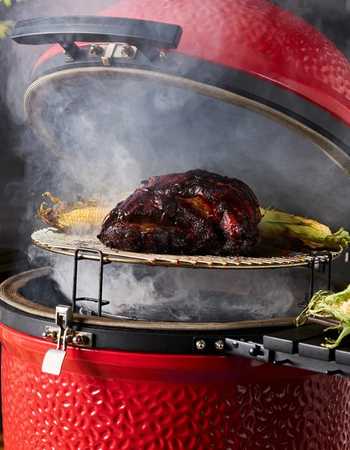 Top Features
Comes with a flexible cooking rack

Designed for Classic l and ll KJ grill

Makes the best use of the KJ smoker

Architectured with the Harvard science

Usable within the 150°-500°F temperature
| Specifications | Parameters |
| --- | --- |
| Brand | Kamado Joe |
| Model Name | Classic Joe |
| Dimensions | 17 x 17 x 5.25 inches |
| Weight | 10 Pounds |
| Inner Material | Stainless steel |
If you are tired of managing hot spots within the smoker, rest assured those struggles will be gone forever with this high-tech SloRoller. Being designed with 20 times more smoke-producing capacity, this roller can truly seal the deal with continuous heat flow. 
Aside from that, it also ensures that you enjoy the best wood-fired flavor with minimum effort. And thanks to advanced technology, the hyperbolic smoke chamber traps smoke inside to make the meals more flavorsome than ever. 
In fact, your food tastes a lot better than before when you use this new-age cooking accessory as it evenly heats the cooking surface. Besides, it also minimizes the number of ashes by maintaining a clean burn of the fuel. 
Whether you smoke beef or chicken, you will get to enjoy a faster cooking session without affecting the authentic taste of the meat. This is because of the balanced temperature flow throughout the session. 
All things considered, the SloRoller does justice to every penny you spend on it by its outstanding performance. So, we highly recommend it if you own a Classic l or ll grill. 
Hopefully, you have developed an overall idea of what the Kamado Joe SloRoller is and how it works. If so, then what are you waiting for? Hurry up and bless your next grilling game with this amazing accessory with advanced technological innovation. 
Pros:
Helps cooking faster

Ensures even heat distribution

Perfectly fit in KJ Classic l and ll grill
Cons:
It's a bit expensive

You may need a grate to put your meats in this SloRoller
Also Read: Kamado Joe Charcoal Basket Vs Kick Ash Basket – Which Is Worth The Money?
Is Kamado Joe SloRoller Worth It
We know that the first question to hit your head after going through the review above is- is Kamado Joe's SloRoller really worth the hype? Or is it overpriced? 
The answer is pretty straightforward. Yes, it is worth both the price and the hype. A SloRoller comes with countless amenities. For example, it is the pioneer of consistent cooking by maintaining a steadfast temperature flux. 
On the same note, a SloRoller always maintains uninterrupted airflow to assure a clean burn. And thanks to its amazing smoke-infusing capability, the smoked items taste way better. 
To add more, although it costs more than a heat deflector, it works better than that as well. 
By surrounding the food with clouds of smoke, a SloRoller is indeed the perfect tool to enjoy grilling to the fullest. 
Moreover, the hyperbolic smoking chamber is quite efficient along with the flexible cooking rack. Being compatible with a high heat flow, the tool can cook faster as well. 
Best of all, you need less fuel to create perfect smoky rings than a regular grill with this roller. So, if you frequently prefer low and slow cooking, having a KJ SloRoller is mandatory to reduce fuel costs.
And they are pretty durable too. If you can maintain it with proper care, it will accompany you for a long time. So, no way you would regret it after investing in such a versatile smoking tool. 
Also Read: Kamado Cooking 101 Including Best Kamado Recipes
How To Setup Kamado Joe SloRoller
Before you move on to making the best use of the SloRoller, you must set it up properly. 
Confused about how to install it correctly? Then look forward to the setup tips below.
Well, it's as simple as installing a deflector plate. As a Kamado Joe grill consists of the Divide and Conquer system, first of all, you need to remove it. Then lower the roller to set it on top of the firebox. 
Always remember that the lid of the SloRoller should be replaced and the grill should be kept open. 
Once you remove the lid, place enough charcoal to fill the grill and start the cooking after lighting them up.
How To Use Kamado Joe SloRoller
While using the KJ SloRoller, do you know how to use it in the right way? Of course, you need to set it up properly. But what next? What if you need to add fuel in the middle of cooking?
Although low and slow cooking usually doesn't require additional fuel in the middle, it's better to know how to do it. 
In that case, you don't need to get everything out including the hyperbolic chamber. Just taking the flexible rack out and pulling out the insert is enough. 
That's how you can avoid a lot of hassles if your grill demands sudden fuel addition.
How To Clean Kamado Joe SloRoller
Truth be told, you need not clean your Kamado Joe SloRoller on a regular basis. But cleaning the tool once in a while is good to prolong its lifespan. Otherwise, it might turn into a mouse magnet.
And if you don't clean it after a few sessions of long cooking hours, it will get absolutely filthy. But the question is- how will you clean it? Will a traditional cleaning method work? 
Well, you cannot heat the roller rack to shed off the excess layer of food. Because it cannot withstand temperatures over 500°F. 
So, the safest method is to scrape it off with something soft and then soak it into the hot water. Once it's thoroughly soaked,  scraping it off again will make the food layers come out easily. 
Finally, you can clean it thoroughly with a mild dishwasher. 
And to avoid making the SloRoller way too dirty, using a drip pan is a wise decision. That will reduce the cleaning need to a great extent.
Conclusion
To wrap the Kamado Joe SloRoller review up, it's quite evident that KJ has invented an excellent kitchen tool in the form of a slow roller. Whether you have tried it or not, we believe, every grilling enthusiast should at least use it once to know the difference.
Definitely, it cannot eliminate 100% hot spots within the grill or smoker. But it can reduce the amount to a considerable extent. Moreover, it also minimizes fuel waste by enhancing a balanced temperature flow. 
So, we highly recommend both the SloRollers above. However, you should definitely check out your grill model first and then purchase the respective model of slow roller suitable to the grill.  
Happy smoking!