A charcoal basket is an amazing option if you want to have an efficient cooking experience with your Kamado Joe. Even though there are numerous options available, people only seem to talk about the most hyped ones. 
Among these, two are on top of users' preferences. This article is dedicated to those two. You will be getting a detailed comparison between Kamado Joe charcoal basket vs Kick Ash basket.
After comparing the meticulous comparison, you can decide for yourself which one will be more suitable for you. 
Every product is independently reviewed and selected by our editors. If you buy something through our links, we may earn an affiliate commission at no extra cost to you.
Kamado Joe Charcoal Basket Vs Kick Ash Basket – Which Suits You Best
At first glance, you may think that both these baskets are identical. However, that's not the case when you're evaluating them upfront. 
This review will help you decide which one will be more suitable for you based on the differences and similarities. 
Let's have a look at the key feature comparison chart to make the right decision within a short time –
| Key Features | kamado charcoal basket | kick ash basket |
| --- | --- | --- |
| Dimensions | 14.63 x 14.63 x 6.4 inches | 15 x 15 x 5.75 inches |
| Item Weight | 8.6 pounds | 4.16 pounds |
| Material | Stainless Steel | Stainless Steel |
| Available Size | 2 | 3 |
| Charcoal Divider | Yes | No |
| The Hallmarks | Effortless cleaning, Quality construction, Two cooking zone & Flexible cooking system | Durability, Easy cleaning, Repeated use, Patented design, Giftable & Better airflow |
| Price | Check on Amazon | Check on Amazon |
Both options are excellent in quality. Besides, they're both durable too. So, there is no confusion regarding the basic quality here. 
The differences come in small features. For instance, the charcoal baskets from Kamado Joe Basket are slightly more expensive than the Kick Ash Charcoal Basket. But like I said, the difference isn't insane. 
In the case of materials, both baskets are similar. The charcoal baskets are made of high-quality stainless steel so they're rust-proof and long-lasting. 
However, the sizes are not similar. You might be wondering how different sizes can fit in the same Kamado Joe. 
Well, the size difference is very slight and the Kick Ash created this variance for a reason. I'll get to that later. 
Because of this size difference, the Kamado Joe charcoal basket fits your grill comparatively better. The handles are also a bit more convenient compared to the Kick Ash Basket. 
This is where the significant difference is. These improvements increase the price of the Kamado Joe charcoal basket. 
One significant difference between the two units is the divider. The Kamado Joe charcoal basket offers you a separator so that you can create heat zones and cook more efficiently. Kick Ash basket offers no such facility. 
There is one other minor difference between the two that comes into consideration while selecting one of them. The handles on the Kamado Joe basket are slightly curved. 
Even though it's not a compulsory feature, it does make the basket a bit more convenient to handle. If you're wondering whether the baskets have an impact on your cooking or not, they don't. 
So, you can rest assured that you will be getting a great deal, regardless of which one you go for. 
Most other features are almost similar in both charcoal baskets. You can expect a sufficient amount of airflow using both products. 
There's a slight difference in the rod thickness. This comes in handy when you don't want small pieces falling from the basket. However, thicker bars mean lower airflow. 
Overall, I would recommend the Kamado Joe charcoal basket to someone who wants the highest convenience and efficiency. 
On the contrary, users who don't care about the meticulous details of a charcoal basket may prefer the Kick Ash Charcoal Basket. The sole reason is that it's a few bucks cheaper than the Kamado Joe one.
Both options are excellent for making your grilling experience more fascinating than ever. If you are looking for the best accessories to combine with your Kamado Joe, a charcoal basket is where you start your journey. 
Unlike a lot of other accessories that do not have any significant impact on your grilling, you will certainly be happy with a charcoal basket. 
Also Read: Ultimate Kamado Joe Slow Roller Review: Is It Worth the Investment?
Kamado Joe Charcoal Basket For Classic Joe
Let's start by reviewing the charcoal basket fit for Classic Joe. The material is 304 stainless steel. So, you can expect this to last longer than any other product. 
It will not only make your cleaning process easier but also allow you to cook with ease. The divider in the middle allows you to create separate heat zones.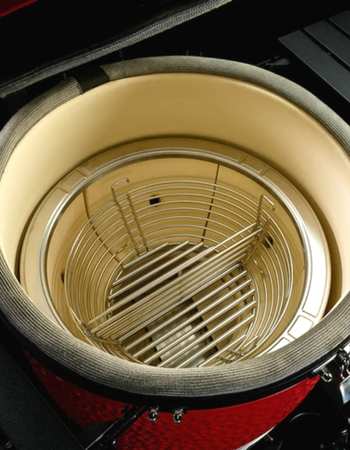 Top Features
Rust-proof

Easy to use

Sufficient airflow

304 stainless steel

Sturdy and durable

Convenient cleaning
---
With improved handles, you can take the basket out and remove or replace the burnt charcoal within minutes. If you have been struggling to clean your firebox, a charcoal box will be a lifesaver for you.
There are, of course, other benefits of choosing this one. The first thing is you're getting the brand name. For some users, a brand name is a very significant feature to consider.
By adding a few bucks to your budget, you can buy this charcoal basket from the same brand as your grill. So, the compatibility will be perfect without a doubt.
The thick stainless steel bars with perfect welding will make sure that the construction does not get damaged anytime soon.
Besides, it can ensure excellent airflow inside your grill. You can maintain a steady temperature, without any hassle.
If you're someone who grills pretty regularly, you would want this basket. You can cut down the time of lighting the charcoal.
In addition, cleaning will become a lot easier than before. Overall, it's one of the best accessories from Kamado Joe that you can get.
Also Read: Kamado Joe Soapstone Review: Is It Worth the Money?
Kamado Charcoal Basket For Big Joe
If you have a Big Joe, Kamado Joe also offers a similar charcoal basket for your unit. It's a perfect fit for Big Joe to make cleaning, cooking, and maintaining super easy.
The only difference between this model and the one I've already reviewed is the size. This one is made for Big Joe and the prior one is made for Kamado Joe Classic.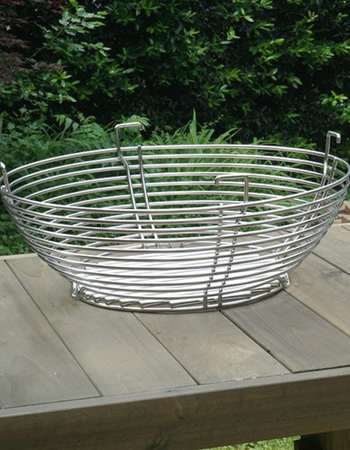 Top Features
Durable

Easy to use

Convenient handles

Stainless steel divider

Premium-grade stainless steel
---
The size also contributes to the pricing. It's comparatively more expensive than the prior one. Other than that, everything else is identical.
For instance, the materials for both of the baskets are the same. You can expect high-quality 304 stainless steel from this charcoal basket too.
This basket comes with sturdy and rust-proof construction. You can use this product for many years to come without damaging the joints. There's a stainless steel divider in the middle to create separate heat zones.
Experience a hassle-free cleaning experience with this unit. Proper airflow, along with convenient handles, makes this basket one of the best one among competitors.
So, if you want a charcoal basket for your Big Joe, there's no reason not to choose this one.
Also Read: The Ultimate Kamado Joe Dojoe Review: Is It Worth the Investment?
Kick Ash Charcoal Basket Overview
It will be difficult to find a Kick Ash basket alternative, considering the price, quality, and features you will enjoy with this unit. As I have mentioned before, the base is a bit different in size compared to the Kamado Joe baskets.
This allows the basket to fit a range of grilling units, making the basket versatile compared to its competitors.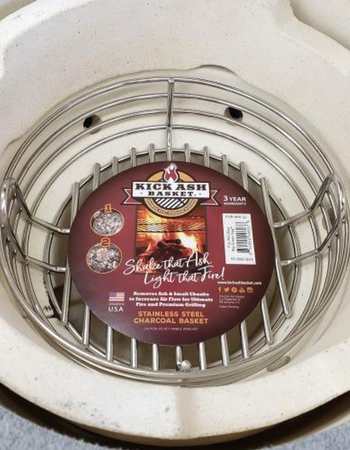 Top Features
Easy to clean

Better airflow

Comparatively cheaper

Better temperature control

Versatile and fits different models
---
You will also get a cheaper price if you're choosing this one. Along with excellent quality and premium materials, the basket costs a few buck less.
The basket does its job perfectly. The bars are structured to ensure maximum airflow so that you can reach a high temperature in no time. In addition, Kick Ash Basket fits almost all types of Kamado grills like Kamado Joe and akorn grills.
In addition, it also makes your cleaning procedure super easy. There is no question about the unit's durability either. Users have been using this basket for years and always loved it. However, there are one or two downsides.
Even though the basket makes cleaning easy, it would have been easier if the handles were a bit bent. However, this doesn't make maneuvering the basket difficult at all. So, it's nothing to be concerned about.
Another feature you will be giving up if you choose this basket is the divider. Unlike the Kamado Joe baskets, this one does not come with a stainless steel divider for the charcoal. 
So, it won't be as breezy to create two heat zones. Other than that, this is one of the perfect charcoal baskets you can ever find on the market. 
Also Read: Kamado Cooking 101 Including Best Kamado Recipes
What Are The Differences
For your convenience, I'll be explaining the differences between the Kamado Joe charcoal basket vs Kick Ash basket. You can then compare both brands and decide which one to go for. 
The first significant difference to consider is certainly the price. The Kick Ash Basket is comparatively cheaper than the Kamado Joe Baskets. So, someone looking for affordability will be happier with the Kick Ash Basket. 
The differences do not stop at the price. There are a few variations that may seem minor from the distance but have a great impact. 
For instance, the curved handles in the Kamado Joe units make them better than the Kick Ash one. You can easily place the basket inside the grill and take it out without any complications too. 
What highlights the differences mostly in my opinion though, is the divider. Kamado Joe baskets come with stainless steel divider in the middle. This allows you to create separate heat zones and cook with perfection. 
On the plus side of the Kick Ash basket, you can combine it with a few grill models. The Kamado Joe baskets, on the other hand, are only suitable for specific models. Other than these differences, all other features are pretty much the same for both baskets. 
These differences mentioned above do not affect the cooking procedure or how your recipe turns out. So, when you're comparing the two, it's a battle between convenience and price. And of course, the brand name, if that matters to you. 
What Are The Similarities
Most features in both brands are similar. For instance, the most basic feature of any product is the materials. Both charcoal baskets feature high-quality stainless steel. That means no rust on either of them and durability at its best. 
The shape of these baskets is pretty similar too, even though the sizes aren't. Both the baskets are amazing at their basic functions. 
You can expect excellent airflow and efficient temperature management. In addition, cleaning will become easier than ever with these baskets. 
In the case of construction, material, quality, and build, both products are pretty similar. So, no matter which one you get, you'll be getting your money's worth. 
Is The Kamado Joe Charcoal Basket Worth It
Kamado Joe charcoal basket is one of the most efficient accessories you can buy for your Kamado Joe. So, the answer is yes. The Kamado Joe charcoal basket is certainly worth it. 
You can expect premium quality, long-lasting durability, and utmost convenience with this basket. 
Is The Kick Ash Basket Worth It?
The Kick Ask basket will certainly exceed your expectation with its quality. Considering the price you're paying for the basket, which is less than the ones offered by Kamado Joe, it's one of the best baskets you can get. 
How Does The Kamado Joe Charcoal Basket Work
The Kamado Joe charcoal basket is amazing for facilitating your grilling experience. But how does that happen? 
When you put charcoal on the basket and light it, sufficient airflow helps the charcoal to reach a very high temperature within a short time. 
In addition, the grill retains heat because of its construction. You might be thinking that if the grill stays hot for a long time, it will be difficult for you to move the grill after you're done cooking. 
It's specifically more applicable for outdoor cooking. Well, the basket comes in handy here too. By removing the basket with ease, you can make your cleaning easier and help the grill to cool down faster. 
Overall, this is one of the most convenient accessories to own for your Kamado Joe. 
How To Install Kamado Joe Charcoal Basket
The best way to install your Kamado Joe charcoal basket is by using the divide and conquer rack. You will notice that the hooks on the basket will perfectly fit the rack. 
Place your rack on top of the basket, rotate it to move the rack underneath the hooks, and lift the basket. Then, place the basket on the Kamado Joe. You can remove the rack using the same procedure or leave it there. 
Add charcoal to the basket and light it. Place the heat deflectors on top of the hooks and you will be good to go. 
Does Kamado Joe Come With Charcoal Basket
The Kamado Joe Classic III comes with a charcoal basket, whereas others don't. Kamado Joe Classic II has a circular grate made of cast iron at the bottom. For any other models, you will have to purchase the basket separately. 
Conclusion
Hopefully, your confusion about which one to choose between Kamado Joe charcoal basket vs Kick Ash basket is over. Both baskets are pretty great for the price you pay. Depending on what you're prioritizing more, both baskets can reach their full potential. If you want to save money, go for the Kick Ash charcoal basket. In comparison, if you want the brand name and added convenience when using the accessory, I will highly recommend you consider the Kamado Joe charcoal basket.