We all have heard about the Kamado Joe Dojoe and its perks. But the question is whether it's worth the money or not. The first argument around this accessory is that it saves your money from buying a new pizza oven.
Every product is independently reviewed and selected by our editors. If you buy something through our links, we may earn an affiliate commission at no extra cost to you.
If you own a Kamado Joe, you can turn it into a pizza oven rather than buying a new one. I have created a detailed Kamado Joe Dojoe review for you so that you can decide for yourself whether it's a good idea or not. Stay tuned. 
From Pizza to Bread: Unlock the Versatility of Kamado Joe Dojoe – An In-Depth Review
This Dojoe is a wedge-shaped accessory that can transfer your Kamado Joe into a temporary pizza oven. Using it is as effortless as it gets. There are several reasons to choose this tool rather than picking up a usual pizza stone.
The price may seem a bit high to some users, but it's going to save your money from buying a pizza oven. Making perfect pizza won't be a dream anymore. However, don't assume that this Dojoe doesn't have any downsides, because it does. 
I will get to that later. But first, let us take a look at the top features of this Dojoe.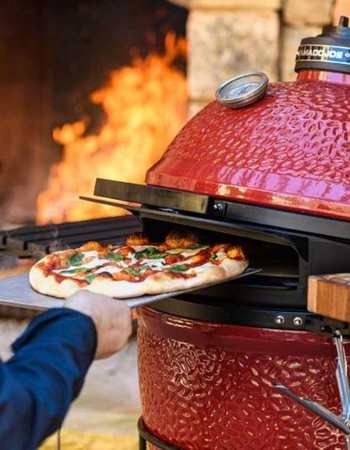 Top Features
Easy to use

Even heat distribution

Made of cast aluminum and ceramic

Available for Big Kamado Joe and Classic Kamado Joe

Temperature range from 400 degrees F up to 700 degrees F
| Specifications | Parameters |
| --- | --- |
| Brand | Kamado Joe |
| Dimensions | 28.5 x 31.75 x 5.63 inches |
| Item Weight | 23.4 pounds |
| Material | Ceramic & Cast Aluminum |
| Color | Black |
| Shape | Round |
Using the Dojoe is pretty easy too. All you need to do is to place it on top of the Kamado Joe after opening the lid. It does not require any alteration.
Heat Distribution
This Dojoe is also a masterpiece when it comes to heat distribution. You can rely on it for getting a perfectly made pizza with crispy crust every time.
No matter how many times you are using this tool and for how long, the pizza will turn out great. Besides, it does a great job to prevent burning your pizza too.
You don't need to open and close the lid due to the accessory's unique design. This allows the grill to prevent losing heat during the procedure.
Besides, the heat trapped inside can create the perfect environment for a pizza, just like a pizza oven. So, if you're thinking about a pizza stone alternative, this is the best you can get.
Perfect Fit
As I have mentioned before, the accessory is a perfect fit for your Kamado Joe. In fact, it comes in different sizes to fit different models of your grill. You can go for either one depending on your grill. You won't have to make any alteration or assembly to make it fit for the grill.
Many people wonder whether they can use it for their BGE or not. Well, you can't use it with the upgraded BGE due to the hinge. If you can remove the hinge, you can fit it in a BGE but that's a lot of trouble to go through.
Moisture Absorption
The tool is entirely compatible with your Kamado Joe's heat deflectors and it absorbs moisture to create perfect pizza crusts. If you use any alternative ways to make pizza with your grill, it will be difficult to make the crust crispy as you would get with this tool.
Durability
If you're spending more than $250 on an accessory, you would want it to last a very long time. Well, the Dojoe passed this test with flying colors. You can rely on this accessory to be with you in many years to come. Keep making amazing pizzas and the tool will stay the same.
One thing I must mention here is that some users have experienced flaking with the Dojoe. If you ever notice the tool flaking, it's best to wash it using some dish soap and a soft brush. Or, the flakes can end up getting in your pizza.
Easy To Maneuver
Using this accessory will ease your life in many ways. You will discover that turning your Kamado Joe grill to make a pizza doesn't require much expertise.
You can simply place the Dojoe on top of your grill and it will turn into a pizza oven in no time.
Using kamado joe soapstone for pizza is great but this dojoe is shaped like a wedge that creates an open front for the pizza.
You can easily place the pizza inside and bring it out when it's done. Once the grill cools down, you can remove the Dojoe and your grill will go back to being your Kamado Joe.
Money And Space Saving
If you are determined about spending a fair amount of money to make the perfect pizza at home, this tool can be a wise decision. For instance, another alternative would be to go for a pizza oven.
That will require more money as well as take up more space. So, by getting this Dojoe, you will not only be saving money but also saving space.
Assembly
One thing I find absolutely amazing is that it requires no assembly whatsoever. It's an accessory, so no one wants to go through any trouble to put it together. It will come pre-assembled, so you can start using it straight out of the box.
Cleaning
Another fascinating feature is the cleaning. You can clean the Dojoe with minimal effort. All you have to do is run it under clean water. If the water is not enough to clean the mess, try a few drops of dishwashing soap. Refrain from using anything harsh.
There is no indication of the Dojoe being dishwasher-friendly. So, it's better to stay on the safer side and manually wash it. Also, try to keep it clean after each use so that it doesn't get too messy and the durability stays intact.
Temperature Compatibility
Even though the heat tolerance of this Dojoe is lower than your Kamado Joe, it can still operate efficiently between 400 degrees F and 700 degrees F. And if you're making a pizza at home, the temperature doesn't need to be higher than that.
Besides, controlling the temperature with your Kamado Joe is a lot easier. So, you won't have to worry about it.
This temperature range bothers a few users. Many people want their oven to reach up to 900 degrees F to make different pizza types. However, it's a limitation of the Dojoe that you will have to endure.
On the contrary, you don't lose any heat during the process, so it makes up for that limitation.
Pros
Easy to clean

Easy to insert and remove

Prevents pizza from burning

Perfect fit for your Kamado Joe

Turns your grill into a pizza oven

Eases the pizza-making procedure
Cons
The temperature limit is 700 degrees F

It's a bit heavy and tough to maneuver when hot
As you can see, the Dojoe has its upsides and downsides. If you think that the advanced features you will be getting are worth the price of the Dojoe, there is no reason why you should not go for it.
Also Read: Kamado Joe Slow Roller Review: Is It Worth the Investment?
Is Kamado Dojoe Really Worth It?
You have gone through the review of the Dojoe. Even though it entirely depends on you, I can help you get to a decision faster. The primary benefit you are getting with this accessory is the ease of making the perfect pizza.
Every time you will get a perfect crust, that's the first benefit. The second benefit is that you won't have to open and close the lid repeatedly. Besides, you won't need a pizza stone.
If these features seem good enough to you for spending the asking price, then you should definitely invest in this accessory.
In comparison, the price may seem a bit high to some users. If you are not willing to spend that much money on an accessory, there are other options you can consider. You can either stick to a pizza stone or get a pizza oven for your kitchen.
However, a pizza oven will not be a cost-effective option. It will cost a lot more than a Dojoe if you want a separate oven to make pizza at home.
So, as you can see, it depends on what you are prioritizing. If you're being cost-effective, the Dojoe may not be a good idea for you.
Also Read: Mastering the Art of Kamado Cooking: A Beginner's Guide
Only Pizza Stone Vs Dojoe – Which Is More Convenient
If you compare making pizza using a pizza stone on your Kamado Joe with the Dojoe, you will certainly notice some difference. In favor of the pizza stone, you can reach up to 900 degrees F. 
It allows you to go versatile with your pizzas. You can try all types of pizza if you are using only a pizza stone instead of a Dojoe. The Dojoe, on the other hand, has some limitations regarding temperature. 
You can't reach higher than 700 degrees F or you will damage the tool. So, the pizza stone wins this argument. 
Moving on to the taste, I am going to say that it's almost a tie. The Dojoe has a slight advantage over the pizza stone.
Even though the pizzas made with only a pizza stone and using a Dojoe taste almost similar, the Dojoe does make the crust comparatively better. Then again, it's splitting hairs. 
The one thing I would say that the Dojoe wins over the pizza stone is the ease of use. You won't have to open and close the lid frequently when you're rotating the pizza. 
Besides, it's a bit bothersome to make a pizza using a pizza stone. You need to control the temperature with precision, which requires opening and closing the vents and wiping the pizza stone before putting the pizza on it. It's a lot of trouble. The Dojoe makes it easier. 
However, you also have to consider the price you are paying for the Dojoe. With the pizza stone, you may have to do a few chores but it won't cost you anything. 
On the contrary, the Dojoe will make your tasks easier but cost a lot. Nevertheless, it's a one-time investment to make. 
Also Read: Kamado Joe Charcoal Basket Vs Kick Ash Basket – Which Is Worth The Money?
Does Dojoe Fits Big Green Egg
If you own an old-style Large BGE, you can use this Dojoe without any issue. However, the upgraded BGE is not compatible with this tool. The hinge on the upgraded BGE does not allow this Dojoe to fit. 
So, make sure that you have an old BGE if you're getting this accessory solely for your Big Green Egg. 
How To Set Up Kamado Joe Dojoe
Setting up a Kamado Joe Dojoe is as easy as it gets. Once you preheat your grill according to your preferred recipe, you simply open the lid and place the Dojoe on top. Then, close the lid and adjust the temperature accordingly. 
Note that the Dojoe comes with a 700 degrees temperature limit. So, make sure that you are not heating the grill more than that to ensure safety. 
After that, your work is pretty much done. You won't have to remove the lid again. You can simply use the front area to insert, rotate, and remove the pizza. 
How To Shut Down Dojoe Safely
Note that the Dojoe gets really hot after you are done cooking. Besides, the tool is pretty heavy. So, it's not possible to remove it from the grill before it gets cold. 
For the same reason, you have to be extra careful regarding the amount of coal you are using. Or you will end up burning a large amount of coal for no reason. 
Once the charcoal is done burning and the Dojoe cools down, you can safely remove it from the Kamado Joe. It's always a good idea to wash it after each use. 
Conclusion
Hopefully, you have got all your answers in this Kamado Joe Dojoe review. If you make pizzas at home very frequently, it's a great idea to invest in a tool like this Dojoe. It will certainly make your pizza more delicious and the procedure a lot easier than a pizza stone. You can, of course, go for a pizza oven. Nonetheless, a pizza oven will cost a lot more and take up more space in the kitchen.