Do you know what is the biggest benefit of using Pit Boss pellets in grilling or barbecuing? You can use them with any pellet grill or smoker.
That's why Pit Boss pellets are on the rise in terms of worldwide popularity. As they produce 100% all-natural hardwood pellets at the most affordable price point, most BBQers prefer their top-performing pellets for grilling and smoking food.
On that note, we narrowed down the following eight best Pit Boss pellets in terms of quality, the convenience of use, and fascinating flavor.
Every product is independently reviewed and selected by our editors. If you buy something through our links, we may earn an affiliate commission at no extra cost to you.
Hope this guide on Pit Boss pellets review helps to figure out the best wood pellets that take your grilling experience to the next level.
8 Types Of Pit Boss Pellets Review For You 
As a prominent pellet brand, Pit Boss never disappoints its customers with the flavorful and intoxicating aroma of their all-natural wood pellets. 
So, let's check out whether the following eight pellets live up to the promises of the brand's name or not.
Pit Boss Competition Blend Pellets
First, on the list, we have an amazing wood pellet bend under the name of Competition Blend. Basically, it provides 100% natural hardwood pellets to be used with any pellet grill or smoker. 
To start with the amenities, all we can say is that it's an outstanding wood pellet blend that produces an enchanting aroma while cooking.
Being produced with three different types of woods, it does justice to the claims made by its manufacturers. Indeed, it blesses the foods with a subtle smack that none can forget.
Let's explore its key features first and then dive into the detailed discussion.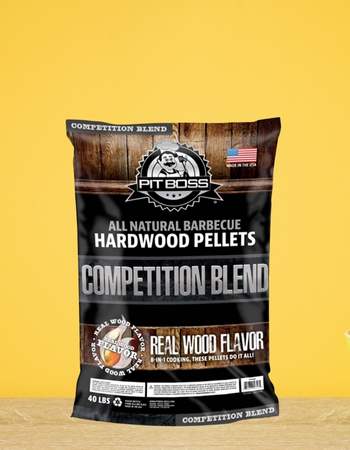 Top Features
Comes in a 40-pound bag

No artificial flavors added

Carefully resourced in North America

A blend of sweet, savory, and tart flavor

A balanced blending of maple, hickory, and cherry wood
---
As already mentioned, Pit Boss didn't include any artificial flavor, scent, glue, or chemical to manufacture these all-natural pellet blends. Resultantly, you can rest assured that it's 100% safe and reliable to smoke anything you want.
To add more, you will be surely surprised by the exclusive rosy tint once you smoke the meat over these wood pellets. Also, they burn pretty long producing the minimum smoke possible.
Therefore, you will be thankful for the cleaner air around you. And of course, it creates less dust and odor compared to other regular grilling pellets like lumberjack and bear mountain pellets. So, cleaning becomes a breeze after a long BBQ session.
The only thing to remember is that it smells a bit different once burnt than it was in the opening. But that doesn't make an issue, we guess!
Pros
Produces minimal dust and odor

Environmentally-friendly wood pellets

Comes in a large enough bag to last longer

Three wood types create a unique food flavor

Infuses a pure and delicious smack in the food
Cons
A little pricey

Not very smokey as expected
Pit Boss Charcoal Pellets
Now, let's look forward to the Charcoal pellet blend that is quite versatile as well. Like any other hardwood pellet from the same brand, it too comes with a unique flavor in terms of smoking, grilling, baking, or barbecuing.
However, the core specifications are as follow-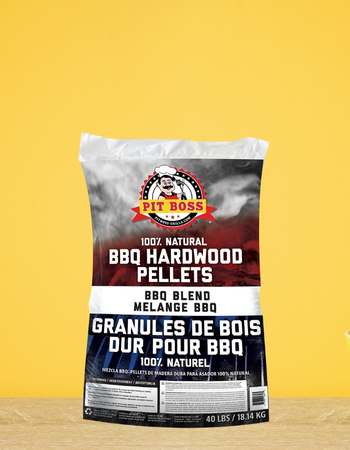 Top Features
100% natural

Burns hotter and longer

100% hardwood BBQ pellets

Perfect for beef, chicken, and veggies

Doesn't create a mess by producing more dust

A subtle blending of maple, hickory, and cherry
---
Are you looking for a versatile heating material in the form of charcoal pellets? Then you should not delay adding these amazing hardwood blends to your BBQ.
Being produced with maple, hickory, and cherry, it perfectly suits all your cooking needs. Whether you are smoking chicken, poultry, beef, or vegetables, rest assured the outcome will surprise your dinner guest.
Like the previous Pit Boss Competition Blend Pellets, this too is free of any artificial flavor, scent, chemical, and glue. No wonder, this pellet blend is one of the best seller charcoal pellets right now.
More importantly, these pellets are very easy to use. They just burn fine, holding heat for a long period of time. That's why even an absolute beginner can cook with these flavorful wood pellets pretty well.
As they burn cleaner, you don't need to worry about cleaning. Moreover, they help to retain the original wood flavor for a long time to make the dishes more delicious.
In this way, your smoked or grilled items retain the natural moisture and juiciness instead of over-drying.
On top of that, we found all the pellets properly dried. Resultantly, they burn pretty well even at a low temperature. And what pleased us more is the enchanting smoky aroma while they are placed on the grill.
So, I highly recommend this hardwood blend if you prefer genuine smoky smack in your barbecued dishes.
Pros
Easy to light

Amazing smokey flavor

Good value for the money

Compatible with any grill and smoker

100% natural product with no added chemical
Cons
Some people found too much sawdust in the package
Pit Boss Whiskey Barrel Pellets
In the third spot of this Pit Boss Pellets review, we are going to deal with a 20lb whiskey barrel blend. These hardwood pellets are extraordinary when it comes to smoking food with authenticity.
Similar to the previous two hardwood blends, it too performs pretty well in infusing an exclusive savouriness in the smoked dishes. The core specifications it comes with are pointed out below.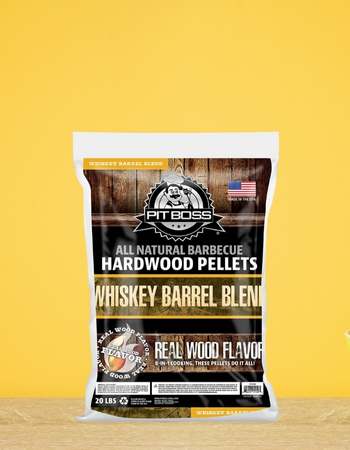 Top Features
8 in 1 cooking

Imparts real wood flavor

No added aroma included

Compatible with all red meats

100% all-natural hardwood pellets

A subtle smack of sweetness and smokiness
---
If you are someone who prefers a somewhat bold and strong aroma in any of the grilled meals, you should definitely go for this package.
This is a premium blending of 100% natural oak wood that always offers a robust flavor. Naturally, it's suitable for any red meat you love.
As the raw wood is carefully sourced in the USA, in North America to be more particular, you will find no foul mix of any other wood type other than oak.
Also, it's totally free of any artificial flavor, spray scent, chemicals, and glue. No wonder, it always tops the list of the best Pit Boss pellets.
However, as the pellets are superior in quality, they keep each other bound to themselves while burning in the pellet smoker.
That's why they infuse the authentic woody aroma in whatever you prepare. The natural juiciness is always there.
But please remember if you prefer a mild flavor, it might seem too strong for you. So, watch out before buying!
Pros
Goes well with any red meat

The food tastes incredibly pleasant

A strong smokey smack in the food

Perfect for all-purpose smoking and cooking

Burn hotter and cleaner than most of the other wood pellets
Also Read: Bear Mountain BBQ Pellets Review For Your Next BBQ
Pit Boss Hickory Pellets 
Next on the lineup, let's discover how this 40lb hickory hardwood blend works to prepare flavorful foods. The key amenities it comes with tell a lot about how wonderful these wood pellets are! 
If you look up to a wood pellet blend that combines versatility and flavorings, this must be your pick.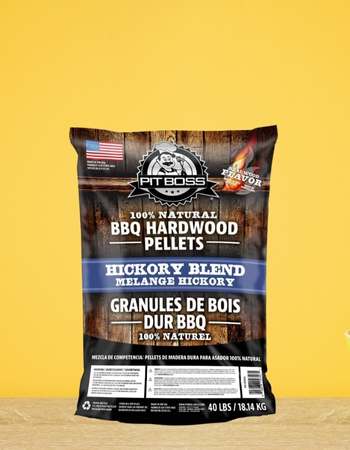 Top Features
Very easy to use

Strong smoky taste

Authentic hickory flavor

All-natural hardwood blend

No chemicals or additives used

Naturally sourced to form quality product
---
Living up to the expectations, it seals the deal while roasting, smoking, grilling, or barbecuing by providing a strong savoriness in any of your food.
As it is a flavor-riched wood pellet, chances are the smokiness it offers would be too prominent. But don't worry. It will not overpower the foods' natural flavor in any way!
Furthermore, it doesn't include any preservative or chemical. Therefore, it is often suggested by experts to smoke your favorite meats.
That being said, you can smell the difference once you open the package. Instantly, you will smell the authentic woody aroma free of sulfur. So, it reassures the authenticity and supremacy of the 100% hickory pellets.
Most importantly, you will be fully satisfied as it keeps up the exact heat range you select for low and slow cooking. But be sure to use them in pellet smoker and grills, not in the fire pits.
And for lighting it up, you can light some newspaper first. It's better to avoid lighter fluid for your own safety.
However, all things considered, these hickory pellets certainly outperform other wood pellets by retaining heat for longer.
Pros
Burns hotter and longer

Smells great while burning

Retains the natural juiciness of food

A strong hickory smack to smoke meats well

Flawless performance in grilling, smoking, baking, and barbecuing
Cons
A bit expensive

You need to deal with a lot of wood dust
Also Read: Best Pellets For Smoking Turkey (Top 5 Picks)
Pit Boss Apple Pellets
Next comes the Pit Boss Apple Pellets to offer a different type of flavor. Unlike previous hardwood blends, it rather produces a mild and somewhat sweet flavor in your favorite barbecued items.
Being manufactured with the finest finish, all the wood pellets make quality heating materials when it comes to smoking or baking. The top-quality pellets help prepare palatable meals in a pinch.
Let's check out its top features to learn more.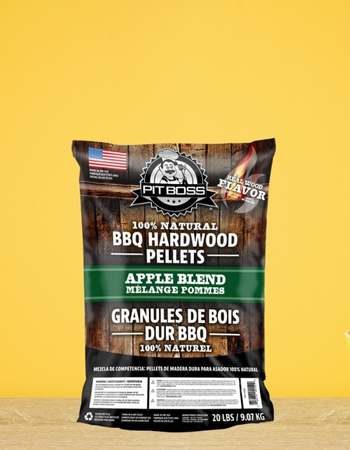 Top Features
Easy to use pellets

No additives included

100% authentic flavor

Burns hotter and cleaner

Mild smokiness with a subtle sweetness

Suitable for smoking, grilling, and baking
---
Although it consists of 40lb apple pellets, you can use this package to smoke any meat you want. Just remember that it will create a mild sweet savor other than strong smokiness.
But we guess that's okay as long as you love a few sweet dishes. Of course, there will be a considerable portion of smokiness to maintain the tradition.
As you know, these pellets burn pretty clean. So, the amount of ash is considerably low. Thanks to that, cleaning becomes a breeze. Who wants to clean the cooking mess after a pleasant BBQ session after all?
Best of all, the package includes no added scent, glue, or any form of chemicals. That's what stands for the traditional brand value of Pit Boss pellets, we guess.
On top of that, the 40lb package doesn't include any filler to decrease the quantity of the original apple pellets. As a result, we found this apple blend quite cost-effective in all aspects.
So, if you like a mild and mushy sweetness in your meals, pick this authentic apple blending before it runs out!
Pros
Burns pretty well

Less ash production

Produces decent smoke

A great value for the money

Offers an exclusive sweet smack in the food
Cons
Some people complained that the pellets are very small in size
Also Read: Best Lumberjack Pellets For Brisket (Top 3 Picks)
Pit Boss Fruit Blend Pellets Review
Here come the most affordable pellets from Pit Boss that come in the form of a fruitwood blend. Those who want that fantastic fruity aroma in their food should definitely give it a try.
Instead of buying all those fruity flavors separately, you can rely on this package that combines all the natural fruitwoods altogether.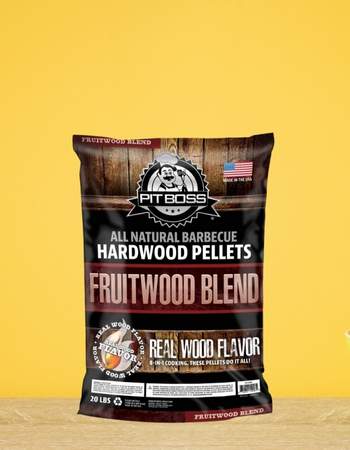 Top Features
No toxins included

100% all-natural smoking pellets

Preferable for super clean smoke

Sourced from premium-grade pure hardwood

Suitable for a wide variety of cooking demands

A 20lb fruitwood blend pellet package at a very reasonable price
---
This fruitwood blend is basically meant for those who crave a fruity undertone in the smoked dishes.
As all the woods are naturally resourced, you can enjoy a delicate yet delightful taste in beef, chicken, seafood, or vegetables. We can guarantee that you have never experienced such a savory smack before.
Above all, these easy-to-use pellets keep all the cooking hassles at bay. You can cook like a professional chef at your next house party to please your dinner guests the most, and after that you can store these pellets indoors for a long time (Using a pellet storage bin is recommended.).
Aside from smoking and grilling, these fruity wood pellets also serve the purpose of baking. No matter what the recipe is, you will never encounter any issue regarding overpowering the food.
On one hand, the authentic fruity flavor will strongly be there in the food. On the other hand, you can enjoy the natural taste of your hard-cooked meals, be it chicken, shrimp, poultry, or beef.
Despite being preservative and toxin-free, these all-natural fruitwood pellets still infuse a rich aromatic blend in barbecued items.
Pros
100% natural hardwoods

Great product at a great price

Neither too smoky, nor too mild
Cons
Be careful to handle the package to avoid sawdust
Also Read: Where Is The Best Place To Buy Pellets For Smoker?
Pit Boss Mesquite Pellets
Need an earthy flavor in your favorite smoked dishes? Look no further as you have hit the jackpot. Yes, this mesquite pellet from Pit Boss is worth the hype to produce a bold and beautiful earthy aroma in your next cookout.
However, we want you to go through the key features first to make an informed buying decision.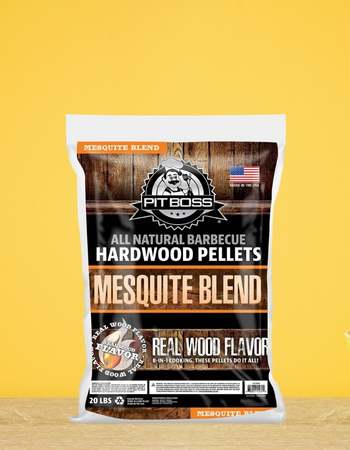 Top Features
Bold and earthy smack

100% real woody aroma

Perfect for greater grilling needs

Free of any artificial flavor or preservative

Compatible with both traditional and contemporary cuisines
---
To begin with the benefits, we would like to mention the bold and robust spiciness first. No other contemporary pellets can compete with its level of boldness in cooking your favorite meats. The authentic earthy incense is truly on another level.
Truth be told, you can kick up the barbecue game right away with this all-natural mesquite hardwood pellet blend. Being free of all sorts of artificiality, the package is even more desirable.
You will certainly be pleased with the palatable spiciness with a certain level of tangy taste.
Compared to other brands, it produces much more smoke as well. Basically, it works for people who crave a strong incense of mesquite flavor in the food without getting it overdone.
So, all things considered, we highly recommend this mesquite blend hardwood pellets at a very affordable price tag.
Pros
Free of artificial flavor

Fills up heavier grilling demand

Popular for the bold and earthy aroma

Adds an incredible spiciness to the food

Burns hotter for high-temperature cooking needs
Cons
You might find the 20lb package too small
Also Read: Pit Boss vs Masterbuilt Smoker: Which One Reigns Supreme for BBQ Lovers
Pit Boss Classic Blend Pellets
Last but not the least, we have an exclusive classic blend from Pit Boss in the form of 20 lb hardwood pellets. It is manufactured with the authentic woody fragrance found in the lush woodlands of northern America.
Resultantly, all the materials are cautiously collected to create this classic blend of heating pellets. Once you use these wood pellets in your pellet smoker or grill, rest assured that you cannot complain about their quality.
On that note, let's explore its salient features below.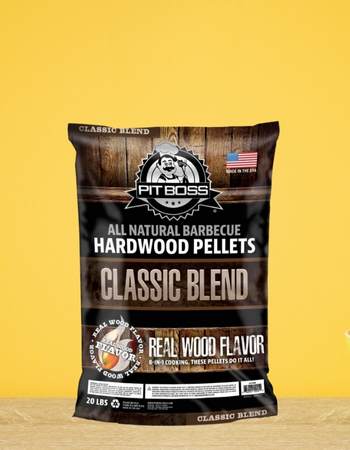 Top Features
No toxins included

Includes no additives, glues, or preservatives

Authentic wood fibers hold the pellets together

Suitable for heavy grilling, smoking, or barbecuing

Completely pure hardwoods are sourced to form these classic pellets
---
As we all know, when it comes to pellet grilling, Pit Boss is the standard. Their finest wood pellets are carefully constructed from 100% natural hardwoods.
There is no exception in this 20 lb package of classic hardwood pellets as well. These too are diligently collected from the purest North American hardwoods and then dried properly.
However, the biggest convenience of these hardwood pellets is that you need not worry about the air to fuel ratio. It will naturally please your tummy with a flavor-riched treat, thanks to the genuine woody fragrance.
Talking of the clean-up, it only produces minimum ashes, resultantly, there is nothing much to do. Also, it is quite famous for protecting the air by making clean smoking.
On the bright side, the classic blend includes all-natural pecan, hickory, and mesquite woods. Wow, all those bold hardwoods come together in a single package! What great news for the flavor lovers, isn't it?
Whether you are smoking turkey, poultry, seafood, or vegetables, if you want a full-bodied flavor in the dish, don't think twice to place these pellets in your smoker.
Pros
A bold and beautiful flavor

All woods are 100% natural

Compatible with a variety of recipes

Only the purest form of hardwoods included

A balanced blending of hickory, pecan, and mesquite wood
Cons
The packaging could have been better

Some people found the pellets much longer
Why You Choose The Pit Boss Pellets
Now that you have gone through the in-depth review above, you might question why Pit Boss pellets?
So, let's try to uncover why these pellets are dominating the market right now!
Well, the first point to be noted is that these wood pellets are no ordinary wood junks. Rather they are prepared under strict quality control and produced from the finest hardwoods ever.
For the best smoky flavor, we always opt for a blue smoke line while cooking. Pit Boss pellets are incomparable in this regard to create the cleanest smoke possible.
Whether you are cooking low and slow or heating your meals high, you will certainly get the ultimate smoky smack everyone craves in a BBQ party.
Another big plus of the Pit Boss wood pellets is their versatile flavor range. You will get anything you want. Starting from hickory to mesquite, the flavor includes pecan, cherry, apple, oak, and also their balanced blending in the same package.
No other contemporary brand can produce such versatile ranges of flavors on the most affordable budget. So, of course, the reasonable price tag is another point to go for these premium wood pellets.
However, another noteworthy feature of these famous pellets is that they are preferable for their less ash production. If you burn a full bag of 40lb Pit Boss hardwood pellets, only ½ cup of ash will be there.
Considering all these opportunities, we suggest going for these high-performing pellets to turn your grilling game on!
Conclusion
To wrap up this write-up on Pit Boss pellets review, we can assure you that you won't find any other pellets that come in such huge ranges of flavors. So, if you crave flavorful foods, this must be your pick.
Moreover, they even offer heating for consistent cooking. On that note, you can try the Pit Boss Competition Blend Pellets for all-around performance. And the Fruit Blend Pellets combine all those fruity flavors which offer a magical mellow altogether.
Hope you will try out these irresistible wood pellets in your next cookout and enjoy the authentic smoky taste. Happy cooking!