Today, I will disclose some top secrets about Searteq vs Searzall, the two most popular searing torch attachments. Both two products have revolutionized the BBQ process within a short time. These hand-held torch attachments have some salient features, differences, and similarities depending on the applied process. 
Wide-use, compatibility, durability, evenly flame spread, comfortability, performance, and many more awesome features have made this searing & melting equipment so popular.
Every product is independently reviewed and selected by our editors. If you buy something through our links, we may earn an affiliate commission at no extra cost to you.
Actually, the searteq and the searzall allow you to prepare your meal juicier. Now, you are looking for a better way to make your meat tastier. So, let's see the details about these game-changing searing tools.
Searteq vs Searzall – Which Is The Best for You
In my today's review, you will be amazed to get some top features of searzall and searteq. Also, after reading, you could identify & decide which product is the best for you. So, read between the lines.
You will benefit from your cooking activities by both products. First, it differs the duration of finishing the job. In this field, the Searteq sears a steak within 40 seconds, whereas Searzall takes 2 minutes to do the same. Searteq works very well when burning large or many pieces like roasts.
Second, the service quality of these products is also a matter of choice. The chefs say that meat lovers like to choose Searzall to sear their meat and other foods, though it is a slow process. 
Because it has an attachment of blowtorch to create the perfect & professional quality to finish searing and melting.
Searzall does a great job diffusing sufficient heat evenly & protects from overcooked your meal. So, customers very often intend to purchase searzall.
On the contrary, Seateq has an attachment of blowtorch to eliminate torch-taste and create perfect sear in seconds without rising internal heat. So, it is quicker than searzall during Sous vide.
Besides, concerning weight, Searteq is lighter than the alternative. Again, Searzall is versatile in use but a bit more expensive than the substitute.
As for versatile service, most food lovers prioritize purchasing Searzall more than Searteq.
Therefore, considering overall performance, I could suggest you buy Searzall for your best usage. Then, the decision solely rests on your preference.
If you're still confused about which suits you the best, let's take a look at the next – 
Overview Of The Searteq
The searteq is one of the top-rated products for culinary activities. It has a secured torch to cook meats & other foods in seconds. The product has drawn the users for its powerful performance.
It is great for starting charcoal and outdoor activities like camping, hiking, etc. We have researched the top features of the product. Let's explore the features.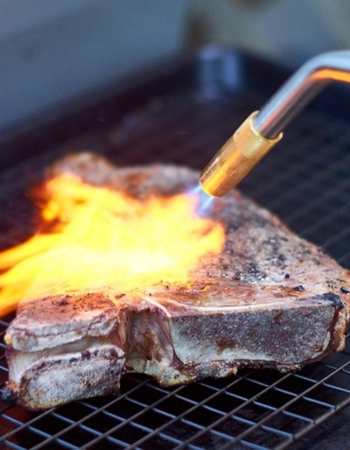 Diverse Use

Durable Body

Adjustable Flame

Auto start and Stop Igniting

Ultra-Swirl Flame Creates High Heat
---
People prioritize this top-rated product for multi-purpose usage. Firstly, you can do burning for perfect Sous Vide, & sear everything properly.
You can easily make a charcoal starter for grilling, pizza, craft and cigar, lighter roasts, foie gras, baking, crème brûlée, and many other foods. Besides, the tool is for searing meats, cook-pot, and other culinary great.
The product is 100% (304) cooking grade stainless steel. The top part is with high-quality aluminum and cast iron bodies. It also covers folded metal sheets that absorb heat. Take care of your device as you expect to use it for a long.
There is a great torch attachment to finish the task and turn it into the right color. If the plate gets heated, you can comfortably adjust your flame speed without rising internal heat.
The flame control knob tightens the gear for multi-application. If the blow-torch provides mismatched flame continuously, instantly do power on/off, trigger ignitor landing single-handed. It has no burned taste. You can easily clean & carry it.
Again, when you will use TS8000 propane gas, it may burn slightly hotter. Adjust the flame until it becomes yellow, but not blue.
Trigger start ignition helps to ignite the flame. Instant-on/off helps easier lighting and saves fuel extraordinarily. The flame control valves extinguish automatically after well done.
The nozzle may be slightly off for spreading excessive flame. Do it by controlling gas or air-flowing regulator.
The large & maximized swirl flame burns hotter for the highest temperature output. It saves a 30% faster securing time. Ultra-swirl flame produces maximum heat due to brazing & heat-treating.
Keep your light a certain distance away from the food. Let it sear just for 5 seconds to avoid propane taste.
This permits a gradual increase rather than an intense burst of heat to get back eye-catching color.
Overview Of The Searzall
You are looking forward to performing the boiling game well. It is ok. Dave Arnold invented and crafted 'Searzall' with an adjustable blowtorch to impress & better up the ways of burning meats and other foods. The product came upmarket in 2014. It has added a dimension to kitchen activities.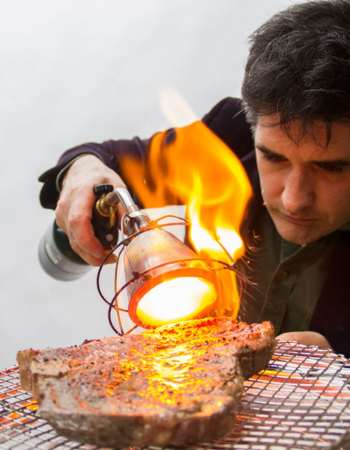 Compatibility

Durable Body

Widely Easy Used

Mesh Wired Layers

Long-Lasting Duration

Prevent Steaks taste burn or Over-cooked
---
Searzall performs by connecting to an existing torch that is securely compatible to use with Bernzomatic TS8000 torch. It helps to start the flame spreading evenly on foods. There is also a propane tank that makes your work easier.      
The product is structurally designed to create sufficient heat and spread evenly on meals. The blowtorch assists to avoid a gassy/smoked smell. It makes your meals excellently delicious. 
On the other hand, the Palladium coated protects your hands to keep cool during cooking. There are two lightweight high-temperature metal screens converter with the torch to diffuse flame properly. So, heat as long as until getting your desired results.
Searazall is well-known for wide use. When Searteq is for only searing, searzall is for both burning and melting like cheese eggs, and burgers, as we mentioned above. 
Again, it is a pro-grade, hand-held broiler, perfect for sous vide, steaks, chop crusted roasts for a home kitchen, restaurants, BBQs & camping, and much more. The product is also handy and easy to set up.
The handy top product is designed with 100% stainless steel. There is a 1-year warranty. It has included an aluminum sleeve adapter, 2 mm Allen key, 1 pre-attached thumb screw & a searzall spacing stick. It is easy to clean. Take care of cooking appliances to use season after season.
Searzall runs 105 minutes with a 16-ounce tank of propane and 14.1 ounces run for 110 minutes. The tool is suited to MAPP fuel gas. It serves longer than the alternative tool.
If you are searching for the top searing torch, searzall is one of the ranking-based torches for you. The product helps to prepare well steaks without overcooking. 
So, people don't hesitate to invest in purchasing a searzall torch. You will get all you need to serve your guests delicious and juicy steaks.
Here, the blowtorch also has two well-structured layers with high temperature and resistant wire mesh. As a result, it will help your slow cooking or sous-vide cooking ended up more professionally and evenly. The process prevents from being over-heated. 
It is also ideal for roasts. You should hold the torch just 1 inch away from the food you are cooking.
Difference Between Searteq and Searzall
Let's provide you with some specific differences to avoid confusion to select the right one. It is a compared article between two separated products. 
So, you will find here the major difference between the searteq and the searzall in their usage & application. So, read on to clear up your confusion.
Size & Design
Both the products are unique in their sizes and designs. The searzall is comparatively bigger & weighty than the alternatives. But the searteq is smaller and lighter in comparison.
Structure
Searteq is compatible with the Bernzomatic TS8000 head torch (MAPP). It has a propane tank as well. You can complete your Sous Vide perfectly without overcooked and rising internal heat. Here, a torch is not attached, but it is necessary for your usage.
Likewise, the searzall has recommended torch & tank 14282 BTU/hour, which lasts (1.5) hours per tank. It requires a 16.4 (oz) propane gas cylinder. It creates enough heat to sear & provides comfort to serve the meal professionally. 
Again, searzall has two thin high-temperature metal screens that convert to linger the flames into radiant heat.
Compatibility
Searteq is adjustable with the Bernzomatic (Pro Fuel tank) TS4000 & TS8000 torch head. This product is imported from the USA. So, outlets and voltage may vary slightly. 
It may need an adapter to use in your destination. So, we would suggest considering compatibility before purchasing.
Similarly, searzall has an attachment of blowtorch (compatibility with MAPP, (methyl-acetylene, and prop diene) gas to produce heat to do Sous Vide searing and melting successfully, even for the use of the restaurant, kitchen, and camping, as we mentioned before. You can use an extra torch in favor of campsite searing.               
Everything Searing and Melting (Perfectly)
If you really enjoy your steaks and burgers outside of home, searzall prevents accidental overcooking. It is surrounded with Palladium coated that will resist oxidation & keep your hand cool during cooking. 
Besides, the adjustable torch turns into a mini broiler to create the right temperature for cooking.
In addition, meat lovers have to wait for a few seconds until starting initial heat. It will offer to turn into the perfect color when cooking over one item. In times of outside recreation, enjoy torch connections. 
So, you can use the Searzall to prepare meat, melting cheese of eggs, foie grass, pizza & so on.
On the contrary, to burn the surface of the meal properly with the help of Saerteq's torch, the cooks operate it seriously. 
The top torch burns 130 degrees hotter than propane & eliminates torch taste. It helps make a professionally fast and palatable meal in a short time.
Duration & Producing Temperature
With Bernzomatic, Searzall runs 105 minutes with a 16-ounce propane tank. It produces up to 1500 degrees F. Whereas, Searteq produces at around 3700 degrees F. For searing (two) flat surface steaks and chops, linger only 90 seconds per side to get the expected result.
In short, we can say there are certain dissimilarities between the two products. The searteq and the searzall offer a wide range of services. But the best one will save you time and money. So, take the product which is suited for you.
Performance
Searzall is quite a slower product, as it takes some time to start initially. When you have to serve an abundance of guests, you may not provide expected services. It is ideal for cooking food for 1-5 people only.
On the other hand, searteq blowtorch creates instant heat to burn food. So, you can get your prepared meals within your desired time.
Setting up or Installation
The setting up process of searzall is complex as well as it's a little expensive. And searteq is very easy to use. It also costs only a few bucks.
To summarize, the result of both really turns out excellent with their respective jobs. 
The differences are not major factors, but it is called into question whether it is worth investing money in Searzall.
Similarities Between Searteq and Searzall
Here, we have traced a few similarities between Seateq and Searzall. Let's identify them.
Attachment Of Blowtorch
When you look at them, catch your eye first with an attachment of a torch to cook food properly. It creates perfect heat for searing in cooking. The included torch with both the products sears/burns everything well.
Blowtorch Sears/Burns Properly
In this respect, the Searteq is only for burning, but Searzall is for searing and melting professionally.
Working Areas
It depends on your choice where, & how you want to use them. You can use both tools during hiking, camping, and outdoor entertainment. These are comfortable in both in-home kitchens & restaurants for making BBQ, roasts, and frying fish.
However, before purchasing any of these products, make your decision about your preference.
Conclusion
In the meantime, the overall cooking technique has been discussed throughout the review. That's why we hope that you have got a clear idea about Searteq vs Searzall performance. 
If you have more budget, we would strongly recommend you to take the ideal product for perfect searing and melting that mentioned throughout our article. A stake without proper searing is not a steak at all. First, think about who will provide you with more benefits.
Then, if you encounter any issues, don't hesitate to reach out to us by commenting or mailing in the below box.