Smoke tubes also known as pallet tubes are an innovative tool that gives smoky flavors to ingredients roasted on a flavorless grill burner. You can add your favorite smoky flavor to fish, cheese, vegetables, and even on mixed drinks.
The pallet supposes to stay lit for hours (depending on its type, volume, and how many pallets you put in there). But what if yours don't? This can surely be a hassle, especially if you are in the middle of making your favorite barbeque. 
In this article, I will share with you some easy fixes for this problem. Get ready to fix your tube now. 
Every product is independently reviewed and selected by our editors. If you buy something through our links, we may earn an affiliate commission at no extra cost to you.
Why My Smoke Tube Won't Stay Lit – The Reasons
There are several reasons at play here. If you have a clear idea of the chances, it will help you to fix the problem altogether and also alert you to some future problems. Let's get on with it. 
One of the main reasons why your smoke tube won't stay lit is that air is not properly passing through the tube. Air is what ignites the flame. If your pallets in the tube don't get enough air the flame won't sustain and there will be no smoke to work with. 

Not Letting the Flame burn 
Another common issue is that people often don't let the flame burn for enough time. If you only let your pallets burn for three to four minutes and then put them out the smoke tube won't stay lit for long. For maximum utilization, you need to let the flame burn for at least 10 to 15 minutes. 
Using Only Cherry Pallets
Cherry Pallets gives your gilled food a subtle fruity flavor. Many people like this rich aroma. But the thing is they don't stay lit for long. 
So, if you are planning to give your favorite meat a fruity scent, I suggest adding other pallets such as hickory in the tube along with the cherry. It will not only enhance the flavor but also help your smoke tube to stay lit for a long time.
Another most obvious reason is that your smoke tube might be broken or damaged. If that is the case you would have to replace the tube. 
"The smoke tube is the maestro of BBQ, conducting a symphony of flavors that transform your meat into a savory masterpiece."

Topcellent
Smoke Tube Won't Stay Lit – Fix This Now
The solution to the last two problems is pretty easy and straightforward. If in case your tube is broken, you can buy a new one. I have three great recommendations. We'll get to it in a bit. 
If the problem is with airflow then you have to go a few extra steps to fix it. Now, don't panic. I didn't say the steps are hard, did we. You can do it on your own and without anyone's help.
Things you will need  
Butane torch

Some Bbq Wood Pallets
Process
First, take out your tube and

clean it out a bit

. 

Then put some cherry, hickory, or apple BBQ woods in the tube. (Remember to mix some hickory pallets along with cherry grill pallets for long ignition.)

Now lit the palates by pressing a butane torch at the open end. 

Once the wood particles start to ignite wait 10 to 15 minutes for the whole tube to heat. 

Place a little binder clip on each side where the top of the smoke makes contact, leaving a small gap.

Then, insert the tube as close to it as you possibly can on that gap. 

After that, all you have to do is put out the flame. To do that all you have to do is hold the container horizontally for a few seconds. The flame will die down automatically. 
If you follow our instructions precisely then your smoke tube should burn for hours. 
Also Read: How To Seal A Smoker Using Gasket, Silicone Sealant, Foil And Steel
Let's Try My Top 3 Smoke Tubes Now
After much research, I have shortlisted the three best smoke tubes for you. If you are willing to replace your old appliance, you can consider these options. 
Premium Quality LIZZQ Pellet Smoker Tube
This outdoor cooking appliance is a vintage product that will make your grilling all the more fun. It brings a delicious taste to your food and exposes your fish and meat to a flavorful smoldering wood. 
This smoking tube will give you 5 hours of continuous smoky service.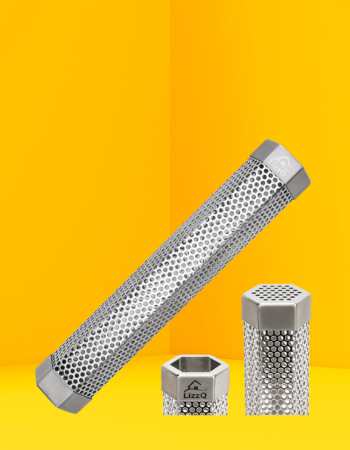 Top Features
Equal spreading of the smoke 

Works perfectly on any grilling machine

Can produce smoke for straight 5 hours

Can produce smoke from different wood pallets

Made out of durable stainless steel so there is no chance of rust.
| Specification | Parameter |
| --- | --- |
| Brand Name | LIZZQ |
| Dimension | 12 x 2.16 x 2 inches |
| Item Weight | 8.4 Ounces |
| Material | Stainless steel |
This pellet smoker hexagonal tube that's made out of food-grade stainless steel, has great hole density and enables smoke to spread from all sides for extra smoky flavor.
The hard material will allow it to last for many years. Safe to say it's a long-term investment. 
First and foremost, the tube's design is particularly beneficial for grilling. Similarly, the cap on the opposite site keeps the pallets secure. The appliance glances smoke 5 hours straight.  In normal, low-temperature conditions, it can survive for 4 hours. 
The final step is cleanliness. Although the producers have not incorporated a brush into the basic packaging, the tube is easy to clean with the help of a brush. However, you can pay extra for a brush and glove. Overall, the tube is an excellent pick for you.
Pros
5 hours workability.

Cheap but high in quality

Unique shape to spread smoke throughout your food. 

The 12-inch tube can hold enough pallets to work continuously for 5 hours
Cons
Also Read: What To Bring To A BBQ | 90 Dishes Ideas For Next BBQ Party To Bring
12" Pellet Smoker Tube for Pellet Grill
Lanney is known for its quality products at a reasonable price. When the customer's dissatisfaction with the oval shape of the pallet tube was emerging in the market Lenny took a new approach and came up with a hexagonal design. 
This tube does not move around, spreads smoke equally, and is much easier to place on the grill due to this hexagonal design. Safe to say it is one of the top-rated products in the cooking world.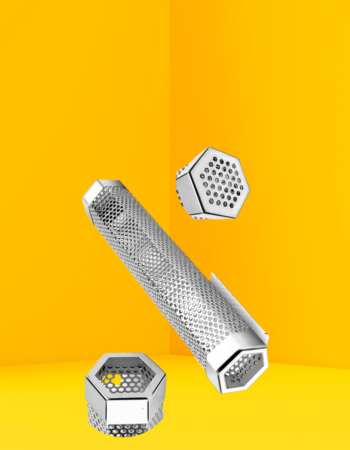 Top Features
Strong stainless-steel body

Suitable for both hot and cold smoking.

Can produce smoke for continuous 4 hours

Comes with a silicone brush, tube brush, and hanging hookers. 

Works with all sorts of smokers, stoves, bbq stations, and grills.
---
The LANNEY 12-inch smoke tube is an impressive product. Not only does the appliance gives you exquisite taste but also longevity. It is made of 304 high-grade stainless steel, so it can handle the heat, rust, and a lot of physical abuse. 
No matter what wood pallet or chips you put in there the long tube will provide smoke for 5 hours. You can even mix and match the pallets. 
The hexagonal design fits easily onto any barbecue pellet smoker. However, this set also includes mounting hooks for vertical format smokers such as the Pit Barn Cooker.
The manufacturers guarantee that if you are dissatisfied with your order for any reason, you can simply return it for a full refund without any risk or hassle. 
Pros
Cool refund policy

Works for a long time.

No risk of rust or corrosion

Comes with extra accessories. 
Cons
Takes a bit longer to light up
Stainless Steel Pellet Smoker Tube
Hiisea smoker tube features a 12-inch-long pellet tube that provides up to 5 hours of drifting smoke. This tube is made of strong stainless steel and can be used to add flavor to any kind of food.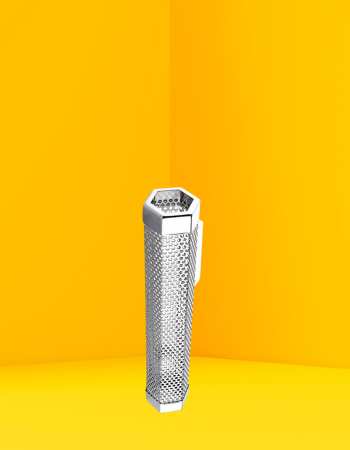 Top Features
You can use the tube in any grill

Contains a high number of thick holes

Contains all the accessories to clean and sustain

The tube is made out of durable and rustproof stainless steel. 

Guaranteed stability as the smoker tube doesn't move around much
---
Smoke tubes have recently become popular in the grilling world. The smoky and savory flavor of wood-grilled given by this tube offers a new taste to your mouth. Fill your tube with wood pellets or chips, light it, and let the pipe do the smoking! 
The microscopic diffusion pores of this product allow the smoky tastes to infiltrate deep into your dish.   The smoke spreads evenly across your grill, imparting a true wood-fired, smoky flavor.
Bring it with you to the cabin, tailgate, or family BBQ to receive the amazing smoke flavor. Use on your charcoal BBQ, gas grill, electric smoker, or anything else you can think of. 
On the plus side if you are not satisfied with the tube's service, take to back to the store and get a refund. Not losing anything here, right? 
Pros
Easy to light.

Overpowered durability.

Evenly spread out smoky flavor

Continuously works for a long time. 
Cons
Also Read: 15 Best Meat To Smoke For Beginners – Get Your Smoke On
How To Keep Smoke Tube Lit?
To make sure your tube stays lit, see to it that there is enough airflow in the tube. Other than that, when you lit the pallets, wait at least 15 minutes. Don't rush. If your smokers stop working mid-way, lit it up again.
How Long Does a Smoke Tube Last?
The time mostly depends on the size and how many pallets you put into it. But typically, a 12-inch tube should last for about 5 hours if you fully fill it with wood particles. Likewise, if you use a 6-inch tube you would get 4 hours of smoke time. 
When the smoke starts to die down, know that it won't work for long. If you still want to go on, put some more pallets in it and lit it again. Otherwise, let the smoke die down naturally. 
How Long Should It Take for Smoke Tube to Light?
It should take no more than 10 to 15 minutes to light the pallets in the tube. That means you need to keep the pallets lit for approx 15 minutes for smoke to generate and work its magic. 
You shouldn't take more time than this otherwise the burning sensation will be too much to bear and you won't get that exquisite taste. 
How To Use Smoke Tube in Electric Smoker
The electric smoker is a device that uses electricity to produce smoke cook and heat foods. Unfortunately, it doesn't produce smoke or gives you that smoky flavor you desire. 
So, what you can do is get a smoke tube, put some pallets, and lit it up. Then put it on at the bottom of the cocking stand. 
Put the food on the stand and switch on the electric smoker. This way the smoke will enter into the food as it's cooking. 
Also Read: How To Season An Electric Smoker (A Comprehensive Guide)
How To Light Pellet Smoker Tube Properly 
Lighting the pellet smoker tube is a pretty easy job. Even if you are a total newbie, you should be able to do it. 
First put some wood pallets in the tube

Now take a butane torch and hold it near the open end of the tube.

After that light the pallets using the torch

Wait at least 15 minutes and then enjoy
How To Put Out a Smoke Tube
After the pallets are burnt enough, you need to put out the fire for it to generate smoke. For that take the grill water spray bottle and carefully put some water on the fire. Make sure you don't damage the pallets. But if the spray doesn't work properly, through some sand into the tube. 
Is A Smoke Tube Worth It?
Smoke tubes are definitely worth it. It adds some extra flavor to your food. Who would want to eat that same boring food, right? 
The smoky flavor delights your taste buds. Not only that the tubes don't cost you much. The appliance is durable and you can use it with any griller or stove. 
Can I Use Wood Chips in A Smoke Tube?
Woods chips are an alternative option to pallets. Usually, chips and pallets are blended together in the tube to form a new sort of taste. But keep in mind that when you are using only wood chips they will burn out pretty soon. 
How Does a Smoke Tube Work?
A smoke tube works by generating and dispersing the smoke. To do that, you need to first ignite the pallets in the tube. For that put wood chips and pallets in the tube, lit it up, and then place it near your food. (on or under the grill bed, cookers, BBQ machine, etc.)
Conclusion
A smoke tube is a pretty handy machine. Especially to bbq lovers. Sometimes you may face some sudden issues while making your favorite smoked food. Without panicking, just read through this article and you will find out why your smoke tube won't light and how you can solve it.