If you've made up your mind about getting a lunch box or bag from everyone's beloved brand 'Yeti,' you must already be confused between these two. The obvious question that comes to mind is whether there are any similarities and dissimilarities between these two.
Even though they are offered by the same brand, there are some significant differences. Why else would they introduce two separate products for the same purpose?
On the contrary, there are some significant similarities between these two, especially when it comes to built and quality. Enough with the pep talk. Let's get started on this Yeti lunch box vs bag article.
Every product is independently reviewed and selected by our editors. If you buy something through our links, we may earn an affiliate commission at no extra cost to you.
Yeti Lunch Box Vs Bag – Which Suits You Best
As I have mentioned before, one product is not superior to the other. However, the suitable choice will be different, depending on the user's preference.
Quick Decision-Making Chart
| Key Feature Comparison | Lunch Box | Lunch Bag |
| --- | --- | --- |
| Item Dimensions | 12 x 10 x 5.5 inches | 8.75 x 5.75 x 8.75 inches |
| Item Weight | 1 Pound | 1.17 pounds |
| Available Color | 9 | 11 |
| Perfect For | Adults | Kids & Adults |
| Go For It If You Want | Food Safety, Rugged Exterior, Large Space & Solid Design. | Foldability, Small Space, Adjustable Grid & Adjustable Size. |
| The Hallmarks | Best Size, Durability, Giftable, Top Quality Material, Super Easy Cleaning, Good Engineering & Portability | Packable, High Flexibility With Sturdiness, Grid Adjustability, High Temp Holding Power & Eye-Catching Design |
| Special Features | Best In Size & Large In Opening | Fold It & Hook It |
| Price | Check on Amazon | Check on Amazon |
Let me provide you with some insights about who should go for the lunch bag and who should stick to the lunch box. 
First of all, the shape is a primary matter of choice. People who like having a lunch box instead of a bag will certainly go for the box. 
The box also has some specific advantages that the bag doesn't. For instance, you can easily carry a sandwich inside your lunch box, without damaging it. The exterior is rugged enough to keep it from crushing the food. 
However, this feature brings a disadvantage for some users. You can't adjust the size of the lunch box. It's constant. 
In addition, you can't fold the box when you're done using it. So, you will have to carry it in the same state, even when it's empty. 
If foldability and adjustability are something that you prefer over other features, I would not recommend the lunch box. 
However, if you're looking for a comparatively larger option, the box is highly recommended.
Let's move on to the lunch bag. Who is this suitable for? Well, if you don't need a lot of space for carrying lunch, the bag is preferable. 
You can adjust it as I have mentioned before. It's also foldable. So, people prioritizing these features will certainly benefit more from this bag compared to the box.
As for the quality, both are of equal quality, so it doesn't matter which one you go for. I can say the same about prices. Both products are in the same price range so it shouldn't affect your decision. 
Before purchasing any of those products, make your mind about your preferences. The box lacks in a few features and excels in some others. The same is true for the lunch bag. So, the decision comes down to you.
Also Read: Yeti Roadie 24 Vs Tundra 35 – Which Suits You Best
Overview Of The Yeti Lunch Box
The Yeti lunch box is one of the most hyped products right now. The reasons are obvious too. It's a high-quality box that you can use for keeping your food hot or cold. The box is large enough to carry a meal for one person. 
If you use a compatible accessory with this box, cold food will stay cold for a long time. The shape of the box is also convenient to carry your lunch. 
A modern and durable lunch box that keeps your food temperature optimum is certainly a must-have.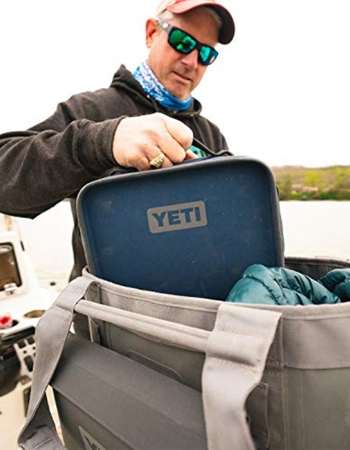 Top features
Magnetic closure

9 color variations

Food safe materials

Water-resistant exterior

Insulated box for keeping food fresh
---
There are some amazing features that you can enjoy with the lunch box. Many people think about whether they should invest that much money in a lunch box or not. Hopefully, this review will help them make a decision.
First of all, it's an amazing option if you want to keep your food's temperature consistent for a long time. Most products will let your food become soggy and warm when stored.
In comparison, this box does a great job of keeping your food fresh. There are multiple reasons contributing to this attribute. For instance, the lid of the box contains lightweight and closed-cell foam.
Another fascinating feature is the magnetic feature, which also allows the box to keep your food fresh.
If you're directly storing any food like fruits inside this box, you can consume the fruits without a doubt. The interior of the box is entirely food safe. As for the exterior, you will be getting high-quality water-resistant material.
So, your box will survive any splash, drizzle, or spill. However, the box is not dishwasher safe. It's not suggested to use any abrasive cleaners either. So, be gentle while cleaning this.
If you're worried about the capacity of the box, let me paint you a word picture. You can fit one sandwich, a few side items such as chips, fruit, or cheese, a canned drink, and an ice substitute.
Note that the box is rigid and it won't get compressed. So, it's a perfect piece for holding food like sandwiches. You can expect the sandwich to be intact and not get crushed by the box.
Even though there are one or two lacking in this lunch box, the features it provides keep it ahead. So, if you're searching for a high-quality lunch box for yourself, this one is highly recommended.
Pros
Aesthetically pleasing

Different color options to choose from

Food safe interior and water-resistant exterior

The durable material provides better insulation

Magnetic closure ensures consistent food temperature
Cons
Not foldable

Not dishwasher safe
Also Read: What Size Yeti Cooler Should I Get – Yeti Cooler Sizes With Comparison
Overview Of The Yeti Lunch Bag
The lunch box from Yeti is certainly one of the most convenient products to have. Along with the brand's premium quality and durability, this bag is full of surprises. You can only expect the best from this bag.
For instance, you can fold this bag into a compact size when you're done with your lunch. That's only one feature among others.
I will get to a detailed review of this bag. But first, let's glance at the top features.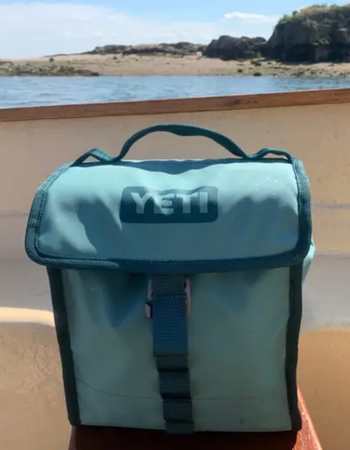 Top Features
Foldable

Adjustable grid

Magnetic closure

Food safe material

Coldcell flex insulation
---
As you can guess by the features mentioned above, it's a high-quality product worth investing in. I will discuss all the features in this review. Let's start with the common features that are noticeable in Yeti products.
Much like the box, this one also comes with Coldcell flex insulation. If you don't know what that means, let me explain. The bag has a superior temperature holding power. It's because a closed-cell, lightweight foam flexibly folds over.
It's a common feature found in Yeti products. Another thing worth mentioning here is the Thermosnap closure. The magnetic closure is responsible for keeping your food at a stable temperature.
But you knew about these features already. Let's talk about something different. One unique feature you will notice in this bag is its adjustable grid.
There are loops in the front that you can use to adjust the size of the bag after keeping your food inside. This allows minimizing the air inside, which is primarily responsible for messing with food temperature.
Another amazing thing is the foldability. You can fold this bag. So, if you're carrying it somewhere empty, it can convert into a compact shape, saving you space.
Pros
Water-resistant exterior 

You can fold it for storage 

Proper insulation with magnetic closer

Adjustable grids allow you to change the size 

Food safe material allows you to store anything
Cons
Not dishwasher safe

The closure is not leak-proof
Also Read: How Long To Let Brisket Rest In Cooler (Answered)
Dissimilarities Of Lunch Box And Bag At A Glance   
Because it's an article about comparing these two products, I'm leading with the differences first. These differences will certainly clear up any confusion and help you decide which one to go for. 
Shape
The first obvious difference you will notice is the shape of these two products. As the name suggests, one of them is a box and another one is a bag. So, which one is better compared to the other? 
The answer is it depends on your preference. Some users prefer having a bag for their lunches and some prefer a box-shaped carrier. 
The type of food you carry also contributes to this factor. So, explore your lunch content and imagine what would be a more convenient shape for you to carry. 
Foldability 
One significant difference between the box and the bag is foldability. You can fold the bag after you're done using it. Storing the bag is comparatively easier since you can convert it into a compact size. 
On the contrary, the box is not foldable. However, this can be a great perk for people who carry containers or food like sandwiches. This way the food stays intact with the sturdy shape of the box. 
Overall, the bag and the box offer separate benefits, depending on the user's preference.  
Dimensions
Even though both products weigh the same when empty, the same is not true for dimensions. Each product has its own dimensions. Let me start with the lunch bag. 
The lunch bag weighs 1.1 pounds and is foldable. I have explained this feature in the next section. The reason why I mentioned it in this section is that the bag has two dimensions. One is in a normal state, another is for the folded state. 
The folded measurements of the lunch bag are 5 ¾ inches × 8 ¾ inches × 8 ¾ inches. When it's in the unfolded position, the dimensions measure to 5 ¾ inches × 13 ½ inches × 8 ¾ inches. If you're looking for a simpler explanation of the size, you can fit a six-pack of tall boys in it. 
Let's move on to the lunch box now. The empty weight is the same as the lunch bag. The outside dimensions of the lunch box are 10 ½ inches × 8 ½ inches × 4 ½ inches. 
The inside dimension measures 9 ¾ inches × 7 ¾ inches × 2 ½ inches. As you can see, the lunch box is a bit larger than the bag. 
Adjustable Grid
The bag also offers another feature, which is close to foldability. You can adjust the bag size after loading it up with your food. Why this feature? 
The first enemy of static temperature is air. So, when you squeeze the bag into a tight container after loading the lunch, the amount of air stuck inside is lower. 
As a result, the food stays warm or cold for a longer period. The box won't offer you this feature. 
As you can see, there are some major differences between these two. However, that doesn't indicate that one is better than the other. If you want to know what similarities you can expect from the two, keep reading further.  
Also Read: Best Cooler For Resting Meat (Top 5 Picks)
Similarities At A Glance   
When it comes to quality and build, both options are excellent for all users. If you're confused that you'll miss out on the perks of one product by choosing the other, take a look at the similarities below. 
Thermosnap Closure
Both options offer Thermosnap closure. Now, what's that? To define it in simpler words, both the bag and the box have magnetic closures. It's one of the primary features that help keep the food temperature consistent. 
So, when you're using it to keep something cool, the temperature stays cool for a long time. The same applies when you're carrying a hot lunch. 
Coldcell Flex Insulation
Another feature that contributes to keeping the food temperature constant is the products' insulation system. 
Closed-cell and lightweight foams are used to ensure the perfect insulation. You can keep your lunch hot and drinks cold by using both these products. 
So, you can rest assured that choosing either of them will do their job with utmost efficiency. None of them has any advantage over the other in this case.  
Food Safe
The bag or box you're carrying must be food safe. Even though you use a container to keep your food inside the bag or the box, when carrying fruits, they come in contact with the products' inner surface. 
Both products excel in this field. You can be certain about carrying food inside them. 
Water-Resistant 
The products are not waterproof but they are water-resistant. They will withstand spills, splashes, and drizzles of water. The exterior is made with high-quality water-resistant materials. 
And this goes for both products. Note that none of them are dishwasher safe. So, you'll have to clean them manually.    
As you can see, the core qualities that make a lunch carrier best are present in both products. So, you can make a decision based on your convenience. 
People searching for a small lunch bag with adjustability will be most benefited from this lunch bag. Besides, if you're particularly looking for a bag instead of a box, this is one of the most viable options to invest your money in. 
Conclusion
I hope you don't have any questions regarding the Yeti lunch box vs bag. It's a close competition between these two since the features are almost similar. There are a few dissimilarities that can make or break a case in the end. So, make sure that you're reading about the size, shape, dimensions, quality, and other features before making a decision. But one thing is certain, no matter which one you go for, it will do a great job carrying your food and holding the temperature.