Nobody can ever deny the deep, woody, and smoky essence imparted from lump charcoal while grilling meat. It can literally be a game changer in your backyard BBQing.
But you need the right charcoal for the right grill, especially when you own a Big Green Egg. Due to their superior insulation, experts prefer all-natural fuel in these grills to get the flavor right.
However, here I handpicked the 6 best lump charcoal for Big Green Egg that offer a super consistent flame and an enchanting smoke-filled essence to make food flavorful. Besides, they are made of premium all-natural hardwoods to offer a longer burn.
Let's check them out below.
Every product is independently reviewed and selected by our editors. If you buy something through our links, we may earn an affiliate commission at no extra cost to you.
What Charcoal For A Big Green Egg Do You Need? 
Being a high-quality charcoal grill, Big Green Egg stands out from its competitors with superior insulation and precise temperature control. 
As the heavy-duty ceramic construction of this grill prevents both heat and smell escape, you must fuel it with high-quality all-natural charcoal. 
Using low-quality charcoal that contains harmful additives would make the food taste bad. All those artificial essences would be infused into the food.
On that note, you can use any lump charcoal that is 100% pure and free of any chemical byproducts.
But why lump charcoal?  Won't briquettes work? Yes, but natural lump charcoal burns hotter with less ash production.
That being said, BGE itself produces 100% Natural Oak and Hickory Lump Charcoal to fuel their premium grill and smoker.
Nevertheless, you can also use some replacements which are equally efficient if you can't get your hand on the BGE lump charcoal. 
6 Best Lump Charcoal For Big Green Egg You Can Go for
When picking the right charcoal as a BGE owner, you must focus on the fresh ingredients. Plus, they should light faster and burn quicker. Saying that the following picks are perfect for a Big Green Egg smoker offering a powerful charcoal essence.
Quick Decision Making Chart – 
| Key Features | Big Green Egg Charcoal | Kamado Joe Charcoal | Jealous Devil Charcoal |
| --- | --- | --- | --- |
| Weight | 20 Pounds | 30 Pounds | 35 Pounds |
| Natural | Yes | Yes | Yes |
| Any chemicals | No | No | No |
| Special Feature | Less ash & Minimal waste | Robust wood-fire flavor | Pure premium & hell like hot |
| The Hallmarks | Ultra premium quality, Easy to light & clean, Efficiently burns hotter, No odors & Longer burn | 27 hours of burning, Reusable, Large & small pieces, Easy to clean & Value for money | Ultra-dense hardwoods, Restaurant quality, Versatile, Hotter temperatures, Longer burn & Enhances flavor |
| Price | Check on Amazon | Check on Amazon | Check on Amazon |
Big Green Egg Natural Lump Charcoal
So, my first favorite pick is the Big Green Egg lump charcoal with 100% oak and hickory. It's full natural charcoal to offer the ultimate BBQ experience with ease. In fact, this natural lump charcoal is used by famous chefs around the world to create secret magic in their recipes. Let's break down its key specifications below-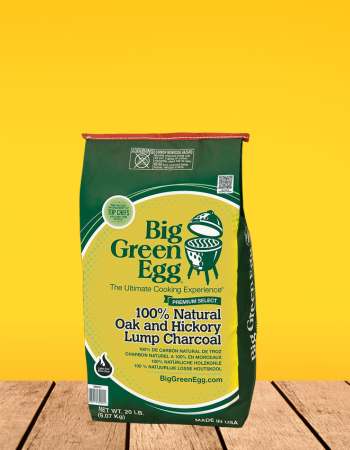 Top Features
Carefully made in the USA

Made of 100% pure oak and hickory 

Contains no fillers or artificial additives 

Suitable for all charcoal smokers and grills

Offers the finest flame with a cleaner burn
| Specifications | Parameters |
| --- | --- |
| Brand | Big Green Egg |
| Material | Wood |
| Flavor | Hickory |
| Item Weight | 9.07 Kilograms |
In the BBQ field, Big Green Egg is surely one of the most reliable names, whether you talk about their smoker or lump charcoal. 
They painstakingly produced this powerful lump of charcoal with 100% natural American oak and hickory. 
That certainly makes a difference in taste. Moreover, these ultra-premium hardwoods are ready to be burnt within 10 minutes after you start the fire.
And yes, these BGE charcoals are very easy to light up.
As the natural hardwood blends burn hotter producing more BTU output, you can cook your meal faster. 
At the same time, they produce less ash allowing you minimal clean-up after a tiring BBQ session.
Therefore, if you have a BGE charcoal grill, this premium-quality lump charcoal is definitely worth a try. 
Pros
Burns hotter delivering enough BTUs

Releases no harsh chemicals or odors 

Delivers an enchanting charcoal essence
Cons
The pack contains some small wood chunks at the bottom which could block the holes
Also Read: 25+ Best Big Green Egg Accessories You Shouldn't Miss
Kamado Joe Big Block Lump Charcoal
Secondly, I have the Kamado Joe 30-Pound Big Block Lump Charcoal for your review. Recently, it has gained a notable following among BBQ lovers for its natural wooden flavor. Let's check out what other amenities it has in store to make grilling easier-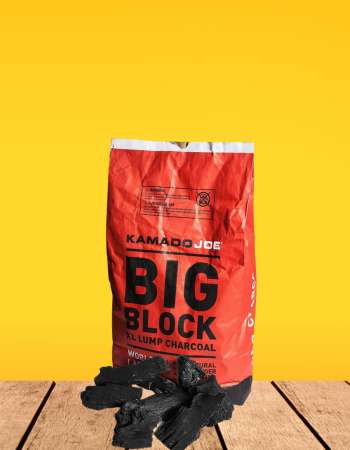 Top Features
Can burn for 27 hours

Made of pure hardwoods

You can reuse them thrice 

Delivers a strong woody flavor 

100% natural lump charcoal with no artificial flavor
| Specifications | Parameters |
| --- | --- |
| Brand | Kamado Joe |
| Material | Charcoal |
| Flavor | Natural Wood |
| Item Weight | 30 Pounds |
Compared to any other lump charcoal for kamado-style grilling, this KJ Big Block Lump Charcoal gives you a longer burn. It lasts up to 27 hours, can you imagine? 
Being carefully collected from real hardwood trees, it burns hotter and cleaner.
As it doesn't contain any scrap furniture or processed wood, it imparts a robust woody aroma for sure.
And the hotter burning flame lets you reach steak-searing temperatures. 
However, the 30-pound bag is a perfect mixture of fast-starting small pieces and longer-burning large pieces of charcoal. 
As a result, it's the best lump charcoal for Kamado with a low and slow cooking ability. 
Whether it's a BGE or any other highly insulated grill, the ceramic construction lets you use less heat to cook, keeping the meat juicier.
The original hardwood blends of Guayacan, Guayaibi, Mistal, and White Quebracho make it possible to reuse the charcoal up to 3 times.
Doesn't it make it an ideal deal for charcoal grilling? What do you say?
Pros
Lights easily with a charcoal starter

The partially burnt charcoal pieces are reusable

More cost-effective as the charcoal burns hotter and longer 
Cons
A bit overpriced 

Too many small pieces compared to the larger chunks
Also Read: What Size Drip Pan For Large Big Green Egg?
Jealous Devil Ultra-Dense Natural Lump Charcoal
Here comes one of the most promising lump charcoal for BBQ aficionados- Jealous Devil Lump Charcoal. It's an all-natural hardwood lump charcoal which is truly crowd-pleasing. Coming in different sizes and packages, they just deliver what you exactly need. 
Whether you have a BGE or any other charcoal grill/smoker, you can create your secret recipes with these ultra-dense hardwood blends with ultimate perfection.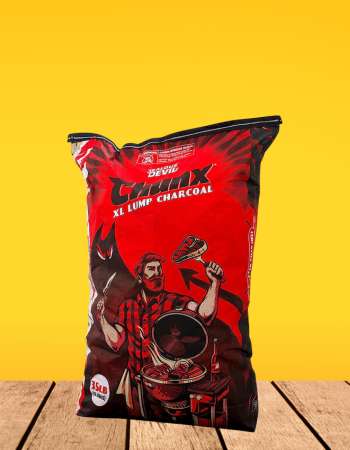 Top Features
Lights easily with no sparking or popping

Contains no fillers, chemicals, or scrap materials 

Produces less ash allowing a hassle-free cleaning

Made of 100% natural South American hardwoods 

Offers a superior burn by doubling the cooking power
---
To talk about the USP of this famous lump charcoal, it burns so hot and pure that it makes the devil jealous. Surely a great name to define the craft, isn't it?
On the same note, the manufacturers claim that their lump charcoal isn't just made, instead it's crafted.
Coming in an 8lb, 10lb, 20lb, or 35 lb bag, you can pick any of them based on your cooking needs.
Thankfully, the price is highly reasonable and affordable. 
The fresh and lure hardwood blends burn twice hotter and thrice longer than the regular cheap-quality charcoal.
If you want to taste the food, not the fuel, I highly recommend this lump charcoal. It delivers a mild woody aroma without overpowering the food.
Plus, it's perfect to smoke a competition-style brisket or a Caveman-style reverse sear on a steak.
You can even blend it with other woods to enhance the flavor profile. Though the authentic essence it imparts is enough to make your dish stand out.
Pros
Comes in multiple sizes

Offers 20+ hours long burn in a charcoal smoker

Imparts a mild smoky essence without overpowering the food's actual taste
Cons
Heats up very quickly and therefore, hard to control the burn at high temperatures
Also Read: Big Green Egg Accessory Storage – 5 Ideas You Can Go For
Masterbuilt Premium Quality Lump Charcoal
This masterbuilt lump charcoal is specifically produced for the Gravity series grills but is also suitable for other charcoal smokers. So, you can easily fuel your BGE with this premium hardwood charcoal.
However, it's a fan-favorite product from Masterbuilt in terms of heat resistance, ease and use, and value for money.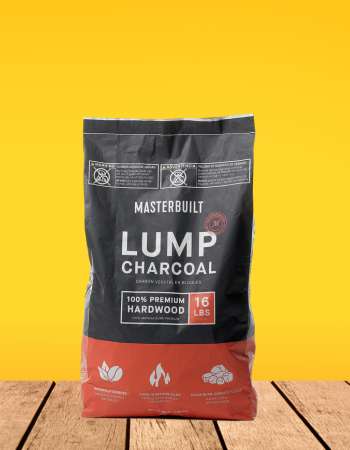 Top Features
Made of 100% premium hardwood 

Compatible with all ranges of temperatures

Offers a clean burn with less ash production 

Infuses optimal charcoal flavor into your food

Naturally resourced and fired in artisan-style kilns
| Specifications | Parameters |
| --- | --- |
| Brand | Masterbuilt |
| Material | Wood |
| Flavor | Charcoal |
| Item Weight | 16 Pounds |
Well, it comes in a 16-lb bag making it an ideal choice for beginner BBQers. Delivering a delicious charcoal essence, it enhances the flavor profile of your food, especially,  in low-and-slow cooking.
At the same time, it can reach high temperatures quickly and conveniently.
As for the origin, the lump charcoal is naturally resourced from 100% premium hardwoods. Then it's fired in artisan-style kilns to produce longer-burning lump charcoal. 
Talking about the incredible charcoal essence, it's neither too strong nor too mild. It's just perfect to let you taste the authentic charcoal flavor.
Best of all, you can use this high-quality lump charcoal for all types of food with a wide array of temperature ranges. Surely, you meet versatility at its peak with this affordable wood charcoal pack.
Pros
Lights easily and burns steadily 

Holds heat for quite a long time

It's a decent purchase for the price 
Cons
Delivers a mild cigar type smell which could be a bit off-putting for many users
FOGO Restaurant Quality Natural Lump Charcoal
On the fifth spot of this review, let's discuss a super premium lump charcoal from Fogo. With its ultimate hardwood flavor, Fogo lump charcoal can be an ideal replacement for BGE all-natural charcoal  in kamado-style grilling.
In fact, it's compatible with any ceramic-style kamado grill and smoker like BGE, Primo, Kamado Joe, and many more. Let's have a quick breakdown of its core specifications below-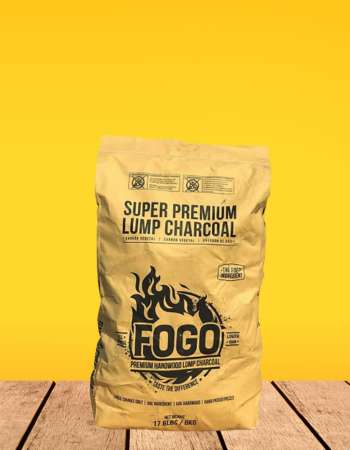 Top Features
Comes in a 17.6 lbs convenient bag

Prepared from 100% all-natural hardwood

Consistently reaches high searing temperature 

80% of the bag is filled with at least 4 inches large lump charcoal 

Imparts restaurant-grade flavor with the premium hardwood blending
| Specifications | Parameters |
| --- | --- |
| Brand | FOGO |
| Material | Charcoal |
| Flavor | Hardwood |
| Item Weight | 17.6 Pounds |
| Item Form | Lump Charcoal |
Honestly speaking, this special lump charcoal is the best when it comes to smoking or reverse searing due to its incredible burn rate.
It comes in large pieces only. That surely seals the deal of charcoal grilling by offering more surface area.
Resultantly, these larger lumps of charcoal facilitate longer burns.
Aside from that, the all-natural ingredients are carefully resourced from Central American Inga Wood. And Fogo doesn't mix any chemicals, fillers, or additives to prepare the restaurant-quality charcoal. 
Delivering a mild smoky aroma, it creates a unique Fogo flavor in your food that is hard to beat.
The extra large chunks of charcoal are carefully hand picked and then processed with artisanal brick ovens.
Overall, it's a deal you should never miss to have the greatest BBQ experience ever.
Pros
Free of chemical flavor 

Lights up faster and offers consistent burn for longer 

Creates an exclusive Fogo flavor by infusing a mild smoky essence 
Cons
A little more expensive than its competitors
Cowboy Sustainable All Natural Lump Charcoal
Whether you are a traditional griller or a seasonal smoker,  you will love this Cowboy All-Natural Lump  Charcoal for its incredible heat retention. Aside from the all-natural ingredients, Cowboy made sure to sustainably source the materials to create a lesser environmental impact. 
Moreover, these irresistible charcoal chunks are certainly a power-player among the BBQ aficionados by imparting a decent maple and hickory flavor,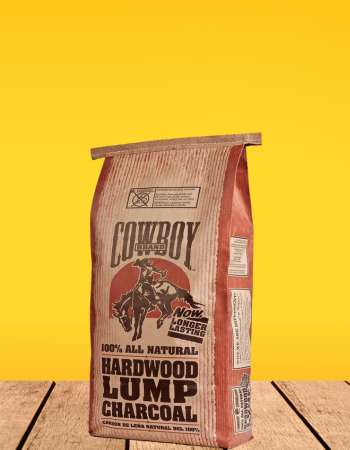 Top Features
Made of all-natural hardwoods

Processed from renewable resources 

Offers wonderful temperature control 

Burns hot and fast to facilitate high heat searing 

Equally efficient for low-and-slow cooking with a longer burn time
| Specifications | Parameters |
| --- | --- |
| Brand | Cowboy |
| Material | Wood |
| Flavor | Hickory, Maple |
| Item Weight | 19 Pounds |
Coming in a 20-pound bag, the charcoal lights quicker and burns faster. Thankfully, it burns completely making the lump charcoal a great buy considering its affordable price.
To add more, it leaves very little ash which makes clean-up a breeze. Even when you are smoking meat for several hours, you can expect a clean burn from these Cowboy wood chunks.
Being manufactured from maple and hickory wood, these are environmentally-friendly and sustainable. 
What I liked the most is the large wood chunks inside the bag. They help create a good bed of coals to maintain a steady heat flow throughout your BBQ.
Indeed, your dinner guests will be amazed by the inviting aroma.
Saying that the high heat flow quickly seals the flavor inside the food retaining moisture. You can avoid those overdried steaks with these exclusive charcoal chunks.
Overall, it's a decent purchase for the price considering the charcoal size, longevity, and flavor.
Pros
Starts easily without using any lighter fluid

Burns hot and clean leaving little ash behind 

Offers no off tastes from chemicals or additives
Cons
The large pieces are sometimes difficult to get into smaller chimney starter
How To Choose The Best Charcoal For A Big Green Egg?
At this point, I will discuss how you can choose the best BGE lump charcoal by focusing on some crucial factors. With no prior knowledge, it's a little intimidating to scour a lot of products on the market.
That being said, there are some quick checklists that separate the best lump charcoal from the worst. Let's look forward to them-
Ingredients 
When you are buying BBQ lump charcoal for your Big Green Egg, male sure all the ingredients are collected from 100% hardwood. Any mixture of filler or scrape materials will decrease the charcoal quality. 
Furthermore, there shouldn't be any chemicals or additives to impart an odd smell. Only natural ingredients can infuse the authentic smoky charcoal essence which artificial additives lack.
Trust me, sourcing makes all the difference between premium and low-quality lump charcoal. 
Size
Next, the charcoal size does matter. They should be neither too large nor too small. Extra large wood chunks burn longer but makes it hard to control the burn.
On the other hand, small charcoal will turn into sawdust without any contribution to your BBQ.
So, choose charcoal in medium to large size for an efficient heat flow.
Quick Heating
The charcoal should light faster and burn hotter from the go. If it takes forever to heat, it makes no sense. 
Take the BGE or Cowboy all-natural charcoal for example.  They heat up so quickly that you get a super consistent flame to make your BBQ better.
Packaging
Finally, packaging plays a vital role in deciding on the charcoal quality. The packaging must be convenient enough to carry outdoors easily. 
Besides, the charcoal amount in a pack also matters. Compare the charcoal quantity with its price and you will understand how cost-effective it is!
Regular or Lump Charcoal for Big Green Egg – Which Is Better?
Lump charcoal obviously. Not only do they burn hotter and faster, they also impart an exclusive woody smack into the food. Naturally, your food tastes better without having any upsetting smells of additives.
In the case of regular wood charcoal or briquettes, there are many harmful materials. And due to the extreme insulation, a Big Green Egg grill keeps all those volatile elements intact inside the food. 
That's why lump charcoal is always better for a BGE.
Is Royal Oak lump charcoal good for Green EGG?
Yes, absolutely. In fact, Royal Oak Lump Charcoal is as good as the original BGE all-natural charcoal in terms of flavor profile. Besides, it comes mostly in the usable size containing very few chips and little sawdust.
Why lump charcoal for green EGG?
Because lump charcoal burns hotter and longer than briquettes. Although lump charcoal could be pricier, it is totally worth the price by offering better temperature control.
Aside from that, natural lump charcoal is chemical free. They don't contain limestone, starch, sawdust, or other byproducts like briquettes. 
So, there's no chance of seeping those harmful elements of wood briquettes into the food when you are grilling in a BGE.
Above all, lump charcoal blesses your BBQ palate with an amazing smoky essence without ruining the original flavor. And yes, you will see less ash production with lump charcoal in your Egg.
Is lump charcoal better than wood charcoal?
Yes. Compared to wood grilling, lump charcoal offers more value for money by providing  hotter and faster burns. Plus, it adds more flavor to your food.
Conclusion
In the end, the best lump charcoal for Big Green Egg is totally upon you to decide. I mentioned my favorite picks above in detail to let you make an informed purchase. 
All the lump charcoal reviewed here are prepared from premium hardwood blends with no artificial elements. 
Although the BGE 100% Natural Oak and Hickory Lump charcoal is mostly suggested by expert pitmasters, the other five picks also give it a hard competition in terms of consistent heat flow, longer burn rate, and delicious  essence profile.
Then, what are you waiting for? Just get your Egg on and start smoking with any of the lump charcoal above. Trust me, you will not regret the rich woody aroma. 
Happy grilling!