Grilling, while incredibly rewarding, can quickly become a chore if you do not have everything organized and ready to go with an hour's notice.
Don't get me wrong, setting up a grill is easy enough. But aside from a simple steak or brisket, any proper barbequing calls for preparation. This preparation extends to all your bbq accessories too. 
That is precisely why for any serious griller who owns an expensive kamado like the Big Green Egg, thinking a bit about accessory storage becomes extremely important. 
So today, we have brought you some of the best ways to sort out your big green egg accessory storage.
Every product is independently reviewed and selected by our editors. If you buy something through our links, we may earn an affiliate commission at no extra cost to you.
"With proper storage for your Big Green Egg accessories, you'll have everything you need at your fingertips, making you the undisputed king or queen of the grill."

Papa J.
Big Green Egg Accessory Storage Ideas 
No! Storing everything in your kitchen or around the house is not good enough! Any frequent griller will tell you that everything you need to throw even a moderate-sized backward barbecue should stay close to your green egg grill. 
Then throw everything in a normal cabinet and call it a day, right? WRONG! You do not want to just use any cabinet. 
There is purpose-made furniture for this exact use case, which aside from giving you waterproof storage space, brings a lot of extras to the table. And these extras are a complete game changer.
So in no particular order, here are my top 5 accessory storage cabinets for big green egg or any kamado grill.
Quick Decision Making Chart-
| Key Features | Keter Unity BBQ Storage | Rubbermaid BBQ Storage | HOMSPARK Vertical Storage |
| --- | --- | --- | --- |
| Dimensions | 53.1 x 20.4 x 35.4 inches | 46″L x 24″W x 38″H | 50 x 29 x 82 inches |
| Material | Resin | Resin, Plastic | HDPE Resin |
| Weight | 50 pounds | 68 pounds | 118 Pounds |
| Space | 78 Gallon | 123 Gallon | N/A |
| The Hallmarks | Weather-resistant construction, 2 sidebars with 4 hook hangers, Wheels for moving, Durable & Easy to clean | Durable UV resistant material, Innovative lid, Extra large space, double-wall construction & Weatherproof | Double-protection effect, Blow molding technology, Highly weather resistant, Large capacity & Versatility |
| Price | Check on Amazon | Check on Amazon | Check on Amazon |
Keter Weather-Resistant Outdoor Storage Cabinet
A kitchen trolly on steroids! That is the best way to describe this fantastic product from Keter. Anything you could possibly want to store alongside your grill, this has a place for it!
The Keter Weather-Resistant Outdoor Storage Cabinet is made with a weather-resistant polypropylene body that has a lockable storage space. This space is pretty spacious and can be used to store anything from fuel to plates to cutlery.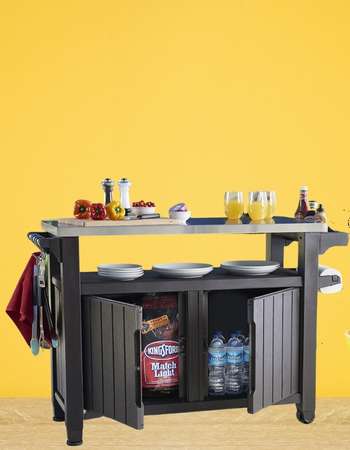 Top Features
Stainless steel top surface

2 sidebars with included 4 hooks

Wheel-attached legs for easy carting

Weather-resistant Polypropylene construction

54 gallons of interior storage and 24 gallons of open storage
| Specifications | Parameters |
| --- | --- |
| Brand | Keter |
| Color | Espresso Brown |
| Size | X-Large |
| Item Weight | 50 Pounds |
| Style | Unity XL |
Worried about where to store your tongs and brushes? There's a sidebar that comes with 4 included hooks. What about the paper tower? Another empty sidebar on the other side. Spice-mix and rub storage? Got that covered too!
The top surface is made from 201-grade stainless steel and is perfect for setting up your assembly station or for use as a makeshift dining table. Additionally, the smart two-storied top design will keep your food safe from rain and dust!
However, my personal favorite feature of this cabinet is the wheels. I was very surprised that more outdoor cabinet manufacturers are not doing it cause it completely changed how I grill.
Before it was all a mess of taking things from one place to another and now, I just wheel my cabinet around to my grill!
Overall, this is the cabinet for people who love to throw backyard parties. With people over, this product will save you a significant amount of time and effort.
Pros
Wheels for carrying it around

Looks incredibly sleek and modern

Included sidebars and hook hangers

Smart use of space with a compact body
Cons
Not a lot of storage space available

Better kept inside as the design has open-air elements
Related: Big Green Egg Charcoal Storage 101 You Must Know
Rubbermaid Versatile Extra Large Storage Cabinet
I get that not everyone wants to wheel their cabinet around whenever they are firing up the Big Green Egg. And for those people, this large storage cabinet from Rubbermaid is the perfect match!
With a strong emphasis on durability, Rubbermaid brought this storage cabinet to the market for everyone who plans to leave their grilling accessory cabinet outdoors.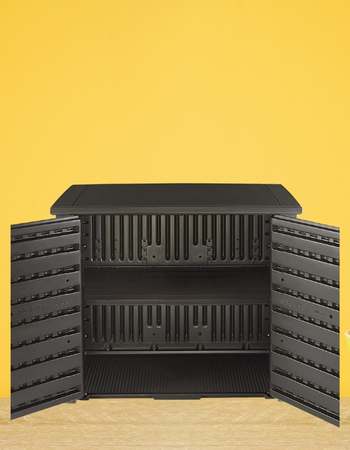 Top Features
2 colors available

10-year limited warranty

Weather and Leak Resistant

123 gallons of total storage space

Double Walled Design for extreme durability
| Specifications | Parameters |
| --- | --- |
| Brand | Rubbermaid |
| Material | Resin, Plastic |
| Color | Dark Teak |
| Style | Cabinet |
| Recommended Uses | Outdoor Storage |
The body here is coated with UV-resistant resin that will not fade or disintegrate even in extended stays under the sun.
Not really designed to have things stay in the open air, this cabinet will also protect your BBQ accessories under heavy snow or rain.
The inside chambers have a built-in rack for two-tiered storage space and the giant 123 gallons of internal volume is sure to hold everything from fuel to cutlery to seasonings to cleaning apparatus.
Although just by looking at this product, you can tell it ditches all the bells and whistles of the Keter cabinet in favor of just the basics.
This is great for a lot of people, but personally, for me, I really missed the sidebars, hook hangers, and the stainless steel top.
Nevertheless, the Rubbermaid Versatile Storage Cabinet will fit right into the patio of anyone who wants their BGE accessories to stay in one place year-round and I strongly recommend it.
Pros
Incredibly durable for extended outdoor use.

Spacious interior in a relatively compact footprint

Understated design will blend into any patio/backyard
Cons
Difficult to assemble

No extras like sidebar or hook hangers
Also Read: Best Rotisserie For Big Green Egg (Top 4 Picks)
HOMSPARK Multi-purpose Durable Storage Cabinet
Okay, I get it, you are an avid user of your Big Green Egg, and even a measly 123 gallons of volume isn't doing it for you. Well, check this one out. The HOMSPARK Vertical storage shed can store almost anything you need. Even the Big Green Egg itself!
Utilizing almost 7 feet of Z-axis space, this storage shed-style cabinet plans to sit at the corner of your backyard and store all your grilling apparatus for years. Years because the beige colored weather resistant exterior has all the precautionary measures taken against rain, wind, sun, and snow.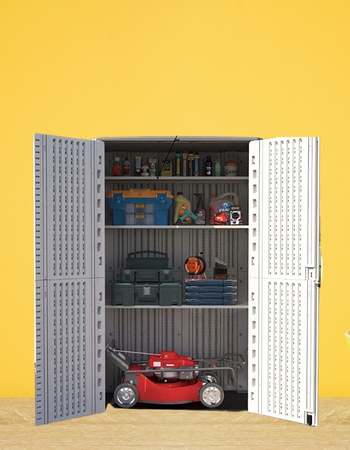 Top Features
Possible to install a lock

Can hold up to 4 shelves

UV and Weather resistant for outdoor use

Double Walled Panels for enhanced durability

52 Cubic feet or 389 Gallons of internal storage volume
| Specifications | Parameters |
| --- | --- |
| Brand | HOMSPARK |
| Color | Black floor, Light beige wall, Grey roof |
| Material | HDPE Resin |
| Item Dimensions | 50 x 29 x 82 inches (LxWxH) |
| Item Weight | 118 Pounds |
Storage space is the main focus of this product. 52 cubic feet means you will have plenty of space to store your fuel, cutlery, spice mix, and even the kamado grill itself. The interior space can be divided into 4 by using the shelf holders too.
However, I was genuinely disappointed to see that no shelves were included in the packaging. That means you are either going to have to buy shelves from them or make your own using strong hardwood.
It is quite a big stinger as without shelves, you are kinda wasting a lot of space that otherwise could be used for more storage.
Regardless of that one shortcoming, this HOMSPARK cabinet is made so well and smartly, that if you want a lot(and I mean a lot) of storage space while not occupying that big of a footprint, look no further than this product.
Pros
Weather and UV Resistant

Compact footprint for maximum use of space

Beautiful beige finish looks good on any setting

Seemingly endless storage space and can fit the whole Big Green Egg inside.
Cons
Almost unusable without shelves

Shelves need to be bought separately
HAPPYGRILL Versatile Storage Container Box
Enough about full-fledged storage sheds. Here's another compact and small storage unit from HAPPYGRILL that will store your most used big green egg accessories. There's also a little surprise here!
Yes, the surprise is that the top of this cabinet can open up for easy access to the top shelf of the cabinet. I was initially pretty skeptical about how this would be useful, but with use, let me tell you, this can come in real handy when finding small things that may get lost among towels or plates.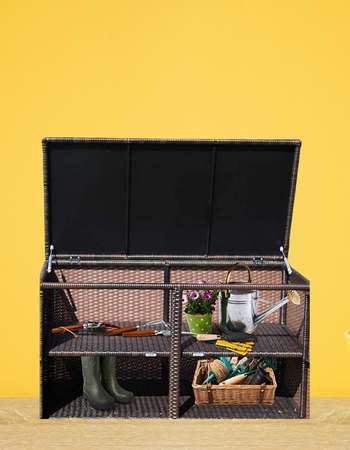 Top Features
Weather resistant build

Comes in brown and gray

Steel and PE construction

88 Gallons of internal storage space

Hydraulic fitted flip cover style top for easy access
| Specifications | Parameters |
| --- | --- |
| Brand | HAPPYGRILL |
| Color | Brown |
| Material | PE rattan, steel |
| Capacity | 88 Gallons |
| Water Resistance | Yes |
The flip cover is very well thought out. HAPPYGRILL could easily have omitted the hydraulic fitting on the cover and no one would really complain. However, they did not and that deserves a lot of credit.
It's these little quality-of-life improvements that help products like this stand out in the sea of competitors. Especially when it passes the test of basic storage functionality with flying colors.
My gripe with this product is that although it is marked as weather resistant, I could not see a UV-resistant or water-resistant batch anywhere in the product packaging or page and that leads me to believe if left under the sun or rain for a while, this cabinet may get damaged. So be careful on that front.
Pros
The flip cover is very useful at certain times

Metal hinges and magnetic door stoppers feel great

The compact and stylish design can store enough accessories for a small Kamado grill
Cons
No UV or Water resistant

Need to be careful of sharp edges while assembling
Also Read: 

Best Rib Rack For Big green Egg (Top 5 Picks)
GOOD LIFE USA Wooden Waterproof Storage Cabinet
Finally, to close up our list, something a bit more stylish for the aesthetic concerned among you. GOOD LIFE USA made this product for an outdoor workstation, but guess what, everything that makes this cabinet good for workstation uses, makes it great for BGE accessories storage.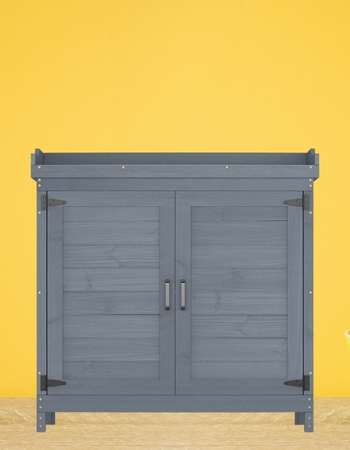 Top Features
Solid Fir Wood Construction

Water and weather resistant

Comes in gray and natural wood colors

Around 100 gallons of internal capacity

Looks amazing with decent storage space
| Specifications | Parameters |
| --- | --- |
| Brand | GDLF |
| Color | Gray |
| Material | Fir |
| Item Weight | 38 Pounds |
| Finish Type | Wooden |
Just one look at the picture alone was enough to convince me that this cabinet will look tailor-made for my wooden deck. And I am so glad that it is not only the looks that carry this product.
The wooden construction is sturdy and the finish looks fantastic. The internal space is well laid out and enough to fit all my grilling tools and spice mixes. The top can also be used as a makeshift serving station. 
However, after a couple of months of use, I realized that this product lacks a few of the features I really really need. Like the ability to lock the doors or UV resistance. But hey at this price, if you do not need those couple of things, I can guarantee that you would love this product.
Pros
Weather resistant 

Made of real wood

The top can be used to serve food
Cons
No UV resistance

Assembly is difficult to do alone 
Also Read: Best Replacement Gasket For Big Green Egg (Top 7 Picks)
How To Choose Big Green Egg Accessory Storage Cabinet
Well, now that you know what your best options are, it is still common to be confused about which one to get. What you need to do is look at a few different factors before pulling the trigger. 
These factors will determine which one is the right product and the most useful for you.
Storage Space
This is obviously going to be the most important to most people. And unfortunately, there is no clear answer here. You just need to know how many things you need to store in your cabinet and if you plan to buy more accessories in the future. 
Bigger is not always better as if you are not going to use the extra space, it will just eat up more precious space in your backyard. So think carefully about how much you want to store and buy accordingly.
Cabinet Layout
This factor also boils down to entirely personal preference. For example, if you look at our 5 best cabinets you'll see that the first one has sidebars for storing tongs, brushes, and a roll of paper towels. 
Now obviously, you could very easily store them inside an internal chamber, but that can be inconvenient for a lot of people (like me). 
So take a look at the layout each cabinet offers and decide if that is the one you want. If not, look elsewhere.
Stationary or On the Go
Putting your storage cabinet in a corner of your backyard where it will find its permanent home is fine for a lot of us. 
However, there is a smaller group of people who loves to throw parties and for them, having the ability to cart the cabinet wherever they need it to be might be pretty important.
If that is who you are, then pick a lightweight cabinet with wheels (or at least the option to install wheels).
Build Quality and Material
Most furniture holds up amazingly when placed indoors. However, since these are grilling ad-ons we are talking about, a significant number of people want this particular cabinet to stay outdoors near their barbeque setup.
And for this outdoor position, proper water and UV resistance is important. These 2 resistances will stop your cabinet (and the things stored in it) from rain and harsh sunlight. 
Price
After the 4 previously stated factors, the only thing that remains is the price. A higher price will usually mean a better quality product, but that is not true in every case. So pick a price that suits you first, and then look at all the options that are available at that particular price point.
How Should You Store Your BGE Grill Accessories?
The important thing about storing all your BGE grill accessories is that you need to know what can get wet and what can't. For example, things like platesetters will be fine if they get a bit wet but fuel won't.
That is why you should always store fuel inside a boxed-up space. That means away from moisture and rainwater. Additionally, you should also be careful that your metal utensils do not get wet in the rain. Even Stainless steel will get ruined if rained on and then dried out enough times. 
So if you are keeping everything outdoors, remember to cover them up with a rain-resistant cover or a cabinet. 
DIY Methods To Store Big Green Egg Grill Accessories
I get it, you just blew a big chunk of cash on a fancy Big Green Egg and don't really want to spend another couple hundred on a cabinet. A DIY solution is exactly what you need.
If you already have a deck box lying around, that can be a perfect weather-resistant place to store everything you have. Although it might need expansion down the road. 
Another option is to build a large table with drawers and shelves. This is not applicable to everyone but if you are handy with wood, it will be your best bet. 
Do not make anything to the exact volume of the things you already own as over time your collection will only grow larger. You need a lot more space than you think you need.
Alternatively, if your kitchen is anywhere near the backyard, why not use the kitchen cabinets for storing? It is indoors and thus by definition all kinds of weatherproof and you can utilize the cooking utensils in the kitchen as well as in the backyard.
Conclusion
And that's it! Everything you need to know about storing Big Green Egg (or any other Grill tbh) accessories all in one place! Always remember it is better to have leftover space now than to buy a new cabinet down the line. I wish good luck on all your future grilling endeavors!