Ask any grill enthusiast, you'll get the same answer, charcoal is and always will be the best type of fuel for smoking, grilling, or barbequing meat. They also seem to have an indefinite shelf life.
However, that does not mean you can chuck them in just any bag and get the best results. 
For an expensive grill like the Big Green Egg, you should pay a little bit more attention to how you are storing your precious fuel. 
Be it lumps or briquettes. This article will tell you everything you need to know about big green egg charcoal storage.
Every product is independently reviewed and selected by our editors. If you buy something through our links, we may earn an affiliate commission at no extra cost to you.
"A BBQ charcoal storage solution is like the guardian of your grilling adventures, ensuring you're always ready to fire up the flavor."

Papa J.
Big Green Egg Charcoal Storage Bag Vs Container – Which Should You Go For
The biggest point of contention about charcoal storage seems to be between storage bags and containers. 
Make no mistakes though as I am not talking about any ordinary trash bags or even the bags the coal comes in from the store. 
My comparison section will talk about specialty-made storage bags or containers.
| Key-feature | Charcoal Storage Bag | Storage Container |
| --- | --- | --- |
| Selected Brand | NUUK | IRIS USA, Inc. |
| Material | Plastic | Plastic |
| Item Weight | 1 Pounds | 4.24 Pounds |
| Capacity | 20 lbs | 45 lbs |
| Speciality | Foldable | Wheels for smooth moving |
| The Hallmarks | All-weather resistant, Dural lift handle, Quick buckle connection, Space saving & 10 flavor sticker | Versatile use, Large capacity, Translucent body, Air tight seal, Maneuverability, & Snap-tight latch |
| Price | Check on Amazon | Check on Amazon |
Whichever one you choose, these two categories of products were made to keep the charcoal safe from moisture basically and they both succeed at it pretty easily. Nevertheless, the creature comfort you get from each is different.
Let's start with the container first. This is what most people use and you don't even need to get a "charcoal pellet dispenser". Any regular old pet food or litter storage container would give you exactly the same results. 
The biggest advantage of a container-type storage method is its durability and freshness. These containers are usually made from hard plastic or metal and you can throw them around, abuse them, or put them in the back of a truck without crushing the coals into dust.
You can also get them in a variety of sizes, shapes, and materials, with or without wheels on the bottom. 
Best of all, when you are out of charcoal or in colder months, these glorified boxes can pull double-duty storing almost anything else.
The bags are a bit more modern and "hip". Still weatherproof, these bags are great because they can fold up to any size you want them to store exactly the amount of charcoal you have. Zero wasted space in your garage or attic!!!
Granted, they will not protect your fuel as well, but it's difficult to give up the convenience of not having to deal with the container weight or all the wasted space. When not in use, just fold the bags up and put them in the closet.
Plus, if you are one of those users who want a variety of lumps/briquettes at your disposal at all times, storing a few of these bags instead of big bulky containers is a big win.
So ultimately, the choice is pretty simple, if you want to protect your charcoal the best, a container is always going to be your best bet. 
However, if you want to save any storage space you can get the bags without any second thought.
Big Green Egg Charcoal Storage Bag – My Top 2 Picks
Now that you know the ups and downs of both bags and containers, I am going to give you my top two picks for each. Let's start with the bags first:
NUUK Weather-Resistant Storage Bag
These polyester-made bags from NUUK were made with the idea of storing wood pellets, lump charcoal, and briquettes in mind. So it is to no one surprise that they do a fantastic job at that.
In fact, I would say with what they cost in mind, these are the best charcoal-storing bags you can get.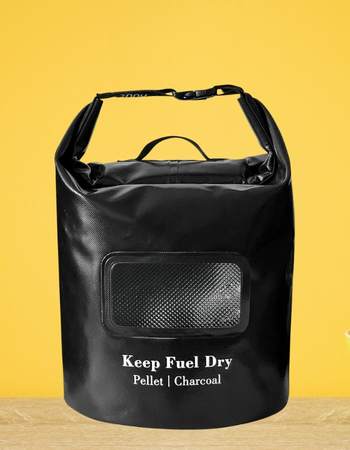 Top Features
Label window on the front

Up to 20 lbs of storage capacity

Water, dust, and weather resistant

18 inches tall and 11.8 inches round

Included labels with popular flavor names and also blank
| Specification | Parameters |
| --- | --- |
| Brand | NUUK |
| Material | Plastic |
| Item Weight | 1 Pounds |
| Capacity | 20 lbs |
These bags are taking the world by storm with their stealthy blackout look and genius design.
The spec sheet will tell you almost all you need to know, yes, but the extras and creature comfort you get from this product really elevate it to something of a must-have if you are a regular griller.
Available in both 1 and 2-packs, the 18 inches tall bags can be folded down to 15 inches and carried around with the built-in handle.
Don't be worried about the handle breaking or splitting either as the construction was very high-quality in my experience.
The one downside I found was that cleaning the bag before storing a fresh new batch can be a chore.
It did not seem like an easily washable bag nor did it come with any instructions on how to clean it properly.
Pros
A clean sleek look

Easy to carry around

Included Labels are a game changer

Keeps the fuel perfectly clean and dry

UV-treated 500D*500D ripstop polyester material
Cons
A bit difficult to clean

On the pricier side if you need a lot of them
Also Read: 5 Big Green Egg Accessory Storage Ideas You Can Go For
Weber Black Easy Charcoal Storage Bag
If for whatever reason, the NUUK bags are unobtainable for you, this is the next best thing. The Weber Black Easy Charcoal Storage Bag might not look as fancy or be built as well but it will get the job done for just about anyone.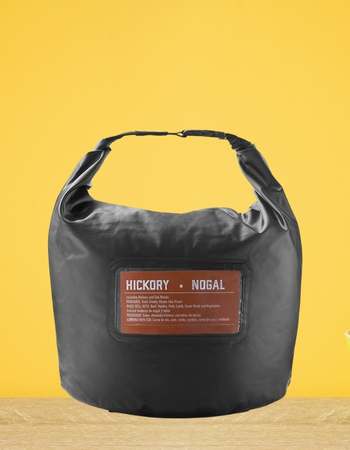 Top Features
Weather resistant

Can hold up to 20 lbs of fuel

Made with Polyester material

Label window in front of the bag

18.8 inches in height and 11.8 inches in width
| Specification | Parameters |
| --- | --- |
| Brand | Weber |
| Dimensions | 6 x 2.3 x 9.2 inches |
| Weight | 14.5 ounces |
| Material | Polyester |
| Capacity | 20 lbs |
These Weber bags can be typically found for a cheaper price than their NUUK counterpart and thus can be a great deal for a lot of users. However, the cheaper price shows in the built quality and even looks.
The material does not feel as fancy and premium as the other one but when it comes down to storage, the specifications are exactly the same. You can hold just as much fuel and carry it around just as easily.
Now the label window seriously needs a redesign on this product. The opening is on the bottom and it makes the labels constantly fall off (whoever made that design decision should be fired).
It also does not come with any included or blank labels so you will need to supply those yourselves.
Overall, if you just need a weather-proof bag to store your grill fuel without paying any sort of premium for extras, these Weber bags should be your top pick.
Pros
Holds up to 20 lbs of fuel

Weatherproofing works great

Handles on the bottom for easy pouring
Cons
Not very durable

Cleaning can be difficult

Bad label window design
Also Read: How Much Charcoal To Use In Big Green Egg For Smoking
Big Green Egg Charcoal Storage Container – My Top 2 Pick
As great as the bags are, for the most hardcore grillers, they just won't suffice. So if you want to go the container route, here are my top 2 picks:
Buddeez Versatile Charcoal Storage Container
Popular charcoal brand Kingsford brought this charcoal storage container to the market in order to make storing fuel outdoors and traveling with them easier.
And I can't help but say that they pass that test with flying colors. These are probably the best charcoal storage containers you can get!!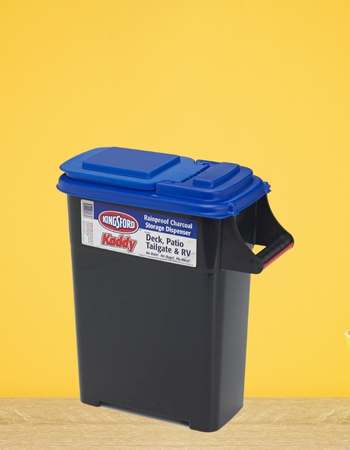 Top Features
Airtight for storing briquettes

Label window on the front side

Can hold up to 24 lbs of charcoal

Recycled Polypropylene body with Polyethylene lid

Rugged and weather-proof design with easy carrying handle
| Specifications | Parameters |
| --- | --- |
| Brand | Buddeez |
| Dimensions | 14.5 x 7.75 x 16.5 inches |
| Capacity | 24 lbs |
The Buddeez charcoal and pellet dispenser comes in a sleek polished black color with a blue lid that makes storing bags full of charcoal neat and easy.
Being water resistant is a given but these containers are airtight so that your flavored briquettes/pellets do not lose flavor over time.
The handle is also built pretty strong and is a great addition to the overall design as it makes it superbly comfortable to carry around bags full of coal.
However, since this is still plastic, do not leave them outdoors exposed to the sun for a long time. It will disintegrate with sustained UV exposure.
Pro Tip: If you are worried about cleaning afterward, place the entire bag your fuel came in inside the container and then seal it up.
What else can we say except that buying these will make your grilling endeavors a lot easier and hassle-free?
Pros
Fully airtight

Very heavy-duty and durable

The label window is a great addition

Multiple sizes available for your needs
Cons
Does not come with a scoop

The tolerance on the lid is a bit too high
Also Read: How To Make Charcoal Chimney At Home (5 Easy Methods)
Extra Large Versatile Storage Container by IRIS
Like we said earlier, you really do not need a purpose-made charcoal storage container to store all your Big Green Egg fuel. This airtight pet food storage box is the perfect alternative and even surpasses the Buddeez container in a lot of aspects.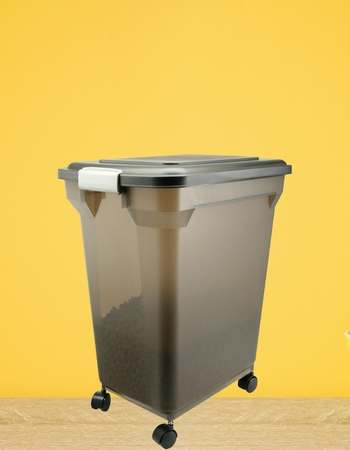 Top Features
Comes with wheels

Comes in a variety of sizes

Up to 67 Quarts of capacity

Airtight and weather-proof

Clear body for inside visibility
| Specifications | Parameters |
| --- | --- |
| Brand | IRIS USA, Inc. |
| Material | Plastic |
| Color | Smoke |
| Capacity | 55 Quarts |
Even though this product was not made to store charcoal, some of the features that make it great for storing pet food, also make it amazing for storing grill fuel. 
The transparent body, for example, makes up for the lack of a label window as you can put the entire bag of charcoal and see from the outside what type they are. 
Additionally, the wheels, which can be attached when necessary, work as a great transportation method. 
Everything else you need from a storage container is covered really really well with this container as well. The latch locks the lid perfectly and the size is big enough to store a lot of fuel.
The looks are pretty lackluster but if you can get over that, these containers are one of the best ways to store your briquettes, lumps, and wood pellets.
Pros
Holds a lot of fuel

Comes with wheels

Transparent but sturdy build

The snap-lock mechanism is easy to use
Cons
No Label Window

Not suitable for outdoor storage
Also Read: Royal Oak Vs Kingsford Charcoal – Which You Need?
Diy Method For Storing Charcoal For Your Big Green Egg
If you do not want to buy any separate container or bag, no worries as we have got you covered as well. A deck box, garbage bin, or a trashcan is all you need. 
Most people will have them lying around and some garbage/compost bins are also watertight.
These bins will certainly not give you the best results but as we all know, lump charcoal has a really long shelf-life and if you grill fairly often, you do not really need to invest in a fancy container. 
One of these containers will hold the bag your coal came in perfectly without creating any mess.
Big Green Egg Charcoal Storage Indoor Vs Outdoor
While it is best practice to always store charcoal or any other grill fuel indoors, depending on a few things, outdoor storage is not necessarily the worst idea. 
The whole reason for this debate is that moisture and water are bad for charcoal and you always want to keep them dry.
Now that is certainly most easily achieved by storing them indoors. But with the help of an airtight container, outdoor storage can be achieved. The climate of the area you live in is also key. 
In places like Nevada where the weather is pretty dry all year round, you can keep the charcoal outside without any second thought. But if you face rain or snow often, be careful with the way you are storing.
To summarize, it is always better to store your charcoal indoors but with proper precautions, storing them outdoors is also a viable option.
Also Read: Egg Genius Vs Flame Boss 400 Vs 500 – Which Is Right For You
How Do You Store Big Green Egg Charcoal?
Lump charcoal never goes bad. Even if they get wet, dry them off and they'll be good as new. However, briquettes have a shorter storage life than lumps because their chemical additives can evaporate.
Don't expect briquettes to stay fresh if the bag is opened. So, an airtight container is ideal for storing charcoal. You can also store lump charcoal in these containers. 
However, because of its porous structure, charcoal of any kind, including lump charcoal, will eventually succumb to moisture. If it becomes wet, you can forget about lighting it (at least without drying them off first).
The charcoal lumps or briquettes or wood pellets can be stored in a standard plastic bin, a metal garbage can, or a container designed specifically for charcoal.
Also Read: How To Make Lump Charcoal At Home (Direct & Indirect Methods)
Does Big Green Egg Charcoal Expire?
As long as it is kept in the appropriate conditions—a dry, cool environment—charcoal can be used for an infinite amount of time. 
This means that it should be placed away from areas that experience fast temperature swings as well as areas that contain moisture.
But even if they get wet, you can dry them off properly and any lump charcoal will work just as well. So, NO, Big Green Egg charcoal does not expire.
Is It Safe To Store Charcoal Indoors?
If you have heard the news about charcoal spontaneously combusting inside garages and stuff and are worried about if it is safe to store them indoors, well worry not as I am here to assure you that it is completely safe.
Spontaneous combustion is a possibility sure but it can only happen when there is a lot of (and I mean a lot, more than you will ever store for grilling) charcoal in an enclosed space that has high temperatures. 
Regular amounts for backyard grilling do not have enough energy in them to explode. So yes, it is perfectly safe to store charcoal indoors.
Where Is The Best Place To Store Charcoal?
Although it is vital to preserve lump charcoal with appropriate containers, it is equally important to place the charcoal in the proper place. 
You should make every effort to store your boxes somewhere that is not subject to excessive amounts of moisture or direct sunlight. 
It would be best to store it in a dry and cool garage or shed, but a covered outdoor spot in the backyard could also work.
How Long Does Charcoal Last In The Bag?
Lump charcoal can last indefinitely in the bag. However, for briquettes or pellets, you can expect them to stay fresh in the bag for about 1 to 2 years depending on the manufacturer. 
Briquettes have a shorter shelf life due to them having a lot of additives and chemicals added to them. 
How Long Does Charcoal Last In A Container?
Again, given that the container is up to the task (by being airtight and water resistant) lump charcoal will never really go bad. They can get wet but if you dry them you can use them again.
Briquettes or pellets also need a proper air-tight container and any amount of water can basically ruin them. But even in a tight container, it will not last for more than a couple of years for the same reason as before.
Conclusion
Any barbeque enthusiast will tell you that charcoal is a gift that just keeps on giving. But to keep receiving the gift, we also do need to take care of them and store them properly. Hopefully, by now you know all there is to know about Big Green Egg Charcoal storage. Best of luck on all your future barbecuing endeavors!!!