If you are a BBQ enthusiast, charcoal is the most useful fuel to make your food delicious. But do you know this precious fuel could be useless within minutes if not stored properly?
Yes, that's true. If charcoal gets in contact with water, fog, or even moisture, it will lose its essence. 
So, how could you store charcoal properly? In a charcoal bin or airtight container that keeps them cool, dry, and leak-proof. Besides, it should hold up quite well in any weather condition.
Every product is independently reviewed and selected by our editors. If you buy something through our links, we may earn an affiliate commission at no extra cost to you.
On that note, we have five nice choices of charcoal storage containers here. Let's review them below in detail!
5 Best Charcoal Storage Containers You Can Go For
Among a plethora of options, you should choose the charcoal container that offers a wide opening for easy filling and emptying. Plus, it should be durable enough to be used for a longer period of time.
We handpicked the following five containers based on these qualities and hopefully, you will like them all. Let's have a look at the quick decision-making chart –
| Key Features | Kingsford Charcoal Kaddy | Versatile Airtight Storage Container | Keter 30 Gallon Storage Container |
| --- | --- | --- | --- |
| Brand | Kingsford | IRIS USA, Inc. | Keter |
| Dimensions | 19 x 10 x 20 inches | 19.30 x 14.80 x 25.25 inches | 22.7 x 17.3 x 21.57 inches |
| Item Weight | 5 Pounds | 4.89 Pounds | 7.81 Pounds |
| Capacity | 12lbs of charcoal | 55 Pounds | 30 Gallons |
| Ideal For | Strong charcoal, and pellets, ice melt, Kitty litter & more | Strong pellets, Charcoal & Pet foods | Strong all types of material. |
| The Hallmarks | Versatility, Durability, Portability, Easy to use, & Rugged design | Maneuverability, Versatility, Easy to clean, Airtight seal & Durability | Versatility, Quality Material, Large capacity, Easy assembly & Resin Construction |
| Price | Check on Amazon | Check on Amazon | Check on Amazon |
"Don't let your charcoal dreams go up in smoke; a reliable storage container is the key to maintaining the perfect grilling arsenal."

Team Topcellent
Kingsford Charcoal Kaddy With Handles
First, on the list, we have chosen a charcoal storage bin by Kingsford which is incredibly efficient to keep your charcoal protected. Actually, it's a multi-purpose container with a professional finish. Once you use the storage container, surely you will love how it keeps your charcoal fresh and dry forever.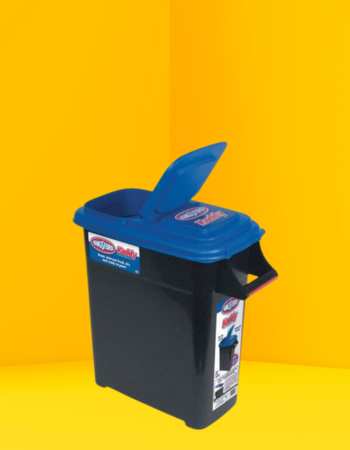 | Specifications | Parameters |
| --- | --- |
| Brand | Kingsford |
| Model Name | Original Kingsford Kaddy |
| Item Dimensions | 19 x 10 x 20 inches |
| Item Weight | 5 Pounds |
| Color | Black |
Basically, this black charcoal container fills the bill for those who are looking for a multi-purpose storage bin at an affordable price.
Being perfectly polished, the smooth and sleek exterior leaves no room for complaints. Besides, it's an all-purpose bin suitable for decks, patios, RVs, campfire cooking or tailgating.
What makes me surprised is the high-density polythene flip lid that allows easy scooping. And the recycled polypropylene body makes the entire deal an eco-friendly one.
So, if you are concerned about the environment, choose this Kingsford charcoal kaddy and feel good inside.
However, the lightweight construction makes it easily portable. And thanks to the super comfy yet heavy-duty handles, you can take it literally anywhere you want.
Aside from being used for storing charcoal, it suits a lot of other purposes as well. For example, you can store wood pellets, grass seed, kitty litter, etc. too.
As a result, life becomes easier with this Kingsford charcoal dispenser even if you want to enjoy grilling suddenly.
Best of all, the bag-in feature helps keep the bin clean. And what's more, it's a rain-resistant dispenser that is made to last. At least the sturdy exterior says so.
Being capable of holding up to 22 lbs of charcoal, it's undoubtedly one of the best all-around charcoal containers you can have on the go.
Otherwise, you can go for its little brother which is the mini Kingsford dispenser holding 12 lbs of bagged charcoal.
But that's more convenient for roadside grilling. If you are home, the Original Kingsford is a decent deal, I guess.
Pros
Holds a lot of charcoal 

Pretty much waterproof

Offers super easy toting and pouring

Also stores wood chips or pellets perfectly 

A patented bag-gripper keeps the container clean
Cons
The lid doesn't prone to stay open while pouring
Also Read: Kamado Joe Charcoal Storage Ideas And Hacks With Expert Advice
Versatile Airtight Charcoal Storage Container 
Looking for a great container for charcoal? Here we got you covered with one of the most versatile selections from the very famous IRIS USA, the name speaks for itself.
Honestly speaking, we loved this smoke plastic container for its superior holding capacity. It stores up to 55 pounds of dry pet food. Can you imagine?
However, let's break down its most striking features below.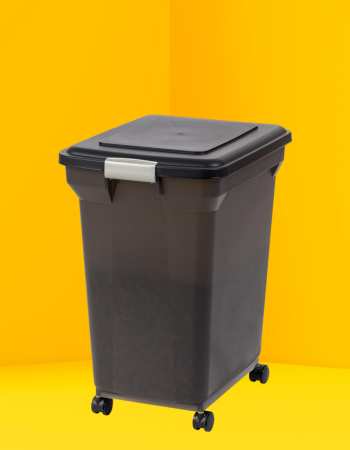 Top Features
Made in the USA

Capacity: 67 Quarts

A BPA free storage bin

Comes with removable wheels

Offers a pretty good airtight seal
| Specifications | Parameters |
| --- | --- |
| Brand | IRIS USA, Inc. |
| Dimensions | 19.30″L x 14.80″W x 25.25″H |
| Item Weight | 4.89 pounds |
| Size | 67 QT – 55 LB |
| Material | Plastic |
| Special Feature | BPA FreeVacuum Seal |
Out of all other amenities, what drew our attention first, is the top to bottom tapered shape. It really gives the container a unique look on the whole.
It is actually an efficient airtight storage container that can be your best buddy for everyday living. You can store charcoal or pet food quite easily inside.
Keeping the content fresh and dry, it locks out dust, moisture, and pests away. Moreover, it doesn't allow any pet access with super-secure latches.
Another good thing about this container is that it's available in a variety of sizes and colors. But we chose this smoke 55 lbs storage for its versatile shape and convenient holding capacity.
Besides, being the largest size in the series, it is equipped with caster wheels for better mobility. You can roll them anywhere you like.
Thankfully, the storage bin is made in the USA with ultimate quality control. No wonder it lasts so long even after being left in unfavorable outdoor weather.
Moreover, it ensures a wide opening so that you can scoop the charcoal easily. And the snap-tight latch shuts the lid tightly to keep moisture and humidity away.
Above all, we loved the translucent body because it permits a quick check-up of the content level.
Although it's a bit high in price, a premium quality container doesn't come cheap, right? Thanks to the durable plastic exterior, it's harder for the animals to open the bin.
Pros
Very easy to clean

Holds plenty of charcoal inside

Nice and compact craftsmanship

Keeps the charcoal dry and moisture-free

Durable exterior to keep pets and animals away
Cons
A bit overpriced

Not as airtight as described
Also Read: Big Green Egg Charcoal Storage 101 You Must Know
Kingsford Charcoal Storage Bin By Buddeez
If you have been searching for a good quality charcoal storage container for some time now, then you must have understood the value of the name, Buddeez. They make some out-of-the-box storage bins with optimum durability, versatility, and flexibility.
Best of all, they produce containers in some suitable sizes, compatible for both home and outdoor usages.
Let's check out what this 20 L- 24 lbs storage has in store to offer.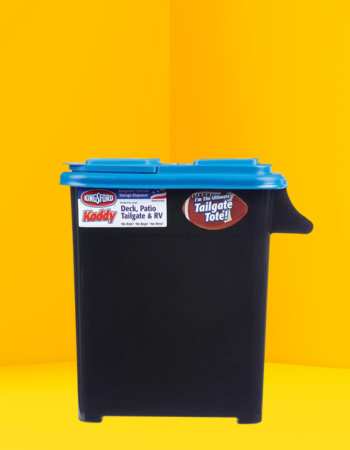 Top Features
Made of durable plastic

Waterproof construction

Holds a 20-pound bag of charcoal

Made of premium-quality plastic material

Very well designed and secure engineering
| Specifications | Parameters |
| --- | --- |
| Brand | Buddeez |
| Item Dimensions | 31.75 x 19.5 x 10 inches |
| Material | Plastic |
| Item Form | Bag |
| Item Weight | 20 Pounds |
| Unit Count | 4.00 Count |
As the name suggests, it's another Buddeez production in the Kingsford series. And like all their other products, this too is very well made with high-quality material.
Although it comes in two different sizes, we prefer the larger one with the ability to store a 20-pound charcoal bag. It is a package of four containers each of which is 20″ tall.
Aside from keeping your charcoal cool, dry, and fresh, it can also be used to protect pet food perfectly.
Also, the container boasts a thick and durable plastic body that keeps the bugs, squirrels, or mice away.
Compared to the previous Kaddy container, the latest one is much upgraded in terms of water resistance. Even if you leave it outside in the snow, the charcoal inside won't be affected at all. You can grill anytime you want by pouring the fresh and dry charcoal.
Besides, the spacious interior permits storing some newspapers as well. They will let you start the chimney easily.
Similar to other Kingsford Kaddy from Buddeez, this too is blessed with a flip lid. Naturally, you get an easy and effortless lift of the lid.
With the easy-to-hold handle, it's super convenient to pour your stored charcoal. You can stock both lump charcoal and briquette charcoal and have a separate scoop for equal distribution.
All things considered, these containers are more than great to avoid the issue of getting the charcoal moist, whether you keep them on the deck, or carry them to a campsite.
Pros
Very easy to use

Great value for the money

Incredible rain-proof construction

Cheaper than any pet food storage container
Cons
A bit smaller than described
Also Read: Royal Oak Vs Kingsford Charcoal – Which You Need? – TopcellenT 
Keter 30 Gallon Storage Container For Charcoal
Next comes the Keter 30 Gallon outdoor charcoal bin with the sleekest design ever. Let's break down its key specifications first to get a quick overview of the product.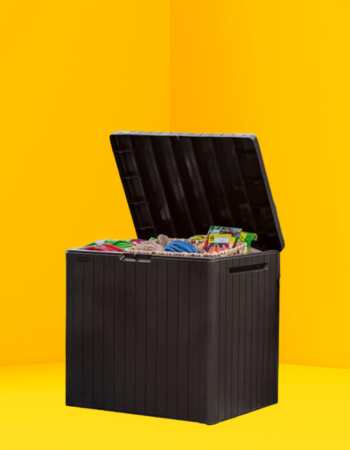 Top Features
Made of high-quality resin

No rusting, peeling, or denting

No tools are required for the assembly

Comes with a 30-gallon storage capacity

Weather-resistant polypropylene architecture
| Specifications | Parameters |
| --- | --- |
| Brand | Keter |
| Item Dimensions | 22.7 x 17.3 x 21.57 inches |
| Item Weight | 7.81 pounds |
| Color | Brown |
| Material | Resin |
| Storage Capacity | 30 Gallons |
| Weight capacity | 220 lbs |
To start with the benefits, it literally makes barbecuing easier than ever by storing the charcoal properly. We cannot but fall in love with the weatherproof resin body which comes in an appealing wood-like texture.
In fact, you cannot make the difference between real wood and this resin container without professional knowledge.
But unlike real wood, these bins are peel-proof, dent-proof, and rust-free. We think that pretty much says it all how well-made they are.
With the capacity of 30 gallons, this makes a great purchase at a great price, indeed.
Apart from its enchanting wooden design, the huge charcoal storing capacity makes it a real winner.
You can stock sufficient charcoal, wood chips, or pellets for your next summer BBQ. You can even use it as an effective trash bin, both outdoors and indoors.
And thanks to the sleek and durable handle, it allows easy access to the bin. Being made of metal, the handle is super sturdy as well.
What's more convenient is the extra seating feature with 220 lbs of weight capacity. And you can assemble it within minutes without any extra tools.
Besides keeping your charcoal fresher and dryer, it can also store outdoor toys, pool accessories, beach towels, etc. Indeed, it's a multipurpose storage container just like the Buddeez Kingsford Kaddy Charcoal Dispenser.
In fact, you can keep all your small things within reach with this City Box container by Keter.
Moreover, it doesn't occupy a lot of space, rather you can decorate your balcony or poolside beautifully with this aesthetic bin box.
Another exclusive add-on of the container is the lockable pad. The padlock system offers you peace of mind when you are out of your home on a vacation. Rest assured, the padlock is secured enough to protect your valuables from being stolen.
So, what do you think now? Shouldn't you add this wonderful charcoal storage container to your grilling armory right away?
Pros
Easy to move

Easy to assemble

Padlock compatible

Comes with no maintenance cost

Convenient scooping with the built-in handles
Cons
A bit expensive

Could have been a bit more durable
Also Read: How To Make Lump Charcoal At Home (Direct & Indirect Methods)
Buddeez Lump Charcoal Storage Container
Last but not least, we came up with another Buddeez charcoal storage container with industry-standard performance. With a lightweight ergonomic design and easy opening, this box facilitates pouring charcoal straight from the bag.
However, the key conveniences it's crafted with are as follow-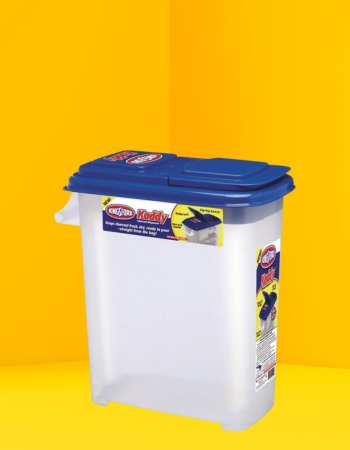 Top Features
Very lightweight

Easy flip-to access

Rainproof exterior

A translucent charcoal box

Protects charcoal as ready-to-pour
| Specifications | Parameters |
| --- | --- |
| Brand | Buddeez |
| Dimensions | 22 x 20 x 12 inches |
| Item Weight | 4.2 pounds |
Being made in the USA, this is a versatile storage bin for your charcoal to keep them fresh forever. No matter how long you keep the container out in the rain or shed, the charcoal will remain the same.
Yes, it comes both rainproof and shed-proof. 
While designing this translucent storage container, the manufacturers tried their best to meet all customers' demands. As a result, we find this product exceptionally durable. 
The best part of this container is that you can pour charcoal straight from the bag. And the stickers it comes with are easily removable. Just a little bit of washing with soap and warm water and the exterior will be entirely clean.
Another great plus for this product is that it comes weatherproof. No matter how harsh and hostile the weather is, it will hold up the integrity of the charcoal absolutely well. 
Furthermore, the flip-top access makes it even more desirable. After all, you need a wide opening to pour the charcoal quickly.
Living up to the expectation, the container is spacious enough to store an adequate amount of charcoal inside. You can even store dog food bags with a tight seal. 
Although they don't come with wheels, that works in favor of the storage containers as they don't move much while you are traveling with them. Isn't that great if you are a frequent traveler?
On top of that, they come cheaper than the pet food storage boxes. And they keep the charcoal completely dry to deliver delicious flavor when you are grilling/smoking with them.
Aside from storing lump charcoal, you can also keep wood pellets inside the container. And thanks to the slim shape, it is easier to store anywhere in the pantry.
Whether you are grilling in summer or winter, you can have the authentic charcoal smack within the food, thanks to the air and watertight seal. It also lets you easily load the charcoal into the grill or smoker. 
Thankfully, there is a small insert lid inside the snap-on lid which allows you to take out as much charcoal as you need for a smaller grilling session.
Having said that, we think it is every barbecuer's best buy in terms of durability, ease of use, and versatility. 
So, what are you waiting for? Get your pick right away before it runs short.
Pros
Very easy to maneuver

Neatly stores the charcoal 

Great value for the money
Cons
Being UV sensitive, doesn't allow sun exposure
Also Read: 5 Best Wood Pellet Storage Containers
What To Look For When Selecting The Right Charcoal Storage Container
Well, there are several factors that make a charcoal storage container great. And as you got our back, you shouldn't go for an average storage bin, right?
On that note, let's discuss some of the most crucial aspects of a charcoal storing bin. 
Material
While buying a bin to keep the charcoal intact, you must pay attention to the material. Never go for substandard material that will rust over time. 
Instead, we recommend investing in high-quality watertight containers like the Buddeez Kingsford Kaddy Charcoal Dispenser. With an eco-friendly polypropylene build-up, it's made to withstand all weather conditions. 
Storage Capacity 
The next thing you should be concerned about is the storage capacity. Instead of buying two containers in small sizes, one big bin with a larger storage capacity is recommended. 
You should always look up how many pounds of charcoal your bin can hold. In this regard, you can go for the Keter Charcoal Storage Container offering 30 gallons of storage. 
Portability 
Usually, grilling experts like lightweight bins more as they are often addicted to outdoor grilling. In that case, choose a compact container with wheels like the IRIS USA Versatile Charcoal Container. It would be easier to carry. 
Handles
Aside from wheels and legs, features like handles are much needed to increase the portability of a container. A nice and sturdy handle makes it possible to pick up the container silently. 
On top of that, you don't leave any marks of a scratch behind even when the storage bin is placed on solid surfaces. 
Lid
Above all, the lid of the container should shut properly. If the snap closure doesn't shut it airtight, it will not offer a tight seal to keep the charcoal free of moisture. 
Moreover, while you are traveling on uneven surfaces with the bin, chances are, the lid will be dislodged and the charcoal inside will be exposed to natural elements like sun, rain, or humidity. 
Weatherproof
We always recommend buying charcoal bins with weather-resistant architecture. It will let you keep the container both indoors and outdoors. Even if you have to place it outside for the whole season, you shouldn't worry if it has a weatherproof build-up. 
Neither the sun nor the rain could affect the charcoal inside as the container is made to hold all-natural elements quite well. 
Charcoal Storage Container Vs Bag – Which Is Best? 
Usually, we stockpile charcoal during the hot summer days. But how do you keep them dry and unbreakable in the damp winter season as well? How do you store them for better output? In a bag or a storage container?
Certainly, there are loads of other options like metal trash cans, stackable boxes, etc.
But we think a well-made storage container works the best in terms of offering an airtight seal. 
Although bags are preferable due to their lightweight ergonomics and portability, still, containers are preferable for keeping the charcoal dry for a longer period.
Yes, it's easier to pour the charcoal from a bag. But most premium containers consist of a flip-top design in the upper making charcoal pouring in the chamber a breeze.
In addition, they even include handles to handle the containers carefully. So, you can store the charcoal in a bag but we recommend storing that bag in a container for better results. 
The tight seal a storage container offers to keep the charcoal moisture-free is incomparable. 
Despite a container for charcoal costs more, you should invest in a high-quality product if you want your fuel to stay fresh throughout the year. 
Conclusion 
People who love to grill throughout the entire season often face the issue of not having plenty of charcoal when needed. Because of the unavailability of a good quality charcoal storage container, it's quite a common scenario to have your stock spoiled. 
Saying that we suggested the five best containers above to keep your charcoal dry and fresh all year around. Buy a large stock of charcoal and seal them inside an airtight bin. 
Hopefully, during the next BBQ season, you will love how the containers perform both in hot and cold weather to keep the charcoal waterless.