To smoke your dishes with the wood-filled smoky aroma, charcoal is a great choice for all the grilling experts out there.
But when there are two top-tier charcoal manufacturers on the board, it's really hard to pick one name, isn't it?
Every product is independently reviewed and selected by our editors. If you buy something through our links, we may earn an affiliate commission at no extra cost to you.
Well, Royal Oak vs Kingsford can create such a dilemma among BBQers as both of them offer excellent heating ratios with an impeccable smoky smack.
But who wins over whom in this face-to-face confrontation? Who offers the best value for the money along with being easier to use?
Let's look forward to it below!
Royal Oak Vs Kingsford Charcoal – Which You Need?
Choosing the best charcoal briquette is a tricky task, for sure. Therefore, I lend my hand to help you decide between two prominent US-based charcoal manufacturers, Royal Oak and Kingsford.
It's true that both are reliable names in the BBQ industry. But if you have to choose one, which one should you go for? Umm, Royal Oak is arguably the best charcoal briquette manufacturer nowadays.
Quick Comparison Chart –
| Key Features | Royal Oak Charcoal | Kingsford Charcoal |
| --- | --- | --- |
| Great for | High and low-temp (Both) | Burn a lot hotter |
| Designed for | Kamado-style grills, Non-ceramic & traditional Smokers | Ceramic grills and other high-end grills and smokers |
| Stay Hot for | An Average time of burning | A longer amount of time |
| All-natural | No | Yes |
| Top Picks | Royal Oak Hardwood Premium Lump Charcoal | Kingsford Original Charcoal Briquettes |
| The Hallmarks | Versatility, Very little ash, Premium quality, Unique blend, High & low temp cooking | Fast lighting, All-natural premium quality elements, Easy to use, Great value & Authentic smoky flavor |
| Price | Check on Amazon | Check on Amazon |
"In the world of BBQ, charcoal selection is an art form; each type brings its own personality to the grill, giving you endless possibilities."

Jeff Koss
Whether it's true or false, that's a different question. But what made them a popular name among professional pitmasters?
Honestly speaking, it's a blessing to smoke with Royal Oak. As they only include all-natural wood, you will get a clean burn. Moreover, they are easier to ignite.
For instance, the Royal Oak Premium Charcoal Briquettes come in a unique ridge shape confirming better airflow.
Resultantly, they catch fire immediately without wasting your valuable time. Within 15 minutes of the ignition, you are all set to start smoking your favorite item.
Another USP for Royal Oak charcoal is the real wood fiber. In combination with the organic vegetable starch binders, it includes no chemicals at all. Therefore, you don't find any aftertaste to upset your tastebuds.
However, the Kingsford charcoal is better in terms of producing a lot less ash than Royal Oak. They feature a special formula to burn cleaner than their competitors. 
That's why most professional grilling enthusiasts prefer Kingsford over Royal Oak to avoid the hour-long after-cleaning event.
Moreover, Kingsford Original Charcoal Briquettes also have twin grooves on each side to facilitate improved airflow. So, they also burn evenly like the Royal Oak ones.
One negative point about Kingsford is that sometimes they use fillers, although they are all-natural. But that's not the deal breaker as this one shortcoming saves some bucks in return.
Also, Kingsford offers a number of different distinct delicacies to make the dish more flavorful.
But in terms of genuine woody essence, certainly, the Royal Oak outperforms as it doesn't include any cost-minimizing filler.
So, if you prefer a more palatable taste, go for Royal Oak. You will also experience a longer burn to smoke the food better.
On the other hand, Kingsford is the number one choice in terms of a budget-friendly solution with a cleaner burn. Also, the smokey extract of these briquettes is enough to leave you speechless.
Royal Oak Briquettes Vs Kingsford Briquettes
While comparing the Royal Oak Premium Charcoal Briquettes and Kingsford Original Charcoal Briquettes, I found some drastic differences between them.
Although there are some basic resembling factors too. 
Curious about how they compete with each other?  Okay, let's dive in!
First, talking about the Royal Oak Premium Charcoal Briquettes, they are perfectly preferable for a long-burning BBQ session. 
Coming in a ridge shape which is quite exclusive, the briquettes facilitate better airflow. On top of that, they quicken the cooking process by burning longer and hotter. 
You can start smoking your favorite food in just 15 minutes once you light the briquettes. Can you imagine?
Another noteworthy point of these smoking briquettes is that they let you smoke evenly throughout. No wonder the final outcome is so delicious and juicy.
On the other hand, the Kingsford Original Charcoal Briquettes are no less. They also offer the same amenity to let you start smoking within 15 minutes of being lit up.
And the different natural wood flavors make your meal more palatable. Also, they produce less ash compared to the Royal Oak.
In terms of burning evenly for a long BBQ session, both the briquettes give each other a hard competition. But where Kingsford shines brighter is the more competitive price range.
You get two 16.7 lbs bags at half the price of the Royal Oak Premium Charcoal Briquettes.
Though the other factor doesn't make a huge difference in their performances, the cost per pound definitely does, what do you say?
Also Read: Can You Mix Lump Charcoal With Briquettes (Answered)
Royal Oak Charcoal Vs Kingsford Competition 
Moving forward to the two other most popular products from each brand, let's compare the Royal Oak Regular and Kingsford Professional Competition Briquettes.
Here, the Royal Oak version is the clear winner in terms of budget. You get a 7.7-pound bag of charcoal for less than $10.
On the other hand, the Kingsford Competition Briquettes come in two packs of 18-pound bags. But they are a bit expensive. Although you can store them for further use. 
However, the Premium Briquettes from Royal Oak are very easy to start the fire. 
Aside from that, they also burn pretty hotly delivering optimal heat and smoke. So, there are fewer hot and cold spots.
As all-natural oak charcoal, it is great for all types of BBQ. Besides, having no chemicals makes them everyone's favorite. 
But if you prefer the coals to burn more consistently, go for Kingsford.
As the name suggests, they are truly professional-grade charcoal briquettes to facilitate high-heat smoking.
Although they cost much, they last equally long with a low and slow burn rate. And leaving less ash behind, they make it less messy for you to clean afterward. 
Don't these conveniences fill the bill worth the extra expense?
Also Read: Cowboy Lump Charcoal Review - Worth or Not? 
Royal Oak Brand Overview And Top 2 Picks
Royal Oak started its journey back in 1953 as a family-owned business. Over the years, it grew as one of the largest lump charcoal manufacturers in the USA.
As their natural charcoal became more and more popular, they never compromised the quality of the products.
The 100% natural briquettes and lump charcoal leave no stone unturned to prepare flavorful meals enriched with bold smokey essence. 
Most importantly, they are prepared from lumber and lumber only, no fillers or additives take part in their production. 
Thus, by turning unused lumber into the best-quality charcoal, Royal Oak has become the synonym for reliability for all expert pitmasters to at-home pros.
Now, let's break down the two top picks from the famous lineup of Royal Oak.
Royal Oak Hardwood Premium Lump Charcoal
In the first place, I placed the Royal Oak Hardwood Lump Charcoal. It is also known as Royal Oak Chef's Select Lump Charcoal. 
Hopefully, you can easily assume the craze of this product among the competitive pitmasters by the name.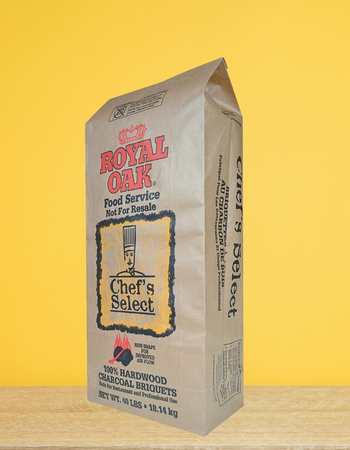 Top Features
Very little ash production

No additional additives included

Usable in any traditional smoker or grill

Made of pure American oak and hickory

A 40-pound premium lump charcoal bag

Compatible for both high and low-temperature cooking
---
Are you planning to host the next BBQ party in your backyard? You should check out these premium hardwood charcoal then.
Talking of the package, these are available in two sizes, 20-pound and 40-pound. 
And in terms of compatibility, you can fire up any charcoal smoker, ceramic or non-ceramic grill at ease.
Whether it's cooking for the crowd or just smoking a single burger, rest assured that you will experience the best grilling session over
Living up to the promises of Royal Oak, only natural oak and hickory are included in the production procedure.
No chemicals or additives are there to create a health hazard.
That surely is a big plus for any lump charcoal out there!
Pros
Offers authentic smoky essence

Made of 100% natural hardwood

Suitable for both low and high heat smoking
Cons
The price is a bit high for a 40-pound pack
Also Read: Best Charcoal Storage Containers (Top 5 Picks)
Royal Oak Charcoal Briquets Premium 
Another top-tier production from Royal Oak is the Premium Charcoal Briquettes. Let's find out its key amenities below.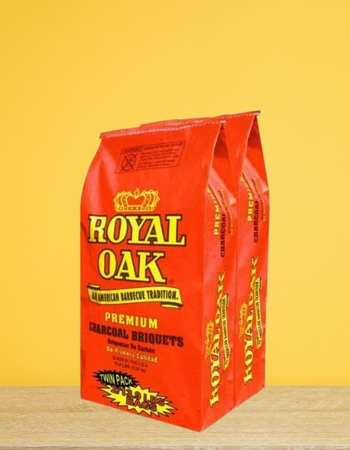 Top Features
The ridge shape offers better airflow

Lasts quite long for low and slow smoking 

The briquettes come in a unique ridge shape

Burns hotter than the regular charcoal briquettes 
---
An expert assembly is offered by the manufacturers with some extra cost
If you are looking for a decent package of charcoal briquettes that start quicker and burn hotter than ever, you should definitely try these Royal Oak briquettes at least once.
Coming in a 12.9 lbs pack, it lasts pretty long.  Undoubtedly, your long-burning BBQ session will be a big blockbuster.
Most importantly, the charcoal briquettes burn smoothly ensuring an even heat spread.
As a result, your foods are neither burnt nor less cooked.
Rather, you get to present the felicitous blending of a soft and savory meal at the dinner table.
Trust me, the absolute wooden aroma it offers is truly out of the world. 
Aside from being a bit overpriced, there's no reason not to go for this package containing two bags of high-quality natural charcoal briquettes. 
Pros
Leaves no unwanted aftertaste

Lets you start smoking within 15 minutes

Infuses authentic woody aroma into the food
Cons
A bit overpriced compared to other brands
Also Read: Big Green Egg Charcoal Storage 101 You Must Know 
Kingsford Brand Overview and Top 2 Picks
After reviewing two hot cakes of Royal Oak, it's time to enlighten you about its competitive brand, Kingsford. 
Well, to be honest, Kingsford came to the scenario of charcoal smoking much earlier than Royal Oak, back in 1920.
Since then, it has been producing top-quality charcoal for blessing your meal with the best smoky taste.
The best part about Kingsford Charcoal is that they are available in a variety of flavors. 
Being a US-based manufacturing company, they turn more than 1 million tons of wood scraps into charcoal briquettes every year.
Thanks to the magnetic filtration part, all the harmful metallic parts are removed from the wood waste. 
Then the wood particles are thoroughly refined and mixed with other natural ingredients to fire up your smoker or grill with the finest flame ever.
Follow the reviews of the two top picks from Kingsford below to learn more about their charcoal quality for smoking, grilling, or BBQing.
Kingsford Original Easy-lighting Charcoal Briquettes
As the name refers, these are really easy to light up and start a fire. Let's look forward to its prime specifications-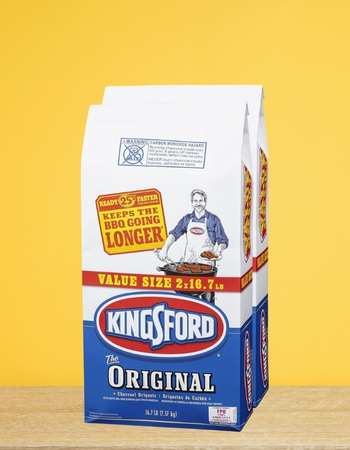 Top Features
Starts the fire pretty fast

Made of all-natural wood

Very affordable price range

Keeps the flame alive longer

Delivered in two 16.7-pound bags
---
One of the biggest benefits of these charcoal briquettes from Kingsford is the SureFire grooves. Having more edges makes the lighting faster.
Resultantly, even beginners can fire up their smoker or grill without much difficulty. 
Another mind-blowing feature of these original charcoal briquettes is that they are prepared from all-natural elements. 
Consisting of real wood as the dominating ingredient, it infuses the genuine woody essence in the food.
At the same time, the highest-grade ingredients ensure a clean burn leaving fewer ashes behind. 
What's more important is the budget-friendly price point that makes the briquettes an inevitable choice for your next summer BBQ.
Pros
A very reasonable price tag

Includes real wood as the primary ingredient 

Produces even flame for low and slow cooking
Cons
Doesn't burn as hot as claimed
Kingsford Professional Competition Briquettes
Here comes the Kingsford Professional Competition Briquettes for your consideration. Let's figure out if it lives up to the expectations or not.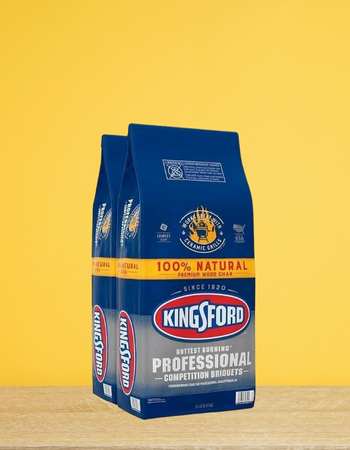 Top Features
Made in the USA

Comes in 2 packs of 18-lb bag

Includes high-quality all-natural ingredients 

Suitable for ceramic and non-ceramic grill/smoker

Features Kingsford's signature "lowest ash formula"
---
Once you use these professional-grade briquettes, chances are, you will never shift to other charcoal briquettes ever.
But what makes them so special? 
Umm, the lowest ash formula, I guess. Who wants to clean the leftover ashes for hours after a tiring BBQ party?
As these competition briquettes are resourced from the finest ingredients, naturally, they won't make the BBQ spot that messy. 
Leaving less ash behind, it makes the cleaning literally a breeze.
Want to try searing or high heat smoking? You are most welcome by Kingsford with their competition briquettes. 
Also, offering authentic smokiness in food adds some more value to the whole package.
Although it's not as cheap as the Kingsford original briquettes,  it surely has a decent price tag.
Overall, it's a deal maker with professional-grade product quality. 
Pros
Prepares flavorful food

Suitable for searing as well

Leaves a lot less ash to clean
Cons
How To Know Which Suits You Best
Decide on your priority and you will end up getting the right charcoal briquette for you. 
For example, Royal Oak is famous for its all-natural charcoal fiber. 
Usually, the premium oak and hickory hardwood make the charcoal blend. 
Naturally, they will be more flavor-enriched while smoking fish, meat, or veggies.
On top of that, they also burn longer. Compared to Kingsford of the same amount, Royal Oak burns 30 minutes more. That means they cost less coal per hour.
On the other hand, Kingsford is slightly more affordable with the capability of high heat smoking and searing. 
Best of all, it burns cleaner leaving less ash. If that fills the bill for you, go for it.
Where Can I Buy Royal Oak Charcoal
Royal Oak is a leading American lump charcoal producer. It's basically a family-owned business under the umbrella of Royal Oak Enterprises, LLC. 
You can avail of their authentic lump charcoal briquettes from any retail shop of Royal Oak in the USA or any of their suppliers around the world. 
Is Royal Oak Better Than Kingsford?
In terms of the classic BBQ smokiness, yes, Royal Oak is better than the Kingsford as they are made of 100% real oak and hickory hardwood, nothing else.
Where Does Kingsford Get Their Charcoal?
Kingsford charcoal is mainly a byproduct of the wood waste from the regional sawmills. The unused wood particles are refined and mixed with ground coal and other necessary ingredients to produce charcoal briquettes. 
Does Kingsford Charcoal Have Chemicals
Well, they claim to use all-natural ingredients but there are some filler agents like starch, limestone, borax, sodium nitrate, and coal dust. But as the dominating ingredient is natural wood waste, it's considered to be a chemical-free fuel.
Does Royal Oak Burn Hotter Than Kingsford?
No, in fact, Kingsford burns a little hotter.
Is Kingsford A Good Charcoal?
Undeniably, yes. In fact, they are the first choice for pros for the cleaner and hotter burn.
Is Kingsford Charcoal Made By Ford?
Initially yes, but not anymore. It was sold in 1951. Today, the Clorox Company is the owner of Kingsford Charcoal.
Where Is Kingsford Made?
Kingsford charcoal is exclusively made in the USA.
Where Is Royal Oak Lump Charcoal Made?
Royal Oak lump charcoal is made in the USA from renewable resources.
What Is Kingsford Charcoal Made Out Of
Kingsford charcoal is made out of wood scraps from the regional sawmills.
Is Kingsford Charcoal Good And Safe
They are good charcoal for sure as they do their job, right? But as they include some additive agents, Kingsford charcoal isn't completely safe to be used inside homes, vehicles, or tents.
Is Kingsford Charcoal Ash Good For Plants
No, it's not. Having some other ingredients other than wood scraps on the ingredient list, they won't do much good to the plants. 
What To Do With Kingsford Charcoal Ashes
You can wrap them up in aluminum foil once the ashes are cold and then throw them out in the non-combustible trash bin.
Kingsford Charcoal Bag Sizes
The Kingsford Charcoal Briquettes are available in four sizes- 4 lbs, 8 lbs, 16 lbs, and 2×20 lbs.
Conclusion
At the end of the discussion between Royal Oak vs Kingsford, I would like to sincerely thank you for reading the article.
Now that you have gone through the best two products from both manufacturers, which brand you will go for? 
Honestly speaking, it's a tie for me. In some aspects, Kingsford is a better buy such as price, high heat production, and cleaner burn.
On the contrary, Royal Oak seals the deal with its traditional wood-filled flavor which is a better bargain for traditional BBQ lovers, I guess. 
But yes, both the briquettes are equally loved by the BBQers for their value for money, ease of use, and even-smoking capabilities. 
So, what of the two charcoal briquettes is going to accompany you in your next BBQ?