When you have a Kamado grill, it must be paired with some quality charcoal to make the culinary magic happen.
Whether it's lump charcoal or briquettes, both go well with a Kamado Joe quite well. But you must store them properly to enjoy an impressive heat flow, right?
So, can you store them in a regular airtight container? Or do you need a specific Kamado Joe charcoal storage solution?
Let's find out below!
Every product is independently reviewed and selected by our editors. If you buy something through our links, we may earn an affiliate commission at no extra cost to you.
3 Kamado Joe Charcoal Storage Solutions For Flavor and Longevity
Being the best choice of fuel for the proud Kamado Joe owners, charcoal must be kept away from any source of moisture. Otherwise, it will all be wasted. 
On that note, I have three smart charcoal storage ideas here to light your Kamado up. Let's break them down. 
Kingsford Heavy Duty Container With Lid
If you are looking for a large charcoal storage container, Kingsford is the best choice then. This affordable black charcoal storage bin comes with the following prime features-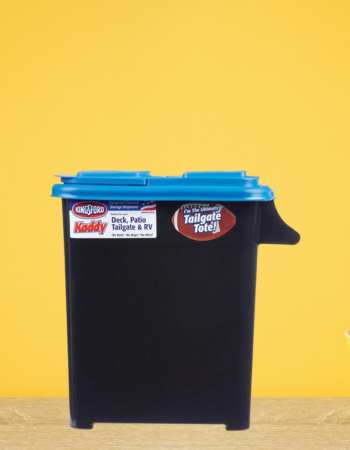 Top Features
Heavy-duty ergonomics last long

Available in two sizes, 10 LB and 22 LB

A black stackable container with a blue flip lid

Weatherproof construction includes a rainproof lid

Holds up to 22 lb of briquettes and 40 lb of wood pellets
| Specifications | Parameters |
| --- | --- |
| Brand | Buddeez |
| Material | Plastic |
| Charcoal holding capacity | 22 LB |
| Pellet holding capacity | 40 LB |
As I already said, this is a great choice as a large fuel storage bin for your Kamado Joe grill.
Whether you need to protect your natural lump charcoal, wood chips, pellets, or briquettes, it saves them all from rain, moisture, and humidity.
Being totally rain-resistant, it has the weatherproof architecture to serve outdoors as well.
Those who are looking for outdoor charcoal storage ideas for backyard BBQing should instantly go for this plastic bin.
That being said, Kingsford made this container with 75% recycled plastic. You see, this is environmentally friendly too.
Apart from storing charcoal on your patio, you can comfortably carry the container on your outdoor trips as well. The handy EZ grip handles make it easier to carry.
Thanks to the polished black exterior, it doesn't look awkward on your deck, patio, or outdoor garden.
Best of all, it doesn't break your bank and comes at a really affordable price point. So yes, the storage bin is definitely worth a try.
Pros
Ideal for outdoor use

Great value for the money

Heavy-duty handle with an ergonomic grip

An extra-wide flip top to pour charcoal easily

Keeps charcoal fresh and dry no matter how the weather is
Cons
It's not as big as described
Also Read: Kamado Joe Accessory Storage Solutions for Every Grill Master
Homz Stackable Heavy Duty Storage Container Tote
Secondly, I have picked a charcoal storage tote pack from Homz to organize your charcoal safely. What I love about this opaque black storage bin is the 27-gallon large storage capacity. Let's learn what this heavy-duty container has in store to offer –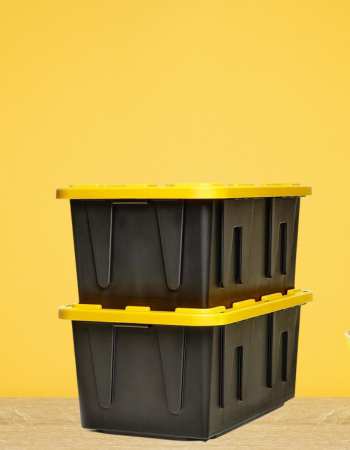 Top Features
Made in the USA

Heavy-duty plastic construction

It's a pack of 2 storage containers

Dimensions(L×W×H): 30.75×20.5×14.37 inches

Impact-resistant ergonomics with consistent handle
| Specifications | Parameters |
| --- | --- |
| Brand | HOMZ |
| Color | Black Base/Yellow Lid |
| Material | Plastic |
| Special Feature | Stackable |
| Capacity | 27 Gallon |
Store the charcoal lumps or briquettes at ease and never run out of fuel in the middle of a BBQ session.
Not only does the airtight lid seal the charcoal safely but also keeps them fresh for a long time.
Thanks to the impact-proof construction, it's perfect for all weather conditions.
Moreover, you get two charcoal storage containers in a single package that costs less than $50. What more could you want?
Homz intellectually designed this stackable storage tote with a black base and yellow lid. Trust me, the eye-catching color combination is one of the biggest pluses of this bin.
Further to the above, you can store camping supplies, off-season clothes, heavy-duty tools, toys, holiday decorations, sports equipment, fishing/hunting accessories, and whatnot aside from charcoal.
Also, you can place the bin in your kitchen, closet, garden, patio, basement, garage, etc.
Best of all, they can stack one on top of another to let you save storage space. Isn't that amazing?
All thanks to the superior stacking support and snap-on lid, it keeps the charcoal all away from rain, moisture, and humidity.
Pros
Offers large storage capacity

Withstands extreme weather conditions

Portable storage totes with ergonomic handles

Durable construction with high-grade materials

Safe and convenient charcoal storage bin that locks in place
Cons
I expected it to be a little heavier and sturdier

A little expensive compared to other storage solutions
Also Read: Kamado Joe Winter Storage Solutions – Expert Storage Checklist
NUUK Extra-large Charcoal Storage Bag
On the final spot, let's explore a charcoal storage bag from Nuuk to keep the Kamado fuel dry. Okay, let me put the first thing first. It's a nice and sturdy charcoal storage bag in the form of a bucket. But along with a UV-resistant coating on the outside. Naturally, you can carry it anywhere you want.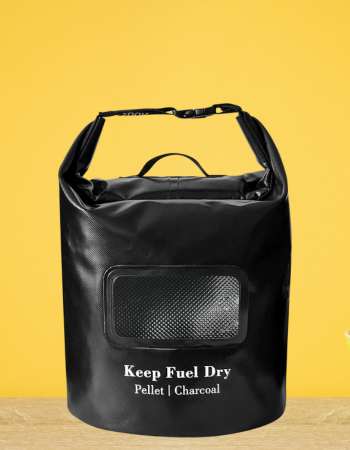 Top Features
Made of ripstop polyester material

Includes a label window on the outdoor

Features UV, water, and weather-resistant coating

A large wood pellet/charcoal storage with 20 lbs capacity

It comes in a combo package of a fuel storage bag along with magnet fuel labels
| Specifications | Parameters |
| --- | --- |
| Brand | NUUK |
| Handle Material | Wood |
| Holding Capacity | 20LBS |
In fact, it could be your go-to outdoor charcoal solution when you go camping. With the dimensions of 2×2×12 inches, the bag could hold up to 20 lbs of fuel at a time.
There is a small pocket on the front where you can place the magnet label. So, it's easier to find out which fuel is kept inside. 
Don't worry, the magnet fuel labels come along. You need not purchase it separately. 
Another noteworthy feature of this super portable storage bag is the dust-proof design. So, use it worry-free in any place in any season of the year.
However, don't underestimate this charcoal storage bag based on its low price tag. It really holds fuel pretty well without spilling them around. 
Pros
It stores flat when empty

Very well made storage bag

Lightweight and easy to carry

Offers great value for the money

Includes an extra handle at the bottom to pour pellets easily 
Cons
Initially, the bag smells like petroleum 

If you store charcoal, the storage capacity is less than 20 lbs 
Also Read: Kamado Joe Charcoal Basket vs. Kick Ash Basket: Which is Better for Grilling?
Other Alternative Storage Methods For Kamado Joe Charcoal 
Didn't like any of the lump charcoal storage ideas to keep your Kamado fuel alive? Hold on, I have some alternative solutions for you. Let's check them out!
Metal garbage can: You can use a metal trash/garbage can to keep the lump charcoal protected. As you know, metal construction is free from rust, fire, and heat.
Therefore, it's a perfect choice to store charcoal for a long time. Being quite inexpensive, they fit your budget as well.
Just make sure to line the metal can with a heavy-duty trash bag so as not to affect them with the slightest hint of moisture.
Another great advantage of using these garbage cans to store charcoal is that they offer a wide array of sizes and shapes.
So, you can choose one that goes well with your requirements.
Brute trash can: Here comes another easy charcoal storage idea. You can use a brute trash can to keep the humidity away. Trust me, there are no moisture issues in these cans.
Moreover, you can keep the charcoal bag straight inside. So, when in a hurry, you can rapidly get some lump charcoal out of it.
Point to be noted, you must use brute cans that come with lids to seal the charcoal safely.
Also, keep the can under-shed to increase the shelf-life of the fuel.
Kitchen trash can: Although kitchen trash cans seem a no-brainer to store charcoal for your Kamado Joe grill, they actually work.
One of the major benefits of such cans is that they often come wheeled.
Suppose, your grill is a bit away from your kitchen. In those cases, a wheeled kitchen trash can comes in handy to carry charcoal to the grill.
Nevertheless, you have to pick an appropriate kitchen trash can with a locking lid. The lid must have a snug fitting to keep the charcoal dry.
In a word, it should offer an airtight seal to the fuel to be used as a perfect charcoal storage box.
Airtight Pet Food Storage Container: Yes, you read it right! You can even use a pet food storage container to keep charcoal alive.
Why worry much about whether it's for keeping pet/animal food as long as it could be turned into an airtight charcoal container?
Generally, these containers are sealable with a well-fitted lid. Besides, the lightweight design makes them easily portable.
However, it's better to choose a transparent pet food storage solution. Then you can check what type of fuel is kept inside.
Plus, you can check the charcoal level at a glance.
Above all, the slim plastic design of these containers makes them a good fit to place beside your Kamado grill.
Here is a recommendation from my personal experience. You can use the IRIS USA 25 LBS Airtight Container. You don't have to carry those heavy charcoal bags again, thanks to the attachable caster wheels.
How To Choose Charcoal Storage For You Kamado Joe?
Three things you must notice while choosing charcoal storage for your KJ are as follows-
It must be spacious enough to contain enough fuel to meet your grilling needs.

It must be of durable material and strong enough to withstand rough weather conditions. In easier terms, the storage can keep the moisture away.  So, go for storage with a locking lid.

Does it go well with your KJ grill? There are some versatile storage boxes that complement the KJ aesthetics pretty well. So, check them out!
How To Store Kamado Joe Charcoal For Optimal Performance?
Just store them in a dry and well-ventilated place and keep the moisture away. The charcoal will last longer and light easier.
Is It Necessary To Keep Kamado Joe Charcoal In Airtight Containers?
Oh yes. Otherwise, they will be exposed to humidity and moisture. Due to its porous nature, charcoal will absorb moisture and be useless eventually. So, keep them inside an airtight bin.
Can I Store Kamado Joe Charcoal Outside In Extreme Weather Conditions?
No, you can't. Any sort of extreme weather elements such as rain, fog, moisture, snow, or sunlight will affect the charcoal performance badly. Plus, it runs the risk of contamination as well.
Can I Store Kamado Joe Charcoal Alongside Other Grilling Accessories?
Umm, you can but make sure to store them in a separate container or storage bag. It will help keep the charcoal free from odor or residues from other grilling gear.
Can I Store Leftover Kamado Joe Charcoal After Grilling?
Yes, yes. They are reusable with a few tips. First, let them cool down completely. Then remove any ashes or debris from the fuel and store them in an airtight box or container. 
Can I Mix Different Types Of Kamado Joe Charcoal In The Same Storage Container?
Yes, you can. But it's recommended to store charcoal of similar quality in a single container. Otherwise, it might affect the overall heating performance. 
Can I Store Kamado Joe Charcoal In My Garage Or Basement?
Yes, absolutely. In fact, the garage/basement could be the perfect place to store charcoal as long as you keep them in an airtight box. Of course, the place must be cool, dry, and away from any flammable objects.
Can I Store Kamado Joe Charcoal In A Humid Environment?
As high humidity badly affects the charcoal performance, it's better not to stock charcoal for the KJ grill in a humid environment. 
Can I Store Kamado Joe Charcoal In A Vacuum-Sealed Bag?
Not really. Vacuum-sealed bags are not adequately ventilated. Plus, chances are they will trap moisture inside which could ruin the charcoal's efficiency. Instead, go for an airtight bag, box, or container to prevent exposure to moisture.
Conclusion
Hopefully, you have developed a clear view of how to store charcoal in the right way. That's the sole purpose of this Kamado Joe charcoal storage guide above.
I included the three most popular storage ideas for charcoal with some alternative solutions as well. You can pick any of them to maintain the efficiency of lump charcoal or briquettes. Besides, follow the tips accordingly to bless the charcoal with an indefinite shelf life. 
Good luck!