If you ask, what do I do with my Kamado Joe grill when it's out of use?- you must be looking for the Kamado Joe Winter Storage solutions.
Because it mostly happens in the colder months when you don't smoke on the grill for a long time.
During those chilling days, you must protect your KJ from rain, snow, and other environmental elements to lengthen its lifespan.
On that note, let's explore some wonderful expert storage ideas to keep your KJ protected in winter.
Every product is independently reviewed and selected by our editors. If you buy something through our links, we may earn an affiliate commission at no extra cost to you.
Kamado Joe Winter Storage Solutions Checklist You Can Go For
Being a long-time Kamado Joe user, I have some practical solutions to store the grill along with all its accessories. Rest assured that you won't regret your decision if you follow the tips and tricks below –
Use A Grill Cover
In all honesty, a grill cover is the best storage solution for a ceramic grill when it's out of use for an extended period. It can protect the grill from rain, snow, and moisture. 
Unless you cover your KJ during those snowy/rainy days, chances are water will be trapped inside leading the ceramic part to be cracked.
Besides, a durable water-resistant cover could prevent mold/mildew buildup on the inner parts of a grill.
Saying that, let's go through a fantastic ceramic grill cover from Kamado Joe to protect your grill unfailingly.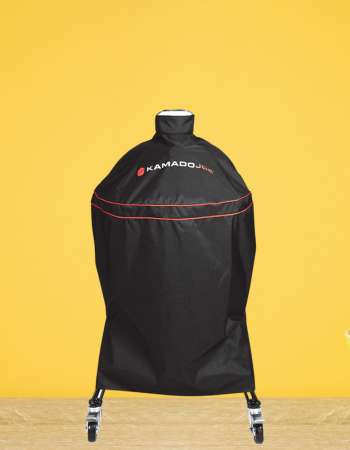 Top Features
An 18″ ceramic grill cover

Waterproof polyester construction 

Dimensions (L×W×H): 33.5×33.5×48.5 inches

Weatherproof full-length architecture to keep Mother Nature out

Made for KJ Classic Joe, Large BGE, and other 18″ round charcoal grill
---
Suppose, you have just bought your KJ baby and it's already winter. Would you like to expose your newly bought KJ to nature's most damaging elements? 
Certainly not. Then try this amazing charcoal grill cover to make it everlasting. 
The black cover is durable, well-fitted, and waterproof. Providing a snug fitting with the adjustment straps, this full-length cover is compatible with all the Classic Joe grills from KJ.
Plus, it keeps rain and snow away with the industrial-strength fabric. The clasps on the bottom keep the gutsy wind away to make the cover fly off.
If used properly, it surely can go a long way in keeping your KJ sheltered.
Overall, it's a great deal to cover your KJ grill whether you store the grill inside or outside.
Also Read: 5 Best Kamado Joe Accessory Storage Ideas for Every Kamado Owner
Use a Grill Cart With Table Cover
How about investing in a grill cart for your Kamado Joe that includes a table cover as well?
We all know how convenient grill carts are with their table-like architecture. Plus, they come with a lot of shelves, cabinets, and hooks to store the extra grilling accessories offered with a Classic Joe.
Not only can you place your grilling gear easily in a cart, but also you can carry the grill flexibly, thanks to the convenient wheels of a cart.
Excited? Then explore the following Kamado Cart Grill Cover from Covermates to make life easier in winter.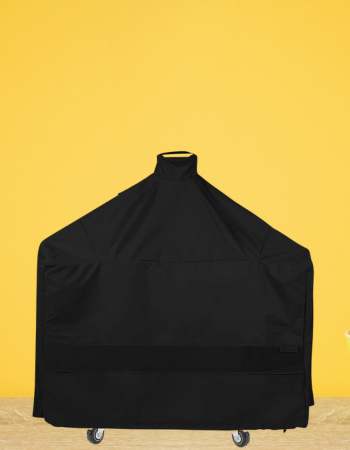 Top Features
Water, dirt, and UV resistant 

Storage size (W×D×H): 60×30×50

Lightweight and weather-resistant grill cart cover

Offers a secure and snug fitting, thanks to the 360 elastic hem

Features a thick 12-gauge commercial vinyl with a durable polyester lining
---
If you are planning to put the KJ grill to sleep this winter, buy this Covermates Kamado Cart Grill Cover.
The classic black vinyl color is not only eye-catching but also long-lasting. Most importantly, it's a worthy defense against high winds in severe weather. 
Further to the above, this heavy-duty cover is dustproof, waterproof, and UV-resistant. It works great in moderate to high rainfall and snowfall. 
Being designed with lightweight, durable, and cost-effective material, it doesn't break your bank to protect the Kamado Joe all year round. 
One of the major benefits of this high-impact grill cart cover is the mesh vent to repel moisture. This is, indeed, a great outdoor smoker accessory to keep your grill new for years.
Also Read: Kamado Joe Charcoal Storage Ideas And Hacks With Expert Advice
Disassemble and Store Indoors
If you don't want to invest in an outdoor grill protector right now, you have to store the grill inside. Leaving such a precious investment outside, that to unprotected is not a wise decision. 
Without a proper storage accessory, the grill cannot combat severe weather conditions. 
Naturally, both the aesthetic and the structure of the grill would be highly affected by the dangerous elements of nature causing mold, mildew, rust, and crack buildup.
That's why I prefer disassembling the grill and storing the attachments inside. You can demount your KJ grill following the user manual and then store the parts in your kitchen cabinet, for example. 
Move to a Sheltered Area
If possible, move your grill to a secure area where Mother Nature couldn't affect it. To protect the grill from damaging natural elements like rain, sun, or snow, you can store it in your garage, shed, or covered patio.
Please remember that it's quite challenging to move a KJ grill to such sheltered places. So, try this trick only when it will be unused for a long time, such as the whole winter until the warm sunny days appear.
Kamado Joe Winter Storage Tips You Must Follow
Now, I would like to share some quick tips before you put the KJ to sleep in winter. These winter storage tips come in quite handy to keep the grill in good condition. 
Separate Accessories and Store: As stated above, you can take out the KJ accessories and store them separately. We all know a KJ comes with all the basic grilling gears and you must maintain them properly.
That being said, you can go for a deck box, cabinet, shed, or drawer as storage to keep those attachments sorted when the grill sits idle for several weeks.
Use grill mat: Next, you can use a grill mat to keep your Kamado Joe protected. These types of mats save the wooden deck of a KJ grill from food grease and stain.
Moreover, you can also place them underneath the grill to protect your patio stone from ash and grease buildup. 
Remove Ash and Charcoal: Before you make your KJ sit for a long time, you must get rid of the ashes, debris, food particles, and charcoal from the grill. 
Use Moisture Absorbers: To combat mold buildup in a Kamado Joe, especially when it sits for a month or two during winter, I suggest using a disposable moisture absorber.
These come to your rescue by catching moisture and humidity to keep the grill fresh and clean. Besides, the moisture-absorbing action helps remove the strong smell of cooking from the grill.
Clean the Grill Thoroughly: Now, this is the most important part before you hide your grill in winter. 
Thankfully, KJ has a self-cleaning function. You just need to heat the grill to 315°C/ 600°F, take the grill grates out, and let the KJ burn for 20-30 minutes.
Now, close down the bottom vent instantly and the top vent after 15 minutes. Brush off the grill to remove any burnt residues. Finally, rinse the grill thoroughly with regular water. 
However, you must air dry the grill before putting a waterproof cover on it. And make sure to leave the vents open to ensure adequate airflow.
Storing Your Kamado Joe Grill During Winter: Dos and Don'ts
Whether you store the grill inside or outside, there are some basic rules to follow. Let's look forward to them below-
Always go for a high-heat burn before hiding the grill for a long time.

Don't use any chemical products for cleaning.

Make sure there's not a single drop of liquid before you put it under a cover.

Keep the vents open for sufficient airflow.

Always place a grill cover once the grill cools down completely.

It's better to store the grill inside such as in a garage, covered patio, etc.

If you store it outside, don't leave it under the open sky.
The Importance of Proper Kamado Joe Winter Storage
Without proper winter storage, the atmospheric elements would badly affect your KJ and render it unusable. Rain, snow, moisture, and humidity are the key issues in winter and you need the right storage solution to conquer these challenges. 
Can I leave my Kamado Joe grill outside during winter?
Yes, you can but you shouldn't leave it unprotected under the open sky. Use a high-quality grill cover and leave the grill under a canopy.
How should I clean my Kamado Joe before winter storage?
Go for a high-heat burn to clean all the food greases. Then scrape off the contaminated areas with a scrubbing brush and rinse the grill thoroughly. 
Do I need to cover my Kamado Joe grill during winter storage?
Yes, unless you want to destroy the material structure of the grill by rain and snow.
Can I store my Kamado Joe grill in an unheated garage or shed?
Yes, you can. Just make sure the place is not prone to excessive moisture and has sufficient ventilation. 
Is it necessary to disassemble my Kamado Joe grill for winter storage?
Not really. But if you don't have a proper storage unit for the big KJ, disassemble the parts and store them separately. 
How often should I check on my Kamado Joe grill during winter storage?
You should at least check the grill once/twice a month. If possible, use it once every 15 days.
Should I empty the ash drawer before winter storage?
Oh yes. In fact, you shouldn't leave any charcoal either inside the grill.
How long can I safely store my Kamado Joe grill during winter?
You can store the grill throughout the winter, of course with the right storage condition. Make sure to check the grill periodically to detect any sign of mold buildup. 
Conclusion
I hope this guide on Kamado Joe winter storage finds you well. With years of experience in being a proud KJ owner, I can guarantee that the tricks and tips above are infallible to keep your KJ protected during winter.
Just make sure to follow the manufacturer's instructions before cleaning the grill thoroughly. Cover the Kamado with a vinyl cover once it cools down to keep it brand-new until warm days.
Happy smoking!