Hey Eggheads out there, in search of an efficient kick ash tool to clean your BGE easily?
Lucky you, I scoured the market to bring the best product to the table. And my research suggests that two of the most popular Big Green Egg accessories are the kick ash charcoal basket and the BGE fire bowl.
They shake out all the ash and small charcoal bits to make cleaning your BGE a breeze.
That being said, let's have a fair fight between Big Green Egg fire bowl vs Kick Ash charcoal basket to decide which of these two makes BBQing in a BGE more fun.
Every product is independently reviewed and selected by our editors. If you buy something through our links, we may earn an affiliate commission at no extra cost to you.
Big Green Egg Fire Bowl or Kick Ash – Which Suits You The Best
If you ask, which charcoal basket for a big green egg is best, a fire bowl or a kick ash basket, there is no definite answer. Actually, it's a long-standing debate between the Eggheads as both come with their own amenities and drawbacks.
Nevertheless, I took the plunge to come up with a bird's eye view of both the grill accessories. And here are my findings on these awesome BBQ gears.
Quick Decision Making Chart –
| Key Features | Big Green Egg Fire Bowl | Kick Ash Charcoal Basket |
| --- | --- | --- |
| Material | Stainless Steel | Stainless Steel |
| Item Weight | 3.3 pounds | 3.99 pounds |
| Best for | Better airflow, Cheaper alternative & Giftable | Longer burn, Great construction, Fuel efficiency |
| The Hallmarks | Easy cleanup, Convenient handles, Maximize airflow, Highest quality construction & Perfect fit | Time-saving, Effortless cleaning, Electropolished construction, Unique design & Versatile fit |
| Price | Check on Amazon | Check on Amazon |
Well, both tools are manufactured for creating spaces between the coals and the firebox.
On that note, the stainless steel kick ash basket Big Green Egg does its job pretty well by holding the charcoal a bit high from the fire rings.
As a result, it keeps the air holes free of ash and debris by maximizing airflow. This leads to a quick start for the BGE with improved fire and smoke. 
At the same time, you don't need to rely on the ash tool to stir the charcoal when you reuse the grill. Just lift the charcoal holder and shake it over the ash disposal unit to get rid of ash and small charcoal bits.
In my opinion, the kick ash basket makes ash cleaning snap without using the fire grate.
However, the BGE fire bowl is no less though. By letting the lump charcoal breathe, it also enhances airflow for precise temperature control. Furthermore, it features two folding handles on the side to be lifted with no hassle.
As we all know, you need a better burn to create better smoke while BBQing. As the fire bowl holds the charcoal in the center of the firebox, it makes sure the coals burn hotter.
What I loved about this round grilling tool are the small holes throughout. These holes are as designed as a cast iron grate. 
Therefore, you can easily replace the grate with this BGE BBQ tool. The non-welding structure adds some more value to its long-term performance. 
However, the small-hole construction has both pluses and minuses. Some find it too enclosing as they need to shake and stir the coals to get the ash removed.
On the other hand, the same feature makes it possible to hold smaller charcoal fragments resulting in a longer burn. So, it enhances charcoal burning efficiency by lessening fuel costs.
For the kick ash baskets, they are entirely slated without any holes. Resultantly, the open design permits better airflow with advanced temperature-regulating technology. 
Though the larger slots in the basket let too many small pieces of lump charcoal fall through. So, it slightly increases the fuel cost than the fire bowl.
So, if you prefer better airflow for a better fire, probably the kick ash basket is a better buy. Moreover, it's way cheaper than an original BGE fire bowl.
But if you consider longer burn, fuel efficiency, and breakage-free construction, go with the fire bowl. You won't regret it.
Kick Ash Stainless Steel Charcoal Basket
Do you know what makes the kick ash charcoal basket better than the rest? It's wonderful charcoal holding capacity along with increased airflow. 
Basically, it was designed to make ash cleaning much easier in a BGE. Eventually, it turned out to be an amazing BBQ tool for precise temperature control as well. How did that happen? You have to explore the product in detail to understand that.
Top Features
Shakes out ash easily

Rust-free and durable construction 

Made of heavy-duty electropolished stainless steel

Facilitates adequate breathing space to lump charcoal

Offers consistent temperature control with increased airflow 
---
Let's be honest, we all faced that long tiring BBQ session in a BGE once in a while. After that, don't we deserve a quick cleanup tool to reset the grill in a blink?
Here comes the kick ash charcoal basket for your rescue. It's a time-saving and heat-regulating charcoal basket for a large BGE.
Although it's available in small, medium, and X-large size as well. Besides, the kick ash basket also fits Primo Kamado and Grill Dome.
However, you can use it with or without the fire grate. Holding the charcoal slightly off the air holes, it helps keep the holes free of charcoal fragments.
When you want to use the grill next, no need to stir the leftover lump of charcoal. Instead, just lift the kick ash can and shake off all the ashes. 
As there are two handles to lift the basket, ash cleaning becomes a lot easier. 
With the advanced aeration design for charcoal, it also helps start the fire faster. And thanks to the durable electropolished stainless steel, the charcoal basket can withstand repeated use for years.
Pros
Cheaper than its competitors

Free from  rust, wear, and tear

Offers better smoke and fire by cleaning the leftover ash easily 
Cons
Could be a little deeper to hold more charcoal at a time
Also Read: 5 Kick Ash Basket Alternatives For Hassle-Free Grilling

 
Stainless Steel Big Green Egg Fire Bowl
Now, let's have a kick ash can review in the form of a fire bowl from Big Green Egg itself. It was released in 2019 with a view to making ash cleaning simpler. 
It's basically a round-shaped charcoal container with no welds to break. Instead, it follows the same hole geometry of a cast iron grate to facilitate adequate airflow while grilling. 
Let's check out its core specifications below-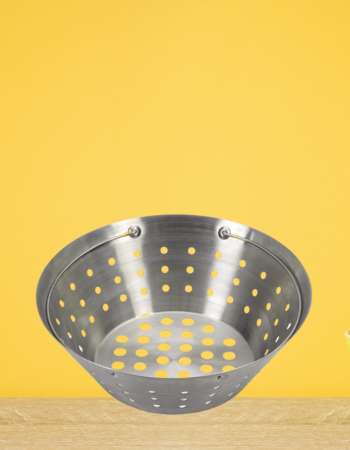 Top Features
Quickens the fire in a BGE

Easy to fill it up with lump charcoal 

Engineered with 304 heavy-duty stainless steel

Includes two convenient handles to lift charcoal easily 

Ensures maximized airflow, thanks to the thoughtful hole geometry
---
Okay, let me put the negatives first. It's quite expensive like all other BGE accessories. But is it worth the extra cost? Let's find it out!
Being manufactured from heavy-duty stainless steel, it certainly stands out from other charcoal baskets in terms of durability. 
It, indeed, lasts forever if properly used. Moreover, the weld-free construction is a big plus for high-heat searing. 
No matter how hot the grill is, there is no weld to break. Also, the durable structure can withstand rough and repeated use for decades.
However, the best thing about this fire bowl is the inclusion of the handles. Two convenient handles on the sides make ash cleaning faster. You just need to lift the bowl and shake off the ash.
In my opinion, it's way better than those mediocre grates that cannot hold small/medium pieces of lump charcoal well.
Pros
Highest quality construction 

Can hold small charcoal fragments and facilitates longer burn

Two folding handles on the side make lifting and moving the fire bowl easier
Cons 
Also Read: What Size Drip Pan For Large Big Green Egg Do You Need? 
Differences Between Big Green Egg Fire Bowls And Kick Ash 
Although both the fire bowl and the kick ash basket make BBQing better and faster in a BGE, there are some basic differences between these two. That means they share the same purpose in a different way. 
Nevertheless, let's break down their basic differences below-
Design
The key difference between a fire bowl and a kick ash basket is in their designs. The first one follows the small hole geometry of a cast iron grate. It's a bowl-shaped charcoal container without any welds. So, it holds charcoal better for reuse.
Contrarily, the kick ash basket is a charcoal holder which is entirely slated. Instead of small holes, it has larger slots that permit better airflow.
Durability 
Both are pretty well-made containers with heavy-duty stainless steel construction. But as the BGE fire bowl doesn't have any welds, it's not breakage-prone.
Cost
Here I have to give it to the kick ash basket. Despite being manufactured with electropolished stainless steel, they are way more affordable than the BGE fire bowl. An absolute value for money, what do you say?
Also Read: Big Green Egg Accessory Storage – 5 Ideas You Can Go For
What Are The Similarities Between These Two 
As I already mentioned, they are manufactured with the same purpose, grilling and cleaning in a BGE with ease. Naturally, they have some similar features and functionalities. Let's look forward to them-
Material
As stated above, both are made with high-quality stainless steel to remain rust-free for years. So,  you can use both charcoal holders repeatedly.
Handles
Both feature two convenient handles on the side. As a result, it becomes a lot easier to lift them up for cleaning ash or adding charcoal. 
Ash Cleaning
Both serve the same purpose of making ash cleaning a breeze. Just lift the containers and shake them off to get rid of ashes, leftover charcoal pieces, or debris. 
So, when you reset your Egg for grilling next time, there's nothing to clog the coals. 
Temperature Control 
Aside from easier ash cleaning,  they both permit maximized airflow. As a matter of fact, the lump charcoal fires up faster and burns better. You can maintain a consistent temperature flow throughout the grilling session by using these two incredible grilling gears.
Is Stainless Steel Big Green Egg Fire Bowl Worth The Extra Bucks
Oh yes, it is worth the investment. Despite charging almost twice the cost of a kick ash basket, the fire bowl justifies its premium price tag with superior performance. 
Having the same hole geometry as a cast iron grate, it can easily replace the latter without affecting the performance of your Egg.
Besides, the weld-free construction doesn't run the risk of breakage.
And thanks to the small-hole architecture, it can hold even the small/medium lump charcoal pieces without making them fall into the grill base.
Resultantly, you get a longer burn while BBQing. As the fire bowl reduces the rate of charcoal falling into the Egg base, it also lessens the chance of cracked bases.
So, yes, all these conveniences definitely deserve the extra bucks as nothing comes for free in life, you know!
Why You Should Choose Big Green Egg Fire Bowl Over Kick Ash Charcoal Basket 
Though it comes down to your personal preference, I would recommend going with the fire bowl if you have a large BGE.
Firstly, it comes with 304 stainless steel construction to withstand high heat. Besides, the no-weld design makes the bowl a durable tool even if you use it frequently.
Compared to the kick ash basket, it has no large slot to let the smaller charcoal pieces fall into the grill base. And we all know how those hotter coal bits could result in cracked grill bases. 
At the same time, it facilitates less charcoal burn by making those small fragments stay in the bowl and burn longer.
All things considered, I think it's wiser to invest in a BGE fire bowl in terms of efficiency.
Conclusion
To sum up this discussion on the Big Green Egg fire bowl vs Kick Ash charcoal basket, I would like to know your thoughts on both charcoal containers. 
If you are a beginner, you can start with the budget-friendly kick ash basket to experience enhanced airflow.
And for the pro grillers, it won't be regretting to invest more in a BGE fire bowl for longer burns. After all,  you are going to grill more often in the upcoming days, isn't it?
Have you used any of these two charcoal holders? How do they work to upgrade the BBQ experience in a BGE? Leave your comments below.